Emily Schuttish, a 2017 Vintage High graduate, got the win as she pitched a complete seven-inning game in leading the UC Santa Barbara softball team to a 3-1 victory over host Stanford at the DeMarini Invitational on March 7 at Boyd & Jill Smith Family Stadium.
Schuttish, a junior, allowed one run (earned) and nine hits, walked three and struck out two batters. She faced 31 batters and threw 93 pitches (57 for strikes).
It was UCSB's first win over a Pac-12 opponent since the 2012 season, ucsbgauchos.com reported.
Schuttish also led host UCSB in a 7-3 win over Utah Valley on March 9 at Campus Diamond.
In throwing her fourth complete game of the 2021 season, Schuttish gave up four hits and three runs (two earned), struck out five and did not walk anyone. She faced 31 batters and threw 103 pitches (70 strikes).
The Gauchos (3-13) have lost four straight since, with Schuttish (3-3) taking two of those losses. They will try to regroup in Hawaii, where they are scheduled to play the Rainbow Wahine (0-3) twice on Friday and twice on Saturday.
Napa's J.J. Jakovac finished third in the 2021 Caddie Competition, played in memory of Bruce Edwards, at The Players Championship on March 9 at TPC Sawgrass in Ponte Vedra Beach, Florida.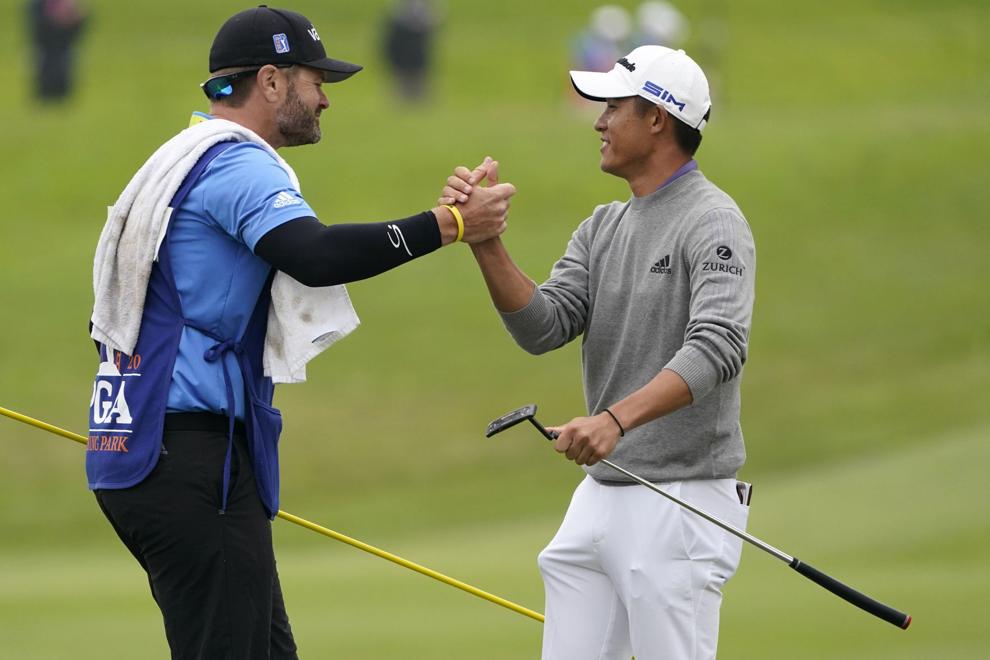 Jakovac, who caddies for Collin Morikawa, hit his shot to 11 feet, 1 inch at the Stadium Course's 17th hole.
Jakovac, a 2000 Vintage High graduate, had an outstanding college golf career at Chico State. He was a three-time NCAA Division II first-team All-American and the 2002 and 2004 NCAA Division II individual medalist. He is a member of the Chico State Athletic Hall of Fame.
Brianna Bowers is batting .200 (2-for-10) through six games for the Sacramento State softball team.
Bowers, a sophomore outfielder from Napa, was named honorable mention All-Big Sky Conference as a freshman in 2019 and was also a nominee for Sacramento State Female Newcomer of the Year, according to hornetsports.com.
She was named as the Player of the Year on the Napa Valley Register's 2017 All-Napa County team for Napa High.
She was selected to the Cal-Hi Sports all-state team in both 2017 and 2018.
Bowers is a 2018 Napa High graduate.
Tyree Reed, a senior outfielder for American Canyon High School, was named to the MaxPreps Preseason All-America Baseball Team, it was announced by maxpreps.com in report on March 3.
Reed, selected as the Most Valuable Player of the Vine Valley Athletic League after batting .481 with 19 RBIs during his sophomore season in 2019, is one of four players from California on the elite 30-player team.
"The players are chosen based on previous all-state and All-America honors, statistics, and national rankings by Perfect Game and Prep Baseball Report," MaxPreps said in the report.
As a junior last year, Reed hit .462 with one home run in four games.
The 6-foot-3, 197-pound Reed, who signed a national letter-of-intent with Oregon State last fall, was named as the No. 1 junior in the country by Prep Baseball Report.
He received honorable mention East Bay honors on the San Francisco Chronicle's 2019 All-Metro team as a utility player.
Reed was also named to the West team roster for the 18th annual Perfect Game All-American Classic and was selected for the 2020 Area Code Baseball Games.
The All-America team also includes:
Gage Jump, pitcher, JSerra Catholic-San Juan Capistrano.
Max McGwire, first base, Capistrano Valley-Mission Viejo.
Marcelo Mayer, infield, Eastlake-Chula Vista.
Kathleen Schafle and Rebecca Reynolds each saw playing time for the UC Davis women's water polo team in wins over San Jose State, 6-4 on March 5, and University of the Pacific, 14-10 on March 7.
Schafle is a senior attacker and a 2016 Vintage High graduate.
Reynolds is a redshirt freshman utility player and a 2018 Justin-Siena graduate.
Peyton Mott, a sophomore outfielder from Napa, went 3-for-5 with three runs scored and three stolen bases for the Dominican University of California softball team, as it split a doubleheader on March 6 with Academy of Art, losing the first game, 3-0 and winning the second game, 7-2.
Mott was named to the PacWest Academic All-Conference Team in 2019 and 2020.
Mott was named Co-Player of the Year on the Napa Valley Register's 2018 All-Napa County team for Napa High as a senior.
Torrey Van Winden of Napa, a redshirt senior, is off to an outstanding start as a transfer for the Florida State beach volleyball team, compiling a 10-0 record so far with Keara Rutz.
The Vintage High graduate was selected as an AVCA Honorable Mention All-American and the 2018 Big West Player of the Year during the indoor season for Cal Poly-San Luis Obispo.
She was a two-time first-team All-Big West selection.
Julia Sangiacomo recorded a career-high 27 kills on a .259 kill percentage with 17 digs for the host Santa Clara University volleyball team in a 3-2 West Coast Conference loss on March 8 to Portland.
Sangiacomo, a Justin-Siena graduate, also had two service aces, four block assists and 31 points.
Santa Clara shut out Portland, 3-0, on March 9 at Leavey Center.
Sangiacomo had 15 kills on a .375 kill percentage, eight digs, two service aces and 17 digs.
Prolific Prep of Napa Christian went 2-1 at The Grind Session World Championship in Phoenix, Arizona.
The Crew started out by beating Minnesota Prep, 78-60, on March 3. Mouhamed Gueye had 10 points, 14 rebounds and four assists. Milos Uzan had 14 points, five rebounds, five assists and two steals.
Stefan Todorovic scored 21 points to lead the Crew in its 88-59 win over West Oaks (Florida) on March 4. Todorovic was 5-of-9 shooting from 3-point distance and had three assists, two rebounds and two steals. Gueye scored 17 points and had 13 rebounds, two assists and two blocks.
Kamari Lands scored 18 points and Adem Bona had 15 points for Prolific Prep in a 76-64 semifinal-round loss to BFL Prep (Washington) on March 5. Lands also had two rebounds and Bona had 10 rebounds and two assists.
Prolific Prep (30-3) is No. 15 in the MaxPreps Top 25 high school basketball rankings, announced on March 9 at maxpreps.com.
Amadou Sow, a junior forward who is averaging 13 points and 7.5 rebounds per game, was named first team All-Big West for the UC Santa Barbara men's basketball team, it was announced on March 8.
Sow, who played for Prolific Prep of Napa Christian, has appeared in 22 games (21 starts) and is averaging 25.7 minutes per game. He is shooting 56.9 percent from the field and 79.7 percent at the free-throw line.
He leads the conference with five double doubles.
Named to the Lou Henson Award Mid-Season Watch List, Sow was named All-Big West second team the last two years.
Jalen Green scored 30 points on 11-of-20 shooting from the field for the NBA G League Ignite in a 127-102 loss to Raptors 905 in the NBA G League Playoffs on March 8 at AdventHealth Arena in Orlando, Florida.
Green, who played for Prolific Prep of Napa Christian, had five rebounds, seven assists and three steals in 41 minutes in the quarterfinal-round game.
Paul Scruggs, a 6-foot-4 senior guard, was named All-Big East second team for the Xavier University men's basketball team, it was announced on March 7 at goxavier.com.
Scruggs, who played at Prolific Prep of Napa Christian, leads the Big East and is 15th in the country in assists, as he is averaging 5.8 per game, goxavier.com reported.
Scruggs, who is from Indianapolis, ranks 30th on Xavier's all-time scoring list with 1,236 points, according to goxavier.com.
He is averaging 14.2 points, 4.1 rebounds and 1.6 steals per game through 20 games (all starts). He is averaging 32.4 minutes per game and is shooting 46.1 percent from the field, 31.6 percent from 3-point distance, and 83.6 percent from the free-throw line.
WATCH NOW: HOW COVID-19 HIT SPORTS ACROSS THE WORLD, ON THE FIRST ANNIVERSARY OF THE PANDEMIC