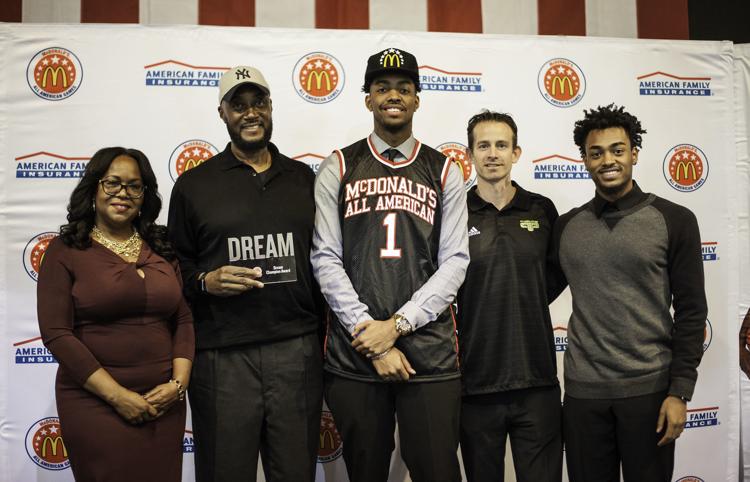 Dion Brown has spent a lot of time over the years in the gym with his son, Jordan Brown, a 6-foot-11 forward-center for the Napa-based Prolific Prep Academy basketball team.
Together, they have worked on everything – footwork in the low post, shooting, rebounding, passing, defending, handling the ball.
"You start from the basics and just work your way from there," Dion Brown said. "Every day you start from the basics – shooting right up under the basket and work your way out. This was the everyday routine, and he accepted it.
"Good things happen when kids work really hard and they trust in what you're doing. That's what he did – he trusted me. He worked just as hard as I wanted him to work, and here we are."
Jordan Brown, a senior who attends Napa Christian Campus of Education, was presented with his McDonald's All American Games honorary jersey Tuesday. Brown, who transferred from Woodcreek High School-Roseville after his junior year, was named last week to the 2018 McDonald's All American Games. It's one of the top all-star events in the country each year.
He is on the West team roster – and the only player from California – for the 41st annual boys games. The McDonald's All American Games are March 28 at Philips Arena in Atlanta.
"This is a great award," said Dion Brown, who is from Birmingham, Alabama and started all four years at the University of Louisiana at Lafayette from 1980-84. "I tell people, I'm a gym rat. We have spent hours and hours in the gym, every day, after school, working and working."
Players with Prolific Prep and students and staff from Napa Christian were on hand during a ceremony honoring Brown in the school's gym. It's part of the McDonald's All American Hometown Heroes presented by American Family Insurance, which honors all 24 boys and 24 girls selected for the prestigious event.
The McDonald's All American Games for boys, which will be carried by ESPN, features players from 17 states.
Dion Brown was also honored. He was given the American Family Insurance Dream Champion Award.
"My dad is a great person," said Jordan Brown. "We have our ups and downs, but that's between us. I'm glad I've got him in my life. I love him.
"He really is the reason that I am where I'm at today. And I thank him."
Brown is averaging 23.5 points, 13.1 rebounds and 2.4 blocks per game for Prolific Prep, which plays a national tournament schedule. The Crew is playing the Crush in the Valley this weekend at American Canyon High. The Crew will face Aspire Academy of Kentucky on Saturday at 7 p.m. and takes on Hillcrest Academy of Arizona on Sunday at 3 p.m.
Brown had his family, including his mom, Yolanda, by his side for the jersey presentation. It's the third straight year a player from Prolific Prep has been honored as a McDonald's All American. He joins Josh Jackson, who is a rookie with the Phoenix Suns, and Gary Trent Jr., who is a freshman at Duke.
"His parents, Yolanda and Dion, they really look out for his best interests," said Billy McKnight, the Crew's head coach. "They deserve so much credit for him sitting up here right now. There are kids who are playing basketball who would love to be sitting in that seat. A lot of them work just as hard as Jordan works.
"But somehow we got the formula right. It takes not just hard work. It takes the correct kind of hard work. It takes the correct type of training. Obviously, his father Dion has a lot of influence over his game, having played college basketball himself, being a great player."
Dion Brown was inducted into the UL Lafayette Athletics Hall of Fame in November. As a power forward, he finished his career as one the top scorers and rebounders in school history, according to ragincajuns.com. The 1984 graduate was named All-Southland Conference in 1982 and was a two-time All-Louisiana selection.
He scored 1,412 points and had 926 rebounds during his career. He was named to the All-Tournament team during the Great Alaskan Shootout in 1982.
He was a sixth-round pick in the 1984 NBA Draft by the San Antonio Spurs, but never played in the NBA.
He played two years for Sarasota, Florida in the Continental Basketball Association and then three years for a team in Venezuela.
Jordan Brown has learned so much about basketball from his dad, who is retired from the Air Force.
"I'm a big believer in repetitiveness makes you pretty perfect," said Dion Brown, a resident of Roseville. "I'm remember sixth grade, seventh grade going over footwork and things (with Jordan). I told somebody, 'That's what I want. I want him to do that footwork so much to where it's like he's doing it in his sleep. It's the fundamental.'
"I tell people, he didn't wake up doing it. It took hours, hours, days, hard work, and the fact he picked things up really quick. That was the great thing about it. It made my job a lot easier."
Jordan Brown averaged 26.3 points and 15.8 rebounds per game last year, leading Woodcreek to a 32-3 record and to CIF Sac-Joaquin Section and CIF Northern California Open Division championships. He was named as The Sacramento Bee Player of the Year and a MaxPreps.com second team All-American last year.
"There's a lot of people that he needs to be thankful for," said McKnight. "Woodcreek High School, obviously, did a phenomenal job with him. He's had trainers that he has worked with in the past. A lot of effort has gone in, not just from his standpoint, but the core group of people that have been around him throughout the years.
"We're just so happy that you're at Prolific Prep and for me personally getting to know you as a person."
Playing for the Crew allows Brown and his teammates to travel the country and face some of the very best teams. The decision to leave Woodcreek came after last summer.
"I couldn't see him back at a regular high school playing," said Dion Brown. "I felt like, I want to see him play against 7 footers all the time – big kids, kids that can do a lot of the things that he can do. I want to see this all the time, every day, no days off."
Brown also has the experience of playing on the gold medal-winning team for the USA at the 2016 FIBA U17 World Championship in Zaragoza, Spain and the gold medal-winning 2015 USA National Team at the FIBA Americas U16 Championship in Bahia Blanca, Argentina.
Brown has scholarship offers from UC Berkeley, UCLA, St. John's, Oregon and Nevada. He has made official visits to UCLA and St. John's.
He was named to the American Family Insurance ALL-USA preseason team for the 2017-18 season, USA TODAY High School Sports announced in late November.