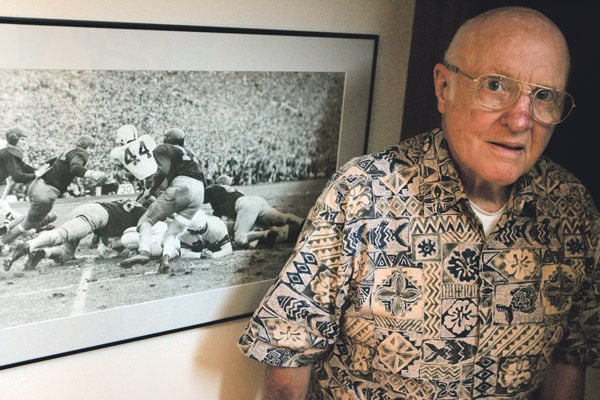 Frank Humpert, a member of the Napa High School Athletic Hall of Fame and Napa Valley College Athletic Hall of Fame, passed away on July 8 in Sacramento after a brief illness. He was 90.
Humpert was a starting linebacker for the University of California, coached by Pappy Waldorf, and played in the Rose Bowl game on Jan. 2, 1950. Ohio State beat Cal, 17-14.
Humpert had a long history with Napa High and its athletic and academic history. He started as a "B" football and basketball player in the 1940-41 school year, and maintained a connection with the school. He played basketball and was on the track team in high school, and was a member of the 1942 football team and a starter on the Indians' North Bay League co-champion team of 1943.
A 1944 graduate, Humpert is in the school's Athletic Hall of Fame.
"The things that we know about our dad is all the time he spent trying to help other people, being an influence to kids, driving them home," said Holly Meaker, one of Humpert's daughters. "He just loved being involved with the youth especially, and gave his heart to that for a long time."
Sheri Wiley, one of Humpert's daughters, said: "He was a wonderful father. He had a very full life. My dad used to bring students over to the house that needed a little bit extra love. He bought shoes for kids."
Humpert served as principal of Napa High. He also worked as an assistant coach to Ken Casanega, Bob Covey, Pete Rivers and Al Vidaurreta, as well as a volunteer trainer to a number of coaches over a 56-year period.
Humpert was recognized for his lifetime commitment of work for Napa High and the community at the 2015 NHS Athletic Hall of Fame awards dinner. He was the guest of honor at the 19th annual event.
"A great man. This community certainly lost one of its greatest citizens with Frank's passing," said Les Franco, a former Napa and Vintage head football coach. "He was a big part of everything that I was able to accomplish. Frank was the guy that put me in position to do so."
It was Humpert who hired Franco for his first teaching job at Silverado Junior High School and later hired Franco as head football coach at Napa High.
"I spent some great years with Frank mentoring me," said Franco. "He would come out on the coaching field – he never missed a day hardly. Even though he was principal, he found time to get out on the football field."
After two years of football and basketball at Napa Valley College (1946-47), Humpert went on to UC Berkeley, where he completed his college career.
Humpert had a 37-year career in the Napa Valley Unified School District. He taught at Napa Junior High, Ridgeview Junior High and Napa High. He became dean of boys at Silverado Junior High, then principal for 20 years, and then became principal at Napa High for two years, and a dean at the school for six more years.
"A longtime friend and colleague, he will be missed by the literally thousands of Napa students that he nurtured and cared for over many generations of service to our community. Literally, a 'one of a kind' person that we were fortunate enough to count as a citizen of our community," said Travis Rogers, Napa High choral music instructor. It was Humpert who hired Rogers as the choir director in 1980.
"As far as I'm concerned, he was 'Mr. Napa High,'" said Rogers.
Humpert was also an assistant football coach at Napa Valley College. At NVC, he started a scholarship endowment program and served on the college Foundation board for 21 years.
Frank and his brother, Bob, were honored by NVC as "Men of the Year" in 1996.
Frank Humpert was also a major general reservist in the U.S. Air Force and had 34 years in the Air Force.
In 2008, Humpert was honored by the Napa Valley College Foundation with a reception and dinner program at the Meritage Resort, celebrating his many accomplishments in academics and athletics.
In 2011, Humpert was inducted into the Napa Valley College Athletic Hall of Fame.
"Frank did so many good and positive things for his country and this community throughout his entire life that it's virtually impossible to comment on all of his contributions and accomplishments," said Roger Ashlock, a former NHS assistant principal. "Maybe what stands out the most for me is the total and unselfish generosity he demonstrated to all of us with regard to his time, the use of his home, his monetary resources, and his loyalty as a friend.
"Frank's involvement with the high school football programs is legendary. Frank demonstrated values as a coach, principal, and as a person. When the game was over, it was over. Grudges did not exist. Frank was the first person to attend to an injured player regardless of which team they played for. Football did not end with retirement. Frank stayed with the program until health issues ultimately required him to stop.
"We are all so blessed and fortunate to have had him in our lives."
A memorial service for Humpert will be held on Friday, July 22, at 1:30 p.m. at St. Mary's Episcopal Church, 1917 Third St., Napa. A celebration of Humpert's life will follow in the church hall concluding at 5 p.m.
Be the first to know
Get local news delivered to your inbox!