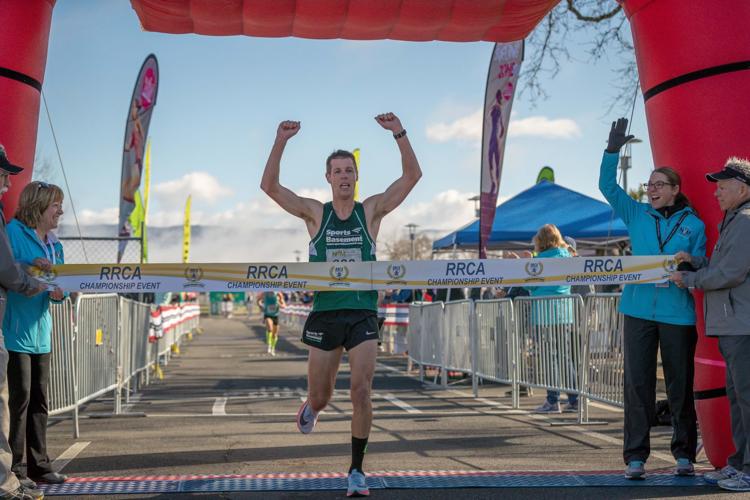 A year ago, Andrew Bauer spent the day at the Kaiser Permanente Napa Valley Marathon as a spectator, looking on from different areas of the course as his wife, Rebecca, ran the 26.2-mile race from Calistoga to Napa.
At the time, Andrew Bauer had stopped doing triathlons – a combination of swimming, cycling and running – after seven years, as he was dealing with a couple of injuries. He decided to take six months off from doing any training at all.
"I got to see plenty of the (Napa Valley) course," he said. "At the time last year, when she was running, I wasn't thinking I would run one. This was her first marathon. She had such a great experience. She qualified for Boston on this course."
Andrew Bauer said he "got that itch again" after watching the 2017 Napa Valley Marathon unfold on the point-to- point course that heads south from the start line at Rosedale Road and the Silverado Trail in Calistoga, through St. Helena, Rutherford, Oakville, Yountville and Napa.
"I need to be doing something, so I took up running again," said Bauer, who ran cross country and track at the University of Michigan. "I can't stand still. I was like, 'Let's just run. Let's give this a try again. I'll sign up for a marathon.' I said, 'I want to do Napa.'
"It's such a friendly environment, a beautiful course. I felt like as a first marathon experience, this would be the best one."
Andrew Bauer's first try at the marathon distance was a winning one, as he finished first overall at the 40th annual Napa Valley Marathon on Sunday. Bauer, a resident of Martinez who works as a buyer for Sports Basement, a retail sports store, completed the race in a time of 2 hours, 24 minutes, 4 seconds.
Bauer came from behind and passed Grayson Hough, the early leader, at the 18-mile mark and then made a move, breaking away from Justin Hall in the last half-mile. Spectators cheered Bauer as he crossed the finish line in the front parking lot area of Vintage High School, off Trower Avenue.
"It was beautiful today – a bit cold," Bauer, 34, said after receiving a finisher's medal from a race volunteer. "It was perfect for marathoning."
"Everybody tells me the race starts at (mile) 20. I ran a couple of 23-milers to train for this race. And then past Mile 20, I said, 'OK, here we go. Let's do it.' I tightened up a little bit. I started cramping in my hamstrings and quads at like 21, 22. And I just kind of tried to mentally settle myself down and concentrate on your stride and quicken it up and try to get to the finish."
The race is also the Road Runners Club of America National Marathon Championships. It's part of the RRCA Championship Event Series for the marathon distance. This is the 60th year of the RRCA.
"That's pretty cool, that's really neat," Bauer said of the national event. "It's a cool honor."
Each finisher at Napa receives a race medal. The men's and women's overall champions of the race receive their weight-in-wine provided by NakedWines.com, an event sponsor.
Hall, who is from Palo Alto, placed second in 2:24:08. Hough, who is from Davis, was third in 2:28:03.
James Beyer of Dayton, Ohio was fourth, 2:34:59; Vojta Ripa of Santa Rosa was fifth, 2:39:51; Chris Streeter of Auburn was sixth, 2:45:18; Karl Mayer of Boulder, Colorado was seventh, 2:45:53; Aaron Gassner of Durham, Oregon was eighth, 2:46:44; Tyler Keyworth of Denver was ninth, 2:47:26; and Anthony Lee of Berkeley was 10th, 2:47:46.
The conditions were cold at the start line with a temperature of 32 degrees and a high-altitude fog.
As the runners headed south, the sun was not visible for the first couple of hours due to the fog.
"There's no wind today," said race director Rich Benyo. "It's a little colder than you would like from an ideal standpoint. But it will warm up within a few miles and they'll be perfect. It's a beautiful day to run ... It's a lot better than the last two years, where we had rain and the conditions were pretty ugly."
Just after Napa Valley Marathon veteran John Keston, 93, sang the national anthem, the race started. Keston, a resident of Champlin, Minnesota, looks forward each year to the Napa race.
"It's a wonderful marathon and I've enjoyed running it and singing the national anthem," said Keston, who no longer runs marathons.
Bauer's longest race, before Sunday, was a half marathon. He does not run for a club.
"I just run on my own," said Bauer, who graduated from Michigan in 2007 with a degree in psychology and is originally from Bloomfield Hills, Michigan. "I have a lot of great training partners back home. I think the longer the race, the better I am."
It was the first marathon for Hall, 31, who moved to the Bay Area from New York City last June and runs a recruiting agency. He improved his personal record by 10 minutes.
"I think Napa is now my new go-to local race," said Hall, who is from Plymouth, New Hampshire. "It was really nice weather. It was a really great start to the race – nice and cold."
"I love rolling hills and the net downhill. It was incredible."
Hall ran with the lead group, which consisted of Bauer and Hough.
"I just tried to hold with them for as long as possible. If they hadn't of been there, I don't know if I would have been able to push myself that hard. So I really appreciated just getting to share the work and run as part of a group," said Hall.
"I just knew that I didn't have it in me to take (Bauer) on, and, frankly, I was just happy to be running with him."
Hough ran out front and was in the lead, all alone, for over half the race. It was also the first marathon for Hough.
"I just wanted to try and see if I could do it, and it worked pretty well for about 18 miles or so," said Hough, who ran cross country and track at Davis High and UC Davis. "And then it just started to fade. But that's OK. I was excited to go out and give it my best.
"Once I got passed by (Bauer and Hall), I knew they were having a great race. I was excited to see them, sort of killing it out there. I just decided to do as best as I could coming into that finish. I was just trying to have fun, and see what I could do."
Hough graduated from UC Davis in 2014 with degrees in history and English and works at the California Energy Commission in Sacramento as a student-assistant.
RRCA in town for race
Three officials from the RRCA – Executive Director Jean Knaack, President Mitch Garner, Western Region Director George Rehmet – were on hand to present national awards.
"This race is great quality," said Rehmet, of Daly City. "What makes this race stand out from the others to make it a championship, it's a beautiful course, how runners are treated, the fast times that have happened on this course."
Marathon notebook
* The top Napa Valley finishers were Rod Camp of St. Helena, who was 60th overall in a time of 3:11:39, and Marcos Robles of Napa, who was 61st in 3:11:44.
* There were 2,086 runners registered for the race. There were 1,390 who started the race and there were 1,332 finishers.
* The race is supported by 1,200 volunteers.
* All proceeds from the Napa Valley Marathon, a non-profit organization, are donated to local charities and schools in the Napa Valley.
* Timing mats were located on the course at the 7-mile mark, 13.1-mile mark, 20-mile mark and finish line.
"We're very pleased with the way it went off," said Dave Hill, a race director. "It was very well run."