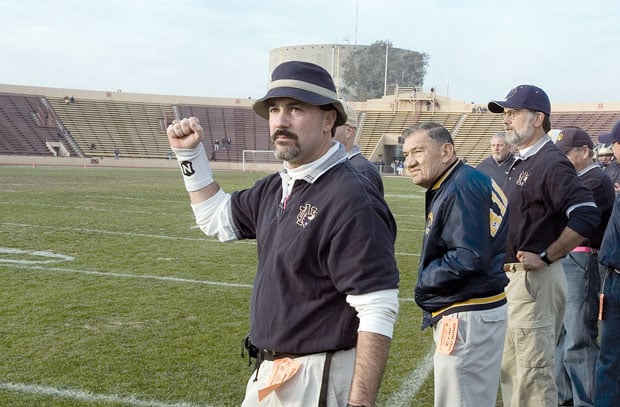 Years ago, following a loss to Vintage High School in a nonleague game at Hooper Stadium on a Friday night in Grass Valley, Miners coach Dave Humphers stood outside his team's locker room.
Humphers had something to say to each player exiting the room that night. It was brief, just a moment between coach and player. It was a positive exchange, Humphers' way of making sure his players were OK while emphasizing that there was still a lot of season to go.
Humphers, Nevada Union's coach since 1991 who has led the Miners to four CIF Sac-Joaquin Section Division I championships and 10 league titles, said he is going to miss those relationships he has had with players, staff and the community. On May 2, the legendary coach from Nevada County, who has been in charge of one of the top programs in Northern California, announced that he was stepping down after 22 years.
"I know that there are parts of the job that I'll really miss," he said in a phone interview Thursday. "I'm really going to miss the kids and coaching on the field and my relationship with kids. There are other parts where it feels like a weight has been lifted off my shoulders.
"It's been a good run, had a lot of fun, really have enjoyed the fierce competition, the gritty comebacks, battling and working hard with my players in the hot sun to get ready for a season and to get ready for a game. I don't think most people really would understand how intense the relationship is when coaches and players are working hard for a common goal."
Fans who follow high school football in the Napa Valley know about Nevada Union, the wing-T offense the Miners run, the nonleague and playoff games that they have had against Napa schools, the storied history of the program, and the phrase "Miner Magic."
"I always loved playing Dave," said Les Franco, a former Napa (1979-1989) and Vintage (2000-2006) coach. "It was an honor to play against him. We always felt that, to be the best, you have to play the best — Dave represented that in the Sac-Joaquin Section."
"Dave is an exceptional coach. I hate to see him out, but everybody reaches their time. A great coach. One of the great coaches in the history of the Sac-Joaquin Section, no question."
Humphers, 55, didn't call his decision a resignation or a retirement, but a break from coaching. He started his career as an assistant at Mira Loma-Sacramento and was an assistant for seven years, starting in 1984, under Randy Blankenship at Nevada Union. Together, they put the wing-T offense in and it's been successful over all these years.
Humphers led the Miners to a record of 195-57-2, including six Sacramento City championships, and reached the playoffs in 17 of those years. He was named California Coach of the Year in 2005, following Nevada Union's 46-7 SJS championship game win over West-Tracy.
Nevada Union was 38-3 from 1992 to 1994.
The Miners have a lengthy Section postseason history, compiling a 37-21 career record.
"Dave had a very strong system and all the Pop Warner teams up there ran the same offense and defense that he wanted," said Franco. "He pretty much controlled football in that area. When you have a pipeline like they did for that many years, you're going to produce a lot of strong teams. He certainly did that."
Nevada Union vs. Napa Valley schools
Nevada Union and Napa High have a history.
The Miners won the 1994 SJS championship, beating Napa 28-0. Napa's 1994 team was the first in school history to win 13 games in a single season.
The two schools met in the second round of the playoffs in 2004. Napa was the Monticello Empire League runner-up while NU was the Delta League champion. NU won 53-34 to advance to the Section championship, where it lost 50-45 to St. Mary's-Stockton.
Nevada Union and Napa High also met in the second round in 2005 as well. NU was the Metro League champion and Napa was the MEL runner-up. NU won 41-14.
They also played in the first round in 2009, with No. 3 seed NU beating No. 14 Napa, 62-12.
"What I remember most about him and his teams, they were always well prepared for their opponents," said Bob Herlocker, Napa's coach from 1990 to 1996. "They were probably the most fundamentally sound program I think I've ever seen in this area, with the exception of De La Salle. I have a lot of respect for him and his coaching staff. They won with class.
"Northern California and the Section are definitely going to miss him."
Franco got Nevada Union on the schedule soon after he took over as Vintage's coach. The Miners hammered Vintage in a 2000 playoff game, 84-21.
But the Crushers came back in 2004, beating Nevada Union on the road, 30-20. Nevada Union came into that game ranked 16th overall in the state. The win was Vintage's first against Nevada Union, and broke an 0-for-3 streak by the Crushers against the Miners.
Tailback Tim Matson rushed for 217 yards on 23 carries and scored two touchdowns and fullback Kevin Harrell ran for 104 yards on 21 attempts and had three TDs, fueling an offense that produced 364 yards on the ground, 429 yards of total offense and 21 first downs.
"We finally got them up there," said Franco. "Of all the wins that we had over the years, I think that's one of the most memorable. I know our people that traveled up there to watch that game were highly elated."
The Crushers turned the ball over three times, all leading to Nevada Union touchdowns in the first half, but Vintage's offense stepped up in a big way by scoring four touchdowns against the Miners in 2006. The result was still a 35-28 Nevada Union win in a nonleague game.
"We loved our rivalry with Napa High and with Vintage," said Humphers, who is a Sacramento State graduate. "We've had great competition, the games have always been really physical. It's made Napa and Vintage High strong, very competitive programs. It's done the same for our community.
"(Napa coach) Troy Mott has done a fantastic job. He gets the Indians in the playoffs every year. I think he's an outstanding coach."
Recognition for Napa, Nevada Union
Last year, Napa and Nevada Union were recognized by MaxPreps.com as two of the Sac-Joaquin Section's "Top 10 most consistent high school football programs" since 2004.
Napa, the 2007 Sac-Joaquin Section Division I champion, joins a list that has Grant-Sacramento, Granite Bay, Del Oro-Loomis, St. Mary's-Stockton, Central Catholic-Modesto, Vacaville, Escalon and Lincoln-Stockton.
It's a look by MaxPreps.com at the teams that most often find themselves near the top of the section rankings.
"Coaching against his teams, they posed quite a challenge," said Mott. "They were always very, very well coached. They were always fundamentally correct in how they blocked and tackled. Their execution a lot of times was flawless. You could tell that those kids ran through a great program. They played so hard for him.
"If anybody's ever been up to Nevada Union and coached against him up there, you certainly understand what he's done for that community and for that high school and the pride that they have up there in their football team. It's a tough place to play for an opponent."
Nevada Union plays in one of the toughest leagues in Northern California, the Sierra Foothill League, which has Granite Bay, Del Oro-Loomis, Rocklin, Roseville and Woodcreek-Roseville.
The SFL is only going to get stronger, as a result of the fourth realignment proposal that was approved by member schools and ratified at a recent SJS Board of Managers meeting.
The SFL realignment for 2014-18 will have Del Oro, Folsom, Granite Bay, Nevada Union, Oak Ridge-El Dorado Hills, Rocklin and Woodcreek.
Get in the game with our Prep Sports Newsletter
Sent weekly directly to your inbox!