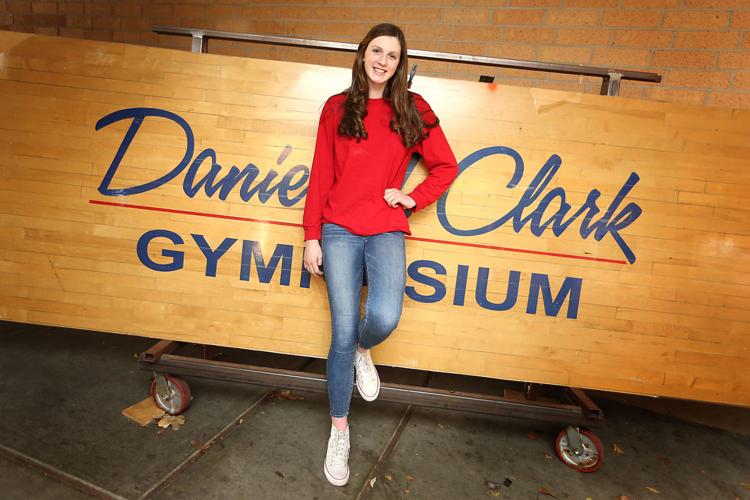 Despite all the accolades she received as a sophomore, and having grown an inch taller, Julia Sangiacomo said the pressure of the spotlight wasn't too overwhelming this volleyball season.
"No, it was fine," Justin-Siena's 6-foot-4 outside hitter said. "I was playing with a lot of my friends and everyone stepped up and did well in their positions and that's how we were able to play well as a team."
It showed as she amassed 422 kills, 99 more than the year before, ranking her 40th in California overall and 15th among the state's non-seniors. She averaged 5.2 kills per set, and also dug up 181 balls, served 44 aces, and had 39 blocks.
This all came a year after she had been named to the All-Marin County Athletic League Second Team and the CBS MaxPreps.com California All-State Volleyball Team in Division 3, and the Player of the Year on the Napa Valley Register's All-County Volleyball Team.
Sangiacomo upped her all-league status to First Team this year and was a unanimous choice to repeat as All-County Player of the Year. More state recognition is sure to follow next month.
When Chelsea Reilley took over as head coach this season, she said Sangiacomo was willing to listen, learn and get better.
"She's every coach's dream, really," said Reilley. "Not only does she already have the height, athleticism and skill, but she also comes to practice every day wanting to improve. She takes what we teach her, and works at it until she perfects it. Throughout the season, she'd be absolutely stellar in a match, and would still ask what she could do better.
"She is so dominant at the net – I'd be hard-pressed to find another outside hitter as terminal as she is, especially as a junior. But we know she can crush a ball over most blocks, so this year we focused a lot on 'smarts' – hitting around blockers, or at holes in the opposing team's defense. She's already so good, so it's really just fine-tuning and working on situational volleyball."
Sangiacomo wanted to make the best of the last of three varsity volleyball seasons playing with seniors Nicole Hanson, Kendall Martin and Maryanne Anitoni, all of whom were All-County finalists.
"I'm sad to see them go," she said. "It's been really fun to play with them."
Sangiacomo said she's also lamenting Justin-Siena's departure from the MCAL. The Braves will begin playing teams from Napa and Sonoma counties in the new Vine Valley Athletic League next fall.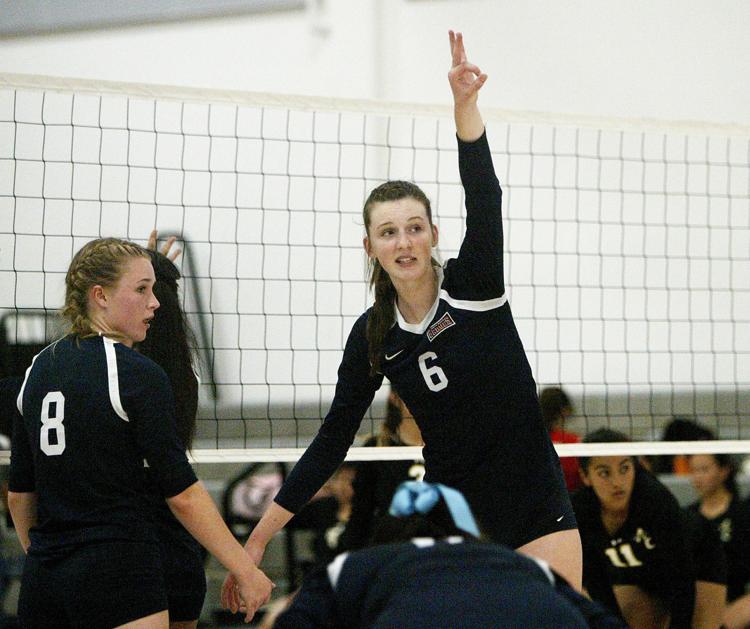 She's going into her fifth season with the San Rafael-based Absolute Volleyball Club, where she and Justin-Siena freshman Megan Hanson are teammates with several other top players in the MCAL. She said they wouldn't be as intimidated as other Braves, perhaps, walking into the Marin Catholic, Branson or Redwood gyms.
"I'm really sad that we're moving leagues next year because I don't get to play against a lot of my Absolute teammates," Sangiacomo said. "The MCAL is good competition for volleyball."
Pressure in high school matches is pretty minimal for Sangiacomo, when her Absolute teams travel as far Pennsylvania, Minnesota, Louisiana and Indiana for tournaments.
But it does help to know when you're playing next, and not knowing during the 40 days after the devastating North Bay wildfires started on Oct. 8 especially affected the Braves, who finished 11-13 overall and tied for third place in the MCAL at 5-5.
After having their last four MCAL matches and nonleague contest of the regular season canceled, they lost their MCAL playoff opener – after two weeks of canceled practices and classes – and went 1-1 in the CIF North Coast Section Division 4 playoffs and dropped their NorCal Division 5 playoff opener.
The latter happened 11 days after an emotional 3-2 section playoff loss to Branson that saw Sangiacomo pummel a season-high 30 kills. The Braves had thought their season was over when they learned they would host Escalon in the NorCal playoff opener. Despite just two practices, they pushed the Cougars to five games.
"That was kind of a weird game for us," Sangiacomo said of the season finale. "It was a bummer we couldn't pull that one out. It was an interesting game for me. They had good defense."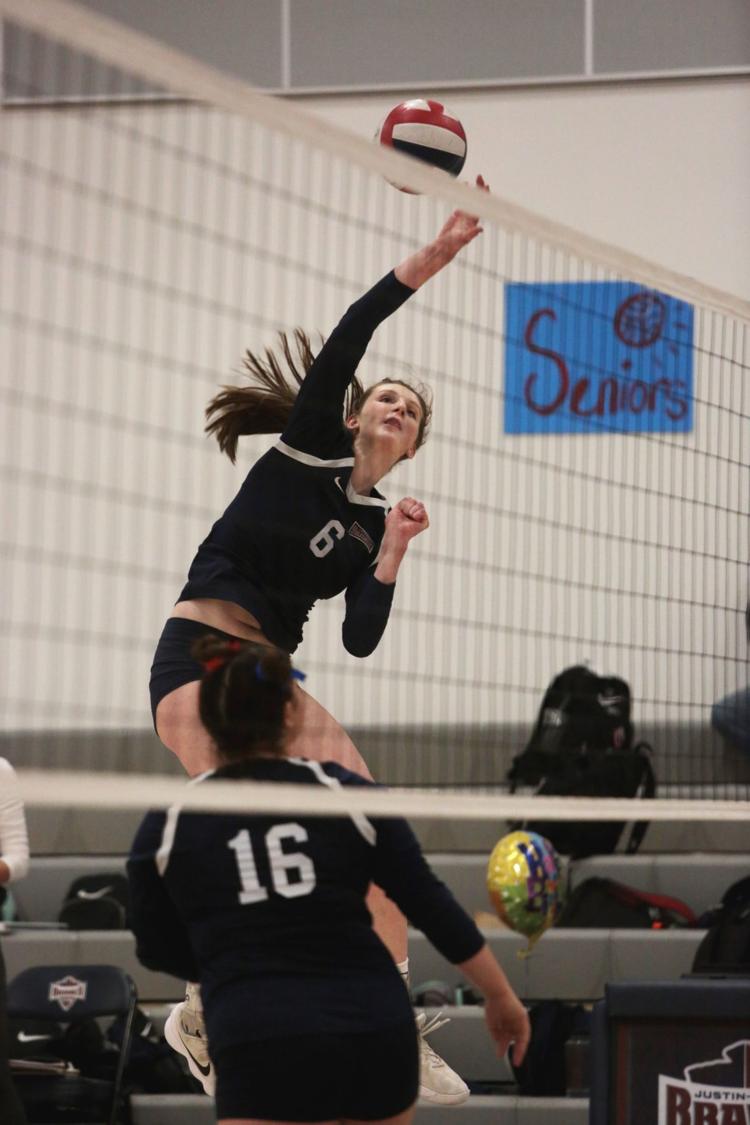 Escalon dug Sangiacomo's first two kill attempts and most others while winning the first set, forcing her to mix in softer, more strategically-placed shots the rest of the night.
"There's no swing that works against every single team, so you read their defense and adjust accordingly," she explained. "I've got to keep working on it. Height does help, but you just have to keep getting better at this game.
"Against teams like Marin Catholic, you have to be really smart about where you place it because they're so big and have such a good team. It depends on who we're playing. Against some teams, you just hit it and find holes. Against other teams, you have to be a little smarter to find holes and get kills."
In its last MCAL match before the fires, Justin-Siena avenged a 3-1 loss to San Marin with a 3-0 sweep and had serious momentum. The Mustangs went on to get seeded No. 1 in the NorCal Division 5 playoffs, beat the Mt. Madonna team that eliminated Escalon, and finish second in the state. Who knows what might have happened had the Braves been able to face San Marin again?
Just winning their first section title since 2013 is sure to be a goal next year.
"We went pretty far this year. We played hard, and everyone worked hard," Sangiacomo said. "We'll come out next year and do it again, and try to go further. I've only got one more year to do it."
Her parents, Whitney and Mike Sangiacomo, are 5-foot-11 and 6-foot-3, respectively, but their daughter is 6-4 and still growing.
"I have some ancestors who are taller, but I don't know where all my height comes from," she said, adding that she never gets tired of volleyball. "Working hard and playing together makes it fun for me year-round, and my parents are super supportive. They traveled all over the country to my tournaments. They're always there to help me out whenever I need it."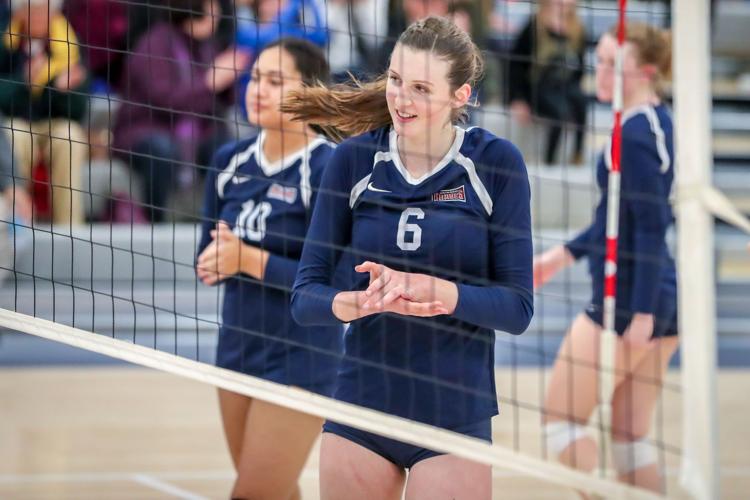 Sangiacomo had already made a verbal commitment to continue her volleyball career with Santa Clara University's NCAA Division I program long before Reilley was hired – and it didn't hurt that Reilley had played there.
"She's a really good coach, and super nice," Sangiacomo said. "I know it was kinda chaotic jumping in like she did, but she adapted and helped us out. She's always able to give us tips and help out to see what we need to do to score. She always says we need to get better each practice and work hard if we want to go far, that we're not going to be able to just show up to do it, that we have to work hard in practice and take it one day at a time."
Sangiacomo likes the entire coaching staff – including Robert Stamps, who is Reilley's husband and volunteer assistant, Kate Reilley, who is her sister and first assistant, and second assistant Tony Howell.
"We were thrilled to hear she'd committed to Santa Clara – 75 percent of our coaching staff went to Santa Clara, so we were pretty stoked," Chelsea Reilley said. "I had a wonderful experience there, and she's going to be such a great player for Jon (Wallace, head coach) and the Broncos.
"While I'm obviously thrilled to have her for one more season, I'm even more excited to see where she goes in her volleyball career. With her skills and drive, I definitely see her playing at the highest level."
With a 4.5 GPA, Sangiacomo said she plans to major in "something science-related" in college.
She said her favorite athlete is probably Golden State Warriors basketball star Kevin Durant.
"He's a fantastic player and he can do so much," she said. "I like Draymond (Green), too. I've been to a couple of their games."
Those tall NBA players have some of the intangibles Reilley said have helped Sangiacomo remain the best volleyball player in the county.
"At the high school level, many players her height are slow, uncoordinated, or lack power. This is absolutely not the case with Julia," the coach said. "She's so strong and physical and smart, but what really sets her apart from other players is her drive to be the best she can be. Because of this, her ceiling is so high – it's scary to think she's going to continue to get better over the course of her club season.
"Julia has all the traits we look for in a team leader. She's competitive and fiery, but can keep her cool when she needs to talk to refs as floor captain. She expects a lot from herself and her teammates, and does whatever she can to help the team win. Can't ask for more than that."