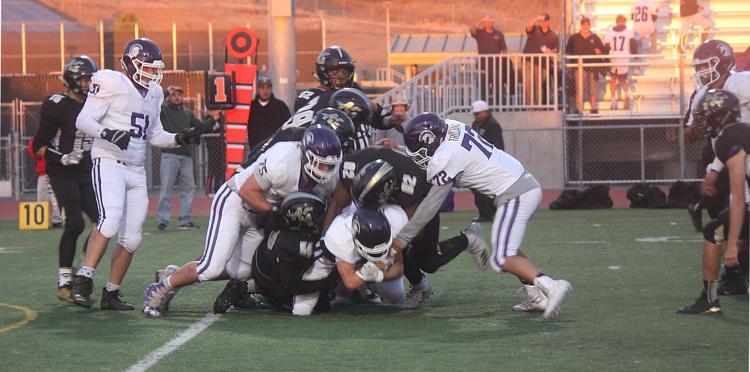 AMERICAN CANYON — In courtrooms, judges are known to say, "the defense rests."
The same cannot be said for the American Canyon High football team's defense in a 43-16 win over the Petaluma Trojans at Wolf Den Stadium on Friday night.
Not only did the Wolves' defense not rest. It played the role of judge, jury and executioner, turning what had the makings of a potentially close game into a comfortable win.
Their special teams unit scored an assist, as well, helping give John Montante his first win as head coach.
American Canyon improved to 1-4 overall but most importantly is 1-0 in the Vine Valley Athletic League.
Next Friday, the Wolves visit a Sonoma Valley team (2-3) that stunned Napa 28-16 win at Memorial Stadium.
The Wolves were clinging to a slender 13-7 lead with 1:05 left in the first half when Antonio Perez blocked a punt and scooped the ball off the turf to scamper for a 22-yard touchdown. Kaave Gaviola ran in the two-point conversion to make it 21-7 Wolves.
The lead swelled to 29-7 with 11.8 seconds left in the half when Brandon Seay intercepted a deflected pass and raced 63 yards for a score. Eddie Byrdsong added the two-point conversion.
The score remained that way until 2:40 was left in the third quarter, when Billy Biondini intercepted a deflected pass himself and went 12 yards for a touchdown.
Jeffrey Brown's fumble recovery at the Trojans 13-yard line had set up the game's first score, on Gaviola's 5-yard run on fourth and goal.
When it was not generating takeaways, the American Canyon defense was busy bottling up the Trojans' offense, which managed just one touchdown – a 2-yard run courtesy of quarterback Cole Powers – and three Daxton Hogya field goals. The Wolves held Petaluma (3-2 overall) to just 138 yards on 64 plays.
The Wolves had numerous active players, with Kekoa Wilson and Ronald Hamilton each recording two tackles for losses. Devin Davis, Seay, Biondini and Brown each had one. Wilson had four impact tackles (gains resulting in 0-3 yards), and Hamilton, Brown and Caleb Vallejo had two each.
Playing an option-based offense is frequently looked at as "assignment football" by coaches. In that respect, Montante was amply pleased.
"All in all, we did a good job with our assignments," the coach said. "Our tackling has improved. Now the challenge is learning how to close out. There were some times we did some boneheaded things that didn't need to be done, but it's about learning. I think we're turning the corner and the kids are pulling for each other. We have another test next week."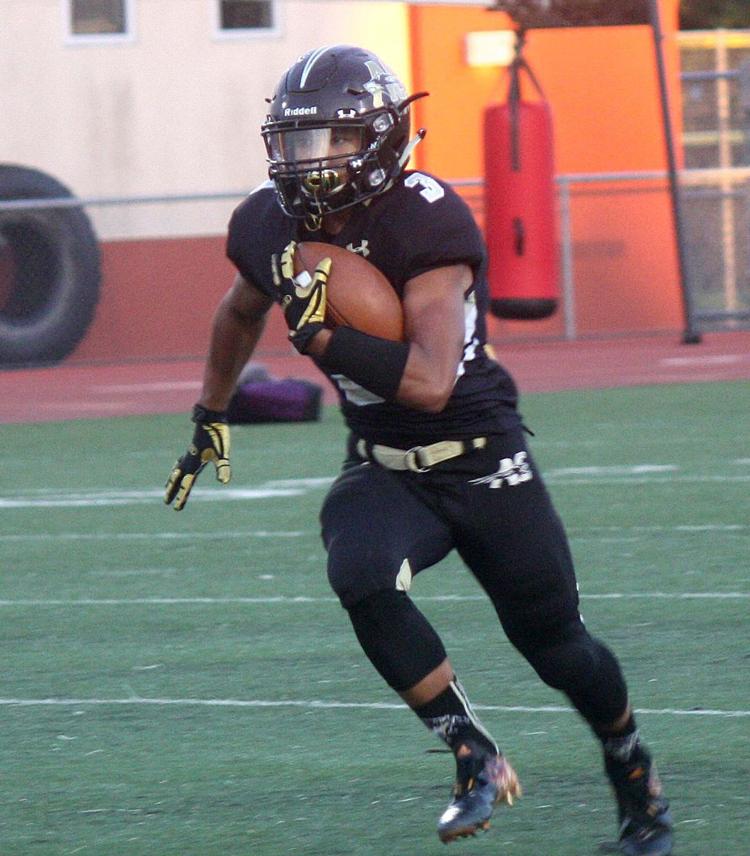 The big plays by the Wolves defense were significant because the offense, specifically the normally high-powered ground game was stuck in first gear to the tune of 134 yards on 27 carries. The good news is that while quarterback Vance Eschenburg made good on just 2 of 6 passes for 47 yards, both connections came on a drive that gave American Canyon a 13-7 lead. The first was an 18-yard completion to Seay on third down and 8. Seay made a great adjustment on an underthrown ball to haul in the pass. Shortly thereafter, Eschenburg completed a 29-yard touchdown aerial to Perez.
Darius Thomas capped the Wolves' scoring with a 55-yard touchdown run in the fourth quarter.
"At any level of football, explosive plays are big for momentum," Montante said. "I'm happy, and a little bit relieved, that tonight we had plays that gave us momentum."
The Wolves experienced tough sledding against a challenging nonleague schedule. Montante is happy with how his team stayed on course.
"We told them that the scoreboard numbers don't matter; they shouldn't tell you when to start and stop playing," Montante said. "It's about the process, and getting better on that day than you were yesterday.
"We've dealt with the injury bug all year. We've got some different bodies that have had game-time experience that have been valuable. Now, I think we're going to start turning the corner at about the right time in the year."
American Canyon JV 52, Petaluma 12
The Wolves improved to 2-2-1 overall and 1-0 in the VVAL with Friday's victory being their first triumph on the field. American Canyon gained a forfeit win over Deer Valley (Antioch) earlier this season because it did not have a JV team.
American Canyon's offense scored on its first four offensive plays and amassed 235 yards despite running just 16 plays. Vinnie Espejo scored on quarterback keepers of 50 and 34 yards, and connected with Amarie Johnson for a 23-yard score. Andrew Tadlip scored on a 52-yard run, while Dayvon Lucas hit paydirt from 6 yards away. Croix Stewart scored on a 53-yard scamper, and defensively on a 53-yard interception return. Johnson returned an interception 14 yards for a score.
Defensively, the Wolves allowed 124 yards on 29 plays – 72 of those yards coming on a touchdown pass with the game well in hand. Anthony Huynh and Ezekiel Anderson each recovered a fumble. Roman Webb had an active game with two sacks, two tackles for loss and two impact tackles. Anderson and Elijah King each had two tackles for losses. Harold Malone led the Wolves with three impact tackles. Anderson, George Konoval and Felix Llamas each had two while King added one.