Lucas Gramlick, the Lineman of the Year on the All-Solano County Athletic Conference team and a captain for American Canyon High School, will join the UC Davis football team as a preferred walk-on starting in the summer.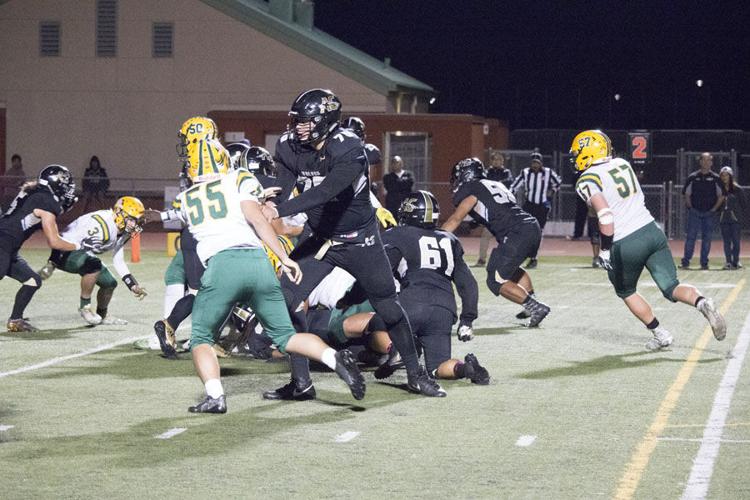 Gramlick will continue as an offensive tackle for UC Davis, which plays in the Big Sky Conference. Gramlick played left tackle for American Canyon, which went 7-4 overall and won the SCAC title, going 4-0 last year. The Wolves overcame an 0-3 start to the season by winning seven games in a row and getting to the CIF Sac-Joaquin Section Division III playoffs, where they advanced to the second round.
In the playoffs as the No. 7 seed, American Canyon continued its winning streak by beating River Valley-Yuba City in the first round, 17-10. The season ended with a 62-32 loss to No. 2 seed Manteca.
Gramlick had 21 total tackles as a defensive end. He also blocked two field goal attempts.
"I think Davis is definitely a great spot, a great fit for him," American Canyon head coach Larry Singer said. "I think it's one of those programs where you'll see him really blossom.
"It's an opportunity to continue playing football. For him to have the opportunity to continue his football career, and to do it at an institution like Davis, I think that's an awesome thing."
Gramlick was named to the Sacramento Valley Chapter of the National Football Foundation and College Hall of Fame's 2017 All-Sac-Joaquin Section team, receiving honorable mention on the offensive line.
Gramlick, named to the All-SCAC First Team, has taken an official visit to UC Davis.
"It was a big decision, but I feel like I made the right choice," he said in a telephone interview this week. "I really like the coaches there. I like the players that I met when I went on my official visit. I really just enjoyed the environment of the campus.
"When this whole recruiting process happened about a year ago, at the end of my junior year, everybody was supportive and tried to guide me down the right path. I feel like I picked a really good path to go down."
Gramlick said he has talked with Dan Hawkins, the Aggies' head coach, along with assistant head coach Mark Speckman and assistant coach Tim Keane.
"I really appreciate all the opportunities that my coaches, my family, and all of my friends have given me," he said. "I've had a lot of great coaching and a lot of good support."
Gramlick has been a top run and pass blocker for the Wolves, and a leader of the position group.
"He's really good on the outside perimeter," said Singer. "We used him a lot to pull out and lead the way on our outside run plays."
UC Davis lost its season finale last year, falling 52-47 to Sacramento State in the annual Causeway Classic. The Aggies went 5-6 overall, 3-5 in the Big Sky Conference.
The Aggies open the 2018 season against host San Jose State on Aug. 30. They will also face the University of San Diego, Stanford and Idaho in non-conference games.
"We are excited about several key walk-ons who will join the program," Hawkins said on the Aggies' website.
Gramlick and Vintage High's James Robert will represent Napa County as the outstanding senior lineman and back at the Northern California Chapter of the National Football Foundation and College Hall of Fame Scholar Athlete awards banquet on March 2.
Honoring 24 scholar athletes from 12 counties, the event will be held at the San Francisco Airport Marriott, 1800 Old Bayshore Highway. Each of the honorees will receive a $1,000 scholarship.
Senior football players from Napa County were nominated by their coaches and schools. Gramlick and Robert were selected by a committee of media members.
The award is based on academic achievement; football ability, performance and attitude; and leadership and citizenship in school and community.
Alameda, Contra Costa, Lake and Mendocino, Marin, San Francisco, San Mateo, Santa Clara, Santa Cruz, Solano and Sonoma counties are also part of the Northern California Chapter of the National Football Foundation and College Hall of Fame, an organization of more than 8,000 members who are active in 119 chapters across the country. The Northern California Chapter, one of the largest and most active groups, has awarded over $816,000 in scholarships over the past 50-plus years.
Gramlick and Robert were each Player of the Year Finalists on the 2017 All-Napa County team.