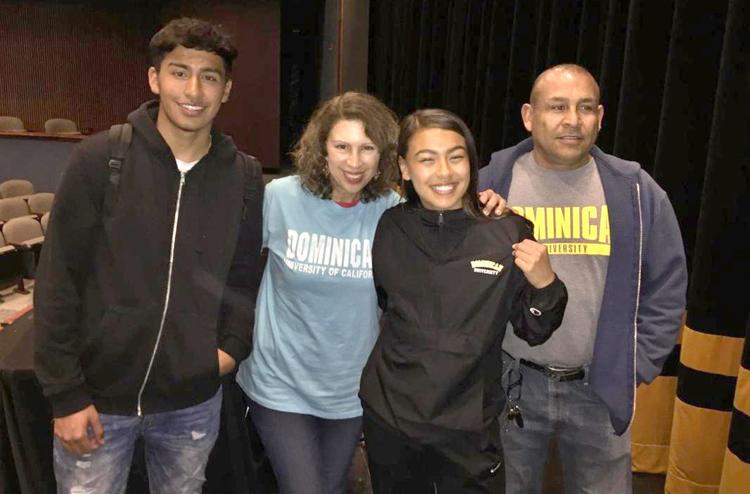 With Ana Herrera back on defense at sweeper, the American Canyon High girls soccer team scored one goal in a scrimmage against Vintage got shut out by visiting Woodland in its season opener.
Head coach Travis Behn moved Herrera to center midfielder and just three games later, she had the first six goals of her senior season and the Wolves had two wins and a tie.
"She was supposed to play that position two years ago," Behn said of the midfield spot, "but we had lost the whole defensive line and keeper the prior year (to graduation) and we had a freshman keeper and needed some help back on defense.
"This season started off that way, too, because it was the same cast of characters. But they progressed enough to where they could be back there by themselves, and we were able to move Ana up. We won't ever try to do that again, play all seniors on defense."
Herrera cooled off over the next 13 games, scoring only six more goals. But with five Solano County Athletic Conference games left, she exploded for 11 more goals to help the Wolves hurdle Vanden and finish alone in second place at 7-2-1.
"As we moved on with the season, we found out that I did more for the team playing mid or forward, so he kept me there for the rest of the season," she said. "I still defended in games where we needed some clearances, to get the ball out of there, probably because I had the biggest kick back there."
With a team-high 23 goals, she added her team-leading 15th assist in a 5-1 loss at Woodland in the first round of the CIF Sac-Joaquin Section Division III playoffs.
The Wolves finished 11-10-3 overall. For most of the seniors, that was it for their competitive soccer careers.
For Herrera, it only helped convince the NCAA Division II women's soccer program at Dominican University of California in San Rafael that she should be part of its growing arsenal of local talent.
Herrera signed with the Penguins in front of teammates, friends, family and faculty in the American Canyon High theater on Thursday.
The daughter of Sucre and Sylvia Herrera said she's been looking forward to playing in college since her freshman season.
"I thought coming from a small city, realistically, I didn't know if it was going to happen. But then in my sophomore and junior years, I realized it could," she said. "I knew a bunch of players on my club team who had been able to do it, so I thought 'Why can't I?'"
Herrera, who carries a 4.0 GPA, plans to major in political science and earn a law degree.
"Everything that's going on right now in politics just got me really interested in being a lawyer and fighting for what's right," she said, but added that she doesn't try to get into it with soccer referees. "I try to be respectful to the refs because we're players and they're the one calling the shots."
Dominican head coach Kelly Coffey guided his third Dominican squad last fall, with assistant coach Jody Lingafeldt in her first season there.
"I wanted a school that I knew I would fit in with and when I talked to the coaches, they were very open and very easy to talk to. We immediately clicked," Herrera said. "They told me they want me to play offensive midfielder or forward because this year they're losing a bunch of seniors there, so I hope I can fill in those spots."
Herrera said she doesn't know 2017 American Canyon alum Tesia De Leon, who signed with the Penguins for cross country last year. But she has played club soccer for the North Bay Elite with two juniors on the Dominican soccer team – Rodriguez alum Annalisa Pena, who also played for Solano Community College, and Benicia product Michelle Li. They helped the Penguins finish 7-8-3 overall this past fall and 5-6-2 in the Pacific West Conference, ninth out of 14 teams.
"It's really crazy that we get to play together again in college. It will be nice to go into a new atmosphere with people I know there," Herrera said. "When I get there I'll automatically have 20 or 30 other people who are obligated to be my friends because they're on my team."
Another Penguin senior-to-be is 2015 Vintage grad Bailey Kiser, a two-time All-Napa County Player of the Year. The All-County Player for the two seasons after her was American Canyon's Julia Cummings, who is playing for CSU Stanislaus in Turlock after being Herrera's helpful teammate.
"I would practice my shooting with her, knowing coming into this year I had to pick up the slack," Herrera said. "I had more of a selfish mindset, taking my shots when I had them and giving assists when I had them."
Herrera had nearly double the 12 goals she had last season.
"My goal was to get 20," she said. "I knew I could do it. I just had to push myself to be able to do it."
She had four goals in a game against last-place Fairfield. But her favorite game was a 3-2 win over defensive-minded Vanden, which came in having allowed only six goals in eight conference games.
"We were down 2-0, but we got a penalty kick in the last minute of the first half and I scored on that, and then I had two assists in the second half," Herrera recalled. "That put us in second place in league, which helped us a lot in our seeding for playoffs. That was a great game, very emotional."
Losing 5-1 to Woodland in the playoff opener hasn't looked so bad since. Woodland (18-1-5) went on to shut out its next two opponents and will play Central Valley of Ceres (21-1-2) for the section title on Saturday.
"We (lost 3-0 to) them in the first game of the season and knowing how they played and their strategies, we felt we were more prepared the second time, so we went more offensive than defensive, and that's why we gave up so many goals," Herrera explained.
Behn is confident Herrera will do well at Dominican.
"She can play anywhere, and she's a great student," he said. "She kept that high grade point average even though she was driving to club practice in the Woodland-Davis area, but she got her homework done. She is very dedicated to getting better, always find a better team to play with and bringing that back to our team.
"What we'll miss from Ana is all the assists. That's 15 more goals she was unselfish with. Playing club, she learned to adapt to different situations and figure things out pretty quickly, so she should have no problem fitting in at Dominican. That team will be fun to watch."