SANTA ROSA — Handing off the ball to Eddie Byrdsong seemingly every play didn't appear it would allow the American Canyon High football team to keep up with Montgomery's big-play passing attack Saturday night.
But because Montgomery is one of those teams that can't afford to keep an all-around athlete like quarterback Khameron Perkins off the field, the senior also played defense. That meant he had to help bring down the burly Byrdsong, and it proved costly for the Vikings.
Byrdsong not only rushed 45 times for a career-high 356 yards and four touchdowns, from 1, 53, 14 and 51 yards out, but inadvertently took out Montgomery's most explosive offensive player in leading the Wolves to a 43-29 victory in the first round of the CIF North Coast Section Div. 2 playoffs at Santa Rosa High's Nevers Field.
"I came up to hit No. 32" early in the fourth quarter, Perkins said of Byrdsong, "and he popped my shoulder out of place. I went back in as a running back to block for a little bit, but I wasn't doing much."
Perkins admitted Byrdsong took over the game. But he added that not having senior middle linebacker Matt Carr, who leads the Vikings by far with a whopping 154 tackles, helped Byrdsong's cause.
"We were scoring on them and we could have kept up with them, but we made mistakes and their defense got to our quarterback almost every play, which takes a toll, and BJ (Johnson) got hurt."
Johnson, the Vikings' top receiver, made a nice leaping catch of a 6-yard scoring strike from Perkins to put Montgomery up 16-7 early in the third quarter. But he was sidelined shortly after by a hit that broke up a pass.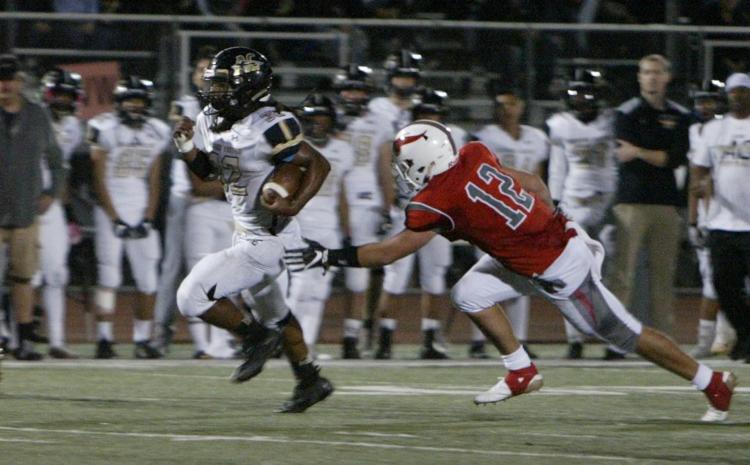 American Canyon then scored on its next five possessions. Junior quarterback Vance Eschenburg, who had put the Wolves on the board with an 11-yard keeper in the second quarter, cut Montgomery's lead to 16-14 with a 2-yard run in which he alertly bounced off the pile and twisted across the goal line.
The first of two sacks by Caleb Vallejo forced the Vikings to punt, and the Wolves took a 21-16 lead with a 14-play, 67-yard drive capped by Byrdsong's 11th carry of the march from a yard out.
Montgomery's CJ Love stole back the momentum by returning the ensuing kickoff 85 yards for a touchdown and a 22-21 lead.
But just two plays later, Byrdsong broke a tackle up the middle and turned on the jets for his 53-yard scoring jaunt to put American Canyon ahead for good. Eschenburg scrambled left and dove inside the marker for the two-point conversion and a 29-22 lead with 8:40 left in the game.
"That's the breaks," Wolves head coach John Montante said. "It's playoffs. Everybody's good. They're going to make their plays, too. You can't get discouraged. You've just got to keep playing. Our kids, they just keep fighting."
Perkins then threw his last pass into the hands of Wolves safety Billy Biondini, who returned it to the Vikings' 19-yard line.
"He ran a post and I jumped it when the ball was in the air," Biondini said. "Throughout the week our coaches told us most of their routes, so we knew what to do for the most part. They were doing quick passes (to counter our) blitzes and stuff, but we just did our jobs. Our defense was shutting stuff down in the first half. They got one touchdown pass that got away from us, but that was an accident."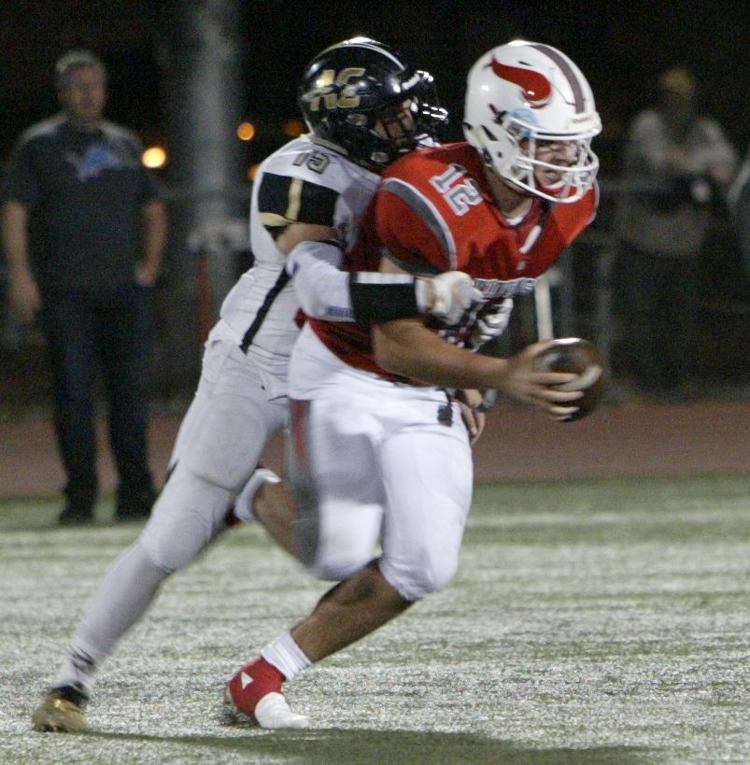 Senior back-up Joey Thresh engineered a 16-play scoring drive, completing just 3 of 11 passes for 57 of the drive's 68 yards. He was called for intentional grounding, but completed a 24-yard pass on the next play, and found Kaih Johnson for a 14-yard TD pass that, with Reese Martin's extra point, cut American Canyon's lead to 36-29 with 5:10 left.
That didn't sit well with Byrdsong. Shortly after the Wolves recovered an onside kick at their own 49, he burst through a big hole and outran the secondary for a back-breaking 51-yard touchdown. Alex Llamas tacked on the extra point for a 43-29 lead with 3:19 left.
"Eddie, he puts in a lot of hard work," Biondini said. "That's why he's able to do what he does."
Montante was impressed with his team's resiliency.
"You just gotta keep punching, right?" he said, "It's always fun watching these guys battle back. It's not the first time they've done it, but it's fun to watch. That momentum when the kids get going is fun to ride."
Byrdsong, who upped his season rushing totals to 1,400 yards and 10 touchdowns, was asked about his endurance and, as always, thanked the offensive line.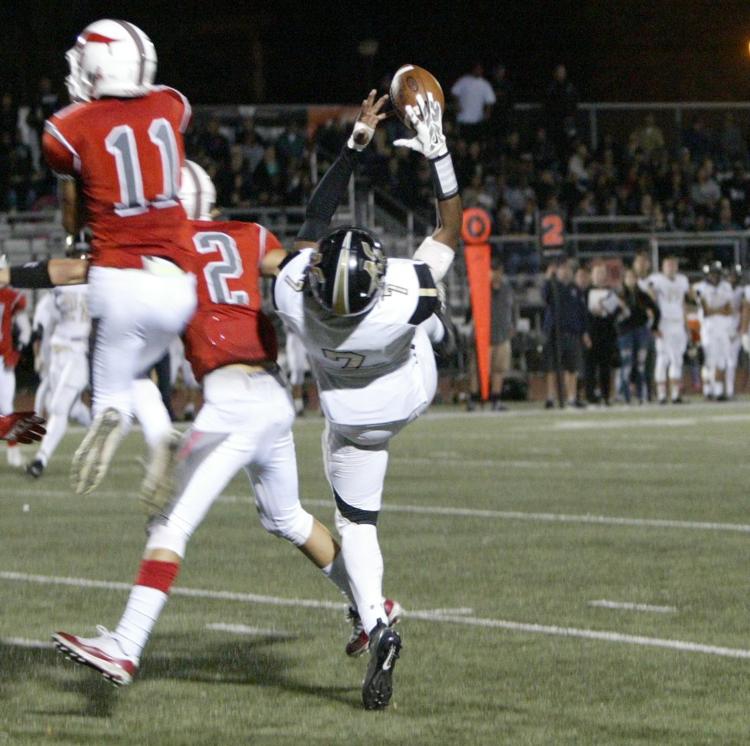 "We run a lot at practice, but I owe it all to my O-line. They made it possible for me. They executed and every time they gave me an opportunity, I tried to make good on it for them because it would be disrespectful if I didn't give 110 percent while they're out here dying for me," Byrdsong said. "Honestly, it got to a point where we were doing what we needed to do and it just came down to who wanted it more and my O-line was hungry so we fed them. We got it done. We executed as a team."
Thresh then threw four straight incomplete passes, the last one getting broken up with a well-timed hit on the receiver by Jordan Fisher. Four Byrdsong handoffs later, American Canyon had a first down and was able to run out the clock.
Vallejo forced another incomplete pass down the stretch by hurrying Thresh, after sacking both him and Perkins earlier in the game.
"I feel like in the first half we forgot what we were playing for, and in the second half we woke up and played with more fire," Vallejo said. "It was all spirit. Everybody wanted it more. Our offense came alive in the second half and that helped us a lot. The sacks were big because they passed almost every time, and the interception was icing on the cake."
Vallejo thought the defense also helped knock Perkins out of the game.
"Every chance we had, we hit him, even if he already threw," he said. "We tried to make sure he felt everything."
Byrdsong agreed that Montgomery was a mirror image of American Canyon with its big-play potential.
"Most definitely. They stacked up very well against us," he said.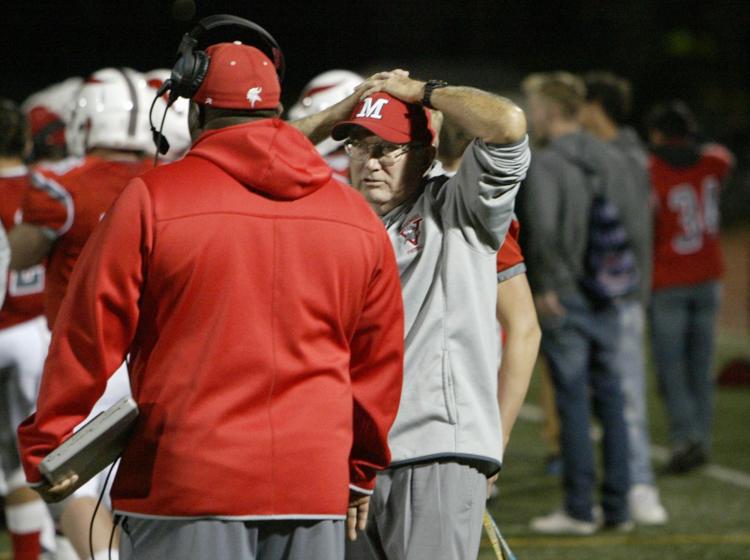 Added Biondini, "They had some athletes. Their receivers were pretty good and they were able to get us near the sidelines, but our defense came back and handled it all."
Both also made their share of mistakes in the first half. In a span of nine plays midway through the second quarter, each team lost a fumble, the Wolves snagged an interception, and American Canyon fell on its own fumble in its own end zone for a safety that gave Montgomery a 9-7 halftime lead.
Next up for the eighth-seeded Wolves is a trip to Rohnert Park to face Rancho Cotate (10-1) next Friday night.
"We've got the No. 1 seed next week," Vallejo said of the Cougars, who blasted Casa Grande 55-7 in their playoff opener Friday night, "so we've got to make sure we take that fire with us."
Byrdsong, who elicited chants of "Eddie, Eddie, Eddie" from the huge turnout of American Canyon fans every time he made a big play, deflected more praise to his teammates afterward.
"We started the season shaky. We tried being down on each other, harping on each other, and it didn't work – that's how we lost the first four games," he said. "Then we started coming together as a unit and leaving everything on the field.
"At first we were saying, 'We could be that' and it always frustrated me because we have so much potential that the group hasn't been able to achieve, and I want to keep playing for as long as it takes us to achieve what we know we can do. So my O-line, my defense, everyone came through so we could be together next week. It comes down to an overall attitude. My guys came together and we handled business."
The fact so many Wolves fans made the 45-mile trip, making it seem like a home game, wasn't lost on Biondini.
"I felt like our crowd had a huge impact on us," the senior said. "They brought a lot of energy and pumped us up a lot."
The Wolves now go from playing a pass-happy team to one with a more balanced, high-powered offense.
Rancho Cotate is led by 6-foot-1 junior quarterback Jared Stocker (158-of-244 passing, 2,372 yards, 23 touchdowns, six interceptions), 6-1, 210-pound junior running back Rasheed Rankin (189 carries, 1,170 yards, 6.2 ave., 20 touchdowns) and 6-3 senior wide receiver Connor Barbato (48 catches, 1,042 yards, eight touchdowns).
The Cougars are coming off last week's 55-7 playoff rout of Casa Grande, a team American Canyon defeated 34-14 two weeks before.