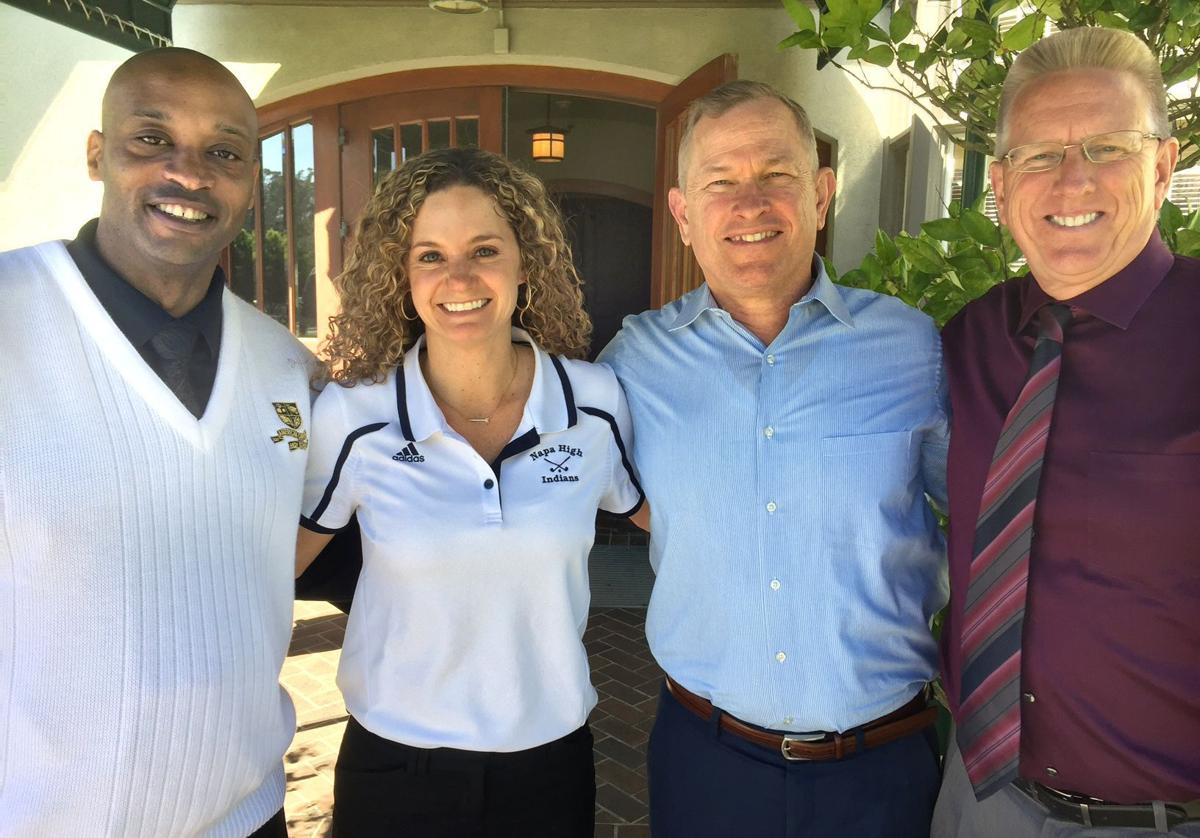 EL CERRITO – Napa, Vintage and American Canyon high schools were each accepted into the CIF North Coast Section at a board of managers meeting Tuesday at Mira Vista Golf and Country Club.
Each school received unanimous approval during a vote of the board of the managers, which consists of school district superintendents, league commissioners and presidents, principals and athletic directors.
The move takes effect for the 2018-19 school year and returns Napa and Vintage to the North Coast Section, where they were members through the 1975-76 school year.
The three schools first must be released from the CIF Sac-Joaquin Section by its Board of Managers, which meets on Wednesday.
The Napa Valley Unified School District in January submitted a request on behalf of Napa, Vintage and American Canyon to leave the Sac-Joaquin Section, the second largest of California's 10 athletic sections.
Napa and Vintage left the NCS's North Bay League following the 1975-76 school year and have been in the SJS since the 1976-77 school year. American Canyon has been a member of the SJS since it opened.
The Sac-Joaquin Section, headquartered in Lodi and overseeing high school athletics for 198 schools and 225,000 students, received a letter from Mark Morrison, executive director of secondary education for the NVUSD, requesting to leave as member schools.
The SJS's geographic boundaries stretch from Merced in the south, Grass Valley in the north, Napa to the west and the Nevada state line to the east.
Membership into the NCS requires a two-thirds vote for the move to be approved.
There are issues regarding transportation of NVUSD schools in the SJS, to areas such as Sacramento, Stockton, Modesto and other places. Because of heavy traffic going east on Interstate 80 on Fridays, it can sometimes take three hours in the mid-afternoon for travel to games.
Another factor is declining enrollment in the NVUSD, whereas housing, schools and enrollment in other areas are growing.
"It took a year to get us here, but really excited to be a part of the North Coast Section," Morrison said following the meeting. "Our schools are going to be very competitive in this Section. Kids aren't going to be on the road as much traveling to contests. All good things with Napa schools coming to the North Coast Section.
"In the Sac-Joaquin Section, we were on the fringe. This move to the North Coast Section puts us right in the middle of the Section, so geographically it's better, which in the end is better for our student athletes. This is just a great move for Napa schools."
Napa and Vintage play in the Monticello Empire League. American Canyon is a member of the Solano County Athletic Conference.
Morrison's letter went to Michael Garrison, SJS Commissioner; Mike Pearson, Monticello Empire League President and principal of Vintage; Alan Peterson, president of the SJS Board of Managers; Jeff Buchanan, Commissioner of the Solano County Athletic Conference; and Damon Wright, SCAC President and Principal of American Canyon.
"We are excited about making this request to join the NCS," said Pearson. "It's been something that we've been contemplating for a couple of years now."
Morrison also sent a letter to NCS Commissioner Gil Lemmon, requesting for American Canyon, Napa and Vintage to join the Section. In the letter, Morrison wrote, "We plan to withdraw from our current section, Sac-Joaquin Section, at the conclusion of the 2017-2018 school year. Please move forward with our request to begin athletic competition in the North Coast Section for the 2018-19 school year."
"We have three great principals that lead three great athletic programs at our comprehensive high schools," said Morrison. "The Napa Valley is blessed to have such a talented group of leaders that are leading our athletic programs.
"We're excited to make this move and to be a part of the North Coast Section. We have a year to get ready."
NVUSD had a strong presence at Tuesday's meeting. Napa High Principal Annie Petrie was joined by Indians interim Athletic Director Kelly Van Winden and Thomas Sims, who will take over as AD for the start of the 2017-18 school year. Vintage Principal Mike Pearson was accompanied by Crushers AD Cam Neal. Wright and Wolves AD Jill Stewart represented American Canyon.
"I'm really excited to welcome all three of the Napa schools into the (North Coast) Section," said Lars Christensen, the NCS President, a member of the CIF State Federated Council and a former Napa High Principal (1990-2002) and former NHS Dean of Students (1988-1990).
"They certainly were well received in that they were elected by a unanimous vote. We're excited to build a new league around them."
Napa, Vintage and American Canyon will be placed in the Marin-Sonoma-Mendocino Conference. The conference currently consists of three leagues: Marin County Athletic League, North Bay League and Sonoma County League.
There is a possibility the conference could be renamed the Marin-Napa-Sonoma-Mendocino Conference.
"We'll work on maybe a more appropriate name for that conference now," said Christensen, who is the assistant superintendent for the Tamalpais Union High School District. "We'll work on that conference name to be more reflective of our new member schools."
Christensen said it's very likely that NVUSD schools will be placed in the same league, with the naming of a new league and its members still to be determined.
Three other schools – Vallejo, Bethel and Benicia – each received approval to join the NCS starting with the 2018-19 school year. Each school is currently in the SJS.
Vallejo and Bethel will be placed in the Bay Shore Conference. Benicia will go into the Valley Conference.
"We feel confident that we need to move forward and make our plans, then we'll wait and see what the Sac-Joaquin ultimately is going to do," said Lemmon, who anticipates less travel time to games for NVUSD schools.
"There will be times when they will have to travel. But I would imagine that compared to the travel that they have right now, that it will be diminished to a great degree."
The NVUSD's request to join the North Coast gained some momentum in February when the SJS's realignment committee voted 9-0, to move forward in realignment, acting as though NVUSD schools are not going to be in the section for the 2018-19 school year.
"We feel like the timing was right," said Christensen, who is a former MEL and Sac-Joaquin Section president and a former MCAL president. "We did a little bit of legwork on our end to make sure that our Section was receptive to this idea. We've been in constant communication with the Napa Valley Unified School District and the Sac-Joaquin Section. We feel like we've done all of the appropriate legwork and we're looking for a very smooth transition and next year gives us that opportunity to actually have that transition."
Each of the three NVUSD schools gave a short presentation at Wednesday's meeting.
"On behalf of our school community, we're very excited about this opportunity," said Wright. "We've built our athletic program on the principal of victory with honor and we believe it aligns nicely with the vision and the mission of the NCS.
"We've been very competitive in our short time."
Petrie talked about her years as a four-sport athlete at Upper Lake High in Lake County, an NCS school.
"For me, moving into the North Coast Section is special because I competed in the Section," she said.
Petrie also spoke about the history of Napa High, which will graduate its 120th class this year.
"We are a large, comprehensive high school. We are an established school, rich in tradition," she said.
Van Winden, who is also Napa's head volleyball coach, said: "The scope of Napa High moving into this alignment is perfect. We really look forward to being in the NCS for a lot of reasons – one of the biggest, of course, is that you guys do things well. You do them very, very well."
Said Neal: "I believe we've established some great relationships with many of your schools in the preseason. We've had some great matchups over the years. I'm excited about establishing new relationships and keeping some great relationships in the Sac-Joaquin."
Justin-Siena, St. Helena and Calistoga are each NCS members. Justin-Siena plays in the MCAL, which is in the Marin-Sonoma-Mendocino Conference, and St. Helena is a member of the North Central League I, part of the Coastal Mountain Conference. Calistoga is in the NCL II, also a member of the CMC.
Nonleague affiliate members of the NCS include Napa Christian and Pacific Union College Prep of Angwin.
Justin-Siena and St. Helena left the SJS in 2000 and joined the NCS.