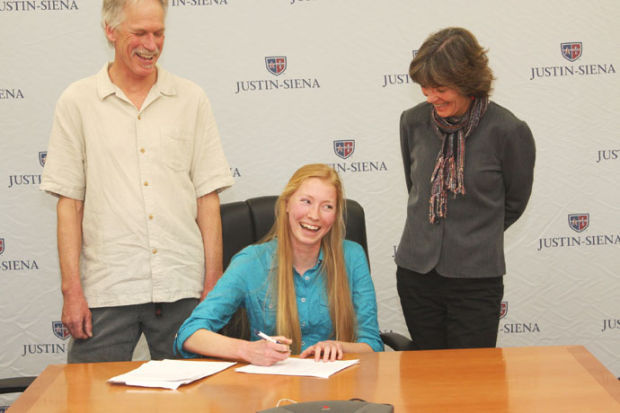 There is so much more that Teal Bullick, a senior at Justin-Siena High School, wants to accomplish as a distance runner.
She wants to lower her times in the 800, 1,600 and 3,200 meters, the three events that she does for the girls track and field team.
She wants to set both personal records and school records.
She wants to continue training at as high of a level as possible, putting in two hours each day for her workouts.
"It's a lot of work," said Bullick, 18. "I really love running. I feel like I have more potential."
Bullick's days of running will not end after the school year. She will run for Carroll College, a small NAIA school located in Helena, Mont., on an athletic scholarship.
She signed a national letter-of-intent Monday in a conference room at Justin-Siena's Christian Brothers Center. The signing ceremony was attended by Bullick's parents, Brian and Eithne, school staff and students.
Carroll is a private, Catholic college in Montana's capital city. Carroll is a member of the Frontier Conference.
"I just want to say congratulations and how proud we all are of you," said Brandon LaRocco, the Braves' track and field coach. "You were our girls distance team for quite a long time and you've helped our girls track program. I just want to say thank you for all your time and effort."
Bullick will not only be running on Carroll's cross country team, but also the Saints' indoor and outdoor track teams.
The women's cross country team fifth nationally in 2012.
Last year's team received an at-large berth to the 32-team field and finished 11th at the NAIA Cross Country National Championships in Lawrence, Kan., in November.
"I was hoping to run in college as well," said Bullick, who makes her home in Sonoma. "The fact that they're also offering me a scholarship, I'm just really grateful for that. I'm really, really excited."
Bullick carries a 4.3 GPA and plans to major in biology, with a pre-med emphasis. She has visited Carroll twice already.
"It offers everything that I'm looking for," she said.
Bullick, a captain on the cross country team, holds the school record for the city of Napa's Alston Park course, with a time of 19 minutes, 16 seconds. She also holds the Justin-Siena school record for track in the 1,600 meters at 5:11.
In cross country, she made All-Marin County Athletic League first team as a senior and second team as a sophomore. She also qualified for the CIF State Cross Country Championships her sophomore and senior years.
Bullick had a very good cross country season last year.
She was 10th at the MCAL Championship meet at Indian Valley College in Novato, clocking 20:33.
She finished 11th overall in a field of 112 runners at the CIF North Coast Section Division IV Championships in Hayward. Bullick covered the 3-mile course in 19:29, leading Justin-Siena to an 11th-place finish out of 16th teams. Her strong finish advanced her to the state championships.
Bullick finished her high school cross country career with a 79th-place finish out of 212 Division IV runners at the state meet at Fresno's Woodward Park. She had a time of 20:26 for the 5,000-meter course, which has hard packed dirt trails with some grass and asphalt. It features mild ups and downs over rolling hills with one steep short hill.
"It's really good experience. I'm definitely glad I got that chance," she said. "It was so great to come back to the state meet in my final year at Justin.
"My goal was to get back to state, and I reached that. I was really happy with that."
She finished 74th overall in the 2011 state meet.
Last year, Bullick was honored with the Coach's Award for track and field.
"She works really, really hard. She never misses practice. It shows — it paid off," said Eithne Bullick. "It's going to be exciting for Teal to be running on a nationally known team. It's a real quality school and a quality program."