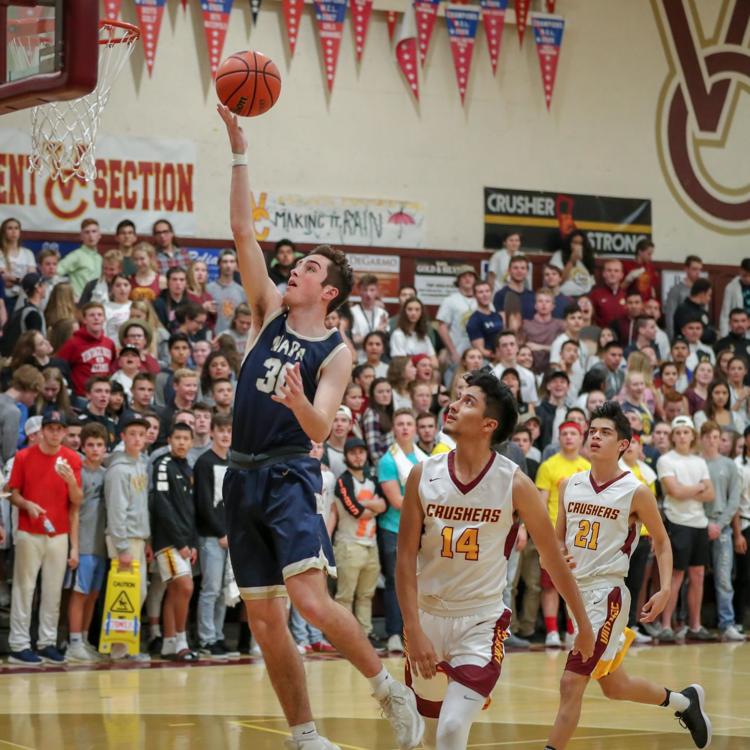 The Napa High boys basketball team had a night to remember in 2018's second installment of the Big Game, avenging an earlier loss by routing Vintage on the road Thursday night, 70-40.
"I don't think we can play better than that," said Indians head coach Zack Cook. "We've been talking about playing four quarters all year and tonight, we really did that. I'm proud of our team. They worked really hard for this, and we did what we wanted to do defensively. We also shot it great, but defense is what made the difference."
The loss came on Senior Night for the Crushers (11-14, 3-6 MEL), with a full house on hand to honor Damian Alfaro, Davis Chandler, David Fernandez and Prateek Sunder before their final home game.
First-year Vintage head coach Rob Johnson was heartbroken for his seniors.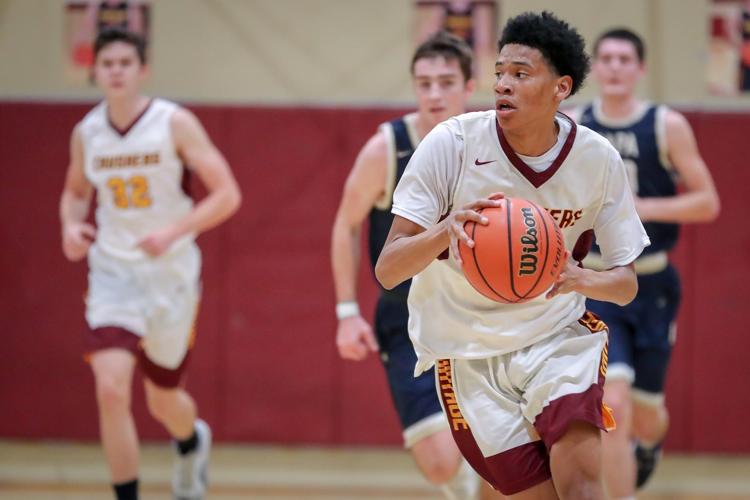 "That's what hurt the most," he said. "That's a quiet locker room in there right now. But I told them this is a time to grow. We worked hard all week and all year and I thought we were ready. It was just one of those nights where shots weren't falling, our guys weren't clicking on all cylinders, and it didn't seem like we came out ready to go. But hats off to Coach Cook, this is the Big Game and they came out ready."
Napa senior forward Joe Carnazola absolutely blistered the nets for Napa (11-15, 4-5 MEL), scoring scored 11 of the visitors' first 15 points in the first quarter en route to a game- and season-high 28 points.
"That's the way we wanted our last (Big) Game to go," he said of the seniors. "I shot the ball well tonight. This was our best game of the year. It didn't surprise me that we beat them by 30."
Fernandez seemed devastated after the game.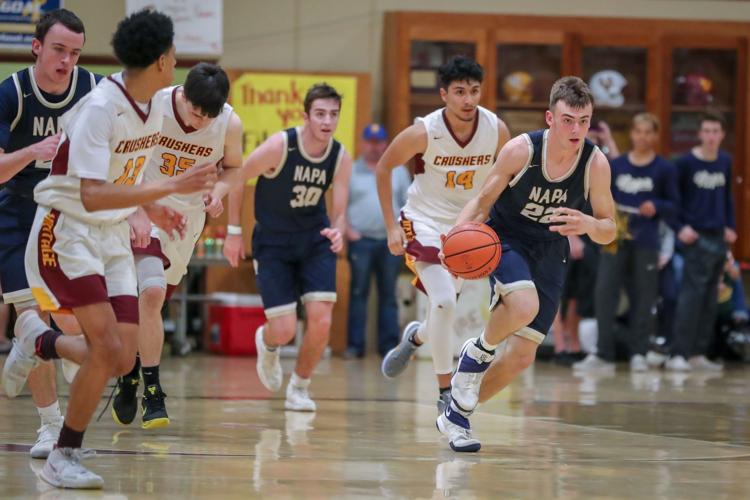 "Our last home game, Senior Night, I really wanted this one and so did my teammates," he said. "We had no energy and we were a little overconfident; we didn't have that chip on our shoulder we usually have. It's really tough. I've never heard the locker room that quiet after a game."
With Johnson starting all four of his seniors, Napa that struck the first blow when 6-foot-8 Mitch Hippauf batted the opening tip to a streaking Carnazola, who polished off the play with his signature finger roll for a 2-0 lead.
But Max Phipps put the Indians' fans back in their seats with a long 3-pointer, and Vintage had its first lead. For a team that makes its living from the 3-point line, it was a good sign. But on Napa's next possession, Zach Swim made a clever scoop shot under the basket and Napa had the lead back. But Chandler got nothing but net on a shot from the side and Vintage was back on top, 5-4, with 6:25 to go.
Few could have predicted what happened next, but it would be the Crushers' last lead of the game.
Carnazola was in a zone most players can only dream of, and scored seemingly at will from the inside and the outside.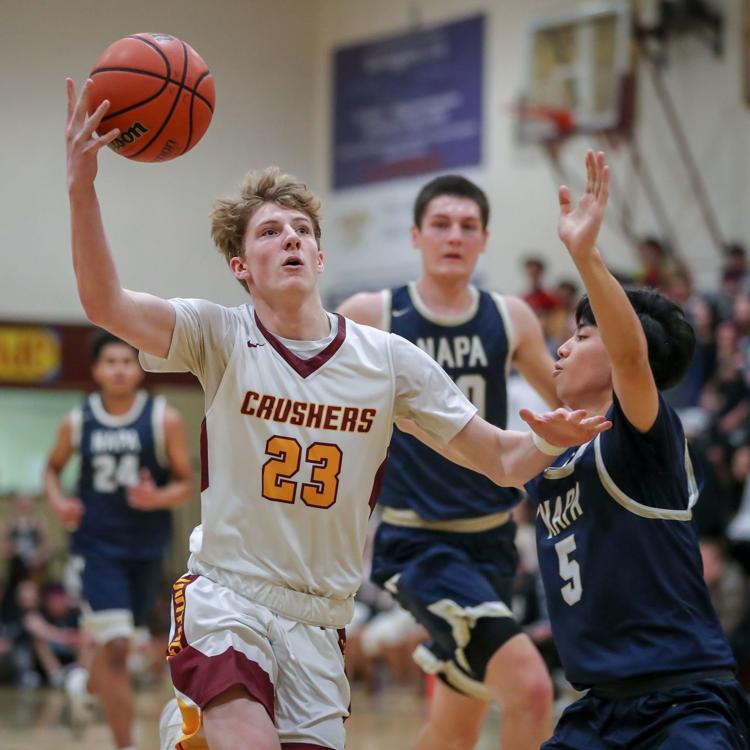 With Hippauf and Swim chipping in, the lead grew. And grew. And then grew some more.
Johnson put in the one guy on his bench who can turn a game around, as he had in the fourth quarter in Napa's gym last month, and Imani Lopez scored five quick points in succession.
But nothing could derail the Indians on this night. At the end of the quarter, Napa led a shell-shocked Vintage side 24-12, after one of its highest-scoring quarters of the season.
Napa freshman sensation Brock Bowers opened the second quarter by scoring with a putback. Lopez, still making his presence felt, answered back quickly. But Bowers scored again with a soft swisher from the elbow, and the "en fuego" Carnazola drilled a three from the top of the key for a 31-14 Napa lead.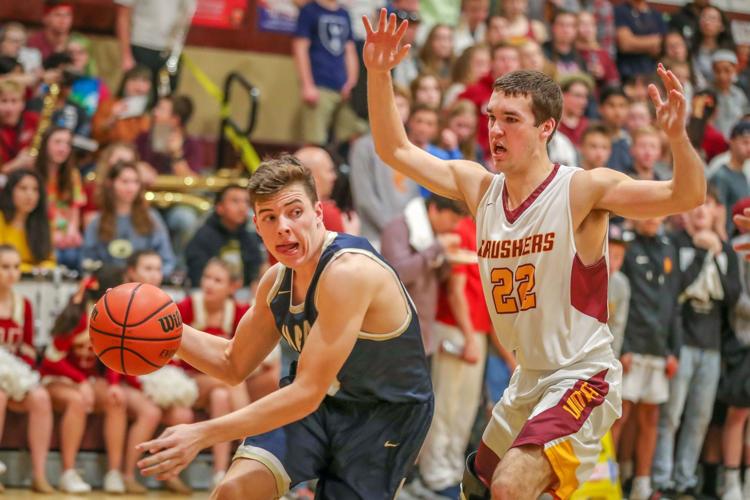 Fernandez, the all-time career leader in 3-pointers for Vintage, answered with his first trey of the game to draw Vintage within 31-17. The rest of the half, however, saw Bowers, Hippauf and, of course, Carnazola, take away all hope of a Vintage comeback as the Indians streaked to a 41-19 halftime lead.
Whatever Johnson said at halftime, it would have taken a firehose or two to cool off Napa.
The Indians began the third quarter with seven straight points. Carnazola made a putback, Blume nailed a three, Hippauf scored inside and it was 48-19 before fans had settled into their seats.
Jared Rendon, another offensive threat for Vintage, nailed a three to stop the bleeding and Lopez made another show-stopping shot on a fast break. But it wouldn't be nearly enough on this night. The quarter ended with Napa doubling up Vintage, 58-29.
The Crushers opened up the fourth quarter with a full-court press, but Napa didn't lose its cool. Lopez got above the rim for a tip in for Vintage, but Hippauf got the Napa crowd cheering with a thunderous, two-handed dunk. Napa senior Tatsu Naikima added the final insult with a three at the final buzzer.
Blume finished with nine points, Hippauf and Bowers chipped in eight each, Swim and Gravett added six apiece, Naikama had three and Sammy Morales added two.
Lopez led Vintage with 11 points, Chandler added six, and Rendon, Fernandez, Phipps and Alfaro had five apiece. Blake Murray chipped in two points and Hunter Gutierrez had a free throw for the Crushers, who conclude their season Tuesday night at Armijo.
Napa hosts Wood in its season finale and Senior Night game Tuesday at Messner Gym. The Wildcats (6-3 MEL) lost to rival Vacaville (9-0 MEL) by two points for the second time this season Thursday night – on a halfcourt buzzer-beater by the same player who beat them the first time, Zack Perlstein. Napa needs to defeat Wood and for Rodriguez to fall at Vacaville to tie Rodriguez for third place. That would force a coin flip for the league's third and final playoff spot.
Vintage JV 52, Napa 39
The Crushers won Thursday night's Big Game at home behind Logan Nothmann's 14 points and seven assists. Josh McCormick added nine points, Luke Williams eight, and Josh Kho and Everett Mitchell six apiece.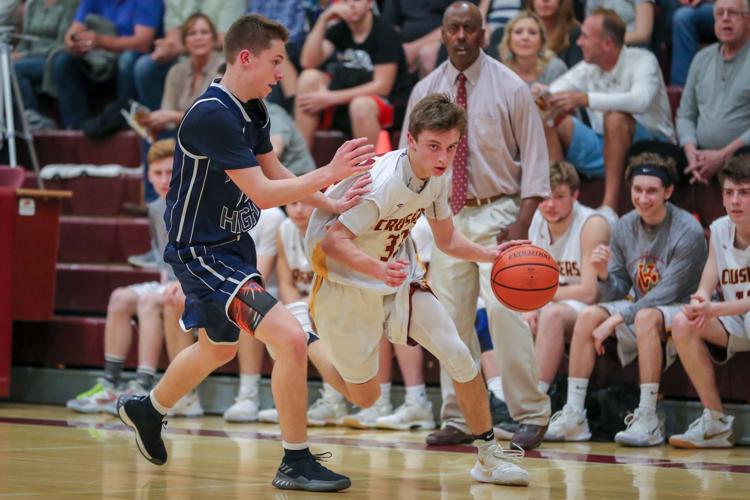 Vintage (12-9, 5-4 MEL) came out hot in the first quarter, scoring 23 points thanks to five 3-pointers. The Crushers led by as many as 20 points before a strong third quarter by Napa cut the hosts' lead to eight. But Vintage stretched its lead back to 16 points, 49-33, with three minutes to play.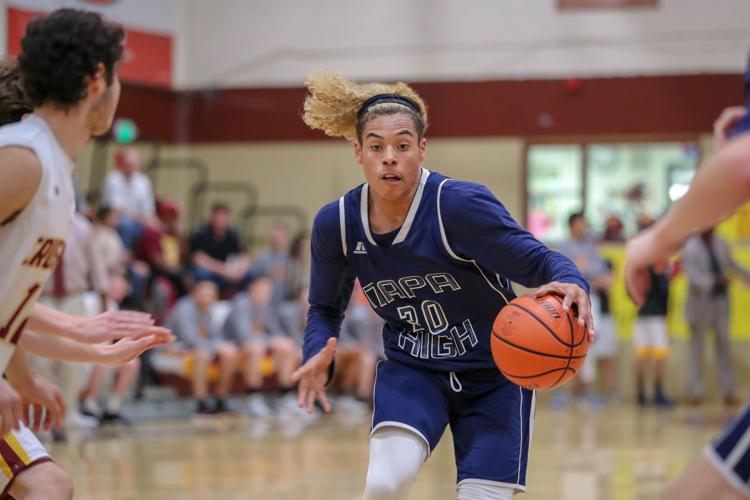 "They took two games from us earlier this season, so we had to get one back," Vintage coach Ben Goodman said. "Napa is a well-coached ball club. We are peaking at the end of the season, which is nice."
Brayden Greenlee led Napa (16-6, 6-3 MEL) with 15 points. Logan Van Zandt added nine and Isaiah Newton seven.