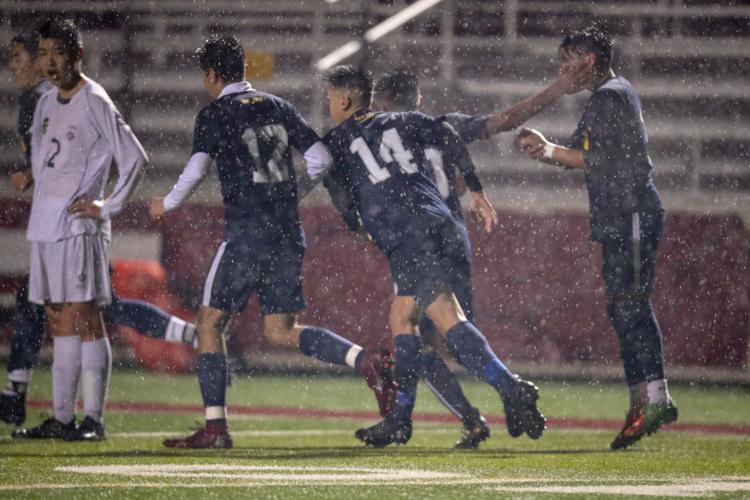 Mired in a four-game winless slump as Vine Valley Athletic League play winded down, the Napa High boys soccer team was in danger of having to travel for their CIF North Coast Section Division 1 playoff opener.
After getting shut out by crosstown rival Vintage for the second time, the Grizzlies lost 3-2 to American Canyon and settled for a 1-1 tie with Petaluma – teams they routed 4-0 and 4-1, respectively, during the first half of league play.
They bounced back in their league finale with a 3-0 win over Casa Grande and earned the No. 8 playoff seed, and a first-round meeting Wednesday night with No. 9 Castro Valley at Memorial Stadium.
The Trojans were no slouches, though, scoring just 90 seconds into the game. But Juan Leon answered two minutes later. The senior also responded with the last goal of the night, putting the wraps on a 4-2 victory on a cold, windy night when it rained hard until the final minutes.
"We all gotta adjust to the field, all 22 players, and it's hard," Leon said. "But when everybody's competing for the ball we all want to win, we'll do everything it takes to get that 'W.' It's just being in the game. When game time comes, we've got to be focused and we've got to want it. If nothing else, we've got to be on the same page and we've got to want it and go all out for all 80 minutes."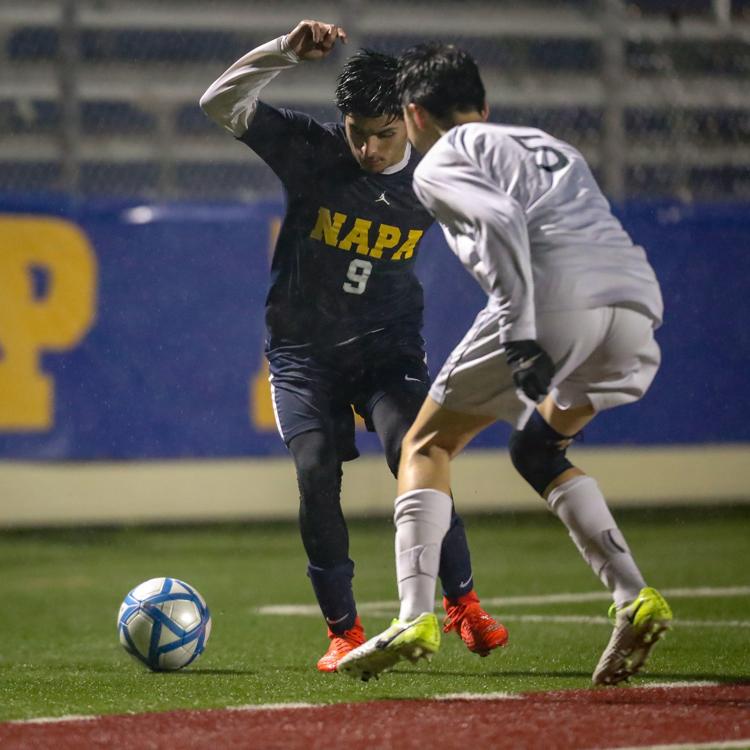 Before its late-season skid began, the Grizzlies (13-6-1) had blanked Justin-Siena 3-0, after falling 4-0 to nonleague power De La Salle, one of the top 25 teams in the state. Now they must – or get to – return to Concord to deal with the top-seeded Spartans (18-2-2).
Leon, who along with fellow team captain Julio Alonzo, would like nothing more than to give De La Salle a better showing of Napa High boys soccer.
"Definitely preparing for the game," he said of what the Grizzlies need to do better this time. "We can't really make excuses about how we played. It's all on us and for the most part, we just gotta be ready to play. That's it. There's not much more to it."
Alonzo, who like Leon is in his fourth year as a varsity starter, is glad Napa is peaking at the right time.
"Yeah, it was a tough loss versus AC and a tough tie versus Petaluma, but we talked and figured things out, got everybody on the same page and we were successful towards the end," Alonzo said. "There wasn't really too much of a problem, but I think attitude on the field and off might have affected our playing style. Now we're seeded eighth in the playoffs, and 4-2 win isn't bad at all.
"We're looking solid going into next game. I feel that it's going to be a tough game, for sure, but we've got to go all out. Everybody wants to win, so hopefully we get a lucky goal and advance to the semifinals."
Castro Valley (11-11-3) came in with 14 seniors, three more than Napa, and put quite a scare into the Grizzlies with a 20-yard blast into the net from the left side of the south goal.
After sophomore Samuel Villanueva and junior Finnigan Stuhan scored to put Napa up 3-1 with 14 minutes left in the half, the Trojans scored on a close-range shot five minutes later. The Grizzlies went into halftime up just 3-2, and rain becoming more of a factor.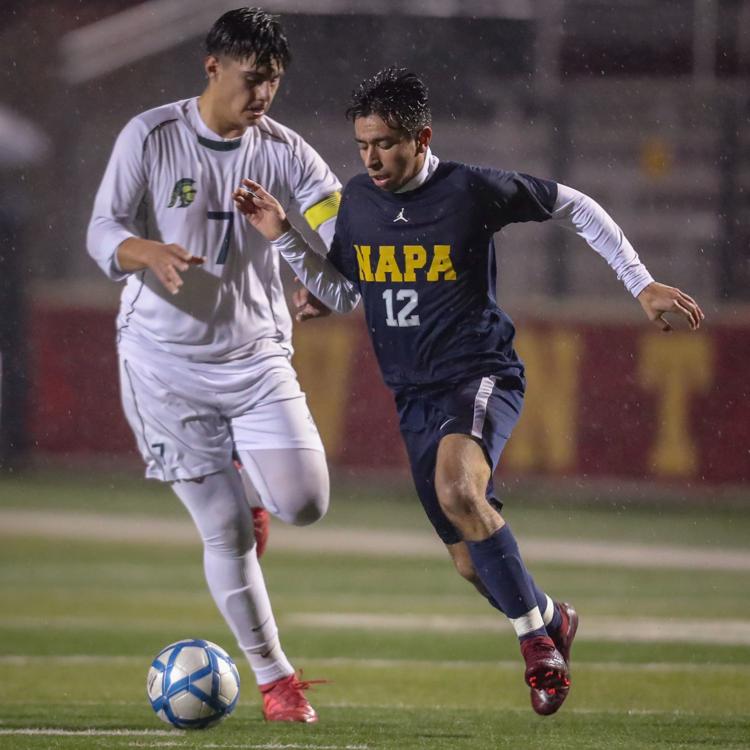 But Leon settled the score in the final minutes.
Not to be overlooked was the goalkeeping of freshman Cristian Ojeda, who also had the shutout against Casa Grande.
"We're getting our little younglings in," Alonzo said. "Getting that experience always helps them. Hopefully he'll start on the varsity next season. He's not doing bad for a freshman."
Napa head coach Rafael Ayala, who was promoted after assisting Rogelio Ochoa for six seasons, was proud of his team – and assistant coaches Braulio Nunez, Ysidro Nunes, Jason Martinez, Frankie Martinez and Raul Gallegos.
"I have great assistant coaches, which I trust 100 percent. They're just magnificent people morally. They understand life and they're good mentors for our kids," he said.
He was also happy for Leon and his other 10 seniors.
"Juan has taken his leadership role well. Everybody's doing great. They're growing and we're just very humble and proud to be in the second round of the playoffs."
Ayala said he looks forward to facing fellow Saint Mary's College graduate Derricke Brown and his De La Salle program once again.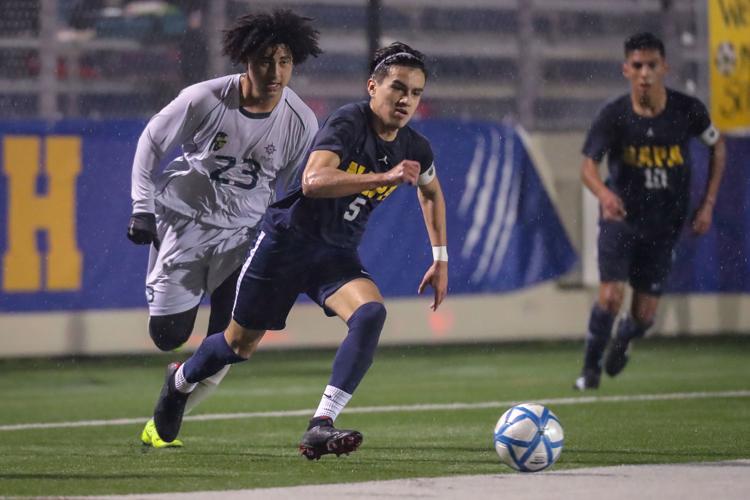 "Derricke Brown is an unbelievable coach and an unbelievable human being. He went to the right college, so you know he's 100-percent awesome," he said. "He runs an awesome program. De La Salle's programs are prestigious from generation to generation. Everybody tries to see where they're at and tries to emulate them."
But do the Grizzlies have a chance?
"Yeah," Ayala said, "because it's soccer and the way the ball bounces. Last year we beat them in preseason (2-0 in the season opener)."
The Spartans went on to win the NCS Div. 1 title and finish ranked 26th in the state by MaxPreps.
"This year when we played them we were really hurt," he said. "I'm not saying that was an excuse, but we'd also never played on an historic field like that, with a team ranked nationally. This time, I'm confident that my kids, no matter the outcome, are just going to be all-stars there. They deserve to play on that field."