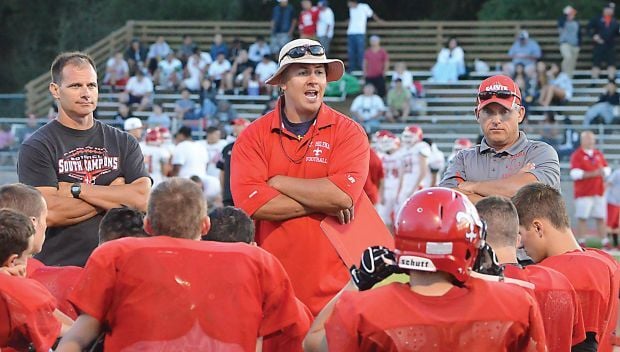 Many a Napa Valley high school coach has changed the culture of a struggling program, but few have kept the bar raised for over a decade.
St. Helena High's football program is losing one with the resignation of Brandon Farrell as head coach after 12 seasons.
Farrell will remain at the school as a math teacher and softball coach. His first season in the latter role was last spring, when the Saints got off to a promising 2-1-1 start before the COVID-19 pandemic forced the cancellation of sports in early March. The Saints hope to have a full season this spring with Farrell at the helm and his oldest daughter, Aribella, a returning sophomore.
In an interview with Napa Valley Register sports reporter Andy Wilcox, Farrell cited the feeling of not being fully engaged and not having the energy it takes to lead a program for the time being. The 2020 campaign would have been his 13th, but the Coastal Mountain Conference opted to cancel the season because of the pandemic.
Farrell, the teacher's union rep for St. Helena Unified School District, added he also desires to spend more time with his wife, Jessica, and Aribella, whose sisters are in the fourth and eighth grades.
The last year the Saints played football games, 2019, they went 9-3, and the success was likely to continue with the return of a fair amount of players from that team.
Farrell feeling the way he does is understandable because leading a varsity football program is not an August-to-November job. It is a 365-days-a-year job that involves addressing offseason conditioning, ordering equipment, filling schedule gaps, making sure grades and behavior are on point along with dealing with parents and administration. But Farrell, 44, would not rule out a return to coaching football as an assistant in the future.
Farrell's St. Helena teams compiled a 91-45 overall record, 51-24 against North Central League I foes and 10-9 in the CIF North Coast Section playoffs. Farrell and his family had moved to St. Helena from Morrison, Illinois, in 2008 after David Collinsworth had resigned as Saints head coach after one season in 2007. Including his five seasons as a head coach in Illinois, Farrell has 111 wins as a head coach.
We're offering our best deal ever with this Editor's Special. Support local news coverage by subscribing to the Napa Valley Register.
Other Napa Valley football coaches who have won at a high level for a decade or more are Rich Cotruvo (1997-2015 at Justin-Siena), Burl Autry (1972-1985 at Vintage), Les Franco (1979-1989 at Napa, 2000-2006 at Vintage), Dave Shipp (1981-87 at Justin-Siena, 1989-93 and 2011-12 at Vintage), Charley Toogood (1971-1981 and 1985 at St. Helena) and Troy Mott (2006-2016 at Napa).
As a former Upvalley beat reporter who saw many of Farrell's games from 2008-2014 and a few more thereafter, either as a spectator or freelance writer, I say without reservation that Farrell belongs in the same category of the aforementioned coaches. I'm not going to get into ranking them, because the issue is subjective. When it comes to Napa Valley high school coaches, however, Farrell belongs on Mount Coachmore for longevity alone. Only Cotruvo (19 years) and Autry (14 years) had longer tenures at one school in the Napa Valley than Farrell.
Others who have enjoyed high level success for several years include Jerry Dunlap (1997-2005 at Napa), Jim Hunt (1978-1984 at Calistoga) and Bob Herlocker (1990-1996 at Napa).
To appreciate Farrell's success, you have to understand the history of Saints football. St. Helena won 46 games in a row and had 53 contests without sustaining a defeat from 1960-1965, most of which came under head coach George Davis. The 1970s featured a lot of success that included, but was not limited to, a North Coast Section Class A championship in 1977.
In the 1980s and most of the 1990s, the Saints were terrible. That was attributable to them playing in the Superior California Athletic League, and the growing Sac Joaquin Section, from 1985-2000. Given the school sizes, it felt like goldfish swimming in the ocean.
St. Helena football enjoyed a brief spike in success thanks to Dan Boyett building the ship from 1993-1997 and assistant Randy Neller keeping it on course in 1998. Boyett resigned after the team went 6-3-1 to help care for his ailing daughter, Danielle, who passed away in 2011. Boyett, however, continued to teach at St. Helena and was later an assistant under Farrell. The Saints went 9-2 under Neller in 1998. The 2000s had peaks and valleys.
From 1980-2007, the Saints went through 13 football head coaches in 28 years.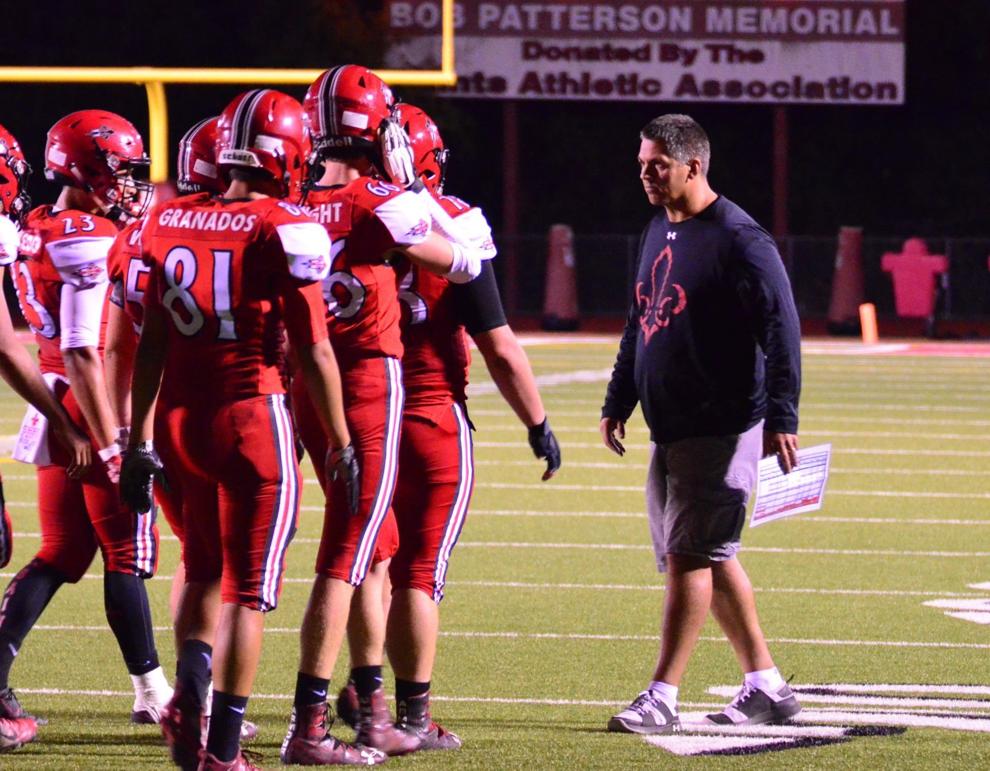 From 2004-2006, St. Helena went 21-11 under Ian MacMillan. The Saints won the NCL I South for their first league title since 1978. MacMillan assisted for three years at Napa High, starting with its section-championship season in 2007, and was the head coach at American Canyon from 2011-2013. Oddly enough, MacMillan is back at St. Helena as the JV head coach, having returned in 2017. Could he be a potential candidate to replace Farrell? I don't offer that as a hot take, rather as a fair question.
After MacMillan resigned, Collinsworth took the helm. That one-year stint was a calamity that went beyond the 2-8 record. Collinsworth resigned in January 2008. I rarely disparage high school coaches or kids, but the Collinsworth era was not the Saints' finest hour.
Five months came and went and I remember emailing St. Helena High Athletic Director Tom Hoppe, who informed me that "Brandon Farrell is the new head coach." I thought, "Brandon who?" Hoppe then informed me where Farrell was from and sent me his contact information. So I called Farrell and interviewed him via phone from my house. After the interview, I'm thinking, "Hmmm, St. Helena High might just have a good one." The cynical side of me said, "How is a guy from Mid-America going to handle the fickleness of Upvalley sports parents?"
Twelve years and 111 wins later, 91 with St. Helena, I'd say he did pretty damn well.
Within a few days after arriving in the Napa Valley, Farrell had a meeting with players and parents at the gym. I rarely went to such meetings, but Hoppe informed me of it and I asked if I could come by to meet him. Brandon and I had lunch a few weeks later at a St. Helena establishment. At the time, it was easy to be cynical because of the constant turnover. I can't pinpoint why, but I had a good feeling at the time.
If you meet Farrell, you get the vibe of a grounded, small-town Midwestern fellow. While that description is accurate, he is as competitive a person as you will find. Sometimes when his emotions would boil towards players or coaches, he would use phrases like, "Dadgummit," "Son of a buck" or "Jiminy Christmas" to name a few. "Horsefeathers!" was my favorite, though.
When covering games, I was frequently on the sideline with Garrett Whitt — my friend and colleague when on the Upvalley beat — along with statisticians Darrell Quirici and Peter Carson. There were many moments of levity when Farrell's emotions would surface.
My most memorable interview with him came after the Saints' 2012 NCS Div. IV 29-25 playoff win at No. 3 seed Salesian of Richmond, only the second road playoff win in school history. Quarterback Richard Hoppe, who broke several school records, left the game with a concussion and the No. 6 Saints still rallied for the win. Win or lose, Farrell was always gracious with his time and expressed himself in a calm and unassuming tone. This interview, however, felt different. Farrell was overcome with emotion — not so much in a teary-eyed fashion, but it felt like a father expressing pride in his sons.
Winning 100 games in a coaching career is an outstanding achievement no matter how you slice it. Granted, eras are different in that postseason formats have gradually expanded in each passing year —and then you factor in game changes, both from a rules and schematic perspective, and then societal changes.
The Saints were blessed with once-in-a-generation talent in the early to mid-2010s. Since that talent cycled out of the program, however, St. Helena has remained a viable NCS playoff contender. The 2017 season was an outlier in that the Saints went 3-5, his worst season there. But it's not as if one down year turned into multiple ones, and they didn't go 2-8.
As much as any coach as I have been around, Farrell understands the importance of surrounding himself with quality assistant coaches. Some of the faces have changed over the years, but Sam Licina, Will Densberger and Matt Cia were the constants that stayed with Farrell throughout his tenure.
Farrell's impact also cannot be underscored in that he has established a strong working relationship with the Carpy Gang, which has been St. Helena's youth football program since 1936. There was a disconnect between the high school and youth programs before Farrell arrived, but the Carpy Gang has gained strength since.
Take a bow, Coach Farrell.
WATCH NOW: YOUNG PEOPLE FEELING 'CRUSHED' BY COVID-19 PANDEMIC