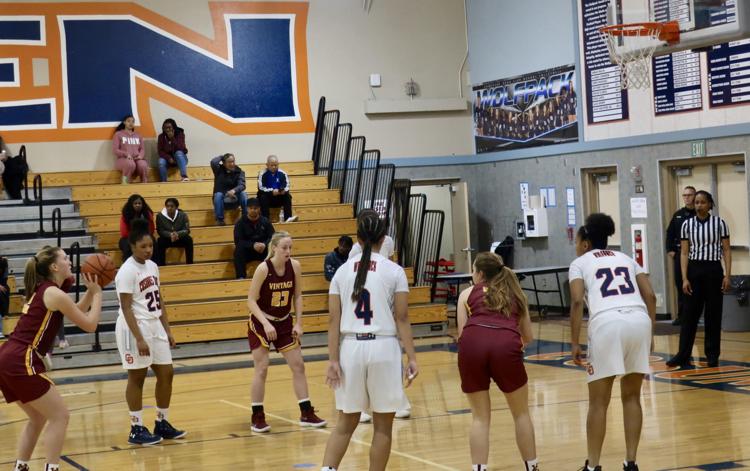 ELK GROVE – When the Vintage girls basketball team made its first return to the Sac-Joaquin Section playoffs in 11 years Tuesday night, it didn't go quite the way head coach Joe Donohoe and his Crushers had hoped.
A tall and talented Cosumnes Oaks squad, ranked 42nd in the state and seeded No. 3 in the Division I bracket, showed Vintage what playoff basketball looks like with a comfortable 73-43 win at the Wolfpack's gym.
"They are a terrific team – all credit to them," Donohoe said. "We played hard and missed some opportunities, but it was a positive experience for us and we're going to build on this."
Both teams looked nervous as the game opened, and after two minutes the score was 2-2 thanks to a sweet inside move by Alyssa Andrews where she threaded her way past two defenders to the bucket. But the talented Wolfpack reeled off 10 straight points and were looking for the early knockout punch thanks to several uncharacteristic Crusher turnovers.
Kate Ilsley ended the Cosumnes Oaks run with a tasty turnaround jumper, Nicole Gleeson followed with one of her signature breakaway layups, and suddenly it was 12-6 with a minute to play in the first quarter. Another bucket by Ilsley just before the buzzer pulled Vintage within 15-8.
"We played them tough once we got our feet under us," observed Donohoe.
Added Ilsley, "Our mindset coming in was they're a good team, but we're a good team too. We weren't afraid of them."
In one of her best games of the year, Ilsley came through on the big stage with 15 points, while Andrews led all scorers with 17.
In the second quarter, neither team scored for the first two minutes until Gleeson broke the drought. Suddenly the Crushers were within 15-10, and the Vintage faithful were excited. After the battle-tested Wolfpack reeled off the next eight points. Bailey Loban stopped the bleeding with a timely three to make it 23-13.
Cosumnes Oaks then showed everyone why they deserved a high ranking by scoring the next 14 points with a balanced inside and outside attack. Make no mistake, the Wolfpack had shooters aplenty and a deep bench of 16 players. With 10 seconds left in the half, Andrews scored again for the Crushers to make the halftime score 37-15.
Vintage came out ready to keep fighting in the third quarter, but there was just too much offense on the floor for the Wolfpack. In one 60-second stretch of the quarter, three different players bombed in threes as Cosumnes Oaks raced to a 44-15 lead.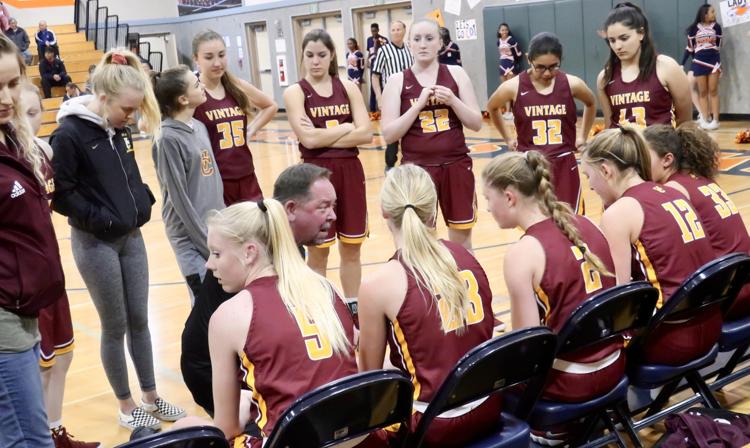 The Crushers could have given up, but fought back instead with two three-point plays in a row by Ilsley and Andrews to cut the lead to 44-21 with four minutes to go. After the hosts stretched their lead to 50-23, Ilsley matched the Wolfpack's next five points with five of her own, and the quarter ended with a commanding 55-28 Cosumnes Oaks lead.
"If I saw an opportunity to score, I took it tonight," said Ilsley, who's not known for her scoring.
Vintage saved its best for the fourth quarter but was still outscored in the stanza, 18-15, thanks to more long threes from the Wolfpack sharpshooters. The Crushers had another six-point run on buckets from Megan Kuehl, Andrews and Gleeson, and Andrews scored the last four points of the game.
Donohoe was philosophical after the game.
"If you had told me when I took this job that we would be in the section playoffs in two seasons, I would have said 'sign me up.' We had some runs that proved we could play with that team. When we're good, we're good. We just have to find some consistency, and that just comes from playing together and working hard. I wanted this game really bad for our team, and they wanted it really bad for our program. I'm really proud of these girls, I couldn't ask for any more effort.
"Bailey Loban never came out of the game; she played her guts out. Kate Ilsley had a tough match-up and played well against taller and very physical players. We only had five fouls the whole game, and they had a bunch. We have to learn to play that way because that's the way it goes in the playoffs. We'll learn from it. I'm going to hold my head high when I walk into our locker room, even though there might be some tears."
Ilsley, who battled the Wolfpack's tall timber underneath, said her team gave all it had.
"Honestly, even though it wasn't the outcome we wanted, I'm really proud of this team," she said. "We fought for every point we got, and we fought to keep them from scoring. I was really excited to play tonight because I've been watching this team since I was in sixth grade, and it was my goal for us to win a league title and make it into the playoffs."
Vintage will return four of its five starters next season.
"We're still learning how to win, and that's a big part of moving forward with this program," Donohoe said.
Only the starters scored for the Crushers, as Gleeson finished with six points, Loban three and Kuehl two. Jaden Coleman led Cosumnes Oaks' balanced scoring attack with 15 points.
Vintage closed out its season at 18-10 after winning a share of its first Monticello Empire League title in 33 years. The other co-champions fell in their Division II playoff openers Tuesday night as Rodriguez was pounded by Whitney, 78-31, and Wood was defeated by Del Oro, 59-34.
Cosumnes Oaks (23-3) moves on to host sixth-seeded Oak Ridge, which defeated Franklin-Elk Grove 55-39.