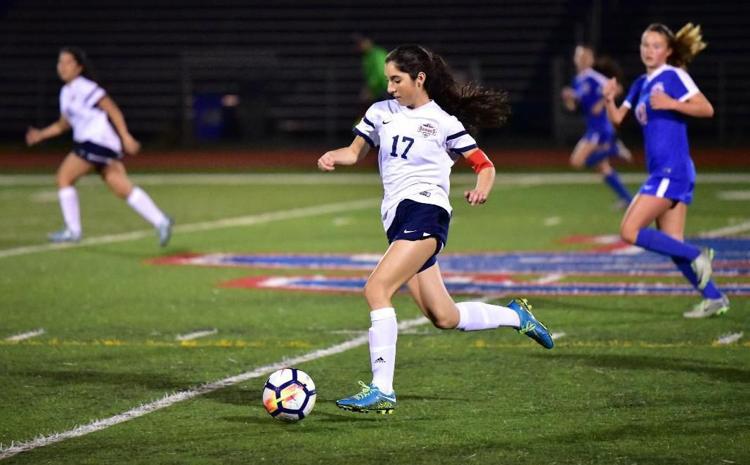 If Eric Branagan-Franco returns to the Justin-Siena girls soccer program helm for a third straight season, as he would love to do, he's not going to breathe a big sigh of relief at not having to play in the Marin County Athletic League anymore.
That despite going into Friday's MCAL road finale against San Rafael with an 0-12-2 league record, a year after the Braves won their season finale to finish 1-9-1 in the MCAL.
Moving to the new Vine Valley Athletic League next year will mean not only shorter trips to league games, but competition that – at least this season – looks more in the Braves' arena.
"We'll still have our struggles next year, but I plan to continue to play MCAL teams because it's a way to mark yourself and see where you are," Branagan-Franco said.
Justin-Siena tied two future league opponents, Vintage 1-1 and Napa 0-0, and lost just 2-0 to another, Sonoma Valley. But the Braves were outscored 73-4 overall this season, 72-3 in the MCAL.
"It's been a very up and down season for us," Branagan-Franco. "But whether it's illnesses, injuries or what-not, those are part of the game so they can't be used as excuses. The team is still very young.
"The new league is not going to be easy. Napa and Vintage may not be at the same level they used to be, but American Canyon and Petaluma will be very strong, and Sonoma Valley is a very physical and big team. And this will likely be the first time Casa Grande is not getting in the playoffs in 20-something years. It might seem like we're going into an easier league, but we're still going to be very much challenged at the same time."
As the head coach of a program that hasn't made the playoffs since spring 2001, his freshman year at Napa High, he doesn't want to make soccer too easy for the Braves.
The former All-County Boys Soccer Player of the Year and Cal Poly goalkeeping standout wants them challenged on and off the field at this time in their lives, so that they are ready for the real world.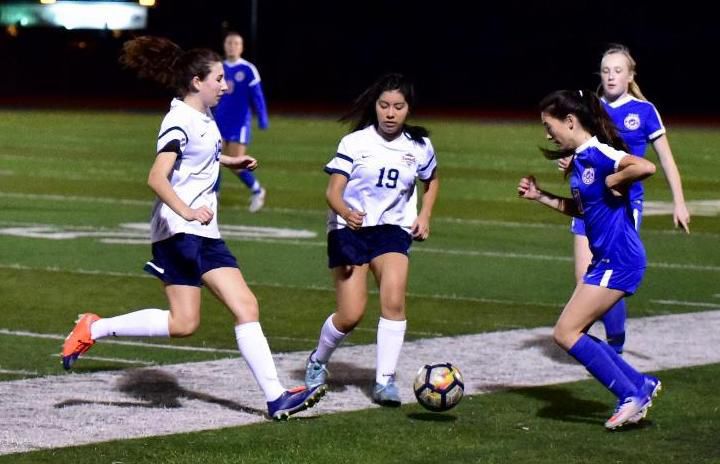 "When I came in, I was their fourth head coach in four years," Branagan-Franco said. "My goal is to try to continue to develop this program and get it back to what it was in the past. Being a smaller school, it's always hard to get (players). My hope and goal is that we get another large freshman crop that want to continue playing so you create that foundation and grow."
It hasn't actually been 17 years since Justin-Siena has had a playoff-caliber team. Its 2013 squad, after finishing sixth out of 10 teams in the MCAL with a 6-6-2 record, would likely have made the playoffs had the athletic director at the time not missed the application deadline.
But the four years that Sophia Dierking has been on the varsity have been brutal record-wise. The Braves have had just two wins, 41 losses and three ties in MCAL games during that span, and been outscored 247-14 in league play and 263-33 overall.
Dierking the top scorer
One thing Dierking can brag about someday is that she scored three of her team's four goals as a senior – one at Vintage on Nov. 29, one against San Rafael on Jan. 3 – both on assists by junior Caroline Melancon, a fellow captain – and one in Friday's season-ending, 2-2 road tie against San Rafael at Redhill Park in San Anselmo. Friday's other goal was scored by Presley Schultz on an assist by fellow sophomore Sophia Smith.
"The few players who have been here from Day 1 have to show passion, to show the players who joined as sophomores or juniors that the scoreboard may not show how we're feeling or how we did," Dierking said. "And our coach is more than understanding and more than willing to give everything and every moment of his time to help. So it's more about, can we get the whole team on the same page for the future?"
Dierking said she's come back every year because loves the game and wants to set an example for younger teammates. She played in the field in the first half and in goal in the second half of Wednesday night's 7-0 home loss to Tamalpais (11-0-2 MCAL). The Red-Tailed Hawks, who have one more tie than first-place Branson (12-0-1), scored all of their goals in the first half.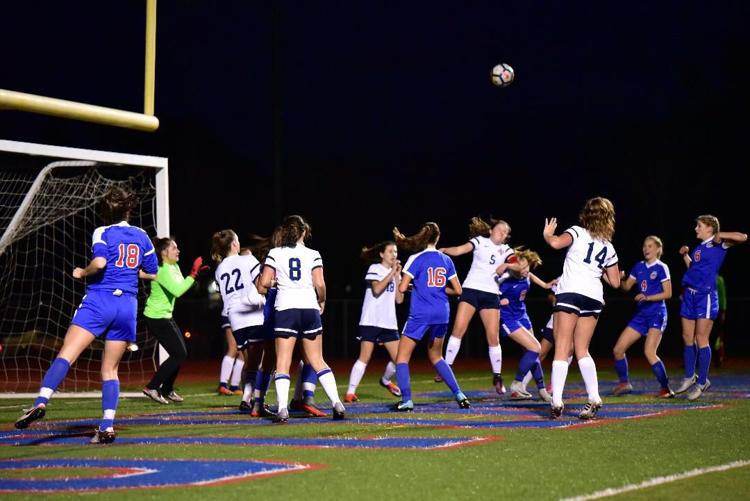 Dierking used to play club soccer for Petaluma United and Sonoma County Alliance, clubs that feed other MCAL programs, before switching to a Napa club.
"It's fun to play against your former teammates," she said.
With Rachel Hard out for the second season in three years due to torn ACLs in both knees, and Gina DiMare also sidelined by injury, the Braves' only other healthy senior was third-year varsity starter Natalie Gulrajani.
"When you come into a season and you have two seniors who are already injured, it puts more pressure on Natalie and Sophia to lead. Sophia was injured partially in the beginning of the year and that took a toll on us, so we had to protect her and get her as healthy as possible," Branagan-Franco said. "That's also time for other kids to step up and actually play at a higher level and with more intensity and more focus, and I think for a lot of my sophomores and juniors who are getting a lot of minutes this year, I think it will have been very beneficial for them next year."
Gulrajani never thought of quitting because progress was being made.
"My heart's in the team and I really want to win with them. It's also the commitment. I'm not the type of person, and neither is Sophie, to start something and then just stop," she said. "I think it's about the dedication to the program and just hoping that we can show that on the scoreboard eventually and develop on the field more as a team. Coach Eric has done a lot for us to try to develop our program and it's showing, not always on the scoreboard, but in the players' mindsets and in our skill level."
Gulrajani Duke-bound
Gulrajani, who has been accepted to Duke University and plans to major in "global health on the premedical track," said soccer has helped balance her life and fits her personality.
"It's definitely nice to get out on the field and take a break from doing homework and being stressed," she said. "I'd say I'm a very competitive person all-around academically, and that shows on the field."
Dierking plans to major in "a mixture of criminology and psychology to pursue an FBI or state department career" and carry her team attitude into the real world.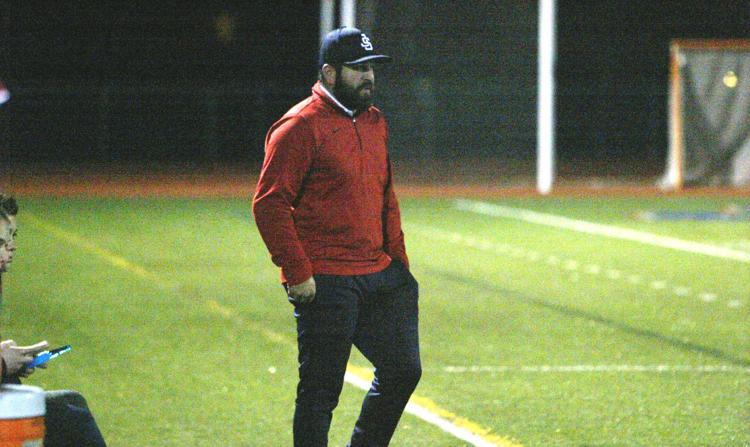 "In classes it might only be you and your (academic) track and you're focusing on yourself, but in sports there's the concept that you're not the only one, that you can share the battle, share the win or loss," she said. "Soccer is preparing us for life on the other side of academics, and balance and time management. I feel my major will intertwine with sports how the human brain works and, on the criminal side, why and how we can prevent it."
The two will likely miss Branagan-Franco and assistant coach Sarah Treweek, a 2010 Napa High alum who enjoyed an undefeated regular season as a senior.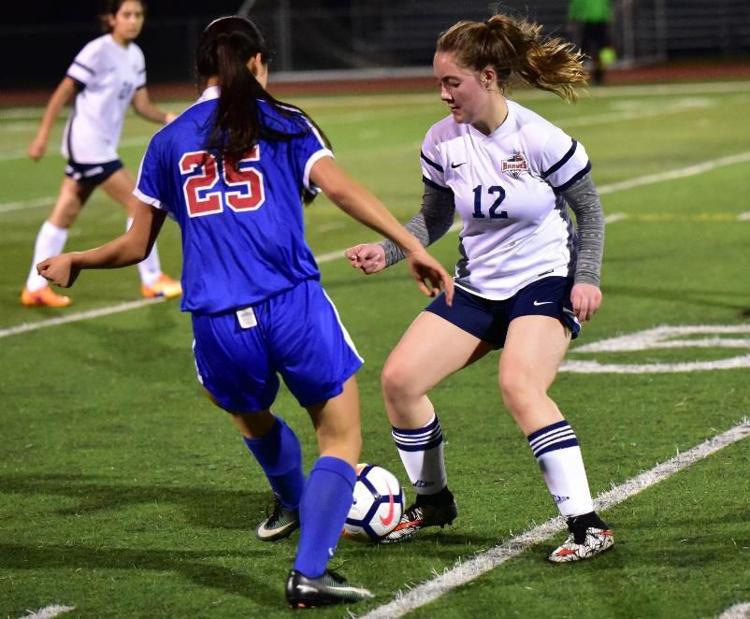 "I can definitely say Eric is the best thing that's happened to this program in a long time and that he will eventually get the program to do well," Gulrajani said. "One of my favorite things about him is when we have a tough game and we do badly he'll come down hard on us, but the next day at practice, it's 'Let's move on, let's face forward, instead of letting what happened drag us down.' He has a positive attitude and focuses on what will make us better for the next game."
Added Dierking, "He's really honest. A lot of people don't really like the truth, so it does seem harsh, but the truth is the truth. I personally like that, because if he sugar-coated it then you wouldn't be improving. I like his coaching style."
Staff all Napa High alumni
Treweek lost only six of 45 games as a two-year varsity player under then-head coach Dave Todd at Napa High. Eric Branagan-Franco was the Indians' goalkeeping coach and kept in touch with her.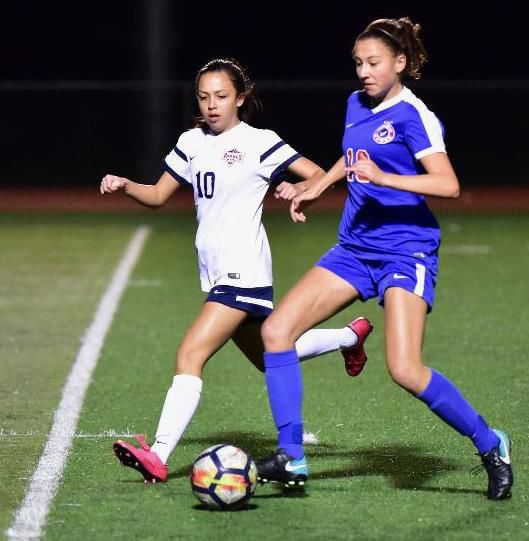 "Eric and I are both very competitive people," Treweek said. "It's difficult to lose 7-0, but it's not fair to say to the girls that it's OK because it's not. You have to be real with them. If you aren't, it's very disrespectful to them."
Despite her own success as a player, Treweek said she can relate to the Braves' struggles.
"I played for a club team in Napa that had moments that were really good, but we also played teams from Marin and Marin FC would wipe the floor with us every time," she recalled. "It's nice to see the girls' attitude unwavering and they keep coming back to practice, because it's very disheartening to come in and lose games like this."
Branagan-Franco likes having his sister and Treweek on staff for other reasons, too.
"A big reason for bringing Sarah and Bryce into the program is that these girls need to understand leadership roles from women that are very successful in their careers. Sarah is in the wine business. My sister just graduated from college and is looking to become a physician's assistant," he said. "Even though it seems I'm all about soccer, it's not all about soccer."
Branagan-Franco hopes to get more effort next year than he saw in Wednesday night's loss.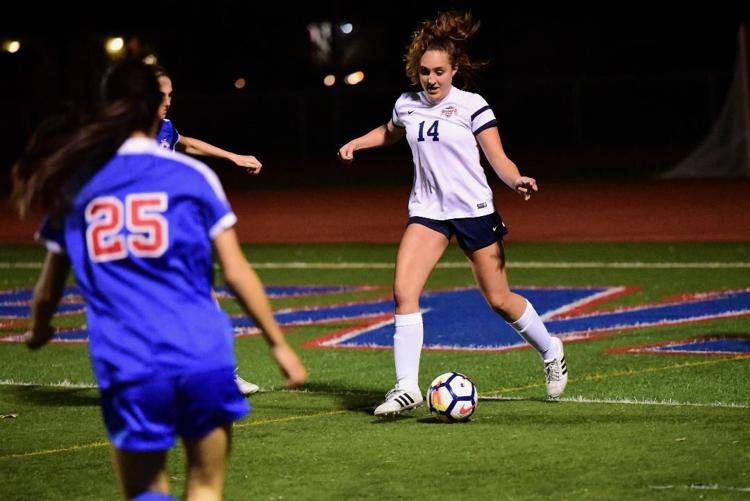 "Does it hurt to lose 7-0? Of course it hurts," he said. "It's a growth of character, and hopefully the girls understand you can't come in as an underdog and play like an underdog. You've got to play with a little more of a bite, an attitude that if you get in there you might have a chance. Today we played like an underdog and it cost us."
Branagan-Franco is optimistic about the future now that Justin-Siena has a JV team, which means most of next year's varsity newcomers – unlike some of this year's – will come in with at least a year of playing experience.
They will have learned from his sister Bryce Branagan-Franco, who came on as the Braves' JV coach this season. A 2013 Napa High alum, she was the 2011 All-County Girls Soccer Player of the Year.
"One of the goals for me this year was to get a JV team and we did – with 14 girls, and 10 of them are freshmen," Eric Branagan-Franco said. "That made things a little bit thinner (at the varsity level). Last year I had 24 varsity girls, so if I had girls get sick or injured, I still had a full-on arsenal to go and play. But it did me no good to have 24 girls on the pitch because only 11 get to play. Thirteen sat on the bench and they needed game time to develop, so this year has actually been really good for them to get more minutes and play a little more because a lot of my girls don't play club, and some haven't played since they were little kids."
Rounding out the Braves are juniors Danielle Rodriguez, Charlotte Holder, Caroline Long, Julia Oliveira, Mikaela Zeiter, Adilene Padilla Gonzalez, Adriana Delgadillo, Lauren Flaherty and Isabella Galambos, sophomores Natalie Schiefferly and Sophia Van Duzer, and freshman Sarah Fader.
"My next goal is for them to play in the summer and fall, whether it's recreational or bronze level or into a higher level of club, because they need more time on the field, more touches, to develop," Eric Branagan-Franco said.