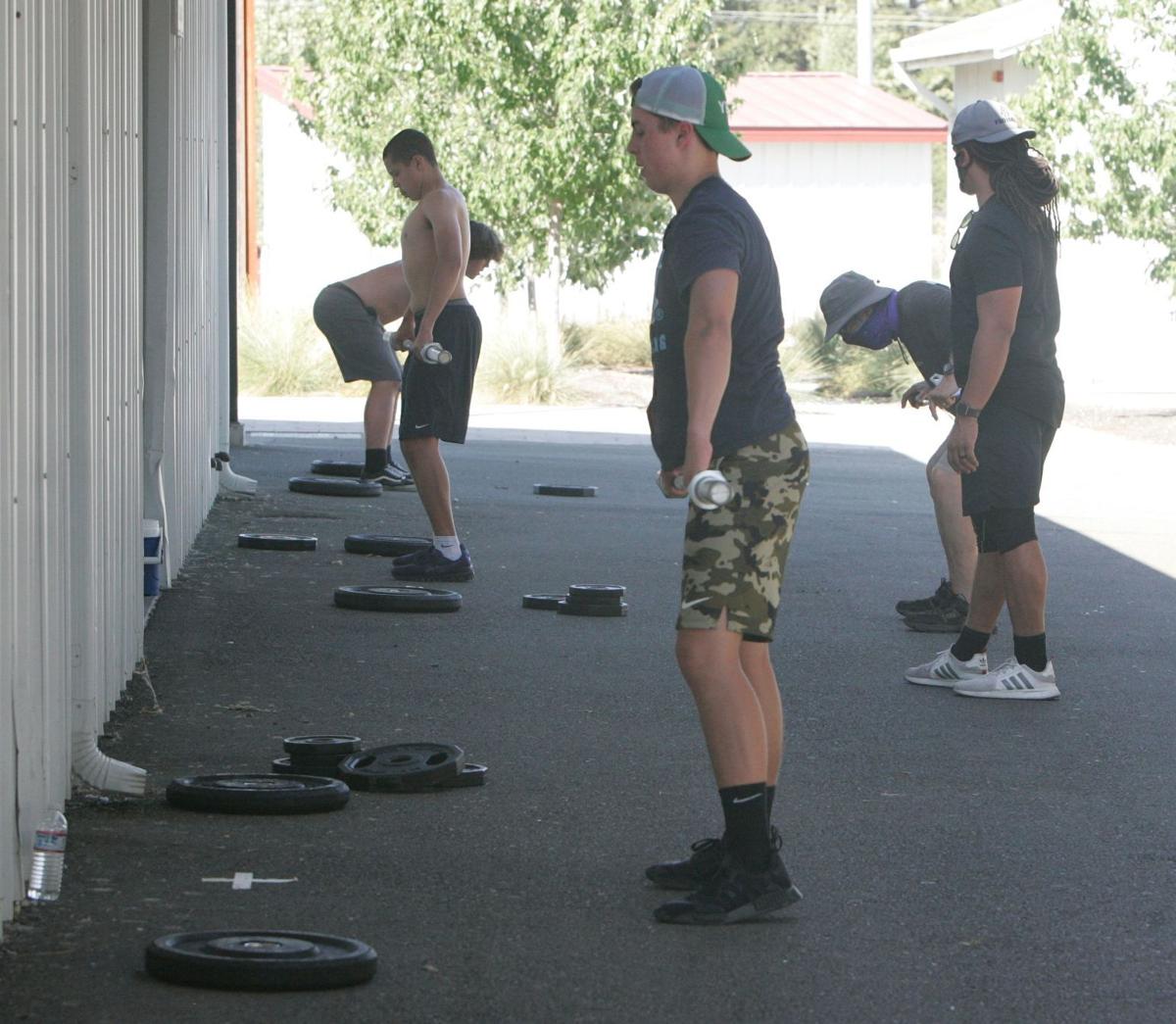 Justin-Siena wanted to restart in-person offseason workouts for its sports programs several weeks ago but Mother Nature had other things in mind.
Between a record-setting heat wave, thunderstorms and wildfires that have beat down Northern California over the past two-plus weeks, the Braves had been confined to their homes where they've been putting in what work they can virtually over Zoom.
But earlier this week, with fires finally at bay, the heat wave come and gone and the air quality from the lingering smoke steadily improving, the Braves had several teams finally return to in-person workouts. Justin-Siena is the first high school in the county to be resuming in-person athletic activity after stopping in late June following the schedule change from the California Interscholastic Federation.
The football team held in-person workouts on Tuesday and head coach Brandon LaRocco said that boys basketball, baseball and softball were also planning on resuming this week.
"We're just focusing on lifting right now," LaRocco said of the football team. "Best-case scenario is we'd focus on lifting now until mid-October. … Theoretically, if we're allowed to in mid-October, we're going to take eight weeks between then and mid-December and kind of do what we would do on a normal summer situation, run some field work, seven-on-seven kind of stuff, of course barring our positon with COVID.
"But that's our plan until mid-December and then we'd jump into the season with our pads and all that kind of stuff."
Justin-Siena, like other high schools in the Napa Valley Unified School District and Upvalley, had held in-person workouts earlier in the summer. Most started in mid-June and ran until the CIF announced its plan on July 20 to delay the sports season until December at the earliest. Schools that had been conducting workouts stopped, primarily to plan for the new schedule but also to give students a break as they headed into the 2020-21 school year with distance learning.
Justin-Siena, which was the first school to begin in-person workouts in June, is also now the first to resume them following the stoppage.
"I am just glad we were finally able to start this week," LaRocco said. "I feel like we are already behind."
LaRocco said this round of workouts will be very similar to what the Braves did during summer. Health and safety guidelines will once again be in place and the Braves will continue to hold workouts outdoors.
Several programs around the county ran into issues with COVID-19 during the workouts in July. The American Canyon High football team had a scare that was ultimately a false alarm. The Napa High football team had two individuals test positive. Justin-Siena's football program so far hasn't run into any trouble.
"We haven't had any real scares; I haven't had to send anybody home," LaRocco said. "Everyone has come in within the guidelines. We've been pretty fortunate thus far, so hoping it stays that way."
Napa County is currently still on the state watchlist for COVID-19 cases, but has recently experienced a slight decline of positive reported tests. Only eight positive tests were reported on Wednesday, the second time in five weeks that the county has reported single-digit cases, and cases have been trending downward since mid-August.
Restrictions are still in place county-wide. But if cases remain on the current trajectory, many could loosen by mid-September.
That's a promising sign for the fall sports season, which is scheduled to begin in December and January, but much could obviously change in the coming months when flu season arrives, like many health experts predict.
Still, LaRocco and Co. are trying to remain positive, despite all the hurdles they've faced so far.
"I've tried to remain optimistic the whole time," he said. "Certainly all the curve balls we've had to deal with these past few weeks makes it challenging to stay optimistic. It seems like we're always dealing with one more thing, like dealing with fires in the middle of a pandemic. Sometimes it can be overwhelming trying to deal with all that and finding a way to make stuff happen with all the circumstances you're facing.
"But we preach resiliency and we preach dealing with adversity and we preach that those are good things. It's how we approach those things that define who we are, so I think (the kids) have to keep that in mind. For the kids and myself and other coaches, we have to keep pushing."



Watch Now: The difference between coronavirus symptoms and allergies
Contact Gus via phone at 707-304-9372 or email at gmorris@napanews.com. Follow him on Twitter @JustGusMorris.