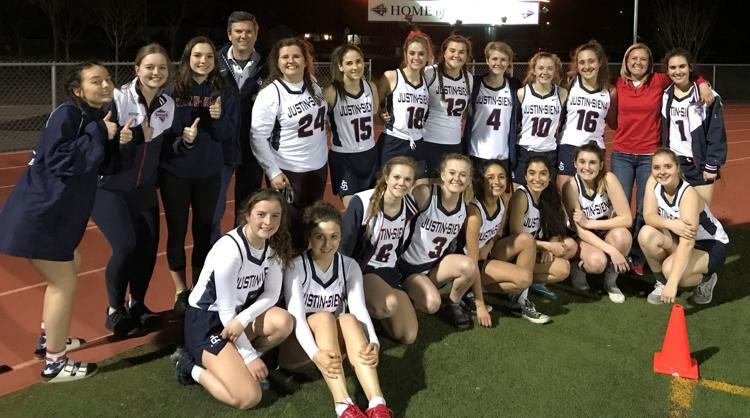 The Justin-Siena High School girls lacrosse team spent part of its spring break last year playing two games at Laguna Beach in Orange County. It was a great trip, coach Noelle MacDougall recalled, with the Braves losing to San Clemente, 18-8, and beating Laguna Hills, 20-9.
"They're looking forward to a more challenging spring break this year," MacDougall said Friday at Dodd Stadium. "It will be a really great way for them to figure out where they really land on the national scale."
MacDougall will take her team, which is off to a 3-2 start in the nonleague season, to her home state of Maryland for three games during Justin-Siena's 2018 spring break. The trip, from March 30 to April 3, was approved last October.
The 19 players who are on the Braves' varsity will travel to Annapolis, where MacDougall grew up playing lacrosse. There are 16 parents of players who are also going on the trip. The group will leave on March 30 from Sacramento International Airport and will fly to Baltimore-Washington International Airport.
Justin-Siena has two games on March 31, facing Arundel of Gambrills, Md., and Chesapeake of Pasadena, Md. The Braves will then take on Annapolis, MacDougall's alma mater, on April 2.
The trip to the east coast is something that MacDougall has given a lot of thought to, starting when she first took over as the team's coach in 2016.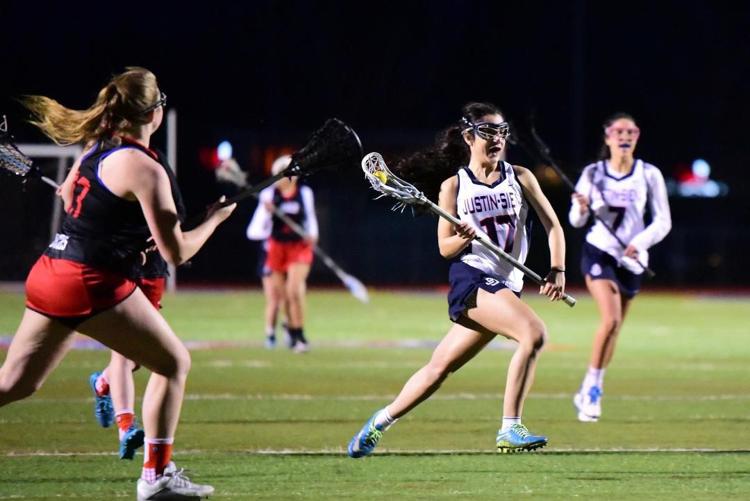 "It is truly a dream come true, bringing my girls to show off what they can do, and really feeling the nostalgia of being at Annapolis High School," said MacDougall. "I cannot wait to get back in my old stadium and see my old coach, Dave Gehrdes.
"California is up and coming (in lacrosse). There's a ton of colleges out this way who are doing very well."
Justin-Siena is also doing very well.
Last year, the Braves (11-9 overall, 5-3 Marin County Athletic League) advanced to the CIF North Coast Section Division 2 playoffs, losing to Bishop O'Dowd-Oakland, 12-9, in the quarterfinals.
Justin-Siena began the 2018 season losing 9-5 to Las Lomas-Walnut Creek. The Braves won three in a row, beating Clayton Valley Charter-Concord, 18-1, Christian Brothers-Sacramento, 7-6, and Rio Americano-Sacramento, 16-2. They lost on Monday to St. Francis-Sacramento, 21-10.
MacDougall is in her 17th season coaching high school lacrosse. She has coached at Annapolis High, Episcopal School of Jacksonville (Florida), and Hylton of Woodbridge, Virginia.
"I just love it so much," she said. "I love helping to guide young ladies as they're finding themselves as an athlete and a student athlete as well."
MacDougall started out playing lacrosse at the age of 9, and after attending The Key School, transferred to Annapolis for her last two years of high school and played midfield. She graduated from Annapolis in 1994.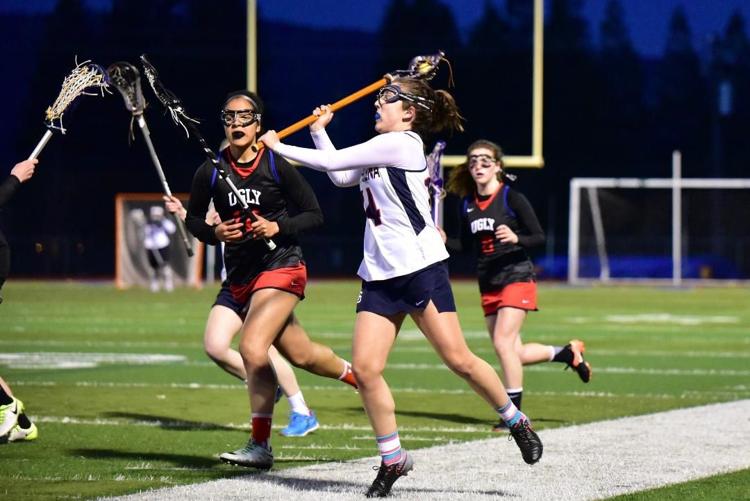 She attended Baylor University and co-founded the women's club lacrosse team there her junior year. She graduated from Baylor in 1998 with a degree on geology and works as a wine educator at Domaine Carneros. She is also a certified level 2 sommelier.
"For me, lacrosse was such an asset to give me confidence and independence, and to show my more athletic side," she said.
"For me, coaching means even more – giving them a sense of self, giving back to a team, being selfless, confidence and really bonding as a big team, making sure that we're taking care of all our teammates, working, physically challenging yourself every single moment.
"Our practices are pretty rigorous and they can be very tiring. I don't make them very long for that reason, because I want them to go hard the whole time."
MacDougall will be a tour guide for her team and the group as well, as she plans to show the Braves around Annapolis.
"It's just such a beautiful town, a very historic town, absolutely stunning," she said. "A lot of history, a lot of pride for me there. I'm excited to show it off."
The team will have brunch on Easter Sunday, April 1 with MacDougall's family, including her parents, Jan and Wayne Montag, at their home in West River, MD.
The itinerary for Justin-Siena also includes a tour of the U.S. Naval Academy on April 2. MacDougall is hopeful that her team will be able to meet the women's lacrosse team at Navy.
"I'm excited," said MacDougall. "I think the girls are really looking forward to it."
Justin-Siena is led by Allison Clark (attack), Grace Walter (midfield), Natalie Gulrajani (captain, midfield), Karlie Wells (attack), Caroline Long (defense), and Emily Heathcote (goalie).
The rest of the team consists of Rachael Fitzgerald, Catherine Flaherty, Kendall Hyatt and Lisa Taylor, attack; Julia Best, Lexi DeLeuze, Cassie Duncan, Kiran Monteverdi and Mia Vlaming, midfield; and Olivia Capiaux, Caroline Melancon, Margaret Nugent and Mikaela Zeiter, defense.
Several of the players and their parents will continue the spring break by visiting colleges on the East Coast.