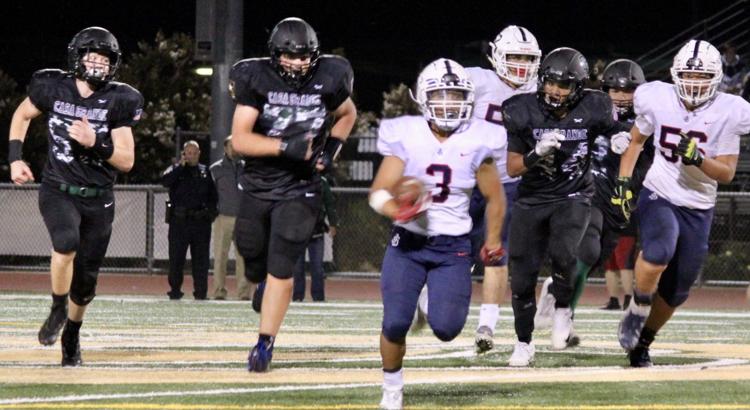 PETALUMA – "That was a tough one to lose because it's a game we gave away," said Justin-Siena football head coach Brandon LaRocco after previously winless Casa Grande scored a touchdown and two-point conversion in the final seconds to nip the Braves, 36-35, in each team's Vine Valley Athletic League game opener Friday night.
After spotting Casa Grande a 14-point lead in the first half, the Braves (3-2) came roaring back. They looked to have a good shot at winning the game when quarterback Barrett Donohoe scored on a 1-yard keeper and completed a two-point conversion pass to Francisco Morales-Florentino for a 35-28 lead with 4:28 left in the game.
But it was the Gauchos' night and to head coach Denis Brunk's credit, Casa Grande (1-4) didn't play for a tie after it scored with 16 seconds left. The Gauchos went for two and the win and were rewarded when Jordan Gramajo crashed into paydirt.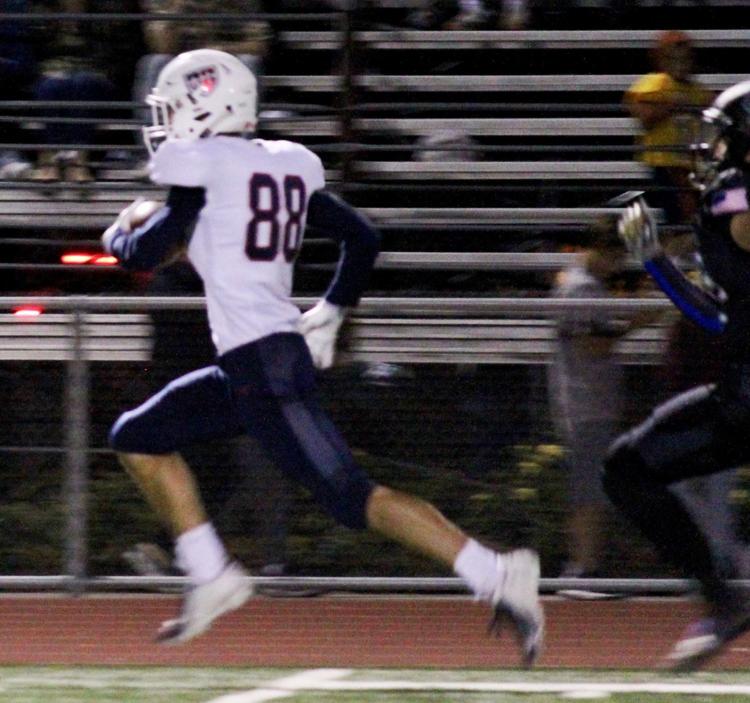 "We missed tackles left and right, even when we were in the right spot. You can't win games like that," LaRocco said. "We were tackling too high, up around the shoulders, and their running backs were just shrugging us off."
Led by diminutive quarterback Jadon Bosarge, who carried the ball 10 times for 109 yards, the Gauchos gashed the Braves' defense for 370 yards and five rushing touchdowns.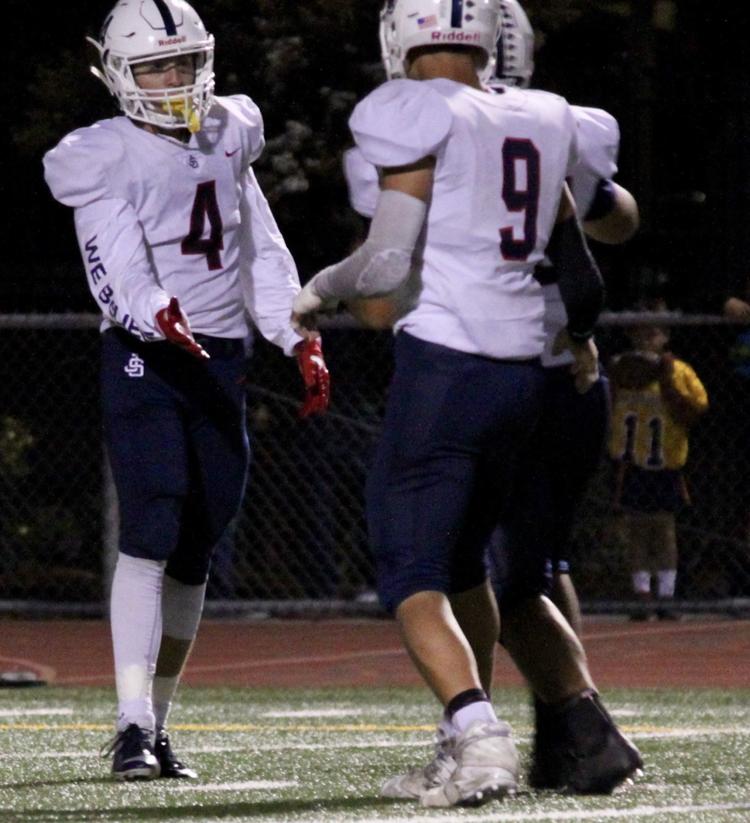 "They jammed the ball down our throats," LaRocco said. "You have to give them credit. They showed very little run in the previous four games."
LaRocco felt his team had a poor week of practice and did not come out with the effort needed to win a game like this.
"You can't practice that way and win games like this," he said. "It doesn't work that way."
After Casa Grande jumped ahead of the Braves with two rushing touchdowns, the Justin-Siena passing game came to life in the second quarter.
Donohoe connected with wide receiver Shane Rosenthal for the first of two long touchdown passes on the night, and later found tight end Michael Fitzgerald to draw the Braves within 14-12. For the second game in a row, Justin-Siena had problems converting extra points in the beginning. It would come back to haunt them when the game was decided by a single point.
The third quarter began in promising fashion for Justin-Siena when Donohoe again connected with Rosenthal on a long bomb on the half's second play. This time Morales-Florentino was able to run for a two-point conversion, and the Braves had a 20-12 lead.
The teams went back and forth the rest of the game, and as often happens in a high-scoring affair like this one, the team with the final possession won the game.
Although forced to run for his life from the Gauchos' relentless pass rush for much of the night, Donohoe was in on every Justin touchdown for the second game in a row. After throwing for five touchdowns against Hercules, the senior threw for four touchdowns against Casa Grande and ran it in for his team's final score of the night.
Donohoe threw for 280 yards, giving him 1,092 halfway through the regular season.
Justin-Siena returns home next Friday for another VVAL game, against the Petaluma Trojans (4-1). The Trojans lost their league-opening game at American Canyon on Friday, 43-16.
Casa Grande JV 37, Justin-Siena 0
The Gauchos (5-0), who have allowed only 43 points all season, posted their second straight shutout and dropped the Braves to 3-2 overall.