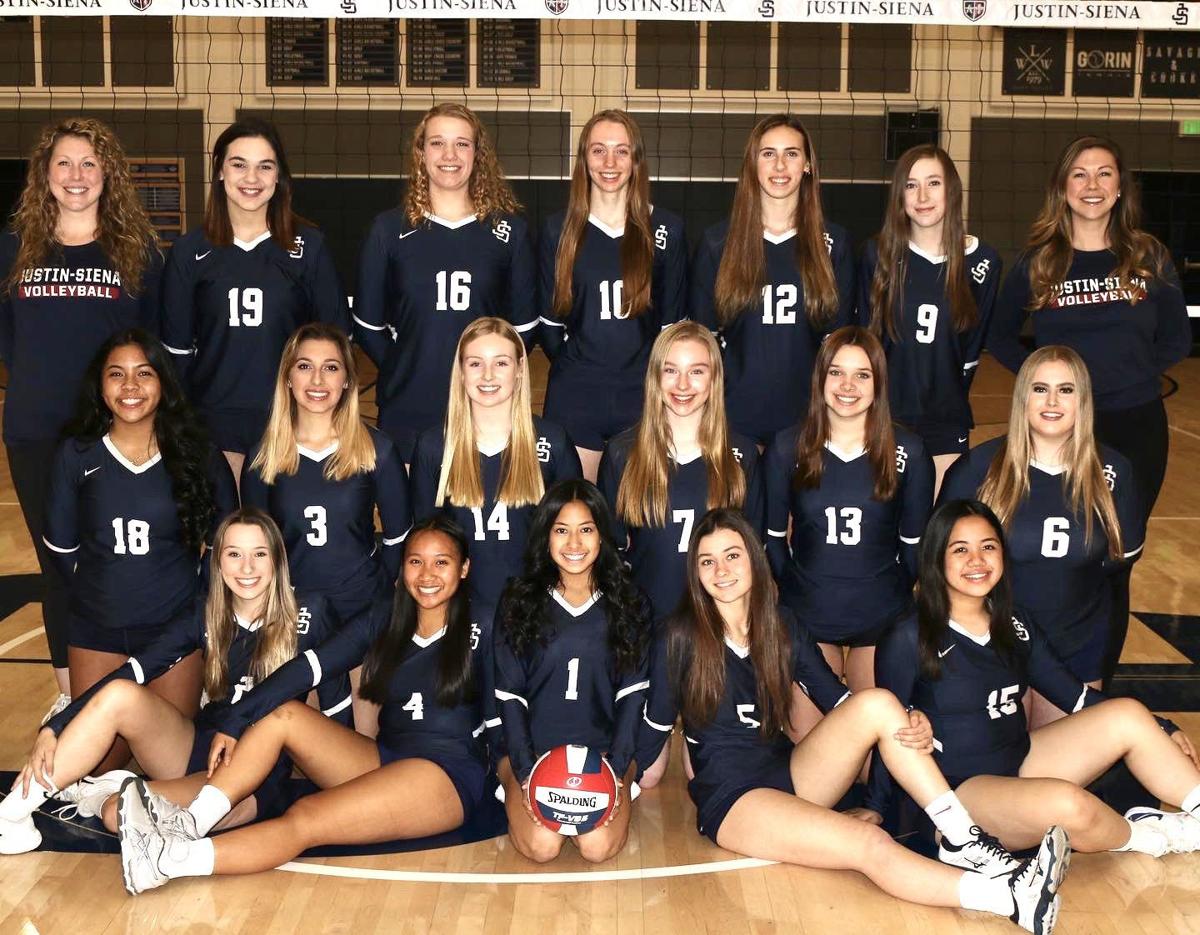 The new head coach of the Justin-Siena volleyball program played four seasons for nationally renowned high school powerhouse Archbishop Mitty of San Jose, four years with the Santa Clara University club program, and then with the San Jose State club team.
Sound familiar? It should.
Kate Reilley's resume as a player mirrors that of her sister, Chelsea Reilley, whom she is replacing at the Braves' helm after being Chelsea's assistant coach the last three seasons at Justin-Siena.
"Since the first time I stepped on that campus, I knew it was a special place," Kate said. "I was so thankful that Chelsea had become their head coach and I felt lucky to just be involved. I knew one day Chelsea might move on from Justin Siena and while I am sad to see her go, I am so excited to continue coaching these amazing young women."
Two years younger than her sister, the 2006 Mitty alumnus helped her Santa Clara club team reach the Division I National Championship in 2010. Kate then played for the San Jose State club team while in graduate school in 2011 and 2012 for head coach Robert Stamps, with Chelsea as a teammate in 2011.
Chelsea stepped down to become the head coach at Napa Valley College and team with Stamps, who is her husband and the NVC Director of Volleyball.
Kate said her sister and Stamps helped groom her for this first-ever head coaching position.
"Chelsea and Robert are the reasons I started coaching in the first place," she said. "Robert was my coach at San Jose State and pushed me harder than any coach had. He taught me to look at the game differently in order to play smarter, and I started seeing volleyball through a coaches eyes.
"After grad school, I was thrilled that Robert and Chelsea wanted me to be a volunteer assistant coach for the San Jose State club team, and that is when I truly fell in love with coaching. We have a great dynamic. Being family, we trust one another, we push one another, and we are 100% open and honest about how we feel about a team, a game strategy, etcetera. Being able to coach with them the last eight years has been an absolute blessing. They are two of the smartest coaches I have ever seen, and I know I will continue to learn from them for years to come."
Mitty won the state championship in 2003, when Chelsea was a senior and Kate a sophomore, and again in 2004. The Monarchs were the state runners-up in 2005.
"Having both played for one of the best high school programs in the country, we were taught to be disciplined, dedicated, and committed to a winning culture," Kate said. "While we have started to implement some of these things at Justin Siena, I want to continue to build on these ideas and to be considered to be one of the best volleyball programs in the area."
Justin-Siena was a combined 39-33 overall during the three seasons that Kate assisted Chelsea. The Braves finished in a three-way tie for third place in the Marin County Athletic League with a 5-5 mark in 2017, when they had two league matches canceled due to the devastating North Bay fires. They came back to win the first VVAL crown outright with an 11-1 record in 2018, and then placed fourth at 6-6 in the VVAL last fall. They were a combined 4-3 in the North Coast Section Division IV playoffs and 0-2 in the NorCal playoffs.
"Kate Reilley has been an integral part of the Justin-Siena volleyball program under Chelsea Reilley's leadership," said Justin-Siena Athletic Director George Nessman. "We are happy for the opportunity Chelsea has earned, and we are highly confident in Kate and her abilities to direct an outstanding volleyball program."
Chelsea couldn't make it to three matches during her three years at Justin-Siena because she was pulled away for work-related trips. Kate took over in those and won two of the three.
"We still talk about those games," Kate said. "One game went to five sets and we were tied 13-13 and I put in an underclassman who was new to varsity to serve. The other coaches were not thrilled with my decision, but she went back and served an ace, and then we scored the final point to win the game. While stepping in as head coach was intimidating at first, I did enjoy filling in for Chelsea and am happy with the result."
With the San Jose State club team, Kate earned Division I Second Team all-league honors in 2011 and all-league Honorable Mention in 2012. She was selected to compete on the All-State Alumni Team in 2013, 2014, 2015 and 2016, and for the USA Alumni team 2009 and 2010.
"We are so excited to have Kate take over for her sister Chelsea in leading our volleyball program," said Justin-Siena Assistant Athletic Director Andrew Bettencourt, also the Braves' girls basketball head coach the last six seasons. "The continuity she will bring will help to continue building on a strong foundation. Kate has a strong knowledge of the game and a great rapport with the team already, so we look forward to a smooth transition."
An off-campus coach like her sister, Kate started a new job on May 11 as an account manager for Napa's Astra Digital Marketing Services, which support wineries with digital marketing services. Her previous job was as Marketing and Communications Manager for Blackbird Vineyards.
Now that she's not being coached by or coaching with Chelsea, Kate plans to put her own spin on it.
"Having coached together for so long, of course our coaching strategies are similar, though I have some different objectives I'd like to focus on moving forward," she said. "Through high school and college, even though we played on the same teams and played the same position, our experiences were very different. As an outside hitter, I was more defensive-minded, and that will definitely be a bigger focus for us moving forward."