Justin-Siena made the most of a peculiar evening at the Marin County Athletic League Super Match on Wednesday, going 2-0 by defeating Novato and San Rafael by identical 57-24 scores.
The Braves began their day at Tamalpais High in Mill Valley for the showcase of all nine MCAL teams. But an issue arose when one of the three mats didn't arrive, forcing an emergency solution.
San Rafael High hurriedly secured its gym and the Justin-Siena coaches contacted the referee from the Redwood Empire Wrestling Officials & Coaches Association to divert to San Rafael, and the Braves, Hornets and hosting Bulldogs headed back up Highway 101 to complete their tri-meet while the other six teams competed at Tamalpais.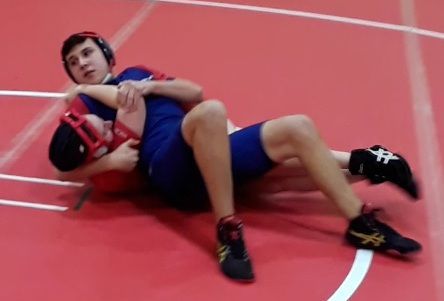 Unfazed by the location change and extra commute, the Braves rolled to a 33-0 lead over Novato behind key pins from Wriley Sedgwick-Robles, Joe Karch and Syohei Harr and a hard-fought 9-2 decision from Tommy Lopez.
Justin-Siena then charged out to a 39-6 lead over San Rafael. The Braves got big pins from Helen Neidhoefer, Victoria Su, Nathan Lowenstein, Lopez and Karch, and Nico Minardos had the crowd on the edge of its seats with a Super Bowl-sized score of 22-17 in his win.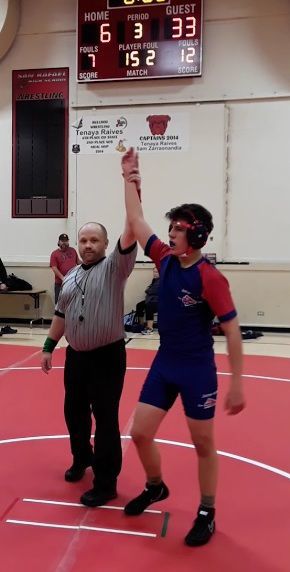 "We went out well in our last MCAL duals ever," Justin-Siena co-coach Jason Guiducci said. "These kids have come so far and really wrestled inspired tonight. It has been a tough couple of weeks and we were all back healthy tonight. That made a big difference this evening."
Vallejo 35, American Canyon 33
The top performers for the Wolves, who lost their Solano County Athletic Conference finale Wednesday night, were Zachary Ferrer (126 pounds), Aaron Villa-Carlos (132) and Lucas Gramlick (285). Also receiving points were Joseph Brumm (160), Aviyen Ferreira (170) and Maben Centeno (182).
"Good battle," American Canyon head coach Rick Manibusan said. "Vallejo was a better team tonight."
Varsity Boys Basketball
American Canyon 79, Benicia 62
Malik Ghiden scored a school record 35 points, grabbed eight rebounds and two steals and took a charge as the Wolves avenged an earlier SCAC loss Wednesday night on the road.
Roman Madayag added nine points and played great defense, head coach Brett Wedding said, while Anthony Nguyen had eight points and Davin Lusung had six points and 10 steals.
Varsity Girls Basketball
The Indians trailed by two points with three minutes left Tuesday night and had to intentionally commit fouls to force Rodriguez to the line, and the visiting Mustangs pulled away with free throws.
Napa trailed 32-23 halfway through the Monticello Empire League contest and was down by as many as 12 points.
"I am so proud of our players for always battling until the bitter end, not giving up and remaining positive throughout," Napa head coach Darci Ward said. "It was an extremely physical game on both ends. Rodriguez played very tough."
Malia Blackmon led the Indians with 13 points, while Breck Hearn scored 10 points and had another impressive rebounding night with 15 boards.
Carly Johnson had nine points, Anna Ghisletta had six points, three rebounds and two steals, Jane McLoughlin had four points, six rebounds and six assists, keeping the Indians composed throughout, and Siena Young had four points, three rebounds and two assists. Sofia Brandon and Jenna Baker each chipped in two points.
Napa (8-12, 2-4 MEL) will visit Vacaville (2-4 MEL) at 7 p.m. Friday before hosting nonleague opponent Davis (12-10, 8-2 Delta League) at 7 p.m. Saturday. Davis, coached by Napa High alum Heather Highshoe, lost by one point to a Eureka squad that defeated Napa by 29 two weeks earlier en route to the Wine Valley Tournament title in December.
Varsity Girls Soccer
Benicia 1, American Canyon 0
The Wolves (7-9-3, 3-2-1 SCAC) remained in third place with Wednesday's home loss to the second-place Panthers.
JV Boys Basketball
The Crushers (10-8, 3-3 MEL) were led by Justin Van Maren's 13 points, while Luke Williams chipped in nine.
"The key in JV is to develop your players for the next level and to learn from your mistakes throughout the ball games," Vintage coach Drew Willems said. "We trailed most of the game but kept playing hard."
Freshman Boys Basketball
The Crushers closed their season Tuesday night with a win on their home court, finishing 11-5 overall and 5-0 in the MEL. Vintage sprinted out to a 15-3 lead in the first quarter and never looked back.
Sam Neal led the Crushers with a season-high 21 points, including five 3-pointers. Owen Schnaible had 11 points, five rebounds and three assists, Charlie Seitz had eight points and four4 assists, and Donavaughn Graeber had six points and four steals.
"This was a great group of guys to coach and I'm proud of how each of them have grown as players this season," Vintage coach Drew Willems said. "I look forward to seeing how they will continue to grow as a group over the next few years."