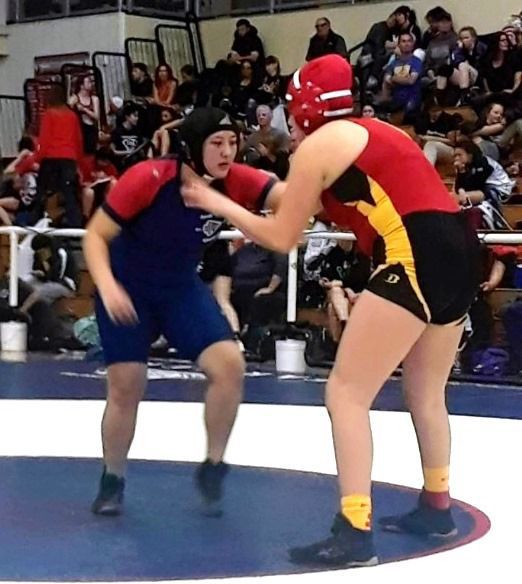 Victoria Su and Helen Neidhoefer represented the Justin-Siena wrestling team at the CIF North Coast Section Girls Championships, held Friday and Saturday at Albany High School.
Neidhoefer, a sophomore, lost her opener at 121 pounds to Livermore freshman Amy Zamora by second-period pin, in 2:59, and her consolation match to Pittsburg sophomore Jacqueli Moreno, 14-3.
Su, a senior, was pinned with one second left in the second period by Berkeley's Veronica Lerman, who went on to qualify for the state meet with a third-place finish. Su was pinned in 49 seconds in her consolation match by Newark Memorial freshman Meghan Sage.
Though neither was able to crack the top three in her weight class and advance to the state meet, the Braves' coaching staff was very pleased with the duo and their efforts over the course of the season.
"Helen shows tremendous fight and always pushes every opponent to the limit. We look forward to working with her in the future," Justin-Siena co-coach Jason Guiducci said of Neidhoefer, who also played goalkeeper for the girls water polo team last fall.
The staff was emotional about Su's four-year wrestling career ending on the mat in "All-Heart" fashion. She had pushed herself through a recent sinus infection and ear infection to wrestle one last time.
"We are very proud of this young lady and love all she has brought to our program, from building camaraderie amongst our team to always working to inspire more girls to wrestle," Guiducci said. "She has a bright future away from the mat and her trials as a wrestler will make her an unstoppable force in her future endeavors."