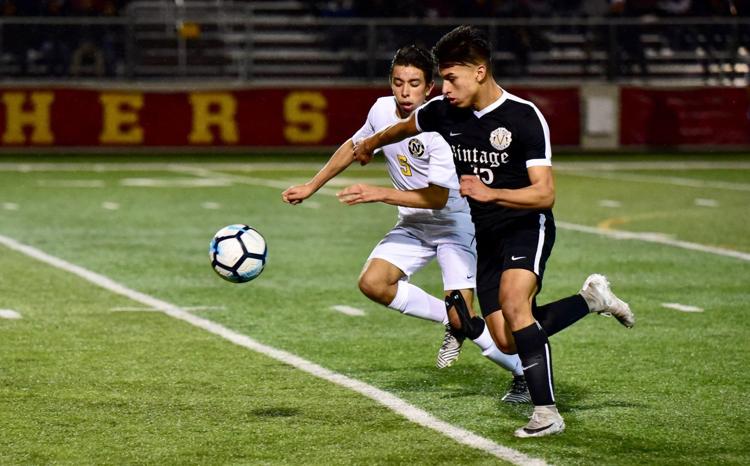 Fans who braved the rain Wednesday night at Memorial Stadium were rewarded by getting to witness a rare Big Game hat trick, though only one side was happy about it.
Vintage High junior Oscar Loyola scored three goals, back to back to back, to lead the Crushers to a 4-0 Monticello Empire League boys soccer victory over rival Napa High.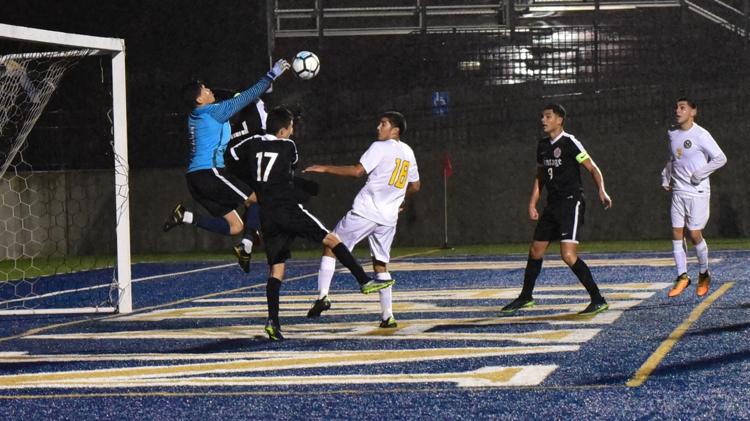 Fresh off a 6-0 victory over Rodriguez, Napa (8-4, 3-1 MEL) dominated possession for the first eight minutes of the game, firing off several shots that were either blocked or sailed just past the goal. But Vintage (12-3-2, 2-1-1 MEL) quickly managed to shake off any Big Game nerves and settle in.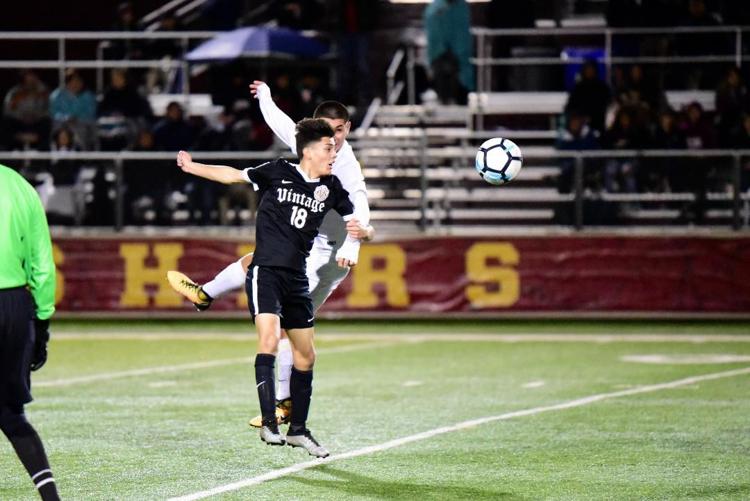 It was a highly physical match of stop and go, with more than a dozen fouls being called between the two teams in the first half alone. Those yielded three yellow cards, two for Napa and one for Vintage, though the Crushers picked up three more in the second half.
"Yellow cards are part of the game," Napa head coach Rogelio Ochoa said. "The official was consistent in his calls and that's all we can ask from an official. Every official is different, and this one felt that yellow cards had to be used to control the match."
On one free kick from 32 yards out in the first half, Vintage senior Marco Manzo got his head on the end of it but sent it over the crossbar. On an almost identical play later in the half, this time off a free kick from the right, freshman teammate Gerardo Perez nearly scored on a header as well.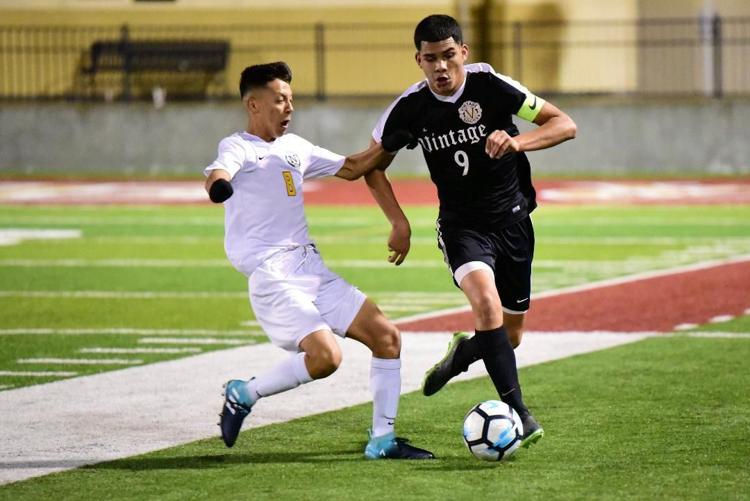 With less than two minutes remaining in the half, the Crushers broke through. Senior Julian Vazquez crossed the ball from the right side to the feet of Loyola, who punched the ball low and into the back of the net. The Crushers took the lead just as the rain began to fall from the sky in sheets.
Vintage's momentum carried through the halftime break. Just four minutes into the second half, a ball bounced into Napa's goal box and Loyola calmly volleyed it past Indians senior keeper Julian Sosa.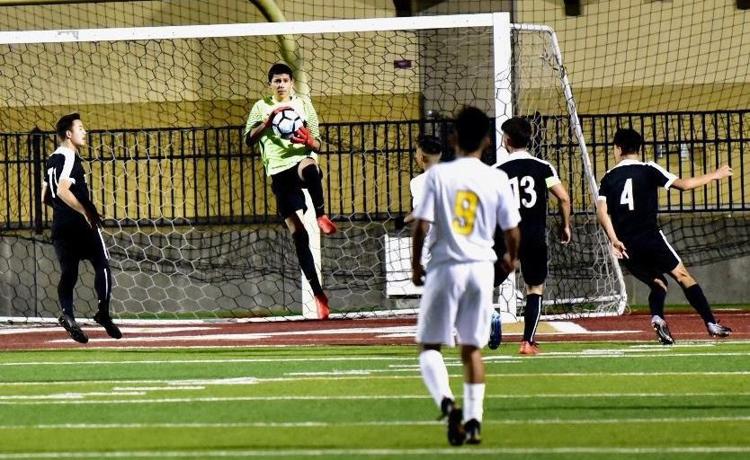 The Indians picked up the intensity in an effort to dig themselves out of the deficit, but Loyola stuck his final dagger in the 56th minute, sprinting onto the end of a fast cross to the far post from junior Erick Cid and blasting it into the net.
Loyola said scoring a hat trick in a Big Game, of all matches, was the "cherry on top."
"Ever since middle school I've been dreaming of scoring a hat trick and it finally came true, and I'm really proud of myself," he said.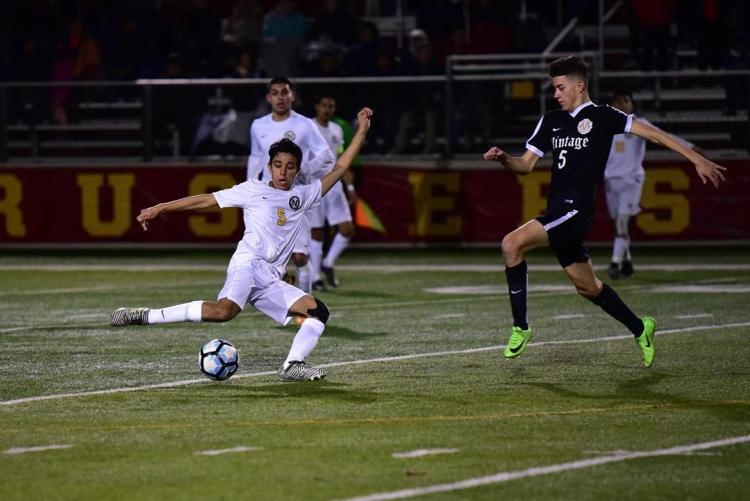 Eventually, the rain let up, but Vintage did not relent. With less than six minutes remaining on the clock, senior Miguel Plancarte one-touched a shot off a cross from junior Edgar Correa to increase the Crushers' lead to 4-0.
Vintage head coach Bernie Ochoa said his team used Monday and Tuesday's practices to focus on their game plan against Napa and how they were going to shut down the Indians' key players. Then before Wednesday's game, he urged his players to treat the match as much more than a regular-season contest.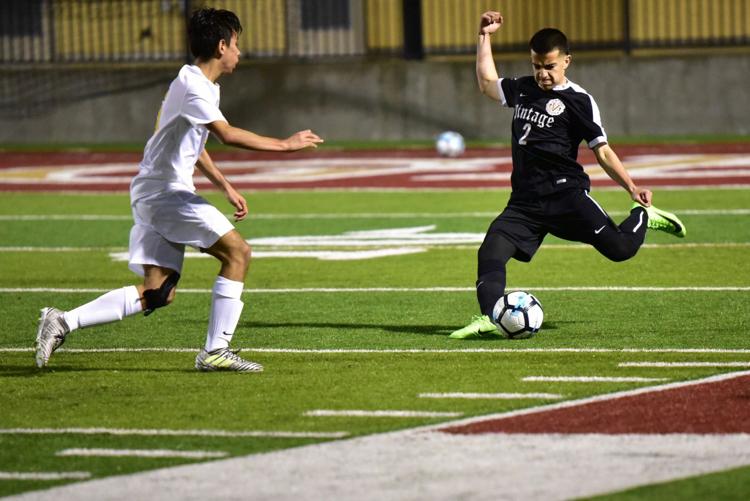 "We talked about having eight games left in our season and this game being like a championship game. Losing would have definitely put us in a bigger hole, so this is a good situation going into the second part of the season," he said.
"I'm really proud that my boys came out today on both sides of the ball defensively, and also offensively. They capitalized on opportunities. It's great momentum and hopefully we can keep it going."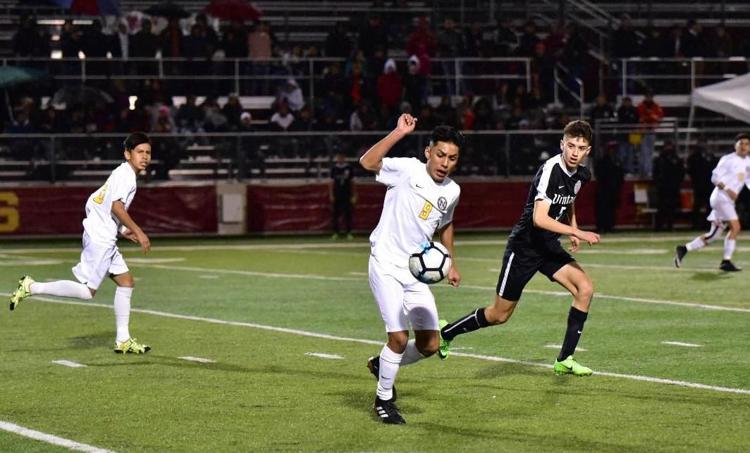 Rogelio Ochoa said the absence of Napa center defender Cruz Palafox was a factor in the Indians' first shutout loss of the season.
"Cruz has played every minute all season, and has played center defender the whole time, so not having him did effect us," the coach said. "But nothing taken away from Vintage. They wanted it more and took advantage of their chances."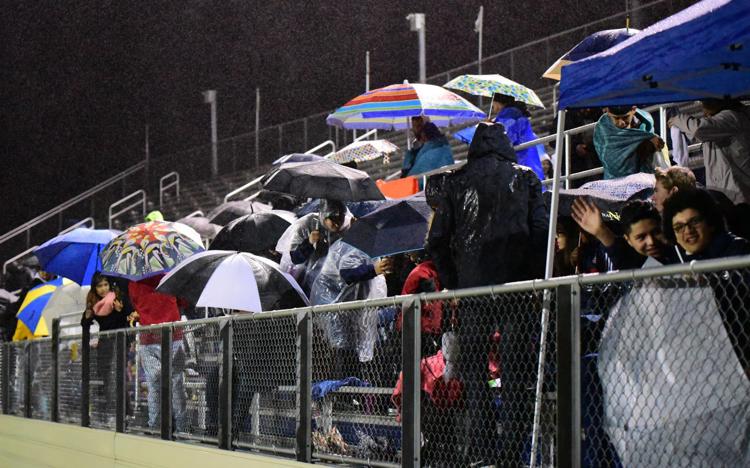 The hat trick was the first in a boys Big Game since 2002, when Vintage's Bertin Loyola had one in a 4-2 win over Napa.
Rogelio Ochoa, who was a junior on that 2002 Vintage squad, complimented Oscar Loyola on Wednesday night's feat.
"Oscar is a great player," he said. "I hope he continues playing at a high level."
Vintage hosts Rodriguez (2-1-1 MEL) in a battle of second-place teams at 6:15 p.m. Friday, while Napa visits Vacaville (2-2 MEL) at 7 p.m.
Napa had no problem getting on the board in its first three MEL matches.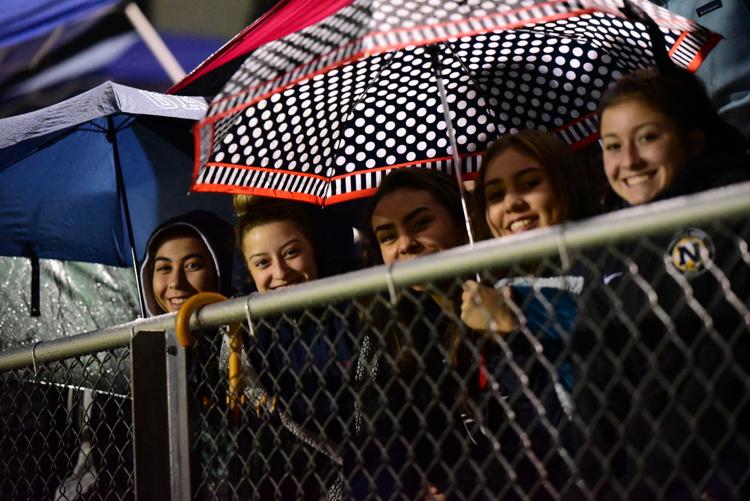 In the Indians' MEL opener, a 6-0 win over visiting Wood on Jan. 12, Julio Alonzo had two goals and Eduardo Blancas, Moises Garcia, Mateo Villanueva and Juan Leon each had one.
A 3-1 win at Armijo on Jan. 17 saw Napa's goals come from Javier Acuna, Juan Leon and Alonzo.
In a 6-0 win at Rodriguez on Jan. 19, Daniel Rodriguez, Alonzo and Blancas each scored twice.
Register sports writer Andy Wilcox contributed to this story.