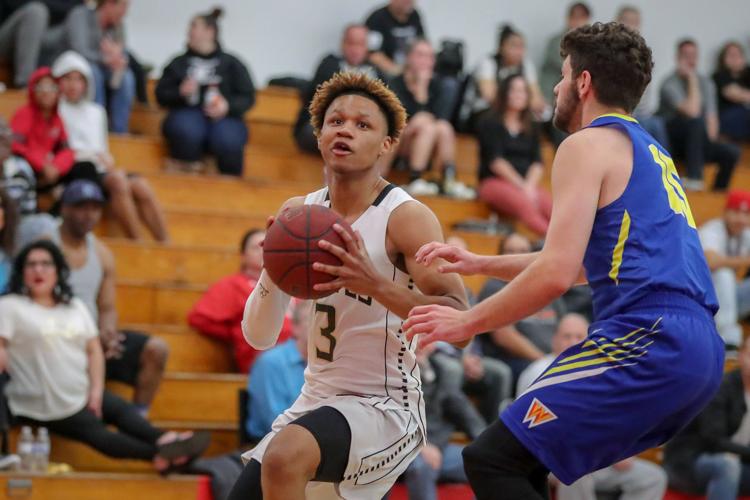 FAIRFIELD – In about as entertaining a high school boys basketball game as they come, the Monticello Empire League All-Stars rode a strong second-half performance to nip the Solano County Athletic Conference All-Stars, 94-87, on Friday night at Fairfield High.
It was the final showcase of top seniors from the two leagues. The SCAC is being dissolved, losing all of its schools to other area leagues. Vanden and Fairfield will join the MEL, Vallejo and Bethel will be joining the Bay Shore Athletic Conference, and American Canyon will join Napa, Vintage, Justin-Siena, Casa Grande, Petaluma and Sonoma Valley in the new Vine Valley Athletic League, the first league to incorporate all four major high schools in Napa County.
American Canyon's Malik Ghiden led all scorers with 35 points for the SCAC, making a variety of acrobatic and athletic shots that brought the crowd to its feet.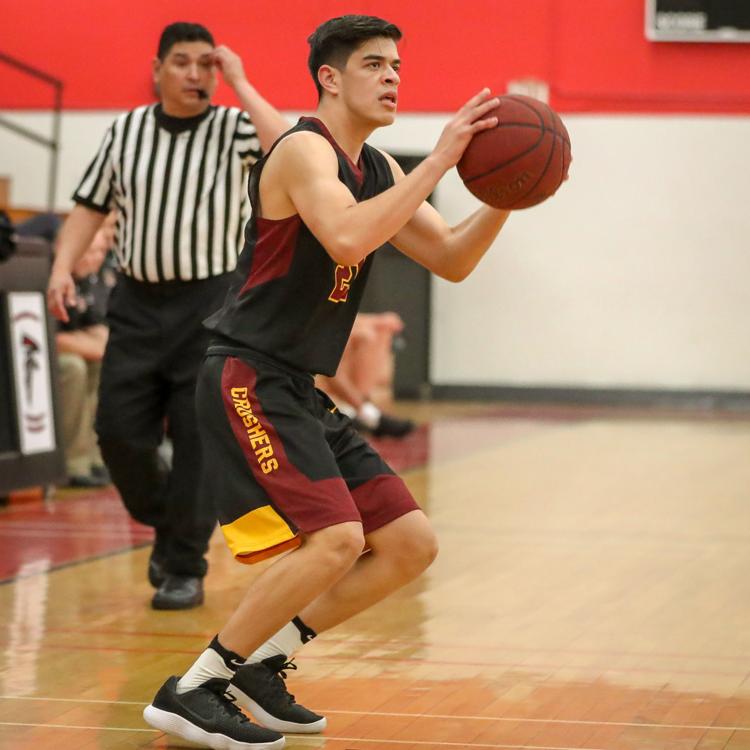 "I had 35 for real? I was just playing," said Ghiden, whose career high was 33. "I didn't even know."
Ghiden said he didn't show all his moves, but admitted the game "was pretty fun. I've always wanted to play in one of these All-Star games."
Hard to believe, but Ghiden said he was actually a little rusty, because he hasn't been playing in game situations since the season ended with a Feb. 21 playoff loss. The talented senior said he was going to be playing somewhere at the college level next season, but has yet to decide where that will be.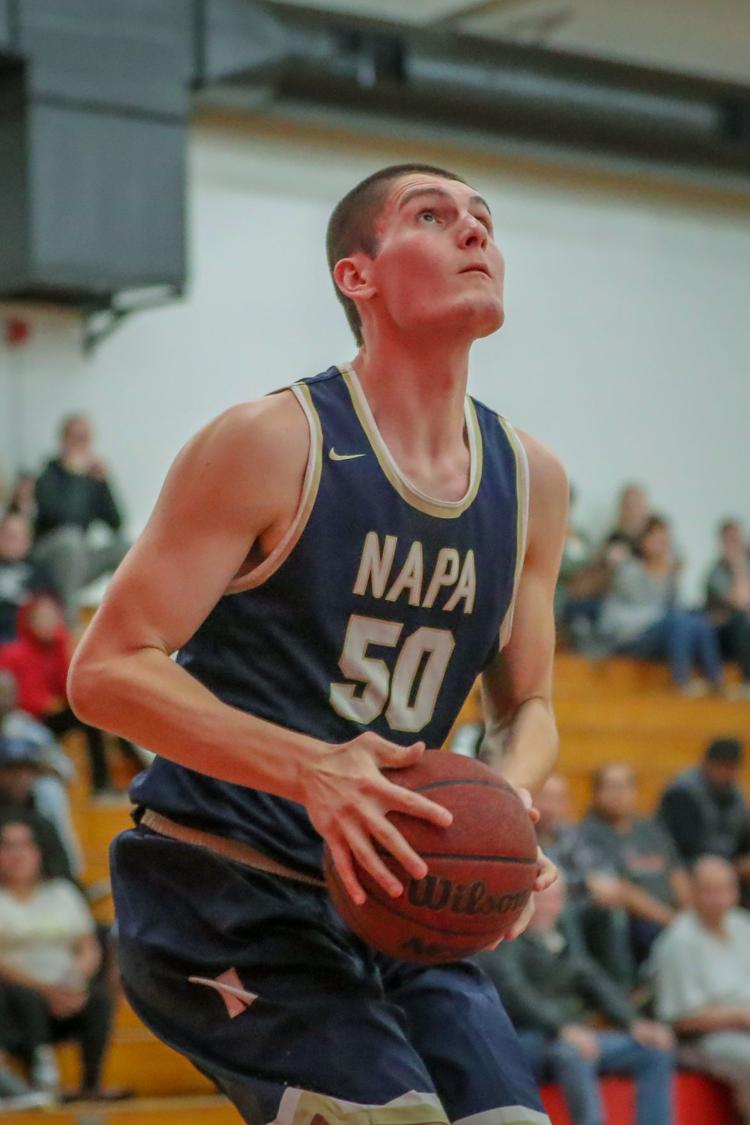 Vintage High senior David Fernandez was a major contributor for the winning MEL side, making four 3-pointers from long distance, including three in a row down the stretch for his 12 points.
Fernandez said prophetically before the game, "I haven't forgotten how to shoot a three, although I haven't touched a basketball a lot since the season ended." Still, he said he was happy to be representing Vintage. "It's cool to be named to this All-Star team. I didn't really know about this game until my coach told me about it. It'll be fun playing with guys from other schools."
The teams battled to a 40-40 halftime tie in the helter skelter, run and shoot game, which was played with 20-minute halves and a running clock. It was a rough, physical game as it became clear early on that the referees had agreed to keep their whistles largely in their pockets.
Despite Ghiden's efforts for the SCAC, the MEL prevailed thanks to the 3-point shooting of Fernandez and Vacaville's Zack Pearlstein, who also had three treys in the second half.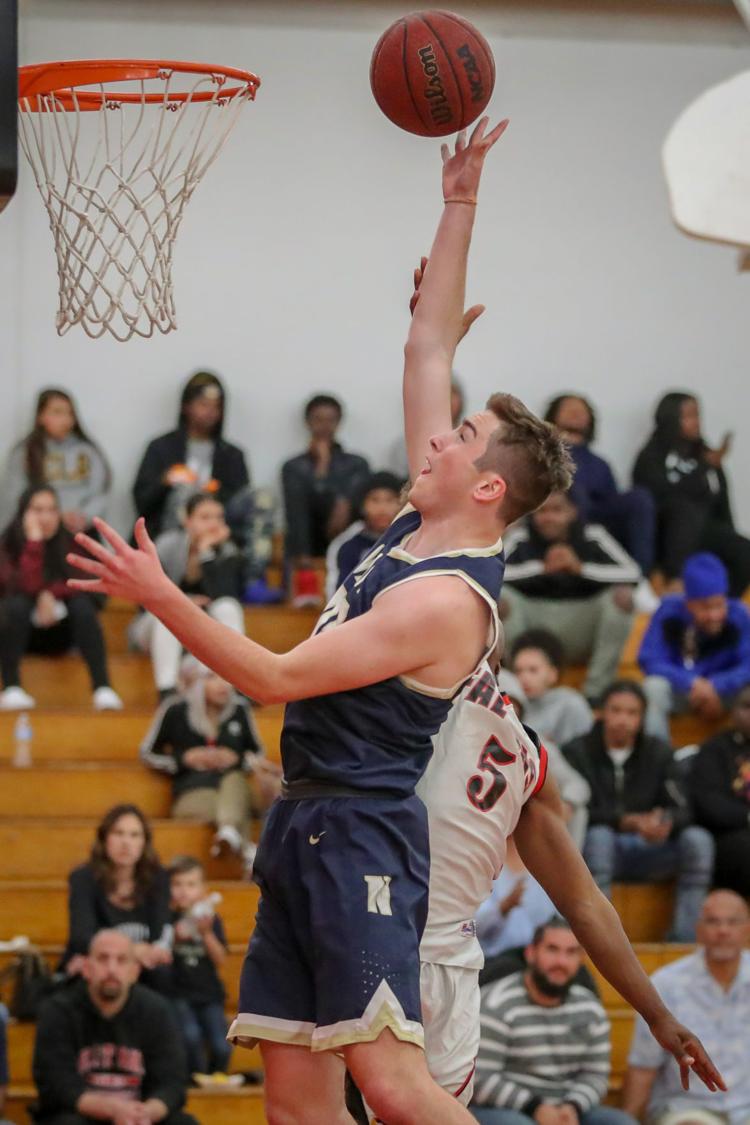 Napa High's 6-foot-8 center, Mitch Hippauf, said before the game it was fun practicing with Vacaville head coach Duane Kamman, who was invited to coach the MEL All-Stars after his team went 10-0 in league play.
"It's a little weird playing for a different coach who has a different style, but it's also a good opportunity to learn," Hippauf said. "I was hoping I would be able to play in this game this year. It looks like everyone on our team has stayed in touch with basketball. The whole MEL team wants to have fun, but we decided we want to come out of this game with a 'W.'
"You might see some lob plays put in for me tonight," he joked. "I hope to get at least two dunks."
He wasn't wrong, as two lobs did come his way in the contest. Although he wasn't able to convert them into dunks, he scored on both plays on his way to six points.
The Indians' sharp-shooting guard, Joe Carnazola, didn't have a lot of opportunities but did help the winners with two points on his trademark finger-roll in the lane.
"I really didn't know about this game until our coach let me know about it," Carnazola said prior to tip-off. "It's pretty late after the season, but I've been playing a little bit. It's good to know I'm considered one of the top players in our league. Basically I'm just looking to have fun tonight, but I'm excited to play and it's fun playing under a new coach."