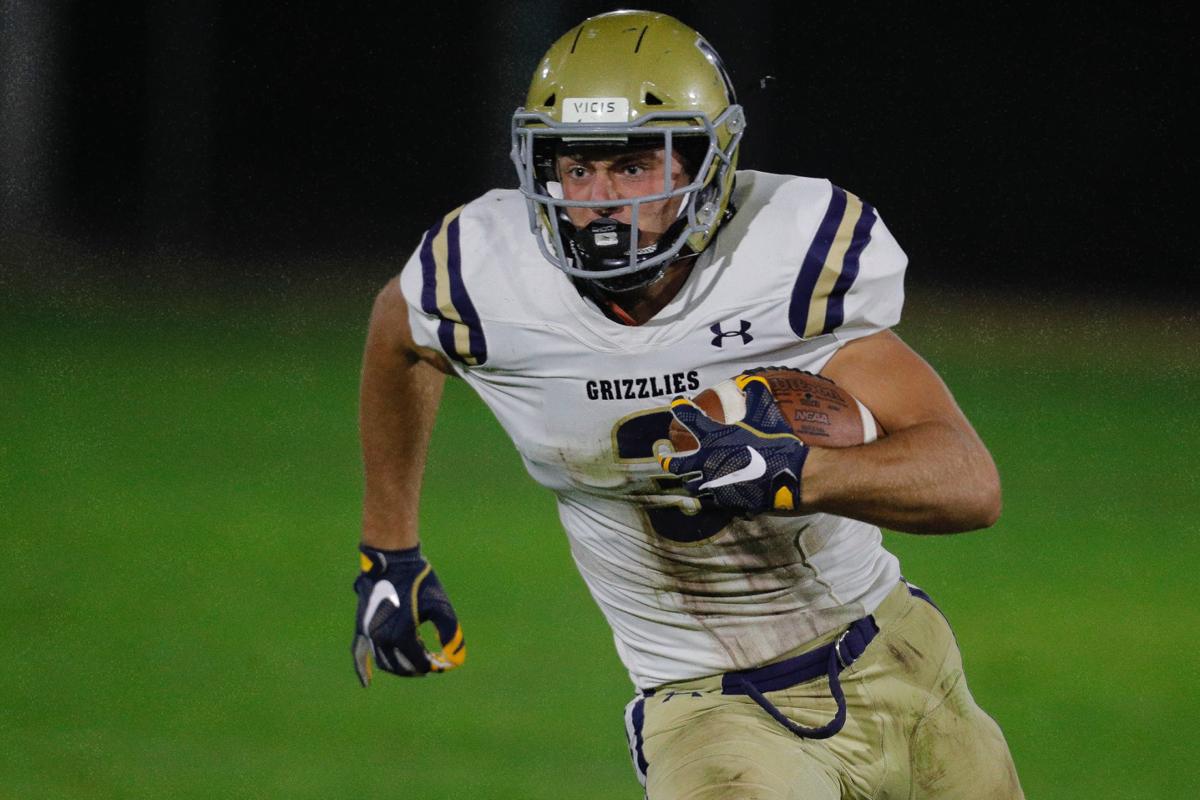 American Canyon (6-0, 2-0 VVAL) at Napa (4-1, 1-0 VVAL)
Radio: KVON 1440 AM, 6:30 p.m.
Last year: American Canyon defeated visiting Napa, 35-7, giving up a 5-yard touchdown keeper to Isaiah Newton but sacking him eight times. Wolves quarterback Vance Eschenburg had a 46-yard touchdown run and Derrick Conner, Jeffrey Brown, Ronald Hamilton and Kekoa Wilson were among the Wolves' defensive standouts.
Last week: American Canyon routed visiting Sonoma Valley, 68-0. Napa, coming off a 62-19 rout at Sonoma Valley, had a bye.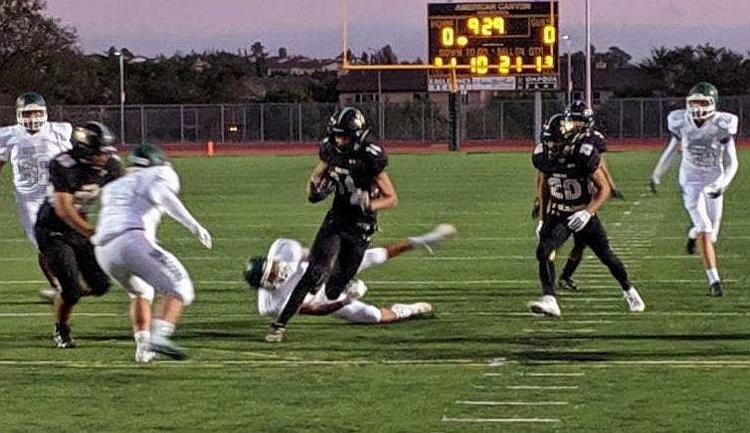 Kicking game: It's Napa's homecoming game and if both teams play well, it could be close – and close football games are often decided by kickers. Made extra points sent Napa's eventual 20-14 loss to Nevada Union into overtime and Grizzlies junior Erik Vargas is 23 for 26 on PATs and 1 for 1 on field goals, with holder Hunter St. Clair and snappers Nick Raymond and Justin Barnes.
"He's had an incredibly high accuracy rate on field goals in practice, from the left hash, right hash, from far out. We're definitely excited about the job Erik is doing," Napa head coach Richie Wessman said, adding that Vargas is in the homecoming court.
American Canyon seniors Justin Del Rosario and Alex Llamas are a combined 15 of 21 on PATs and 0 for 3 on field goals.
On Napa's turnaround: American Canyon head coach John Montante doesn't think the Grizzlies are as different from last year's 0-10 version as many might think.
"Napa was in a lot of games last year. The margin between wins and losses was smaller than some people realize," he said. "Usually the team that makes the least amount of mistakes is the one that wins and it looks like they've made less mistakes than the teams they've played this year."
Montante agreed Napa has had better offensive line play this year, however. "They've done a good job. Line play is crucial to winning teams," he said.
Wessman agreed that his O-line will need to play well against the Wolves.
"They've got a lot of athletes and they compete hard, no doubt about it, so it's definitely going to be key for our guys up front to play well," he said. "It'll be great competition for us, our strongest challenge to date."
American Canyon has given up a mere 36 points all season.
"Our defense has played well all year," Montante said. "Simply put, we need to continue to do our jobs, rally to the ball, and tackle well."
Napa has allowed 59 points this year and is coming off a bye week, one during which it still practiced despite a couple of 100-plus-degree days.
"It was a perfect time for our bye week," Wessman said. "We're rested and everybody's back, which is fantastic. It's also important during your bye week to stay sharp, and we're better than we were going into it."
Montante, asked how it feels to have to worry about more than Vintage in the VVAL this season, said it's not much different than last season. He pointed out that six of the seven teams made the North Coast Section playoffs last year, and three of them won their postseason openers.
"I've said it all year, there's good football in this league," he said. "For us, every week is a one-game season. We live in the moment and respect the process: assess, prepare, execute, repeat."
JV note: Kapono Liu recovered a fumble for the Wolves' JV (6-0, 2-0 VVAL) in last week's 28-6 win over Sonoma Valley.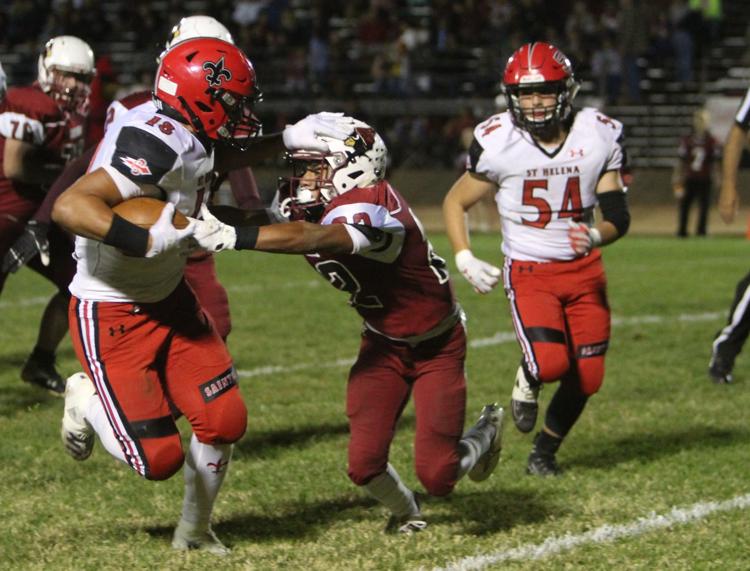 Willits (4-1, 2-0 NCL II) at St. Helena (5-0, 2-0 NCL II)
Last Week: St. Helena beat Clear Lake, 47-14. Willits downed Cloverdale, 34-14.
Last Year: St. Helena routed the Wolverines, 43-15, on the road. The Saints have won the last seven meetings between the teams.
Much-Improved Wolverines: After totaling only five wins over its last three seasons combined, Willits has taken leaps and bounds this season. In five games so far this fall, the Wolverines have outscored teams 108-40 and have shut out two teams, including a 27-0 win over St. Vincent which is 5-1 this year. Willits' lone loss this year came in Week 3 against Arcata, 20-7.
"They have a nice balanced running attack," St. Helena head coach Brandon Farrell said about Willits. "I think that they come at you with three different options that you have to prepare for and I think all of their backs are very capable, especially (slot receiver) Jacobs Arms. He's a very, very good athlete and has been a varsity football player for three years. He's going to be a load to handle. He gets in the open field and he could easily run past you. We're going to have to keep our best foot forward against him, for sure."
League Implications: Two undefeated teams in league play will enter this game and only one will leave with a still unblemished record. With the only other unbeaten team being Middletown, this game could have a serious impact on the league title race.
"(Willits is) 2-0 and we're 2-0, so obviously whoever wins this game will have a leg up on the league race," Farrell said. "The other team that's sitting out there without a league loss is Middletown and we have to worry about these teams one week at a time, that's cliche but it's the truth. We have a 4-1 Willits team that's 2-0 in league coming into our place and they're going to play good, hard-nosed football."
Back at home: The Saints didn't have a single home game in the September. This will be the first home game St. Helena has played since it smacked Drake, 52-0, on Aug. 30.
"I'm really looking forward to that," Farrell said. "Really looking forward to playing at home and I think the kids are really looking forward to that. It'll be exciting, for sure."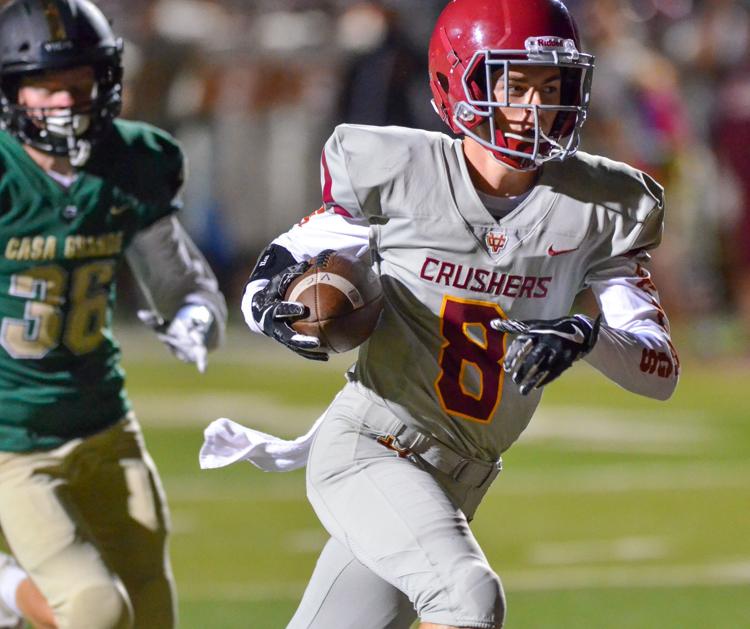 Vintage (4-1, 1-0 VVAL) at Petaluma (1-5, 0-2 VVAL)
Last year: Vintage won at Petaluma, 50-7, with Pedja Zivkovic capping the Crushers' scoring with a 45-yard run.
Last week: Vintage came off its bye with a 39-14 homecoming rout of Casa Grande. Petaluma lost 33-10 to visiting Justin-Siena.
Petaluma's tough schedule: Four of the Trojans' five losses have been to teams ranked at least twice as high as them – much like Casa Grande before it stunned Justin-Siena two weeks ago. Petaluma showed no fear against Justin-Siena last week, taking a 3-0 lead into the second quarter.
Opportunity knocks: Only five of the 11 Vintage players who have carried the ball this season haven't scored, including three seniors. Barring issues with penalties and turnovers, this could be the game in which they do.
For the record: In the Vintage JV team's last two games, Jaycob Gualberto scored a touchdown against Bellarmine Prep and had a fumble recovery against Casa Grande.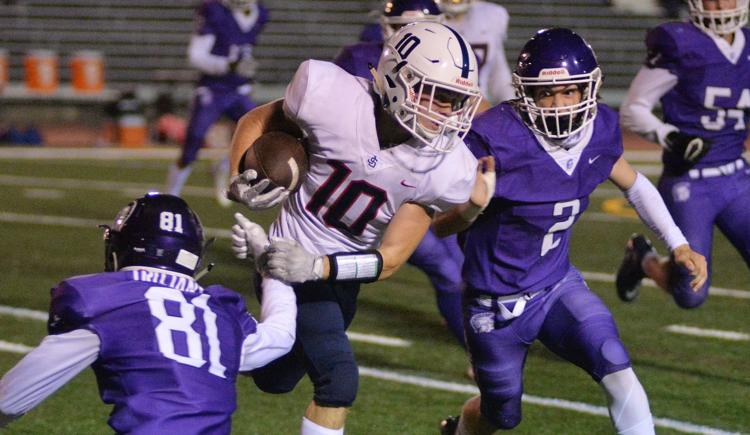 Sonoma Valley (1-5, 0-2 VVAL) at Justin-Siena (5-1, 1-1 VVAL)
Last year: Sonoma Valley blanked Justin-Siena, 6-0, getting a 25-yard touchdown catch from Jake Baker just before halftime while the Braves came up empty on four drives that started inside Dragons territory.
Last week: Sonoma Valley lost 68-0 at American Canyon. Justin-Siena defeated host Petaluma 33-10.
Homecoming redemption: Justin-Siena head coach Brandon LaRocco's varsity teams are 1-2 in homecoming games, losing 31-28 to Petaluma last year and to Terra Linda 21-14 three years ago.
"Last year's loss was a hard one, particularly because we had just dropped those two close games to Casa and Petaluma the previous two weeks," he said Wednesday. "We want to make sure that we are taking full advantage of every opportunity to prepare ourselves in practice this week. We know Sonoma is going to be ready to play Friday night and we need to maintain our focus and match their intensity from the opening kickoff."
Dragons to watch: Baker has taken over at quarterback and had a 51-yard scoring run in a 62-19 loss to visiting Napa two weeks ago, while Adrian Alvarez ran 18 and 40 yards for second-half scores. In a 34-14 win at El Camino in South San Francisco, Alvarez ran for 184 yards and two touchdowns, Jose Garcia scored on an 85-yard kickoff return and a run from scrimmage, and Manny Plancarte and Baker each had a rushing score. In a 53-18 season-opening home loss to Douglas of Minden, Nev., Baker ran 75 yards for a score and hit Bulmaro Dominguez with a 57-yard touchdown strike, and Alvarez ran for another score. One of the Braves' top ball carriers last year, junior Francisco Morales-Florentino, also runs the ball for Dragons.
"They have a really good stable of running backs this year," LaRocco said. "No. 33 is their 'traditional' running back; he has good size and keeps his feet moving very well. (Garcia) is also in the backfield a lot, more of shifty and quick style running back. (Baker) is also a really good runner, whether it be on designed runs or scrambling out of the pocket on pass plays. Francisco is playing mostly wing back or slot for them so far this year. All four guys are dangerous in the run game."
Sonoma Valley has used multiple formations under first-year head coach Hervy Williams.
"They include some flex-bone, single wing, unbalanced and spread sets," LaRocco said. "There is a lot to prepare for and it is going to be a test of our ability to recognize formations and make the proper adjustments and checks. Should be a really good challenge for our defense."
Despite its big-play potential on offense, Sonoma Valley has given up 289 points.
Battle of smallest schools: Sonoma Valley is probably the Braves' main rival due to the schools being the smallest in the VVAL – and because Justin-Siena often has players who live in Sonoma – including Nolan Dunkle and Michael Grieve on this year's team.
Laytonville (2-2, 1-1 NCL III North) at Calistoga (3-1, 0-0 NCL III South)
Last Week: Laytonville beat Roseland Collegiate Prep, 59-12. Calistoga beat Potter Valley, 48-6, in the Wildcats' home opener.
Calistoga head coach Jim Klaczak obviously liked the win, his team's third straight, but got on them at halftime. He felt that their focus and attention to detail slipped as the game went on.
"That's the thing that really bothers me, is the details," he said. "You take care of the little thing and the big things will take care of themselves and we just weren't doing that."
Last Meeting: Calistoga and Laytonville last met in 2016 when the Wildcats came away with a 74-14 win.
Warriors, come out to play-ay: Laytoville has had an up and down season. A 46-0 win over Potter Valley in their opener was followed by losses to South Fork, 44-8, and Tomales, 32-24. The Warriors righted the ship last week when they downed Roseland Collegiate.
Klaczak isn't overflowing with knowledge about them, but has a decent read on what their team is all about.
"They try and power you," he said. "They run a lot of two tight end sets and try to get outside. … They're not in the class of Branson or Stuart Hall, but I think they're much better than people think. I think we're going to have our hands full."
Big Picture: Midway through their season, the Wildcats still haven't played a league game yet. Friday's tilt against the Warriors will be their last non-league game before they open league at Branson next week, although no team has separated itself as the favorite yet.
"There are a bunch of anomalies in the league and no one is really sure," Klaczak said. "I think we're still a bit of an unknown because people say 'well, look who they beat' and I agree, but that's fine with me. We keep a little bit of mystery about us because we haven't shown a whole lot so far. Hopefully the things that we do put in, we'll be good."
Get in the game with our Prep Sports Newsletter
Sent weekly directly to your inbox!