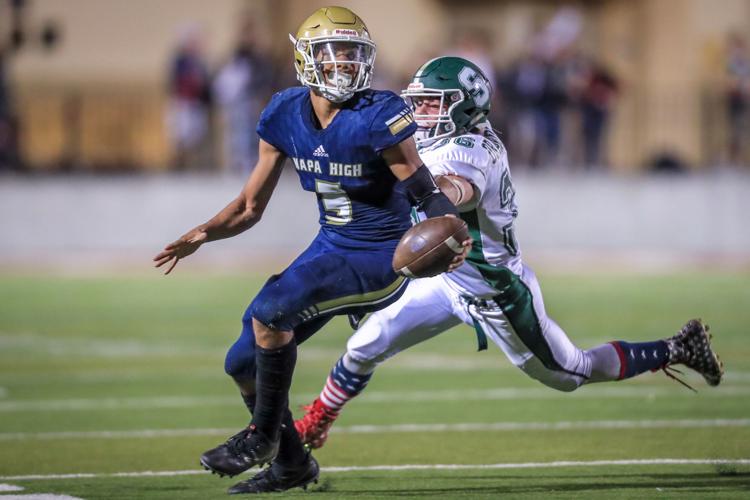 The Napa High football team opened Vine Valley Athletic League play with a 28-16 homecoming loss to visiting Sonoma Valley on Friday night at Memorial Stadium.
After his team dropped to 0-5 on the season, Grizzlies head coach Tom Petithomme was still searching for a complete performance from his team.
"We went backwards tonight," he said. "We talked about our goals coming into this week. We talked about getting better on offense, defense, special teams, protecting the football and all the little things. We just didn't do it and we fell flat on our faces."
Gunner Schoeps started for Napa at quarterback but was relieved of his duties in favor of backup Isaiah Newton after being intercepted on the first drive.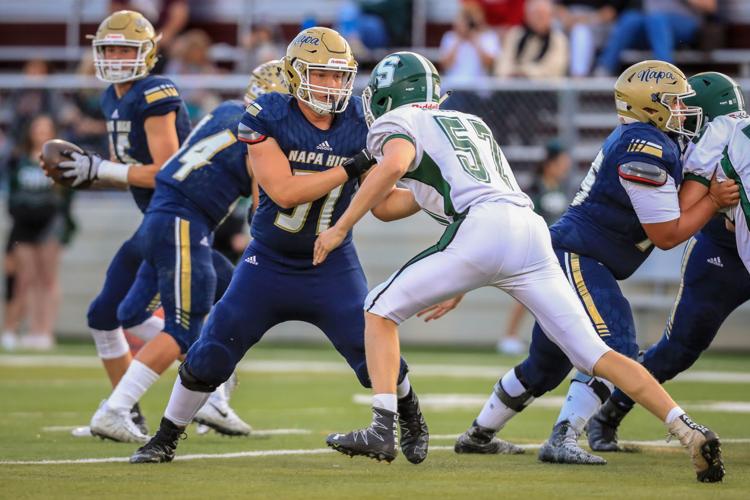 After Schoeps threw for 265 yards and added 109 rushing yards and four touchdowns last week against Archbishop Riordan, even Newton was surprised that at how quickly he was inserted into the lineup.
"I was not expecting it," Newton said. "It's been four games and Gunner has been the starter, so I was just expecting that unless Gunner got hurt. I wouldn't be in there unless it was a Wildcat run."
"I just wanted to make a change," Petithomme explained. "I thought Isaiah gave us a good chance to win, so we made the change."
Though Newton finished the game completing 10 of 18 passes for 119 yards, one touchdown and one interception, Petithomme was non-committal on naming a starting quarterback after the game.
"That is to be determined," he said of the quarterback battle, noting that each player will be given the chance to win the spot over the upcoming bye week.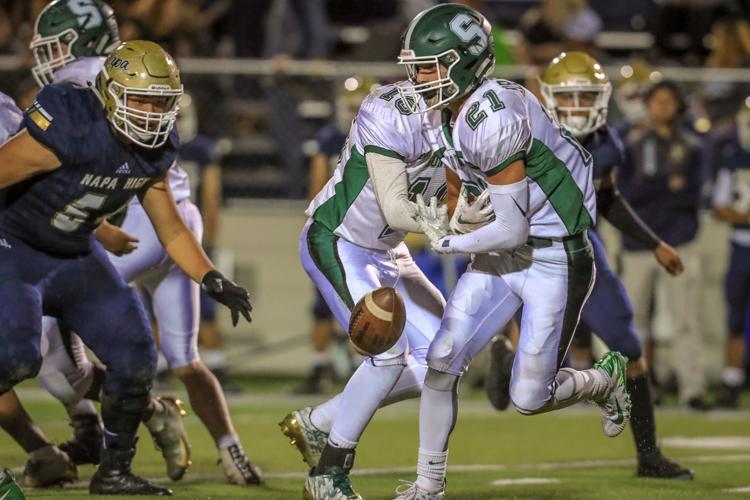 The Grizzlies saw some slight improvements this week defensively, allowing their fewest points all season. Their offense was unable to get going, however, gaining only 84 yards in the first half and 182 on the night.
Napa also shot itself in the foot on offense early multiple times, turning the ball over thrice in the first 12:05 minutes of action and spotting the visiting Dragons a 14-0 lead midway through the second quarter.
Needing a big play, Diego Olvera immediately gave Napa and its homecoming crowd a jolt of energy by returning the ensuing kickoff 75 yards for a touchdown.
The Grizzlies' defense capitalized on that momentum when Jesus Pimentel recovered a fumble at the Sonoma Valley 44 with just two minutes left in the half.
Newton managed to drive his team down to the 9-yard line with under a minute remaining. But Napa failed to convert and settled for a 32-yard field goal by Julio Alonzo, his second in as many weeks.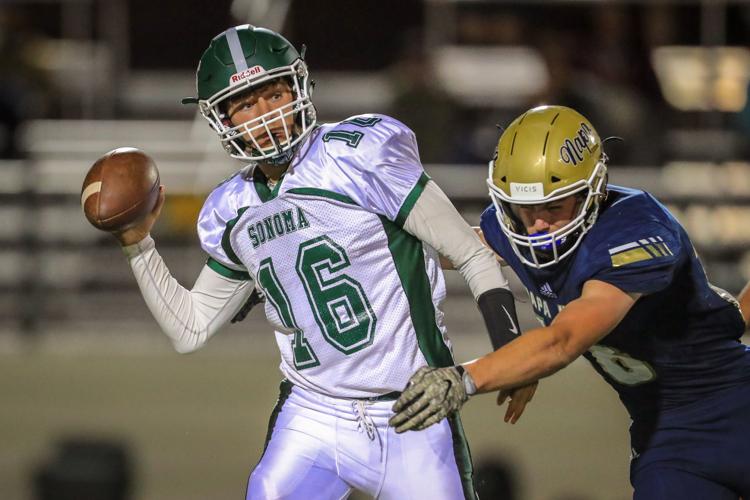 Down 14-9 at halftime, the Grizzlies went into the locker room looking for a rally with momentum on their side. But it was the Dragons who came out of the half breathing fire, as Jake Baker returned the opening kickoff 84 yards for a touchdown.
Sonoma Valley recovered an onside kick immediately afterward, setting the tone for a half in which Napa would run only 14 offensive plays.
The Grizzlies had one final chance to rally as they took over at the Sonoma Valley 37-yard line, trailing 28-16 with just under nine minutes left in the game.
But after four straight deep shots to the end zone fell incomplete, the Dragons took over with 7:02 left.
Needing a stop to stay in the game, the Grizzlies were unable to keep Sonoma workhorse Tyler Winslow, who finished the game with 22 carries for 143 yards and a touchdown, off the field.
The Dragons ran Winslow right into the teeth of the Napa defense time and time again, driving all the way down into the red zone and running the clock all the way out over 12 plays.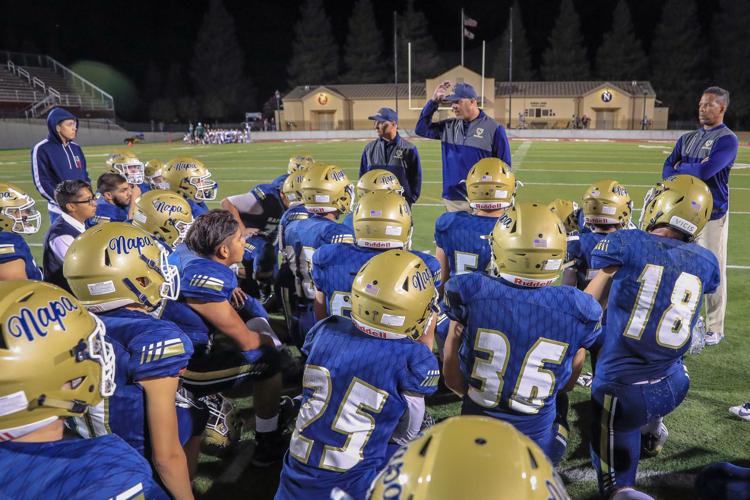 As Napa heads into its bye week, it will surely be doing some soul searching before its Sept. 28 game at American Canyon. The Wolves got their first win of the season Friday night, 43-16 over Petaluma.
"It's tough," Newton said. "A new upbringing in a way with the same players just hasn't clicked yet. It is really about the play on the field, not the words in the locker room."
"Everyone wants to win," Petithomme added. "It's my job and my failure in making them understand how to do that."
Napa JV 41, Sonoma Valley 0
The Grizzlies improved to 3-2 with an impressive win over the previously unbeaten Dragons.
Sonoma Valley came out fired up, opening the game with an onside-kick recovery. But Napa's defense was too dominant on the day, flustering the Dragons into mental mistakes and rendering their flexbone offense ineffective.
The Grizzlies' offense was stymied during a scoreless first quarter. But once Napa switched from its usual power formation to a spread look, the Dragons couldn't keep up.
In particular, Sonoma Valley was completely unable to stop the Grizzlies' jet sweep read option off their trips set.
Napa quarterback Aiden McDonald tricked the opposing defensive ends over and over again, rushing for two touchdowns and passing for another.
Though their typical base offense was not working, the Grizzlies' coaches had to be thrilled that they have multiple packages that can work against opponents.