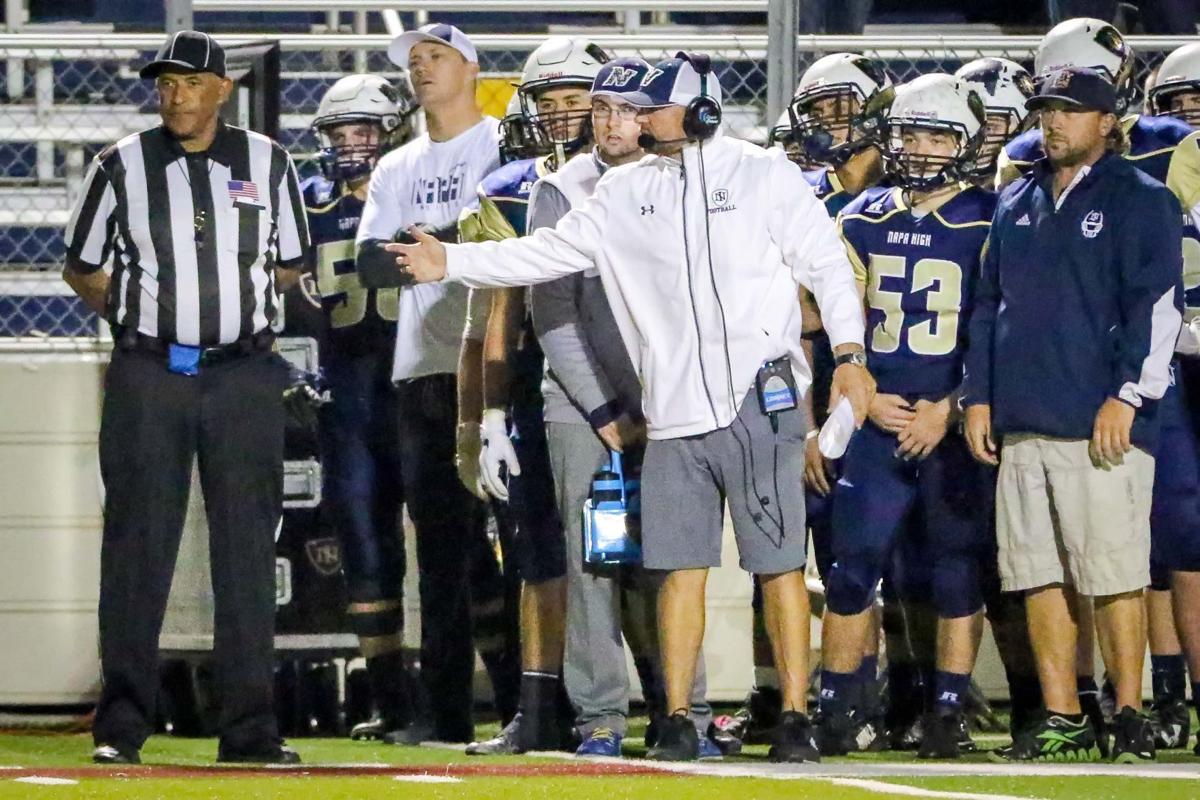 Napa High School will cancel its 2017 football season on all three levels – varsity, junior varsity and freshman – if it does not have a new head coach in place for its program by June 15, Thomas Sims said Monday. He will be athletic director for the 2017-18 academic year.
Napa has been without a head coach since Troy Mott's resignation on March 15. There have only been just a few spring practices for players in the program this month.
In a letter dated May 18 to Napa High football families, Principal Annie Petrie said a number of "highly qualified individuals" have been interviewed for the position. Petrie said six offers have been made – two offers were to internal candidates and four offers were to external candidates. All have been turned down.
"We offered the position to our sixth candidate on Monday, May 15," Petrie wrote. "On Tuesday, May 16, the candidate declined the offer. While we have remained hopeful throughout this process, we need to put a timeline in place to be transparent with our student-athletes and community."
It's being advertised as a full-time coaching and teaching position.
"Our hiring process has also included reaching out to members of the former staff to see if they would reconsider their stance as coaches for Napa High football. At this time, no coaches on the former staff have come forward to coach," Petrie wrote in the letter.
The Napa football program has been rocked by allegations of hazing by players over at least two years. Napa police say they have referred 14 players and one coach to the district attorney for possible charges.
Napa Valley Unified School District spokeswoman Elizabeth Emmett said the entire coaching staff had been told earlier this year that they would have to reapply for their jobs in the wake of the hazing scandal.
Emmett said the disagreement involved the rehiring process for the seven coaching staff positions. Mott had wanted control of the process but administrators insisted on being part of the process.
Mott's departure came after what he described as "varying philosophies" on the future of the program between him and the administration.
Napa has won three consecutive Monticello Empire League titles under Mott, who was honored by the CIF state office as one of its Model Coach Award winners for the 2015-16 school year.
Mott, the winningest head football coach in Napa High history, resigned after leading the program for the last 11 years.
In the letter, Petrie said that in order to meet the safety, conditioning, and training needs, as well as the need to provide academic options, "we have determined that the last practical date for the coaching staff to be in place to be June 15. We have determined that June 15 is the best date for the kids for three reasons:
"1. Allows student-athletes to be adequately prepared, trained, and conditioned for the 2017 season.
"2. Gives students an opportunity to transfer without penalty.
"3. Gives students time to find a school to transfer to."
The letter from Petrie updates families on Napa's efforts to hire a head coach. Working in conjunction with the NVUSD, a timeline has been established in the school's coaching search.
"Our priority has been to provide a safe and successful football program," Petrie wrote, adding that interim Athletic Director Kelly Van Winden and Sims, a former assistant football coach, have been a part of the search.
Sims is continuing to oversee Napa's strength and conditioning program in the weight room during sixth period and after school, but there are no on-field spring practices.
"Because we need to support all levels in the program, Thomas Sims will remain in the weight room after school to support the JV players. This means we will not be able to support spring ball practice as we do not have adequate staff," Petrie wrote.
She continued, "If we are unable to hire a coaching staff for the 2017-2018 year, Napa Valley Unified School District will support a process of students transferring to a school within our district or a school out of our district," Petrie wrote.
"We are not giving up and we are committed to ensuring that our student-athletes continue to have a successful experiences. Our outreach continues and we welcome any support from members in the community who are interested in supporting our process.
"Our doors continue to be open and we believe that when the community unites around the NHS football program we will be successful in providing our student-athletes with the opportunity they deserve. We remain hopeful that our next steps will include coaches from our previous staff who know first-hand the heart and soul of Napa High, as well as new coaches who want to be part of building the next generation of football at NHS."
All three head coach positions (freshmen, JV, and varsity) are posted on Edjoin.org. The varsity job is also listed at footballscoop.com.
Mott's career record at Napa is 94-35. He led Napa to Northern California and state rankings.
Napa won five MEL titles and the 2007 CIF Sac-Joaquin Section Division I championship. He had only one losing season with the Indians.
Anyone who is interesting in applying for one of the head coach positions, or who wants to be an assistant coach, should contact Sims at thomas_sims@nvusd.org.
Sims will take over as the Indians' AD this summer. He will replace Van Winden after the 2016-17 school year. Van Winden is also the head volleyball coach.