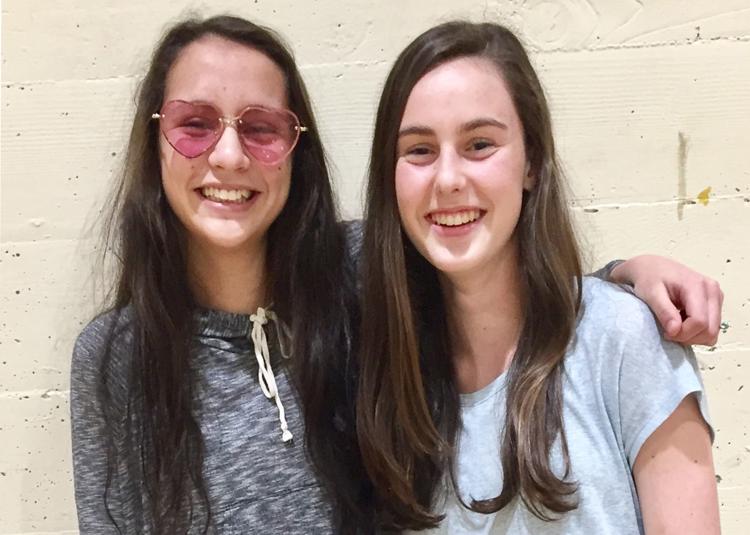 Two Napa High girls basketball standouts, senior captain Malia Blackmon and junior Jane McLoughlin, candidly shed light about their feelings on the court as well sharing a peek into their personal lives.
Blackmon said the best part about playing basketball for Napa High is having Darci Ward as head coach and Ward's sister, Michele Lewis, as assistant coach.
"I love playing for Darci and Michele," she said. "They are absolutely amazing. They help us learn about who we are as people, more than just playing sports. That's the best part about playing for them. They are both very strong women, so it's fun to look up to them. They're like our mother figures. It makes you want to sacrifice and play harder, makes you do better in school, and makes you be a better person."
McLoughlin, who like Blackmon has been a varsity player for the Indians since her sophomore year, said she most enjoys the team aspect of Napa High basketball.
"It's really fun because the other sports I do, cross country and track, are really individual sports," she said. "I love all the other girls on the team. I have a really good time playing with them, even when we're running 'suicides' (wind sprints). We're always a team and we're in it together."
McLoughlin and Blackmon are close friends and hang out together occasionally, but they weren't always that way.
"Last year we actually did not like each other at all," Blackmon laughed. "We were 'frenemies.'"
"Yeah," McLoughlin agreed, "the coaches used to always partner us together in practice for that reason."
McLoughlin plays point guard, which she doesn't mind for the most part.
"But I don't want to be the person carrying the ball up the court every time, so sometimes I let Carly (Johnson) do it," she said.
Said Blackmon, "I'm a shooter, so I like to be on the wing or in the corner on the right side."
Both players take it hard when their team loses.
"For some reason, I cry when we lose and I'm still thinking about the game the next day," shared Blackmon. "I'm not emotional during the game, but after the games I'm super emotional. When you play with your entire heart, it hurts when you lose."
McLoughlin tries to look to the next game after a loss.
"I take it hard when we lose," she said. "I think about it all the next day, about what I did wrong and what our team needs to work on."
As far as opponents, McLoughlin said she most enjoys playing against Napa's crosstown rival.
"I like playing Vintage," she said, "I have a lot of friends on that team that I played softball and soccer with since third grade. The Big Games are crazy. I really like playing in front of the big crowds. It's fun, but I like them better when they are played over here on our court."
Blackmon said she prefers the next nearest MEL opponent, Rodriguez, against which she scored a career-high 30 points on the road – before getting held to 13 by the Mustangs in a recent rematch on the Indians' court.
"I love playing Rodriguez," she said. "It's always very high energy, physical and a fight to the end. They're very aggressive, but it's always a fun game, win or lose. They talk a lot on the floor, but it doesn't bother me. I find it more funny than anything when other teams try to get into my head."
But Blackmon will also be looking forward to visiting Vintage on Friday night.
"The Big Game crowds are like everyone is packed in like sardines," she said. "It's really different from our games against other teams. I'm surprised by how many people come out to a girls basketball game. Vintage has gotten so much better this year and last year, so it's really different playing them now. It used to be easy to beat them, but it's a different competition now. We've lost twice in a row. We have one more chance against them, and I feel like I need to get them."
McLoughlin said she doesn't really have time for much other than her three sports.
"Outside of basketball, I'm always busy doing another sport. I think I've had just one week off this whole year where I'm not doing anything," she said. "When I'm free, I mostly spend time with my family or my teammates."
Blackmon said she likes to relax when not playing basketball.
"I love being with my best friends," she said. "We live in such a pretty town. I like to go to where you can get a good view, and I'm just happy to be alive in that moment. I don't have a boyfriend. I always say you have to love yourself before you can love someone else."
Blackmon is not really a "girly girl," she said. "But If I could go somewhere and dance the night away, I totally would. Occasionally we get dressed up and go to San Francisco."
Despite the demands of athletics, both girls are good students.
"I have had a 3.3 GPA all the way through high school," Blackmon shared. "My favorite class is 'Man's Search for Meaning.' It's an English class with some psychology. You learn about yourself and the world around you. But why do they have to call it 'Man's' search?' It should be like 'People's search.'
"I'm not super good about writing essays unless they are about life. I feel I'm more life smart than book smart."
McLoughlin, who enjoys math and chemistry classes most, said her GPA has been above 4.0.
"Jane's a baller on and off the court," observed Blackmon.
Both want to go to college on this side of the country.
"I have thoughts about where I am going to college, but I want to get into the school before I say which one because I don't want to jinx myself," she said. "But I will say it is in California. I thought about playing basketball in college for awhile, but I think now I'm just going to hang up the shoes, with grace, after high school."
McLoughlin has another season to think about it, but isn't sure she'll be playing at the next level, either.
"I don't think I'm going to keep playing basketball after high school," she said. "I don't really have a No. 1 college I want to go to but I want to stay on the West Coast, probably a bigger school."
No matter whether they are playing sports or just enjoying life in the Napa Valley, both are happy to be here.
"It's easy growing up here," said Blackmon, "I feel so lucky to be in Napa."
"It's a great place," agreed McLoughlin, "It's easy to make friends here."