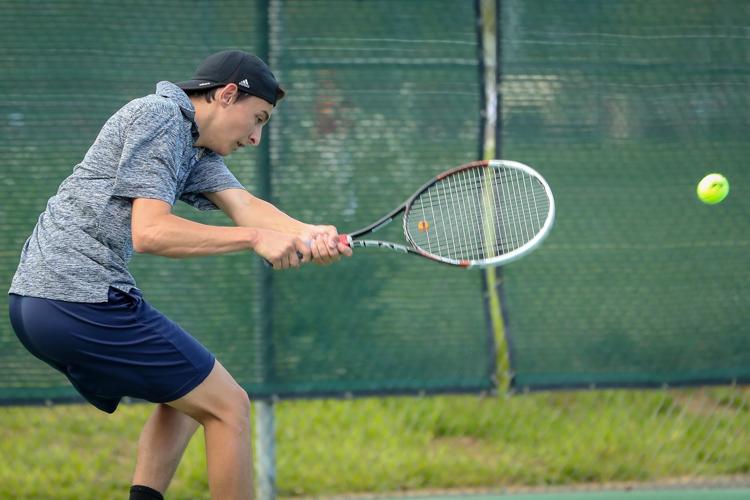 Julian Sosa probably thought something like "I got this" before facing Abe Lopez on Thursday.
The Napa High boys tennis team's No. 5 singles player had beaten Vintage's Lopez in straight sets in their previous meeting. But that was in early March. Lopez seemed six weeks better this time, stunning Sosa by winning a tie breaker in the first set.
With the rest of the singles and all doubles done for the day, the teams were tied at four wins apiece – and the contest was for Sosa and Lopez to decide.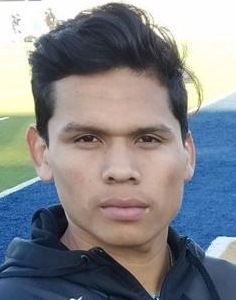 That's when Sosa's "I got this" feeling finally kicked in for real, and he cruised to a second-set win and pulled out a close third set to prevail, 6-7, 6-1, 6-4. That gave Napa High a 5-4 Big Game victory at the Napa Valley Tennis Association courts, denying the Crushers a season sweep.
"I knew that I was better than him because I beat him the first time, but this time he had definitely improved and he caught me off guard," Sosa recalled Friday. "I was definitely surprised when he beat me the first set.
"But after that, I knew that I had it in me. I had to play my game and hit it in and let him beat himself. I just had to be consistent – that's what my coach told me – and not make errors and the match will come my way. That's exactly what I did, and I thought I did a good job. He was very frustrated. He just couldn't get his rhythm back."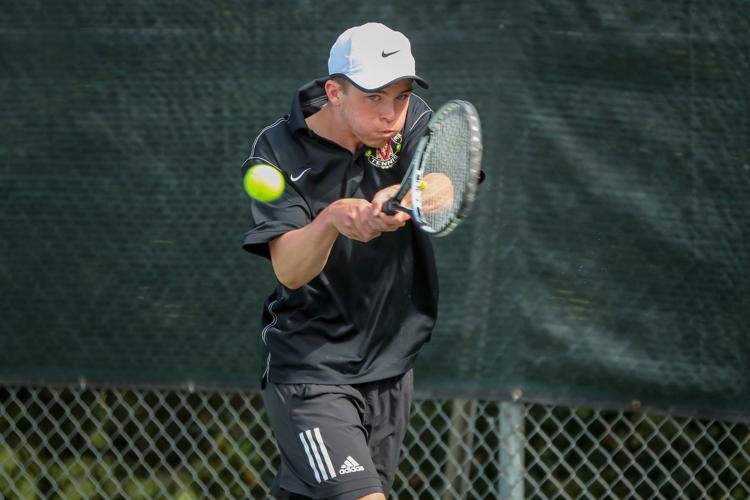 Also winning in singles for Napa were No. 1 Daniel Mateescu over Cole Geschwender, 6-1, 6-0; No. 2 Ashur Webster over Connor Castelazo, 3-6, 6-2, 6-0; No. 4 Victor Lua over Al Simpkins, 6-2, 6-2; and No. 6 Beau Parriott over Johnny Salazar 7-5, 6-3.
Jackson Cole had Vintage's only singles win at No. 3, defeating Dominic DiPasqua 6-1, 6-0, to improve to 14-0 in MEL play.
Vintage doubles also remained undefeated in league play. Top players Antonio Fernandez and Adam Maxson defeated Willem Demsky and Isaiah Orozco, 6-0, 6-3; the No. 2 team of Theo Skille and Caden Galloway downed Daniel Sandoval and Jonas Kreer, 6-4, 6-1; and No. 3 players Finn Glascott and Noah George topped Luc Core and David Silva 6-1, 6-2.
Sosa is in only his second season of tennis. He played exhibition doubles last year and No. 1 doubles for the first three league matches this season, before posting a 9-3 MEL singles record.
"Tennis was something I'd wanted to do since the beginning of high school and I never really got the chance, but I needed a change in my life and tennis is fun. I've always watched it on TV," he said. "I liked it last year and definitely wanted to be part of this team again.
He was a captain in his fourth season of Napa High soccer this winter, starting most of the games at goalkeeper, and said the sports go hand in hand.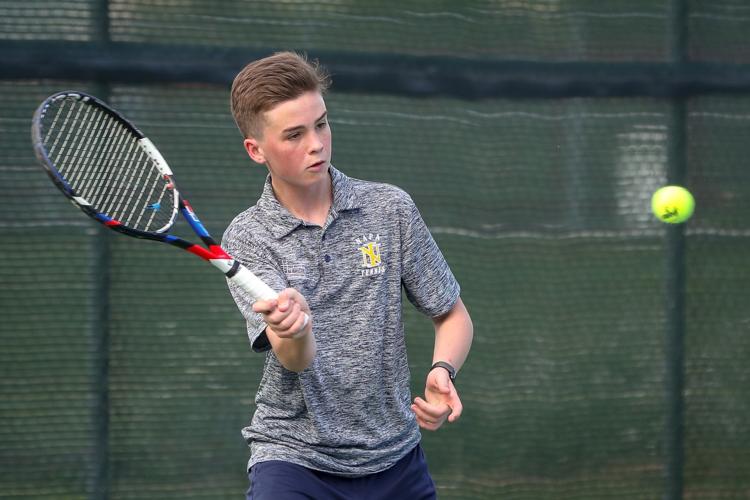 "Playing soccer, you have to have good agility and reflexes, so I use that in tennis because you have to pull up to the net, and the balls aren't coming slow," he said. "You have to be fast."
His other sport is also why Sosa usually has Napa High soccer teammates cheering him on. He said about a half-dozen did so Thursday.
"Having them there motivates you to do good because you have to show them that you're good at both sports," he said.
There aren't many local prep soccer players competing in boys tennis, though Geschwender is a very good one. In fact, he and Castelazo are the defending MEL double champions.
They could face Sosa and Lua when Vintage hosts the MEL Championships next week. Singles are on Tuesday and doubles are on Wednesday, starting at 9 a.m. each day. The singles championship set for 10:30 a.m. Wednesday. Each team can have three singles players and two doubles teams.
Mateescu finished 15-0 in MEL play and will be looking to win his fourth straight league singles title next week. He lost only his fourth game of MEL play to Geschwender on Thursday; otherwise he's beaten everybody 6-0, 6-0.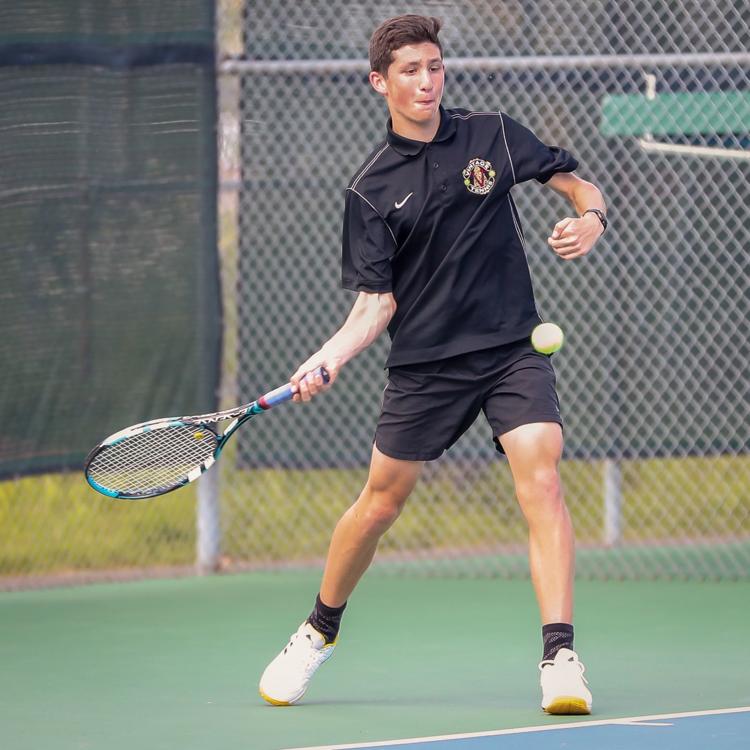 Napa High head coach Tracy Bunker was also pleased with Webster's comeback win.
"When Ashur was done," she said of the sophomore returner, "he said, "Coach, I just won 10 games in a row." His match today was against the Vintage player who played first singles during our first two Big Game matches."
Napa High finished in fourth place with a 7-8 MEL mark, but should have several key returners in the Vine Valley Athletic League next year.
"I am beyond proud to be the coach of this team," Bunker said. "They are such a great group of young men. I look forward to seeing what they do next year in our new league."
Vintage, meanwhile, fell to 12-2 in MEL play and out of a first-place tie with Vacaville (13-1 MEL). The Crushers will try to tie the Bulldogs (13-1 MEL) for the title when they travel to Vacaville for a 3:45 p.m. rain make-up on Monday.
Vintage head coach Chris Cole said he was missing two players due to illness. One no-show was Jack Diakon, who had beaten Sosa in Big Game II.
"Tough loss today," the coach said. "It's been a great year, but I think the pressure got to a few of my guys today."