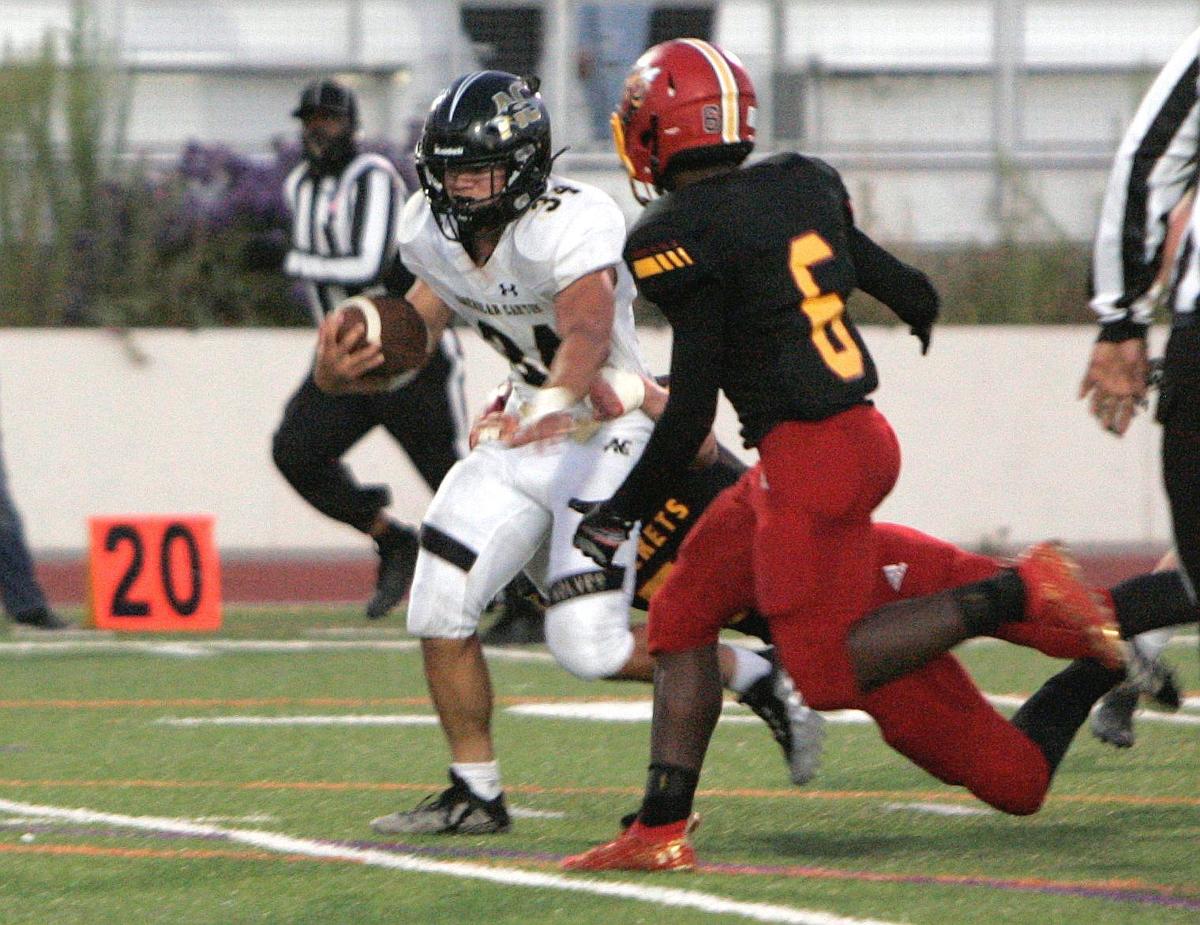 BERKELEY — Kapono Liu was in beast mode for the American Canyon High football team Friday night.
The Wolves found out Friday morning that starting quarterback Kaleb Anderson, though fully vaccinated, would not be able to play at Berkeley that night because someone in one of the junior's classes had tested positive for the coronavirus.
With no one but Anderson having taken snaps in their two games coming in, head coach John Montante asked junior Sean Yumang to run the offense, and 82% of his job entailed handing off to Liu. The senior workhorse rushed for a school-record 369 yards on 51 carries with four touchdowns in leading American Canyon to its first victory, 33-14 over the Yellow Jackets.
"You gotta find a way to win," American Canyon head coach John Montante said. "It's getting better every day — the fundamentals, the assignments, the execution. We've been very inconsistent at it and we're a young group, so you have to keep their fundamentals up.
"Rick (Carre), our defensive coordinator, does a hell of a job. They love him, they respect him, they listen to him, and they play hard for him. That's a great sign for coaches, when your players play hard for you. We're really proud of them. This is a good win and they needed it."
Yumang shook off three illegal procedure penalties on the game's opening series by engineering 10- and 12-play scoring drives that put American Canyon (1-2) up 14-0 early in the second quarter. Liu ran the ball on 14 of the 22 plays, including the scoring runs of 2 and 5 yards.
Berkeley (1-1) halved its deficit to 14-7 with a 51-yard, tackle-breaking catch-and-run touchdown by Akeem Brown on a pass from quarterback Creg Brown with 8:13 left in the first half.
The defenses dug in from there, with the Yellow Jackets recovering a Wolves fumble and American Canyon forcing a punt to keep the score 14-7 at halftime.
Liu already had 204 yards on 31 carries at the break.
"The coaches took me off special teams and had me strictly on offense, so I know I could do it," he said. "I did have two fumbles. They put their shoulder in the right place and it comes out easily if they do that, so I really need to work on holding the ball. But my team showed up. Definitely my offensive line showed up, letting me through the line of scrimmage so I could get downfield."
After Berkeley went three-and-out to start the third quarter, the hosts recovered another Wolves fumble but gave it back soon after on a Kamel Jones interception.
After carries by Liu produced the only three first downs of the quarter, Jelani Jones picked off Creg Brown at the Berkeley 46 and six Liu totes later, the Wolves were up 21-7.
Three plays later, American Canyon's Nicholas Mitchell forced a fumble by deflecting a backward pass, picked it up and returned it to the Yellow Jackets' 15.
"Nick's a smart player and he's got a lot of potential," Montante said.
Liu took it in on the next play to put the Wolves in command, 27-7. Yumang couldn't get the hold on the extra point and tried to run it in for a two-point conversion but was stopped at the 1.
Berkeley didn't give up. Creg Brown broke off a 14-yard keeper to set up his 9-yard touchdown run, diving at the right pylon, to make it a 27-14 game with 5:46 left.
The Yellow Jackets recovered their third fumble of the night with 1:53 left, but it was American Canyon noseguard James Aken who scored four plays later — by scooping up a Berkeley fumble and returning it 15 yards to the house for a 33-14 lead with 15 seconds left.
A week after losing 31-6 at Burlingame and having the long ride home extended when the bus broke down, the Wolves celebrated this win very loudly in the locker room afterward.
"With Kaleb out, we knew we were going to run pretty much the entire game and we knew we were going to rely on Kapono heavily," Wolves senior offensive lineman Jonathan Chau said. "After the second quarter, we noticed that they were putting in their seconds and thirds (back-up players) so we knew they were tired, and in the fourth quarter we just kept hitting them and that's how we won the game."
American Canyon JV 28, Berkeley 0
Mason Harris threw scoring strikes of 57 yards to Abdul Kates and 55 yards to Xavier Lopez, and ran for touchdowns of 60 and 35 yards. Daniel Lopez kicked two extra points and Ojani Castillo ran in a two-point conversion.
DeAngelo Hudson, Xavier Lopez and Mason each had an interception on defense.
"We've had a lot of adversity," Wolves JV head coach Marcellus Holmes said. "We didn't get to scrimmage because another team had contact tracing. Then our first game was canceled in the second quarter because of air quality. Then we had another COVID contact. So it was good to set the tone in the first game we actually got to complete. Some kids on our team have never played football before and (Berkeley) had a couple of juniors on their team, so our kids were (wary) but they stepped up to the challenge."
The American Canyon High football team had just rallied from a 12-0 deficit to take the lead when visiting Rodriguez answered with the winning field goal for a 15-13 nonleague win Monday night.
American Canyon High football players such as senior Orin Stockford-Reid and juniors Kaleb Anderson, James Aken and Sean Yumang are ready to lead the Wolves through a grueling preseason in hopes of making the playoffs and enjoying a normal football season.