Vintage (5-1, 2-0 VVAL) at
American Canyon (7-0, 3-0 VVAL)
Friday, 7 p.m., Wolf Den Stadium
Radio: KVON 1440 AM, 6:30 p.m.
Last year: Vintage defeated visiting American Canyon, 27-14, taking a 20-0 lead into the fourth quarter and icing it with a scoop-and-score after the Wolves pulled within 20-14.
Last week: Vintage won 40-7 at Petaluma, while American Canyon pulled out a wild 14-7 win at Napa.
De facto championship game: With Vintage going 6-0 in the VVAL last year and handing American Canyon its only league loss, and both teams undefeated in the VVAL so far this season, the winner could have the inside track to the league title – although Justin-Siena's and Napa High's improved squads might have something to say about that.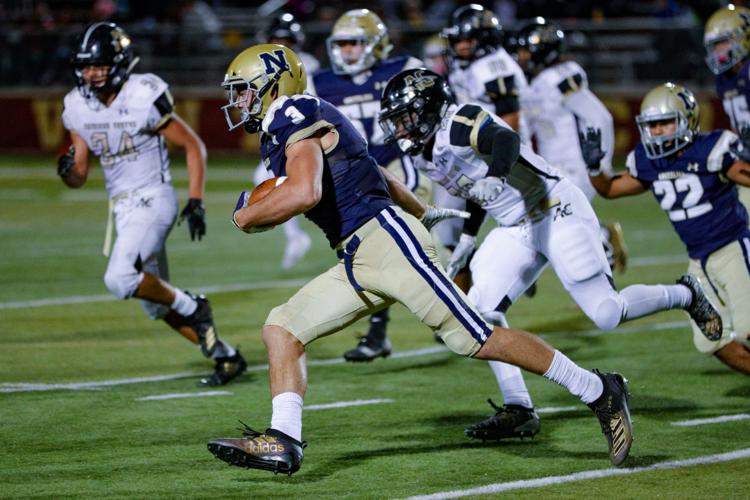 Eschenburg or Espejo? American Canyon's second-year varsity quarterback, senior Vance Eschenburg, was sidelined by injury at Napa after taking a nasty hit at the end of a keeper late in the first half. Though Eschenburg was throwing with his helmet off on the sideline during the second half, it was junior back-up Vinnie Espejo who engineered both scoring drives.
American Canyon head coach John Montante said Thursday that Eschenburg is healthy this week, but the coach was pleased to see the offense run smoothly with Espejo under center.
"I love our guys," Montante said. "Watching Vinnie step up and the guys rally around him was great. They did a good job against Napa. The tests will continue to get harder and our guys will be forced to step up."
Montante was asked how the Wolves have prepared for the trick plays Vintage has used to swing the momentum in games.
"Film study," he said. "Practice reps. Playing the scenarios during the week. Reinforcing our responsibilities."
Low-scoring affair? While Vintage is giving up only 12 points a game, American Canyon is yielding half that, so don't expect much of a track meet.
Wessman on Wolves: Vintage head coach Dylan Leach did not respond to a text seeking comment about the game. But Napa High head coach Richie Wessman said the Wolves played well against his team last week.
"You have to take your hats off to them. They did an incredible job. Their kids competed. They are a well-coached team," Wessman said. "We were right in that football game and we had so many opportunities to take control of it. But we just couldn't and execute in critical situations."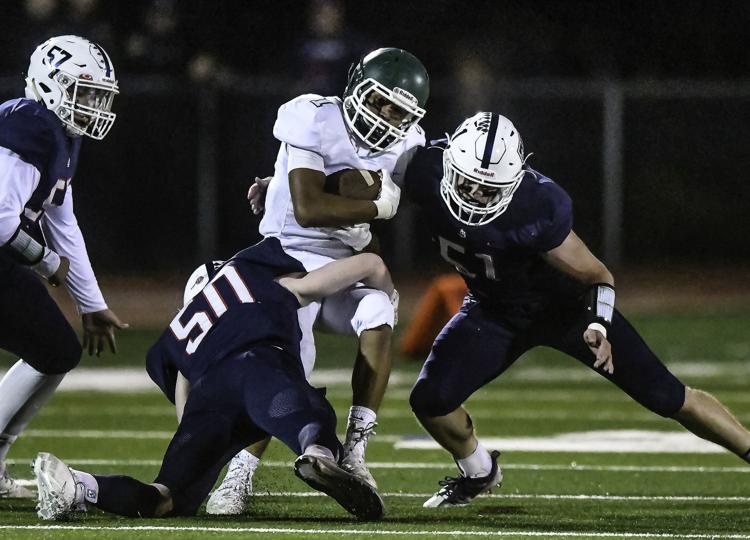 Justin-Siena (6-1, 2-1 VVAL)
at Napa (4-2, 1-1 VVAL)
Friday, 7 p.m., Memorial Stadium
Last year: Justin-Siena beat visiting Napa, 36-32.
Last week: Justin-Siena won its homecoming game over Sonoma Valley, 41-0. Napa lost its homecoming game to American Canyon, 14-7.
Welcome to Memorial: It will be Justin-Siena's first-ever game at the home of Napa High and Vintage, as the Braves had never had the enrollment to play their closest neighbors – nor a reason, until they were put in the same league.
"We are definitely excited about finally getting the chance to play a game at Memorial Stadium," said Justin-Siena head coach Brandon LaRocco. "Our seniors last year were super disappointed when they saw that we had Napa and Vintage at home. It's a one-of-a-kind venue and it should be a really cool experience for us to play there."
Size doesn't matter: Both teams have some huge linemen, but Napa High doesn't have any who play on both offense and defense.
"Napa definitely has more size than us, but that has pretty much been the case against everyone we have played this year," LaRocco said. "At the end of the day, we tell our guys that size alone doesn't win football games. We need to focus on how to use our strengths to create opportunities for ourselves and limit those for our opponents."
From veer to Beers: Those who stopped following Justin-Siena football after longtime head coach Rich Cotruvo and his veer offense left in 2015 would hardly recognize the Braves these days. Current Monterey Peninsula College quarterback Barrett Donohoe threw for nearly 3,500 yards over the last two years, and junior successor Hudson Beers has already thrown for more half of that this season alone. But LaRocco said the surprise element is gone.
"I think we did a good job last year establishing ourselves as a team that can move the ball through the air last year with Barrett," the coach said. "People might have been surprised early on at how well Hudson has done taking over the offense, but at this point in the season I think he has really established himself. He is a really hard worker and spends countless hours studying and learning the offense. He has also been blessed with some really good players to get the ball to, as well."
Napa High head coach Richie Wessman is acutely aware of Beers and top receivers Miles Williams, Solomone Anitoni and Blake Hoban.
"It's going to be a good test for sure. They do a lot of good things," Wessman said. "They do a lot of things that are going to make it a fun contest, that's for sure. There's been other teams that can make a play (through the air), but these guys make a living throwing the ball. Beers is accurate and he knows where to go with the ball. He's a good quarterback for them, for sure."
LaRocco has also been impressed with Napa's third-year varsity signal-caller, senior Isaiah Newton.
"Newton is dangerous quarterback to face and somebody that you have to be prepared to deal with. I thought the same thing we faced him last year," he said. "He has shown the ability to be really accurate, has the arm strength to take deep shots, and moves well in the pocket. Add the quarterback run game stuff and there is a lot to be concerned about."
You have free articles remaining.
Napa's turnaround: The Grizzlies atoned for one of last year's losses with a 62-19 rout of Sonoma Valley two weeks ago and have four more chances at more payback, starting with Justin-Siena.
"It's a testament to these young men because they've really grown and come so far," Wessman said. "I think there's always stages to (a culture change). We're definitely a good team right now and if we can learn the lessons from last week's loss, we can turn into a great team. That's my hope. You never want to lose, but it'll end up being a blessing for us if we can culturally go from being a good team to a great team. You've got to turn it into a positive and go from there."
LaRocco didn't think Napa needed to make too many changes after last year.
"Last year they were a lot better than their record reflected," he said. "We knew when we played them it was going to be a tough hard fought game, and we know it's going to be the same kind of game this year."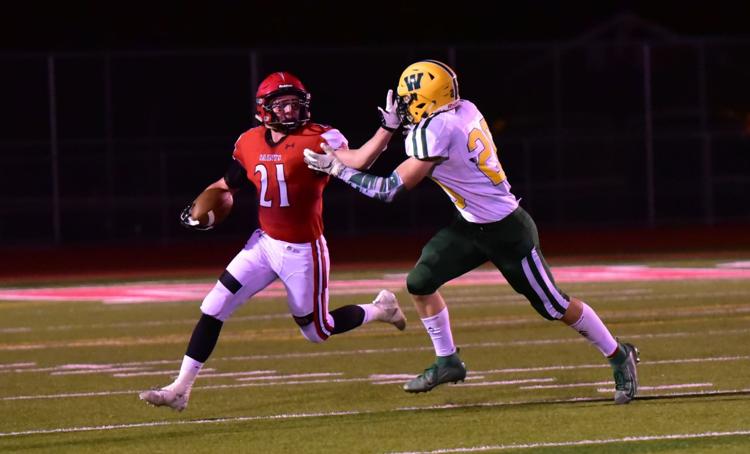 Middletown (4-2, 3-0 NCL I)
at St. Helena (5-1, 2-1 NCL I)
Bob Patterson Memorial Field
Last week: St. Helena fell to Willits, 30-28, for its first loss of the season. Middletown beat Clear Lake, 41-14, its third straight win.
Last year: Middletown beat the visiting Saints, 34-7.
Response to loss: After a perfect start to their season, the Saints suffered their first loss of the year in brutal fashion, having a comeback stopped one yard short on a last-second two-point try to send the game to overtime against a team they hadn't lost to all decade.
So how did the Saints respond in practice this week? Pretty well, according to head coach Brandon Farrell.
"The kids have been typical high school kids; they were on cloud nine and now that they have sunk a little bit to a different level but I think that's to be understood," he said. "… I think the kids have bounced back this week and I think they understand what's at stake."
High-stakes: Speaking of what's at stake, there happens to be a lot in this game as far as the North Central League I race is concerned. Middletown and St. Helena were slated to be two teams competing for the league crown this year before the start of the season. A win for St. Helena on Friday would tie them with the Mustangs, and could bring about a four-way tie for first place if Willits (3-0) loses to Lower Lake (2-1) this week.
"If you want to talk league then yeah, this is a must-win situation," said Farrell, adding that a league title isn't the Saints' biggest goal. "But it's also a situation where we've own five games and we have lots to play for other than just league. League is one of our goals. But ultimately, playing well and having a chance to win against Middletown is one of our goals, too."
All systems go? St. Helena is one of the towns affect by the power shutoffs that have put most of Northern California in the dark this week. Power could still be off in town on Friday, but Farrell said they would still try to get the game in this week. The game could be moved up several hours to avoid the need for lights, or could potentially be moved to the weekend. No decision had been made as of early Wednesday afternoon.
"I don't think we're doing anything as a school district other than taking it one day at a time and seeing where the outages happen and things like that," Farrell said. "It's more important for people to be safe than to worry about when the football game is going to be."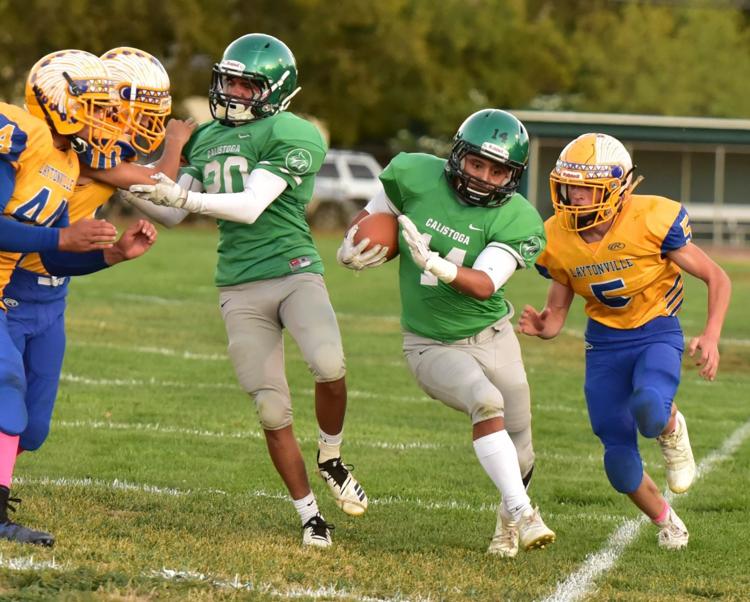 Calistoga (4-1, 0-0 NCL III South)
at Branson (3-1, 1-0 NCL III South)
Last week: Calistoga beat Laytonville, 46-0. Branson beat Tomales, 48-28.
Last year: Branson beat Calistoga, 36-16, on Homecoming.
A tough home stretch: Saturday's game beginnings the most difficult three-game stretch of the season for the Wildcats. After playing the defending North Coast Section 8-man champ in the Bulls, the Wildcats will host Tomales and then face Stuart Hall on the road. The league may be as open as it's ever been over the last several years, but the Wildcats know there's a lot riding on the coming weeks.
"This is as big as it gets right now," said Calistoga head coach Jim Klaczak. "... It's kind of a perfect storm, I told the kids. Branson is good but they're not as good as they were last year, I don't believe, and we're better. But they already have one league game under their belt, but they haven't played anybody like us yet, that's the one thing. … It's going to be interesting. We know what they can do and they know what we can do and this is a chance for us to upset the apple cart in the league."
Unstoppable force vs. immovable object: Saturday's meeting will certainly be a clash of styles. The Bulls have scored 232 points in their four games and have been held under 50 points in a game just once. On the flip side, Calistoga has once again created a tough-nosed defensive identity, allowing just 14 points in their last three games combined and just 69 in total this season.
"Right now our defense is finding its own and we're finding people to play in the right spots," Klaczak said. "We're always tough defensively but we're really getting better at it. … Our key to this game is if we keep the ball away from them and they're standing on the sidelines and we make the most of our opportunities."
That's the essence of the Wildcats' game plan for Saturday. They simply don't have the firepower to match up with the Bulls, so they'll do their best to put together long drives and limit Branson's offensive opportunities.
"I promise you this, we will not get into a shootout with them," Klaczak said. "That's not in my DNA. We're going to play as tough of defense as we can and we're going to try and keep the ball away from them."