Napa (7-2, 4-1 VVAL) at Vintage (8-1, 5-0 VVAL)
Friday, 7 p.m., Memorial Stadium
Radio: KVON 1440 AM, 6:30 p.m.
Last year: Vintage defeated Napa 69-14. See page B2 for details of this and the other 47 Big Games since 1972.
Most recent games: Napa defeated visiting Petaluma last Friday, 49-7. Vintage, after beating visiting Justin-Siena 48-7 on Oct. 18, got a forfeit win over Sonoma Valley last week. The Dragons didn't have enough players after several were ejected at the end of their Oct. 18 game against Petaluma.
Bittersweet week for Crushers: While Vintage's stats took a hit with last week's forfeit, and its players will have played only a nine-game regular season, head coach Dylan Leach got to see Napa play one more time than Grizzlies head coach Richie Wessman got to see Vintage play. The Crushers also got two weeks to prepare for a Big Game for probably the first time ever.
"We were not happy about last week's cancellation. We are always looking to prepare for a game, and I feel the players lost out on an opportunity to play," Leach said, but added "it is always good to watch your opponent play in person and Napa did not disappoint, as they looked very crisp and dominant."
Vintage the favorite on paper: MaxPreps.com ranks Vintage 165th in the state, 12th in the North Coast Section overall, and third among NCS Division 2 schools. The website has Napa at 308th, 26th and seventh in the same polls. Vintage is eight points away from being undefeated, and Napa is 13 points away. The average state ranking of Vintage's four nonleague opponents is 335th, while Napa's nonleague foes averaged a ranking of 579th.
Platooning vs. Packages: Each team has been able to get most of its players into crucial stretches of games because of their unusual systems. Napa has 57 players but starts 20 or 21 different guys because of its platooning system, and others rotate in to keep the team as fresh as possible overall. Vintage, with 44 players, runs various packages that include different players – even different quarterbacks at times.
"Each has its merits," Leach said. "They're different, but I feel we do not have the numbers on varsity to only go one way. We have a very successful freshman and JV teams that are each 8-1, with good numbers on each, and we only pulled two sophomores up to varsity. To each their own."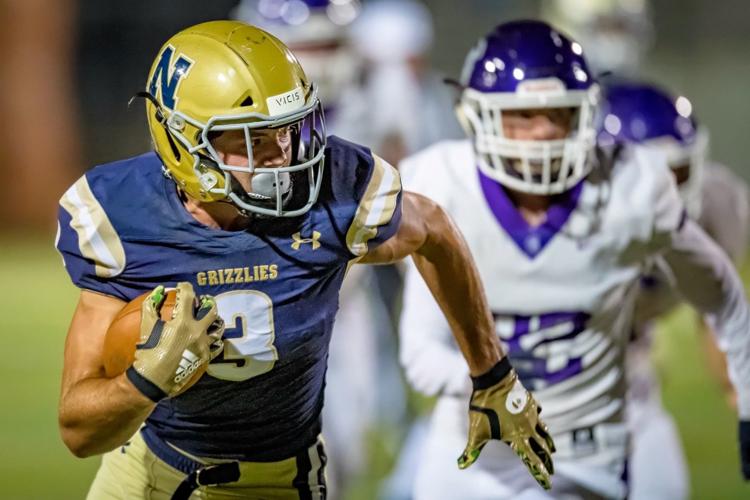 League title at stake: For the first time since 2005, when head coach Les Franco's Vintage squad won 28-7 over Napa – which he had previously head coached – to grab a share of the Monticello Empire League title, this game has similar ramifications. Napa can earn a share of the Vine Valley Athletic League title with a win over defending champion Vintage.
But after facing an 0-9 Napa team last year, Leach – a former Napa High assistant coach – said the Crushers are facing these 7-2 Grizzlies with the same approach.
"We always prepare the same no matter who we are playing and what is at stake," he said. "We respect this game and understand what can happen on any given Friday night."
Back to normal: Some might have wondered if any football was going to happen this week after the red flag warnings early in the week, smoke blowing in from the massive Kincade Fire in northern Sonoma County, and schools being closed all week. But Leach said the effects were minimal.
"Besides the PG&E shutoffs and a few days of subpar air quality conditions, I am not aware of any of us being affected," he said.
Wessman did not respond to an email sent Wednesday nor a voice mail left Thursday.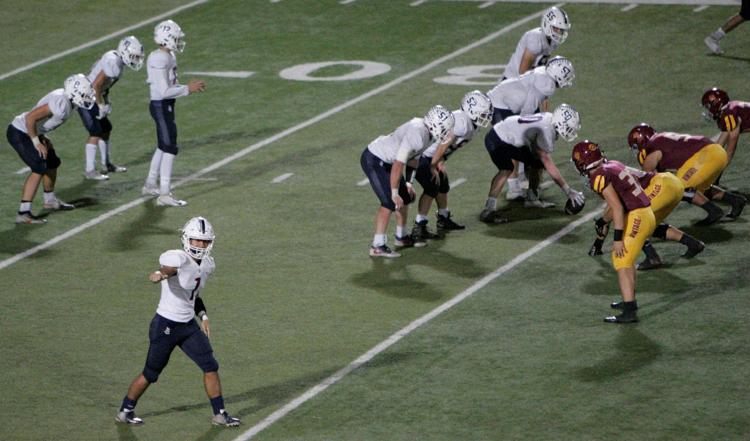 American Canyon (8-1, 4-1 VVAL) at Justin-Siena (6-3, 2-3 VVAL)
Friday, 7 p.m., Dodd Stadium
Last year: American Canyon beat visiting Justin-Siena 27-14, taking a 20-0 lead into the fourth quarter.
Most recent games: American Canyon beat visiting Casa Grande last Friday, 13-6. Justin-Siena had a bye after falling 42-14 at Napa on Oct. 18.
Budding rivalry? The Napa County schools are playing each other in their league finale for the second year in a row, but only because Sonoma Valley has a bye and the other four teams are squaring off in annual rivalry games.
"We don't have a natural rivalry game like Napa and Vintage or Casa Grande and Petaluma," American Canyon head coach John Montante said. "We're a newer school and the best rivalries are built over time. We'll see what develops."
You have free articles remaining.
Justin-Siena head coach Brandon LaRocco agreed.
"We have only had the chance to play once, so it's hard to build a rivalry without history," he said. "That being said, anytime you play schools in close proximity to you, the games are going to mean more."
Regarding how Justin-Siena made last year's game competitive with a fourth-quarter comeback, Montante said "Brandon is a good coach. They will be well prepared and we have to do our jobs well."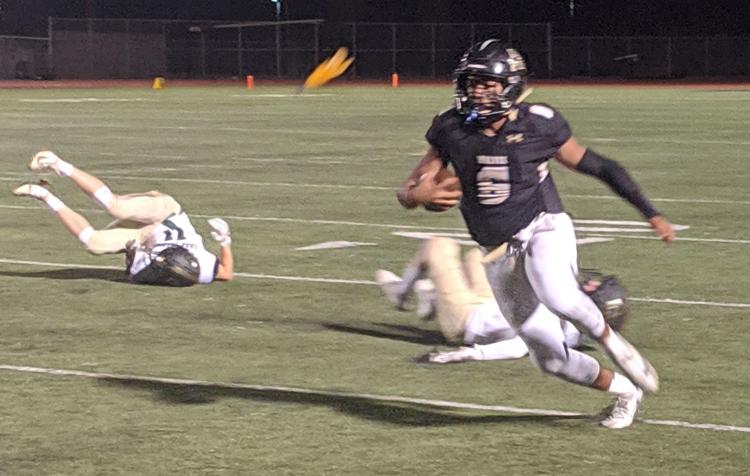 He was asked if the close win over Casa Grande, which beat Justin-Siena 42-34, was a wake-up call.
"Casa has been a tough opponent for everyone they've played this year. They're going in the right direction and shouldn't be taken lightly," he said. "Every week is a different set of challenges. We have to execute."
LaRocco said the Braves try not to focus on comparing scores.
"Our biggest concern is making sure that we are focused on things that are under our control," he said. "The only thing that is going to really increase our confidence is doing everything we can to prepare ourselves in the best way possible."
Though quarterback Vance Eschenburg scored three of the Wolves' touchdowns in last year's game, LaRocco said the Braves' biggest challenge will be to just get on the scoreboard.
"Their defense has proved to be a problem for everyone they face. They have only given up more than 14 points once," he said of a recent 28-14 loss at Vintage. "They are big, aggressive and very physical. As far as their offense, we have to be able to handle their option run game. Their QB is one of the best running quarterbacks we have seen this year."
It will be each team's last game until the playoffs start Nov. 15. The North Coast Section pushed them back a week due to all the school closures, power shutoffs and evacuations related to the Kincade Fire in Sonoma County.
"We can certainly all relate to what the schools that are being impacted by the fires are going through and can understand why the section made the choice that they did," LaRocco said. "Having a bye week where you don't know who you are going to play the following week isn't optimal, but it should provide us with a good opportunity to focus on us and the things that we need to continue to get better at.
"The thing that I am most concerned about is how we are practicing this week. If we prepare the right way and maintain our focus, it will be reflected in how we perform Friday night.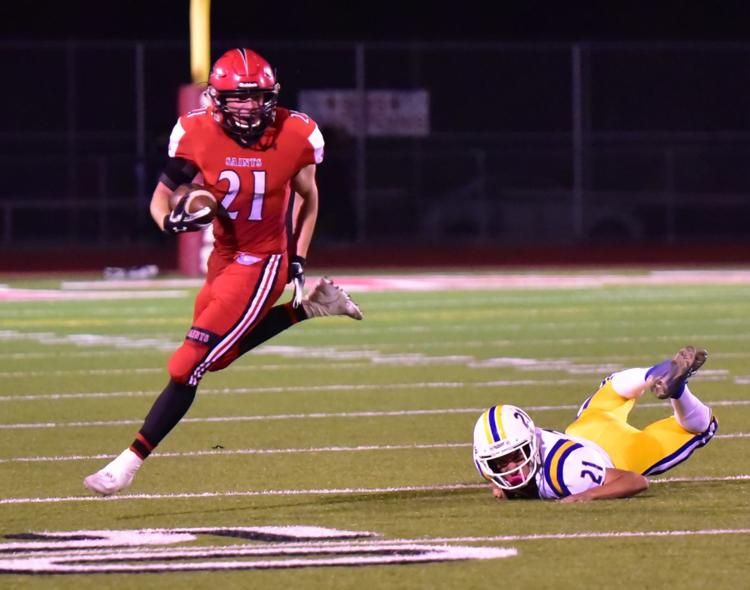 St. Helena (7-2, 4-2 NCL I) at Lower Lake (7-1, 5-1 NCL I)
Friday, 7:30 p.m., Lower Lake High
Last year: St. Helena beat Lower Lake, 40-30, in the regular-season finale.
Last week: Lower Lake took down Clear Lake, 47-27. St. Helena smashed Cloverdale, 47-0, on Homecoming and Senior Night.
"Everybody played last week, had a good time, enjoyed Homecoming," said St. Helena head coach Brandon Farrell on Tuesday night. "I'm happy, that's how Homecoming should be, everybody participates and everybody gets in and things like that. This week, we know what's at stake."
What's at stake: The potential for both teams to secure first-round home playoff games with a win. The Trojans are currently ranked as the No. 5 team in Div. 6 by MaxPreps and need to be a top four seed to accomplish that goal. St. Helena currently sits at the No. 3 spot in Div. 7.
"We're kind of treating this like playoff game because I think for both teams we have a lot at stake," Farrell said. "I think they have an outside shot at a playoff game, too, so there's a lot for them to play for and a lot for us to play for. We feel like we're one of the top teams in the league and they've played like they're one of the top teams in the league and it's always fun to play teams kind of where you fit in the standings to see how you match up against them."
"Regardless, we'll be playing next week but we need to be playing well going into the playoffs," he added.
Mighty Trojans: Lower Lake enters this game on an absolute tear. It's won five straight, put up an average of 46 points over that stretch, and shows no signs of slowing down. The Trojans boast a dynamic offense strong both in the air and on the ground. Junior quarterback Vann Wilkins (2,156 passing yards, 29 touchdowns, 6 interceptions, 64.5 percent completion rate) leads the aerial assault with a strong receiving corps led by 6-1 senior Semaj Clark (44 receptions, 917 yards, 14 touchdowns). Giving their offense some dimension is senior running back Aries Brook (75 carries, 528 yards, 13 touchdowns).
"I would say, athletically, they're as good a team as we've came up against," Farrell said. "They go up and get the ball. The quarterback throws it on time. Their running back adds a dimension that, just dealing with him is hard enough. … Explosive team for sure."
"Defensively, this will be one of our bigger challenges we've faced all year," he added.