PETALUMA — Less than six minutes into the game Friday night, the Vintage Crushers' offensive linemen were jaunting off the field in pure bliss after bashing and bruising their way down the field for another rushing touchdown.
As the group reached the sideline, a wild-haired member reared his head back and yelled with glee loud enough for anyone around him to hear, "I have been waiting 10 months for this!"
With field lights humming a familiar tune and pads smashing against each other, Vintage football was back. The Crushers looked as dominant in the Vine Valley Athletic League as they have the last two seasons, opening with a 53-6 cracking of host Casa Grande.
"I know both these teams have been preparing for this for a long time and it just feels good to get out here — not just for us, but for these kids, and to just let them play," Vintage head coach Dylan Leach said. "These kids, I am so proud of them for enduring what they've had to endure this last year and so it just feels great to get a result for all the effort that we've been putting in."
We're offering our best deal ever with this Editor's Special. Support local news coverage by subscribing to the Napa Valley Register.
The Crushers started the game almost as well as they could have hoped. Reid McCaffrey received the opening kickoff and split his way through the middle of the field, curling up the left sideline before being stopped inside the Gauchos' 10-yard line.
"Our special teams coordinator is Coach (Kyle) Archer, and he works his butt off and we give him the time to work with these guys," said Leach. "We understand in high school football all the stats say that one of every five plays is a special team play. That's 20%. So if you 're not spending 20% of your time and practice on special teams, there's something wrong, and we spend 20% of our time on practice on special teams. We expect those types of plays because we work on them."
From there, Dylan Smith took over the first quarter for Vintage. Smith made waves last season as a sophomore on the varsity, especially with his physicality from the inside linebacker position. The running back took only two carries to get his first score of the season, barrelling up the middle to the end zone. The two-point-conversion failed.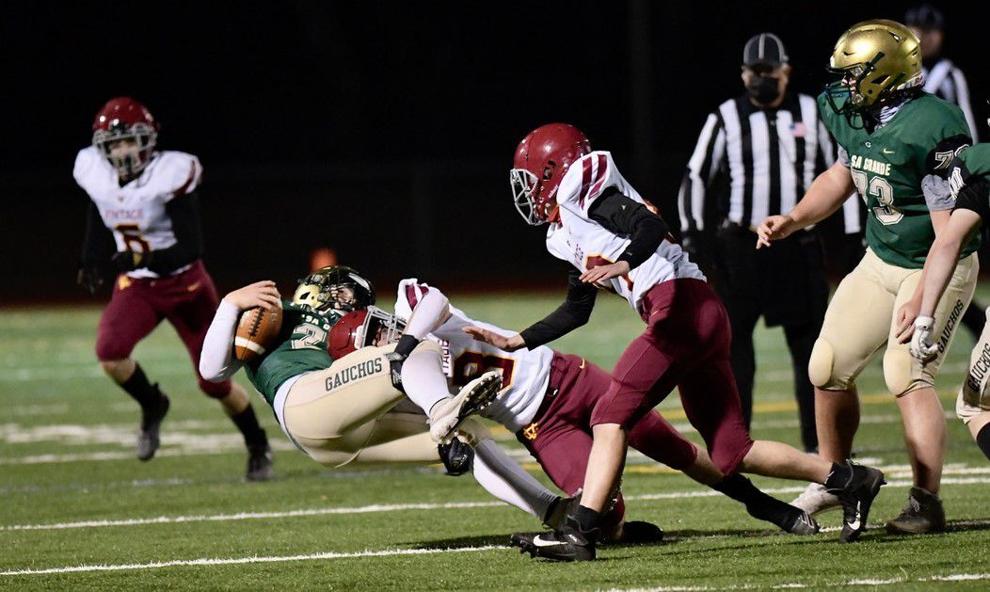 A quick three-and-out by Casa Grande gave the ball back to the Crushers and Smith needed only one touch of the ball to grab his second score of the game. The junior found a hole in the defensive line and jammed through it en route to a 59-yard rushing touchdown, his longest rush of the evening. Once again the two-point-conversion failed, keeping the score 12-0.
Casa Grande's young 38-player squad, with 29 juniors and only eight seniors, continued to struggle offensively in the first half. Dominic Feliciano had little time to throw downfield during his first varsity start, as the junior quarterback was chased around on most plays. Feliciano picked up most of his yardage on short passing plays, as he finished the evening with 174 yards on 20 of 27 passing.
Vintage received the ball back with just about five minutes left in the first quarter and, once again, Smith couldn't be stopped. On just his fourth carry of the game, the two-way standout found a seam and blasted his way for a 43-yard score. Smith was used sparingly the rest of the game, but still managed to finish with 174 rushing yards on only six carries. He also picked up a 23-yard receiving touchdown as the halftime horn sounded.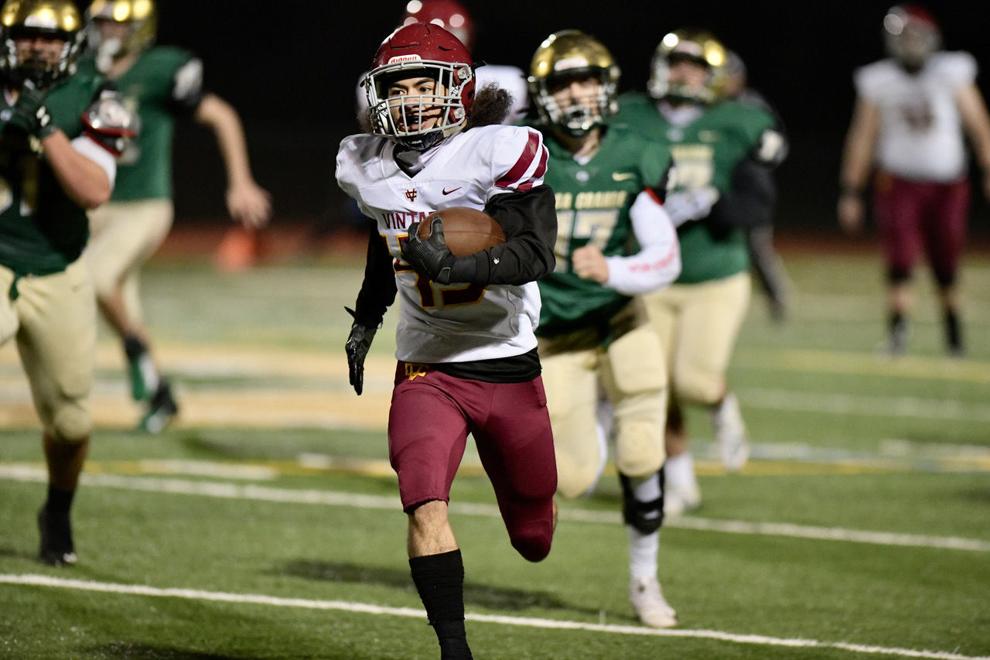 "He is a great weapon and we feel that if we get into a game where we need him, he could touch the ball 25 times, and he's been conditioned to do that," Leach said. "If he touches the ball 25 times, I'm pretty sure you're looking at 300 yards and five or six touchdowns on the night. So I just love having him. He keeps us on our toes and he's fun to be around. He works his butt off, so we appreciate that."
Also finding success on the ground for the Crushers were senior quarterbacks Jacob Aaron and Bill Chaidez. Finding the end zone first was Chaidez, who brushed off a couple of tacklers before finding the end zone. On the next drive, Aaron found a hole and raced 40 yards for the touchdown. Aaron Ballines added his fourth extra point and Vintage went into the halftime break up 40-0.
"It's so much fun after probably a year, year and a half of just lifting and being around your buddies and waiting for this day. It's so nice to finally hit someone wearing another color," Vintage lineman Connor Smith said. "We've been waiting so long and this couldn't have come sooner. We were losing hope sometimes. But finally getting this day and spawning our spirits up, I think we all came together and just worked hard."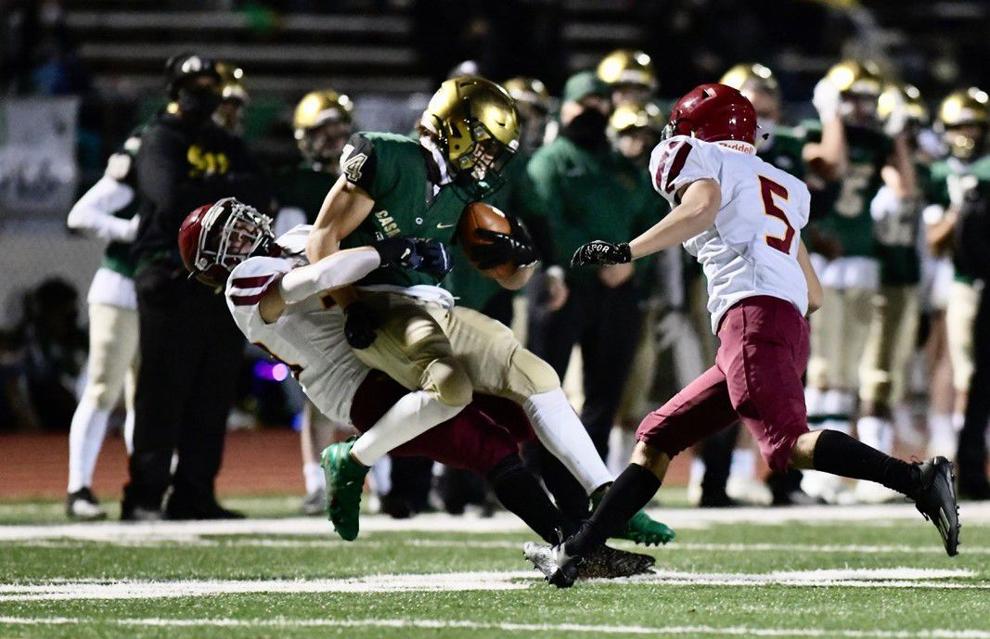 Aaron notched his second passing touchdown early in the fourth quarter, connecting with McCaffrey for a 31-yard score. Even with a 46-0 lead deep in the fourth quarter, the Crushers had one more special moment to produce. After Mosaati Schaumkel ate up 29 yards on the ground, fullback Diego Davis punched it in for a 1-yard score.
The Vintage sideline started to go crazy as they realized Jacob Segura-Delgado was heading into the game. The lanky, 6-foot-2 sophomore backup kicker slowly made his way into kicking position. His holder asked if he was ready and Segura-Delgado signaled he was. The sideline was bouncing with energy as the snap was slung to the holder and Segura-Delgado blasted it through the uprights. The loudest roar of the night from the Vintage sideline followed as Segura-Delgado's teammates swarmed him. Even a defender from Casa Grande gave him a congratulatory tap on the helmet. Football was back again on Friday evening.
"Jacob is more than a backup kicker to us. He's special to us and we just adore him, and everyone wants what's best for him and for him to get that opportunity," Leach said. "We couldn't just be more proud of that.
"That's just a testament to our program, our brothers and how they back each other and they root for each other. We all support each other, so on that particular play, that's a brotherhood. These kids support each other and that kid shows up every day. He puts in his time and he deserves it."
WATCH NOW: VINTAGE SETS TONE ON OPENING KICKOFF