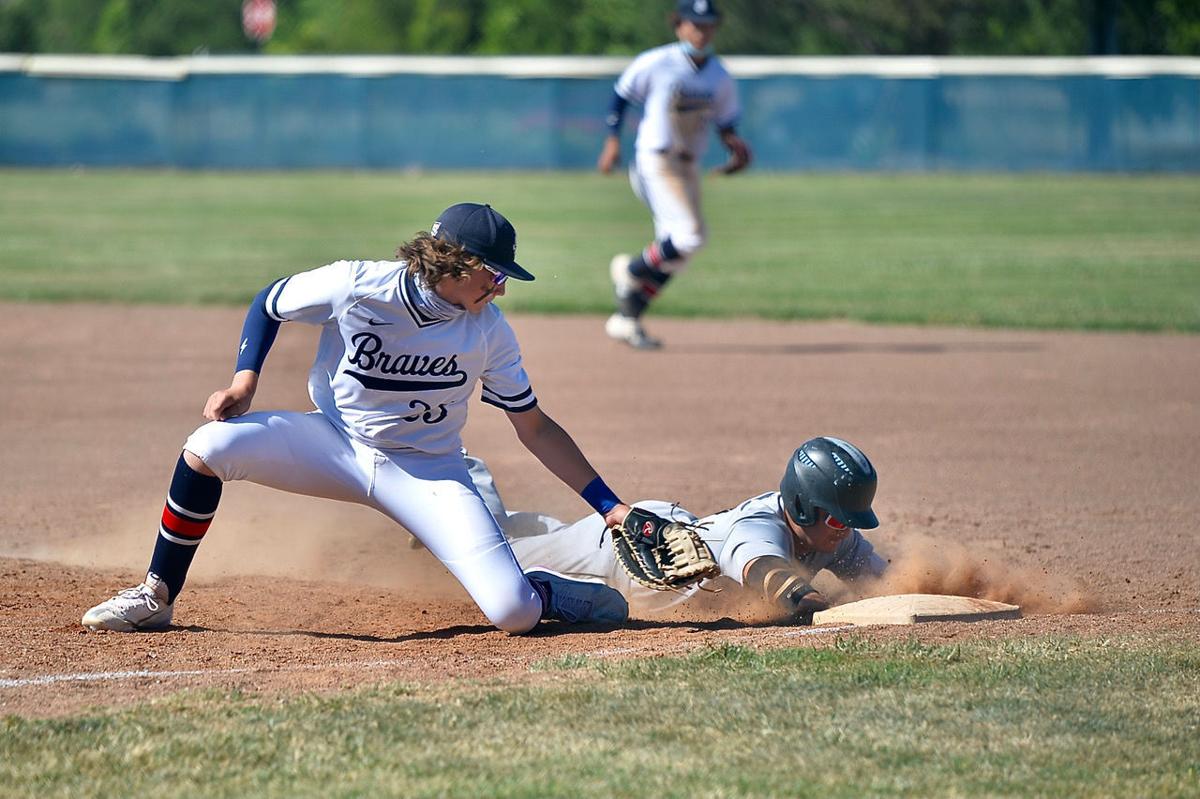 The Justin-Siena baseball team snapped a four-game slide and ended its season with a 5-2 comeback victory over host Sonoma Valley at Arnold Field on Wednesday night.
The Braves, who finished 8-9 overall and 5-7 in the Vine Valley Athletic League, trailed 2-1 with one out in the top of the seventh inning when they rallied.
Support local news coverage and the people who report it by subscribing to the Napa Valley Register. Special offer: $1 for your first 6 months!
Everet Johnson was hit by a pitch and Dalen Tinsley (1 for 3, stolen base, 2 runs) singled to set the table for Madden Edwards (2 for 3), whose double down the third-base line scored pinch runner Timmy Walsh to tie the game. After Tinsley came in on a reliever's wild pitch, Robby Sangiacomo (2 for 3, 2 RBIs) drove in pinch runner Jared Gardner with a booming double and Nick Andrews (1 for 4) added an RBI single.
Meanwhile, Justin-Siena's David Elias was magnificent on the mound, taking a no-hitter into the fifth inning. He would pitch all seven innings, allowing 1 earned run on 5 hits, 3 strikeouts and 1 walk.
Defensively, shortstop Nick Zeiter and third baseman Johnson stood out by combining to handle 9 grounders with ease.
"This was a big win for our program," Braves head coach Jeremy Tayson said. "We showed some great character in battling to the end despite losing the lead late, and being in a funk of late. Our guys responded. Even though there was no postseason play this year, it was a goal of ours to finish in the top four of our league, and with this win we achieved that."
Visiting Napa (3-13, 1-10 VVAL) took a 4-0 lead in its first at-bat and tied it 6-6 in the top of the fourth in its season finale Wednesday in Petaluma. But the Gauchos answered each time to take another two-run lead and put it away with another two-spot in the fifth.
Out-hit 10-4, the Grizzlies got singles from Connor Ross (1 for 4), Kaleb Matulich (1 for 3, RBI), Elliott Zuidema (1 for 2, run) and Trace Willoughby (1 for 2). Also getting on base were Calvin Snider (hit by pitch, run), Cameron Taylor (walk, hit by pitch, 2 runs), Lucas Brandon (RBI, 2 walks, stolen base, run) and Dylan Snider (walk, run).
Casa Grande (15-3, 11-0 VVAL) finished in first place.
JV Baseball
Justin-Siena 16, Sonoma Valley 15 (8 innings)
The Braves ended their crazy season appropriately with an extra-inning, walk-off win over visiting Sonoma Valley on Wednesday.
With one out in the bottom of the eighth, Andrew Hileman (2 singles, 2 RBIs, stolen base) singled to right centerfield on a 1-2 count to drive in Aidan Phinney with the winning run. Phinney (single, 3 runs, 2 walks, hit by pitch, 2 stolen bases) had been hit by a pitch, stolen second base, and advanced to third on a single by Emrys Davies (single, 3 runs, walk, hit by pitch, 3 stolen bases).
The Braves avenged an earlier loss to the Dragons and finished 9-7 overall and 6-6 in the powerful VVAL.
Sonoma Valley, which had scored 10 runs in the first inning of the earlier meeting, took a 2-0 lead this time. But the Braves responded with a sacrifice fly from Luke Giusto (2 RBIs, run, walk, hit by pitch).
The Dragons added two more to go up 4-1 before an RBI single by Trevor L'Esperance (4 singles, RBI, walk, 3 runs) closed it to 4-2. Justin-Siena tied it in the third on some good baserunning, four stolen bases, and a Hileman RBI single. Sonoma Valley scored another in the fourth but committed some crucial errors to allow three Justin-Siena runs in the bottom of the fourth for a 7-5 Braves lead.
The Dragons added five runs in the fifth to retake the lead, but an RBI single from Denzel Dilley (2 singles, 3 RBIs, 2 walks, stolen base, run) cut it to 10-8. Sonoma Valley put up three runs in the sixth, but the Braves came back with five runs on 5 walks, 2 hit batters and a key RBI single from Eddie Padilla (single, run, 2 RBIs, stolen base) to knot it up again at 13-13.
The Dragons came right back with 2 runs for the seventh lead change of the game, but the Braves tied it on an error and a Dilley sacrifice fly. With one out in the top of the eighth, centerfielder Matt Chadsey (single, run, RBI, walk, stolen base, sacrifice bunt) made a diving catch and fired to second base to double up the Dragons' leadoff hitter. The defensive play of the game set the stage for the heroics in the bottom half.
Leading the Dragons at the plate were Beau Jurasek (2 singles, 2 runs, 2 RBIs, triple, walk), Nick Sebastiani (2 singles, 2 runs, 3 RBIs) and Max Harrison (2 doubles, RBI, run), who was the losing pitcher.
Getting the win on the mound was Dilley (2 innings, 2 hits, 2 runs, strikeout, 3 walks) in relief of starter Giusto (4 innings, 6 hits, 5 runs/1 earned, 2 strikeouts, 2 walks).
Also providing offense were Cesar Evina (single, 2 runs, stolen base), Aidan Hermann (run, 2 walks) and Patrick Elias (single).
"This was a fitting way to end this weird year," Justin-Siena head coach Steve Meyer said. "I'm so happy and excited for the players who worked so hard and endured so much to try to play baseball as best as we could set it up for them. This is an outstanding group of young men who exceeded our expectations in so many ways, yet continue to work hard and get better every day. They will be a welcome addition to the next level."
Catch up on Napa County's top sports stories