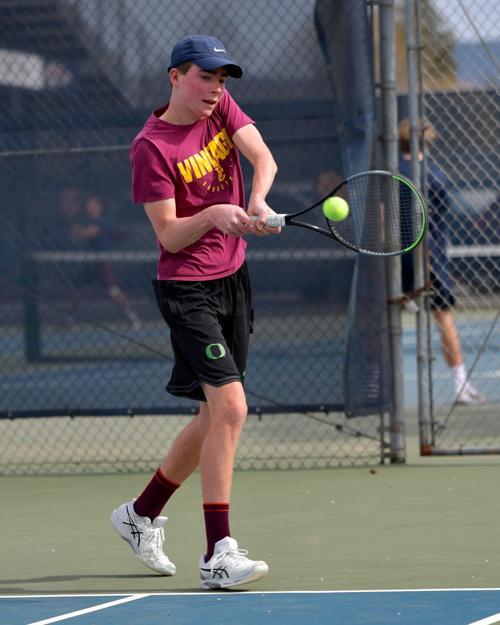 With five starters out, even against the Vine Valley Athletic League's last-place team, there was no guarantee the Vintage High boys tennis team would finish with yet another shutout.
But the Crushers did Monday, blanking visiting Petaluma 7-0 with a reshuffled lineup in their season finale to wrap up their second straight undefeated league campaign.
Support local news coverage and the people who report it by subscribing to the Napa Valley Register.
Winning in singles for Vintage (8-0 VVAL) were, starting at the top, Lucas Bollinger, 6-0, 6-0, Ethan Kincaid, 6-0, 6-0, Owen Chappellet, 2-6, 6-4, 11-9 tiebreak, and Ethan Castelazo, 6-2, 6-0.
"That was Owen's first singles match — ever," Vintage head coach Chris Cole said. "He just started playing tennis."
In doubles, seniors Andrew Diana and Nick Ball rolled 6-0, 6-0 at No. 1, it was Armand Shakeri and Stefan Shakeri winning 6-3, 6-0 at No. 2, and Corbin Hartwig and Zack Simi winning 6-0, 6-0 at No. 3.
It was the seventh 7-0 win of the eight-meet season for the driven Crushers, who were 55-1 in individual matches.
Cole just wishes the VVAL had not decided this spring, with nine months of sports crammed into three because of delays related to the COVID-19 pandemic, to scrap the tradition of handing out pennants for the champions to hang on their gyms' walls out of empathy for those whose lives have been impacted.
"Overall, it was a good season," the coach said. "My guys worked hard, and the only reward we had was knowing we are the best. We are league champions, and there is no reward. It's a real shame. It's kind of like telling kids 'study hard and you'll be rewarded,' they know they got an 'A' on their test, then they're told everyone gets to pass. No A's. Oh well. I guess whoever decided this knows more about sports and competition than the kids and coaches."
Girls Tennis
In Tuesday's battle of teams with 2-7 VVAL records going in, the Dragons edged the visiting Grizzlies by a point for the second time this season.
Napa (2-8 VVAL) got its wins from its second, third and fourth singles players. In that order, it was Cameron Wickersham over Solana Staes, 6-0, 0-2, default; Ava Moreci over Morgan Salars, 6-3, 6-3; and Julie Solomon over Meg Jernigan, 6-1, 6-1.
Top Sonoma Valley singles player Bella Groth beat Sophia Kroll, 6-4, 6-4, and the Dragons' doubles swept. Start at first doubles, it was Sophia Vogt and Grace Utnehmer over Kalaya Jones and Natalie Maass, 6-3, 6-3; Rosie Houghton and Natalie Wetzel over Josie Morris and Isabella Christman, 6-2, 6-2; and Cam Berger and Ruby Eilert over Zariel Robles and Madeline Kroll, 6-0, 6-1.
Sonoma Valley (3-7 VVAL) was to visit second-place Vintage (8-2 VVAL) on Wednesday. Napa wraps up its season by hosting Casa Grande next Monday, April 12.
Softball
Maria Carrillo 10, St. Helena 0, 5 innings
Playing in Santa Rosa on Monday against a school three times bigger than theirs, the Saints were held to two hits by sophomore Makena Goldbeck in her team's season opener.
The Pumas' returning ace struck out 10, walked zero, and hit one batter — Skylar Fruetal, who also singled. St. Helena (1-2) also got a single from Blythe Brakesman.
Maria Carrillo scored all of its runs in the first 2 1/3 innings off starter Carter Dahline. The senior gave up six hits, three walks and only six earned runs, as the Saints committed eight errors. She had no strikeouts. Aribella Farrell pitched 1 2/3 frames of shutout relief, yielding one hit with one walk with one strikeout.