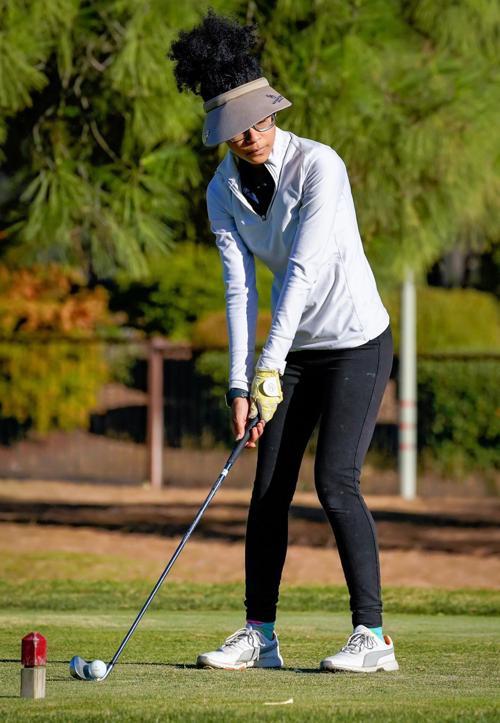 The Napa High girls golf team shot a 308 Tuesday on Silverado Resort and Spa's South Course, but needed only to have a full team to win as visiting Sonoma Valley showed up two players short of the five needed to post team score.
Jazmyn Bell led the Grizzlies with a 53, Katie Haubold carded a 57, Marissa Blackwood had a 61, Lauren Hoskins shot a 65, and Stella Persinger — playing in her first match of the season — added a 72.
Support local news coverage and the people who report it by subscribing to the Napa Valley Register. Special offer: $1 for your first 6 months!
Napa visited Casa Grande on Monday at Rooster Run Golf Club in Petaluma, where the Gauchos edged the Grizzlies, 293-297.
Bell was the medalist with a 47, but Casa Grande got a 48 from Cara Broadhead and a 49 care of Jamie Lash. Haubold was next for Napa High with a 51, while Sadie Carpenter shot a 61, Blackwood a 66 and Hoskins a 72.
The Grizzlies finished 7-5 in Vine Valley Athletic League dual-match play and will play next in the 18-hole league tournament at noon Monday at Sugarloaf Golf Club in Santa Rosa.
Napa head coach Cory Roche said it was nice to that his players didn't have to choose between golf and winter and spring sports, as they had to in the spring because of the COVID-19 pandemic.
"It has been great to have a more 'normal' season," he said, "but our team has dealt with absences due to injuries and COVID protocols the best we could. Not sure when was the last time we played at full strength. But this season has been all about teammates having each other's backs and being ready to
jump in when they are called on."
Varsity Girls Tennis
The Braves picked up their sixth shutout in nine VVAL duals this season Tuesday to improve to 9-0 in the VVAL and 10-0 overall, stretching their regular-season win streak to 48 matches over four years. Napa's young squad fell to 0-10 in league play.
The most competitive match at Justin-Siena on Tuesday was at third doubles, where Lydia Heil and Lauren Cox pulled out a 6-1, 3-6, 1-0 (10-6) win over Daniela Lopez and Stefania Llamas.
At No. 1 through No. 4 singles, respectively, it was Bella Rampa over Zariel Robles, 6-0, 6-0, Naveena Jackson over Kayla Fuqua, 6-1, 6-0, Megha Jackson over Kaelin Paringit, 6-0, 6-3, and Jess Beaulac over over Madeline Kroll, 6-1, 6-0.
In doubles action, No. 1 players Tatum Newell and Carina Dunbar defeated Julia Bui and Isabella Graffigna, 6-1, 6-2, at first doubles. At second doubles, Kendall Manasse and Maggie Cooke defeated Georgia Morris and Ella Surberg, 6-0, 6-2.
The Crushers improved to 8-1 in the VVAL with Tuesday's home win, also pulling out its closest match at No. 3 doubles as sisters Angela and Angelica Martinez-Ceballos put away Peyton Rosa and Olivia Dougherty, 6-2, 6-6 (7-4).
In singles, starting at No. 1, Jamie Pope blanked Sophia Vogt, 6-0, 6-0, Erin Meader downed Solana Staes, 6-2, 6-1, Sierra Tenbrook cruised past Rosie Houghton, 6-1, 6-0, and Lucie Poer dispatched Ferne Alvarez, 6-2, 6-2.
Vintage's Gwen Stewart and Caroline Simpkins pulled out a 6-4, 7-5 win over Grace Utnehmer and Natalie Wetzel at No. 1 doubles. Getting the lone win for the Dragons (2-8 VVAL) were No. 2 players Sierra Pine and Kate Llodra, 6-3, 6-2 over sisters Gianna and Kailey Wilkins.
Catch up on Napa County's top sports stories