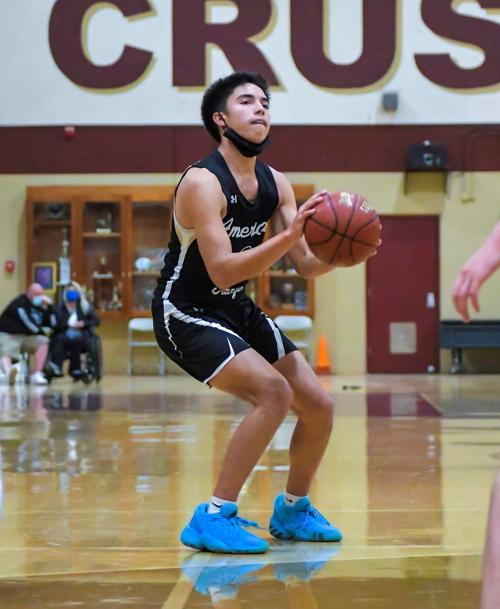 Max Parmigiani, a junior who had 30 points all of last season, exploded for a career-high 25 points with eight 3-pointers to lead the American Canyon High boys basketball team past visiting Napa High on Thursday night, 83-37.
Gabriel Patrick scored 17 points and Mikey Pierce added 12 as the Wolves improved to 4-2 overall and 3-1 in the Vine Valley Athletic League.
Support local news coverage and the people who report it by subscribing to the Napa Valley Register.
American Canyon started hot behind the 3-point arc and stayed hot, connecting on a season-high 17 shots from downtown. The Wolves also had a near-perfect defensive effort, giving up single digit points in three of the four quarters.
"You visualize having games like this; you wonder what it would look like if it all clicks on the same night. Tonight was that game," American Canyon head coach Scott Hayburn said. "We had a lot that needed correcting after our poor defensive effort on Tuesday at Casa Grande and that was our priority. The offensive output was just icing.
"While Max is likely to get much of the attention for his shooting tonight, and absolutely deservedly so, Gabriel quietly had one of the best games of his career. His growth, leadership and maturity have been the glue that has held this team together all season long. If we need a buzzer-beating shot like we did on Tuesday the ball is in his hands. On a night like tonight, he led us in so many other ways."
Volleyball
American Canyon 3, Napa 1
The Wolves finally picked up their first VVAL victory during the third season of the league, beating host Napa High 25-15, 22-25, 25-11, 25-13 on Thursday night.
"The victory was a true team effort," said seventh-year Wolves head coach Katy O'Brien.
American Canyon's key contributors were Madison Iwatsu (5 aces, 9 digs), Ava Boloyan (8 kills, 2 blocks), Alexa Berry (7 kills, 1 block), Kenzie Dado (5 kills), Caitlin Capulong (20 digs), Arianna Pacheco (10 digs) and setters Maria Magaoay (14 assists) and Giselle Torres (18 assists).
The Wolves were coming off their 25th straight VVAL defeat, a 3-1 home loss Tuesday to Casa Grande that had been delayed 10 days because of one of the Wolves testing position for COVID-19.
"The girls were elated," O'Brien said. "They've had a crazy year with COVID and then a bumpy start to the shifted season. Coming off of such minimal practice, they are incredibly proud of themselves. I am very proud of them too. They stuck to the game plan and continued to push when Napa put the pressure on them. Most impressively, from my perspective as their coach, is that they truly earned the victory as a team. Everyone played their role and contributed.
"The level of competition in our program has really increased over the past few years. I feel we have been successful in many ways up to this point, but it is discouraging when your hard work continually feels like it is for not. I do not know what the rest of the season holds for us, but I do know that the girls have found a new level of confidence and will continue to carry that with them into all of the matches moving forward.
Boys Soccer
American Canyon 1, Justin-Siena 1
Kevin Sosa was tackled from behind inside the box and converted the resulting penalty kick 17 minutes into Thursday night's game to give Justin-Siena an early lead.
Five minutes later, Sosa received a pass from Justin Nash and once again was hit from behind by an American Canyon defender and earned a penalty kick. This time, however, Sosa's kick was blocked by the Wolves' goalkeeper.
Sergio Navarro tied the game for American Canyon seven minutes into the second half, and the Wolves salvaged he tie in their season opener. Conner Lima, the Wolves' starting goalie last season, played a "fabulous" game on defense and as a midfielder, head coach Antonio Orozco said.
"Our students played very well for being their first game after so many months without much activity," he added.
Justin-Siena's first-year head coach, Felipe Nieto, said the second half was full of opportunities for his team to score.
"Overall, we played a solid game and had a better second half," he said. "The team improved defensively and offensively. Special mention to forward Kevin Sosa for a great game, along with goalkeeper Adam Nelson, and Wyatt Pitts on defense."
Girls Water Polo
American Canyon 13, Napa 10
Angel Sapida had 5 goals, 3 assists and 5 steals to lead the Wolves past host Napa High on Wednesday in a VVAL game.
Emily Long had 4 goals, Lily Mosing had 2 goals, 3 assists, 3 steals and 1 caused kickout. Abigail Dion added 1 goal and Abby Sapida had a goal, 2 assists and a steal. Jillian Chua chipped in 2 assists.
Lillian Gramlick amassed 19 saves and added a steal in goal.
Justin-Siena 10, Vintage 3
Twyla Borck had 11 blocks in goal, including one on a penalty shot, as the Braves won Wednesday at Vintage in a VVAL contest.
Sarah Reynolds spread her 5 goals between the first three quarters and added an assist and a steal. Taylor Blakely had 2 goals and 3 assists, Angelina Phinney a goal, an assist and 2 steals, Maddie Vanoni had a goal and assist, Elle Baskerville had a goal, an assist, 3 steals and 2 field blocks, and Lexi Hollister added an assist. Carlie Fiorito displayed her speed by winning 3 quarter-opening sprints.
Softball
Bianca Avalos (3 for 4, 2 RBIs) doubled, took third on a Brianna Allen single and scored on a Shelby Morse groundout to give Vintage a 1-0 lead in the bottom of the first inning Thursday. It was 3-1 after each team scored in the third, the Crushers when Jordan Allen (2 for 4) singled and scored on a Taylor Lauritsen double and Briana Fry scored on an error.
Avalos tripled in Emily Vanderbilt, who had doubled, and Jordan Allen, who had beaten out a bunt single, to make it 5-1 in the sixth. Avalos then scored on an error.
Morse pitched the first five innings and got the win after allowing 1 earned run on 3 hits, 2 walks and 5 strikeouts. Raimy Gamsby struck out 4 and allowed 2 hits in the last two frames.
Vintage (5-0, 4-0 VVAL) visits American Canyon (5-1, 4-0 VVAL) for a first-place showdown at 4 p.m. Tuesday.