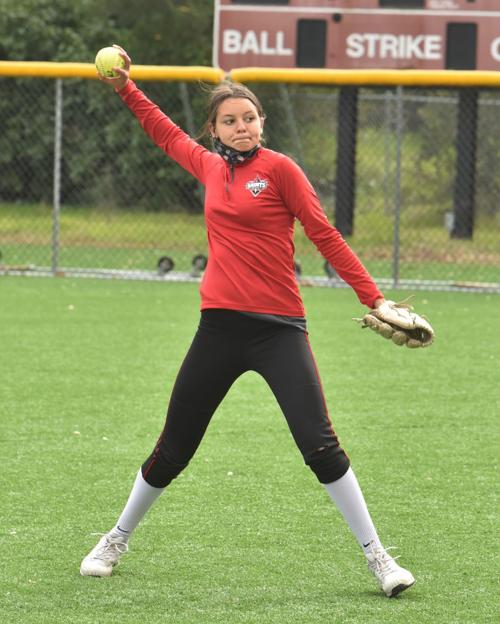 The St. Helena High softball team used timely hitting and composed pitching to defeat host Cloverdale on Tuesday, 8-4, improving to 2-0 in the North Central League I and 3-2 overall.
Aribella Farrell pitched all seven innings and gave up nine hits, one more than the Saints collected off Eagles junior Grace Gloekner, but the sophomore stranded a whopping 11 base runners. Farrell allowed three earned runs and five walks but struck out seven.
Support local news coverage and the people who report it by subscribing to the Napa Valley Register.
At the plate, Sofia Cupp went 3 for 4 with a double, RBI, two stolen bases and three runs scored; Carter Dahline was 2 for 3 with a double, RBI, walk, stolen base and run scored; Alexandra Hill went 1 for 2 with a walk and run scored; Blythe Brakesman was 1 for 3 with a run scored; and Farrell went 1 for 4 with two RBIs and a run scored; and Skylar Fruetal scored a run.
Baseball
St. Helena 8, Cloverdale 3
The Saints broke open Tuesday's road game with a two-out, six-run outburst in the second inning and improved to 2-0 in NCL I play.
Alejandro Guzman (two runs scored) kept St. Helena alive in the sixth with a good at-bat, fouling off several pitches before walking to put runners at first and second base with the top of the order coming up. Doubles by Jasper Henry (3 for 4, three RBIs, two runs scored) and Liam Gilson (1 for 5, two RBIs, one run scored) were followed by successive singles by Stacy Nelson (1 for 4, one RBI, one run scored), Brent Isdahl (1 for 2, two walks) and Miles Harvey (1 for 4).
In the third inning, Henry came up with his third hit of the day to score Guzman and make it 7-0. The Saints went up 8-2 in the seventh on a Henry sacrifice fly that brought home Spencer Printz (two walks, two runs scored).
Henry led off the game with a single and was on third base with two outs when Isdahl hit a hard grounder that the shortstop couldn't handle, plating Henry.
Nelson, coming off a no-hitter against Lower Lake on Friday, pitched the first 4 1/3 innings this time. He allowed only two hits and two runs while striking out six, walking five and hitting a couple of batters. Gilson came on in relief and stifled the Cloverdale bats the rest of the way, striking out five and yielding only an unearned run in the seventh.
Also playing well for the Saints were catcher Harrison Ronayne (walk, sacrifice bunt), Justin Maldonado, Dominic Skinner and Printz.
"It was great to get out of here with a win," said Saints head coach Darrell Quirici. "It was the first game played on Cloverdale's new infield. It's much slower than our field. The kids made adjustments and played well.
"This was a good win. Cloverdale beat Middletown last week, and Middletown is always one of the toughest teams in our league. This is a great group of kids and they have a chance, if they stay focused, to have a special season."
Girls Tennis
The Grizzlies finished 2-10 in Vine Valley Athletic League play with their fourth 4-3 loss of the season Monday at home, as the Gauchos avenged their own 4-3 loss last month to Napa.
Napa's No. 1 player, Sophia Kroll, defeated Zoe Vestal, 6-0, injury default. At No. 2, the Grizzlies got another win from Cameron Wickersham, 6-0, 6-1 over Suparna Kompali. At No. 3, Casa Grande's Ashika Balakumaran downed Ava Moreci, 6-3, 6-3, and No. 4 Napa player Julia Solomon defeated Isabella Ramirez, 6-0, 6-1.
The Gauchos swept the doubles. Starting at No. 1, it was Ava Naworski and Marissa Brody over Natalie Maass and Kalaya Jones, 6-2, 6-0, Lily Moser and Halle Boulter over Josie Morris and Isabella Christman, 6-2, 6-1, and Grace Desenberg and Natalie Maldonado over Madeline Kroll and Julia Bui, 6-0, 6-2.