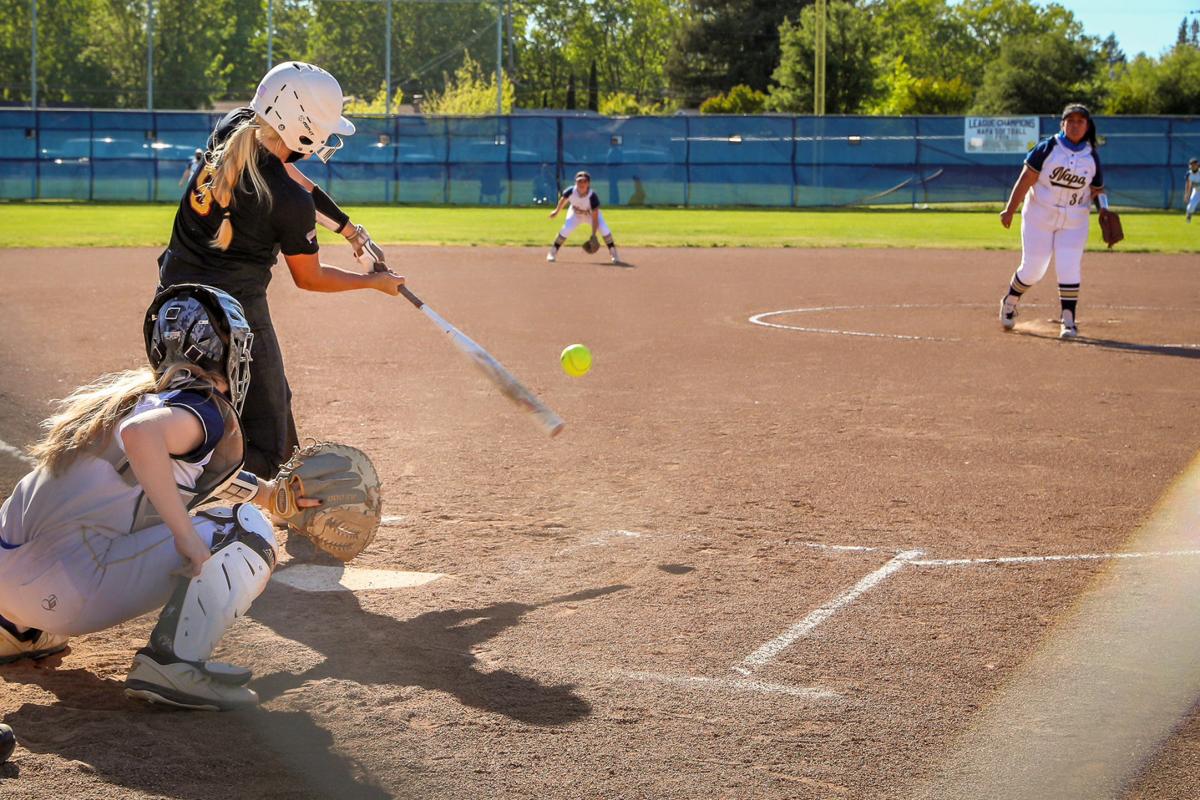 The Vintage High softball team defeated Casa Grande 5-1 in Petaluma on Tuesday in a Vine Valley Athletic League contest.
The second-place Crushers (10-1, 9-1 VVAL) had no extra-base hits but out-hit the fourth-place Gauchos 15-5. They led 4-0 before Casa Grande got on the board in the bottom of the fourth inning.
Support local news coverage and the people who report it by subscribing to the Napa Valley Register. Special offer: $1 for your first 6 months!
Shelby Morse threw the first 5 innings and allowed 1 earned run on 3 hits, 9 strikeouts and 3 walks for Vintage. Raimy Gamsby pitched the last two frames, allowing 2 hits and 2 walks while fanning 6.
Emily Vanderbilt went 4 for 4 to lead the Crushers at the plate, followed by Brianna Allen (2 for 4, 2 RBIs, run), Jordan Allen (2 for 5, 2 runs), Morse (2 for 4), Taylor Lauritsen (1 for 4, RBI, run), Bianca Avalos (1 for 4, run), Kelsey Lauritsen (1 for 2, RBI, walk), Camila Barboza (1 for 3) and Gamsby (1 for 1). Briana Perez also walked.
The Crushers will try to keep American Canyon from finishing undefeated in VVAL play when they host the Wolves at 4 p.m. Thursday. American Canyon won 2-1 in the first meeting on May 4.
American Canyon 19, Justin-Siena 0 (5 innings)
Sophomore Laila Jackson homered for the fourth straight game and freshman Jaida Fulcher threw her second straight no-hitter as the Wolves routed Justin-Siena at home on Monday in VVAL action.
Fulcher — who struck out 12 and walked 2 on Monday — had previously pitched at Windsor 10 days before, when she held the Jaguars hitless in an 8-1 nonleague win.
American Canyon (13-1, 11-0 VVAL) had six homers in Monday's game — including one by its only senior, Maddy Chambers (1 for 2, 3 RBIs, 4 runs). The other homers came from Kylee Sandino (3 for 3, 2 doubles, 3 RBIs, 3 runs), Raegan Jackson (1 for 2, 2 RBIs, run), Angelia Rodriguez (2 for 3, 2 RBIs, run), Leila Jackson (1 for 2, 2 RBIs, run) and Fulcher (2 for 2, 3 RBIs, run).
Also contributing to the Wolves' 19-hit barrage were Alexis Abalos (2 for 3, RBI, run), Yanesa Rosas (2 for 2, double, RBI, 2 runs), Mya Santiago (2 for 2, run), Angelika Annal (1 for 2, triple), Alexandra Yra (1 for 1, RBI, run) and Lindsay Feinberg (1 for 2, 2 runs).
Leila Jackson has hit all of her team-high six homers in the last four games. Fulcher has five homers, Sandino four, Yra three, and Raegan Jackson, Chambers and Rodriguez two apiece, giving American Canyon 24 homers in only 14 games.
Skye Hollister and pitcher Clare Halsey got on base with walks for Justin-Siena.
Napa 11, Justin-Siena 1 (5 innings)
The Grizzlies (3-9, 3-7 VVAL) led 10-0 before visiting Justin-Siena got on the board with an unearned run in the fourth inning Tuesday. Karen Sepulveda pitched a 4-hitter with 8 strikeouts and no walks, and helped her cause by leading Napa with a 3-for-3, 3-RBI, 1-walk day at the plate.
Also contributing to the Grizzlies' 15-hit attack were Olivia Vavricka (2 for 2, 2 doubles, 3 RBIs, run), Reilly Parga (2 for 3, 2 RBIs, 2 runs), Alana Valentine (2 for 4, double, stolen base, 2 runs), Caity Newburn (1 for 2, RBI, walk, hit by pitch, stolen base, run), Dalila Tapia (1 for 3, 2 runs), Olivia Horn (1 for 1, run), Ella Johnson (1 for 1), Jordan Blackmon (1 for 3, RBI) and Alyssa Michie (1 for 3, run). Molly Travis was hit by a pitch, stole a base, had an RBI, and scored a run.
Getting hits for Justin-Siena (0-11, 0-10) were starting pitcher Clare Halsey (2 for 2, run), relief pitcher Eleanor Meyers (1 for 2) and Adriana Quintanilla (1 for 2).
Varsity Girls Water Polo
Justin-Siena 21, Cardinal Newman 7
The Braves routed the Cardinals at Finley Aquatic Center in Santa Rosa on Tuesday.
Elle Baskerville led Justin-Siena with 5 goals and added 3 assists and 3 steals. Maddie Vanoni had 4 goals 2 assists and 3 steals, Taylor Blakely 4 goals, 4 assists and 2 steals, Lexi Hollister 3 goals, 5 assists and a steal, Sarah Reynolds 3 goals and 2 steals, and Carlie Fiorito 2 goals, an assist and a steal.
Goalkeeper Twyla Borck tallied 14 saves and 2 assists for Justin-Siena.
The Braves were to visit American Canyon at 5 p.m. Wednesday, before hosting Napa High at Napa Valley College in their season finale at 6 p.m. Thursday.
Varsity Volleyball
American Canyon 3, Napa 2
The Wolves, who won 3-1 at Napa for their first-ever VVAL win on April 29, made it a season sweep of the Grizzlies with a 25-23, 25-23, 19-25, 25-23 victory at home Tuesday night.
For American Canyon, Ariana Pacheco had 6 aces, 14 digs and 5 kills, Giselle Torres had 12 kills, 7 digs and 17 assists, Maria Magaoay had 8 kills, 15 assists, and 7 digs to lead the offense.
Defensively, Kenzie Dado had 2 big blocks and Caytlin Capulong amassed 30 digs.
Vintage's season cut short
The Crushers were 4-0 in VVAL play when their season was halted in late April because of COVID-19.
"We had a player test positive after playing in a match and practice and we had three others then test positive," said Vintage head coach Kelly Porter, whose Crushers were the defending league champions. "So the county shut us down as it was considered an outbreak even once we had quarantined and were healthy to return to play. I had 5 amazing seniors that were refused that chance to go all the way through without a loss. I really think we had the team to do it."
Porter said the undefeated Vintage JV team will still visit Napa High for a Big Game on Tuesday, June 1. She said the Vintage JV and freshman teams were scheduled to host Sonoma Valley this past Tuesday, but both Dragon squads are in quarantine.
"It has been a hard year and all these kids wanted was to play and be back out there representing their schools, even with the given protocols and procedures," she said. "It's been a wild ride. Hoping the fall brings us more joy."
Varsity Girls Soccer
Petaluma 7, Justin-Siena 0
The Braves, trailing 3-0 at halftime, gave up two goals in the first three minutes of the second half and two more late in the game on Tuesday.
"We didn't come to play and Petaluma, a very good squad, punished us for it," Justin-Siena head coach Eric Branagan-Franco said. "We just need to regroup and prepare for our last home game against Napa on Friday, when we get to celebrate our seniors."
Catch up on Napa County's top sports stories