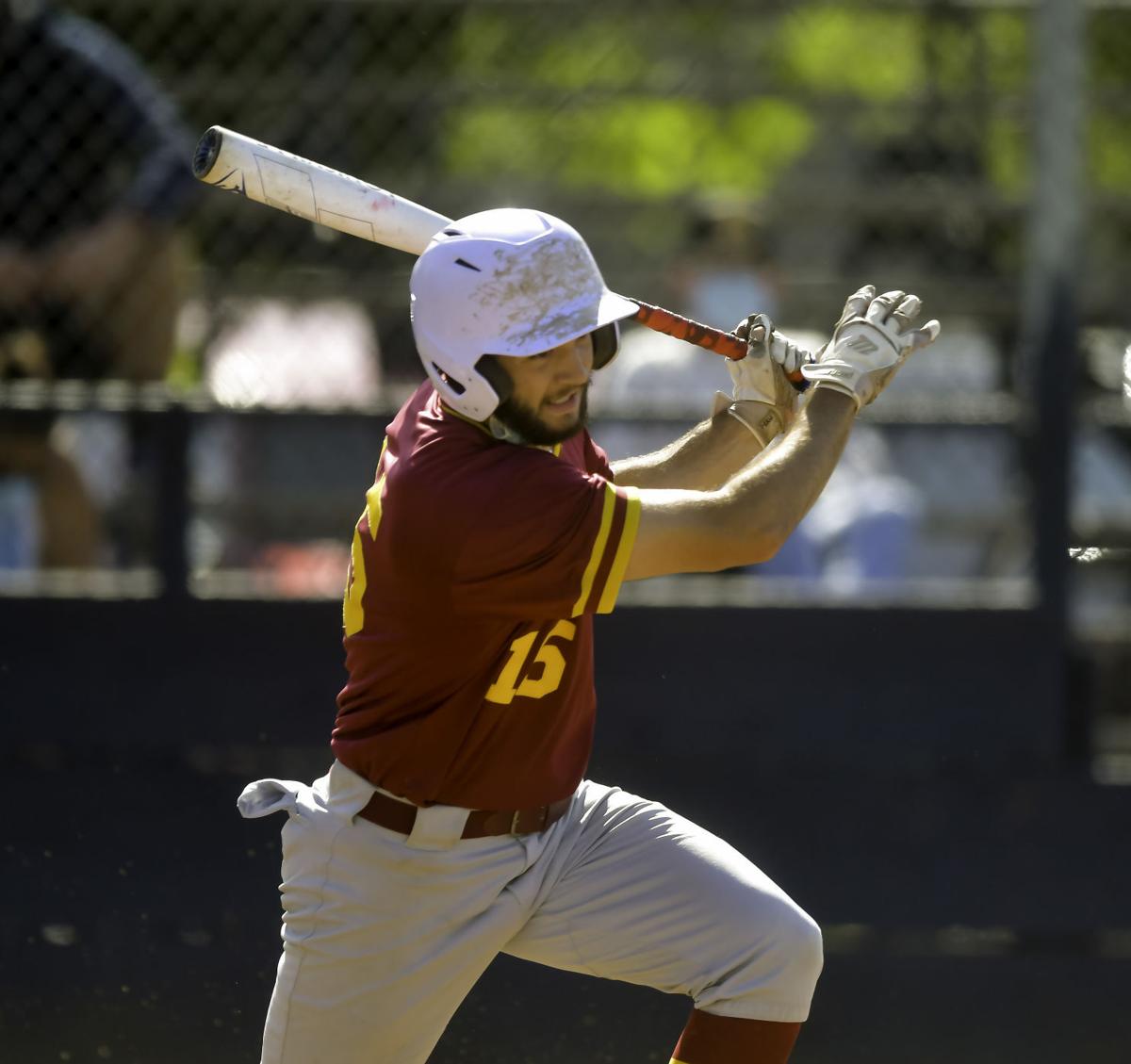 Since getting held to 4 hits by Casa Grande's Long Beach State-bound ace in their first Vine Valley Athletic League loss two weeks ago, the Vintage baseball team has been hitting the cover off the ball.
They followed with 15 hits at American Canyon and, after getting 7 hits in a close win at Sonoma Valley, had 19 hits in a 12-2 rout of Petaluma on Wednesday and a season-high 21 hits in a 20-3 win over Justin-Siena on Friday,
Support local news coverage and the people who report it by subscribing to the Napa Valley Register. Special offer: $1 for your first 6 months!
This week's games had similar power numbers: Vintage tallied 3 doubles, 4 triples and 2 home runs against a Petaluma team that had just 2 doubles as extra-base hits, and the Crushers had 2 doubles, 4 triples and 2 homers as compared to 2 doubles for Justin-Siena.
Leading the bats against the visiting Braves on Friday were Alex Dehzad (4 for 5, triple, RBI, 2 runs), Reid McCaffrey (3 for 5, double, triple, 2 RBIs, 3 runs) and Jackson Cole (3 for 5, RBI, 2 runs).
As rare as the hits by Connor Smith (2 for 2, RBI, 2 runs), who'd had only 1 hit all season because he's usually the closing pitcher, were the first varsity homer by Jorge Lopez-Rios (2 for 5, triple, 3 RBIs, 2 runs) and second varsity homer by Ian Avalos (2 for 5, 2 RBIs, 2 runs), who'd hit his first one Wednesday.
Avalos had a solo shot that capped a 5-run second inning and Lopez-Rios had a two-run shot that ignited a 7-run fifth that put the Crushers up 20-2. Though the 10-run mercy rule was in effect, the teams played two more innings anyway.
Rounding out Vintage's hitters were Eli Rojas (1 for 1, run), Boden Cooke (1 for 1, RBI, walk, run), Sam Neal (1 for 4, triple, 2 RBIs, run), Alec Nunes (1 for 2, double, run), Davida Migotto (1 for 1, 2 RBIs, sacrifice fly, 2 walks, 3 runs).
The Braves got hits from Dalen Tinsley (2 for 3, double, run), David Elias (2 for 2, run), Robby Sangiacomo (1 for 3, double, RBI), Gianni Natuzzi (1 for 2, run) and Nick Andrews (1 for 4). Keith Binz walked twice and Everet Johnson and Noah Young each walked once.
Justin-Siena (5-5) hosts Vallejo in a nonleague game at 4 p.m. Wednesday. Vintage (8-1, 6-1 VVAL) has tough rematches this week at Sonoma Valley at 7 p.m. Wednesday and at home against Casa Grande at 1 p.m. Saturday.
JV Softball
Vintage splits nailbiters with Petaluma
After coming up just short with a seventh-inning rally in a 10-9 loss to Petaluma at home on May 6, the Crushers held on to beat the Gauchos five days later on the road, 9-8.
In the first game, Dessiana Garcia went 2 for 4 with a two-run homer in the second inning that put Vintage up 4-3. Devin Viruet (1 for 4) doubled and scored in the first inning. Emily Franco (3 for 4) singled in the first and third and walked in the fifth, scoring each frame. Emilee Duncan (2 for 3, walk) was forced out three times on fielder's choices.
Taliana Segura (3 for 4) had 2 doubles, 3 runs and 1 RBI. Yazmine Navarro (1 for 3) walked in the last inning but was stranded at third. Mia Griffith (1 for 4) singled in the last inning but was left at second base. Tessa Bright drew a walk, and Corianne Dorrough walked and scored on Garcia's homer.
Garcia went the distance in the pitching circle, giving up 11 hits and 2 walks while striking out 4.
At Petaluma on May 11, Garcia batted leadoff again and went 1 for 4 with a 2-run single and run scored during a four-run second that put Vintage up 7-0.
The Gauchos answered with a 4-spot in the bottom half, a run in the third and 3 in the fifth to go up 8-7. But Vintage rallied for 2 runs in the top of the seventh. Viruet (1 for 3, double, 3 runs) was hit by a pitch and, after Franco (2 for 4, 2-run single in second) struck out, Duncan (2 for 4, 5 RBIs, 2 runs), who hit a 3-run homer in the first, put the Crushers back on top, 9-8. Segura (2 for 4) and Navarro (1 for 4) followed with singles, but a base running error ended the rally.
No worries. Garcia induced 3 pop-ups on 9 pitches to secure the win. She allowed 8 hits — 5 doubles and 3 singles — and 3 walks while fanning 3.
Vintage hosts American Canyon at 4 p.m. Tuesday and visits Redwood in Larkspur at 4:30 p.m. Friday.