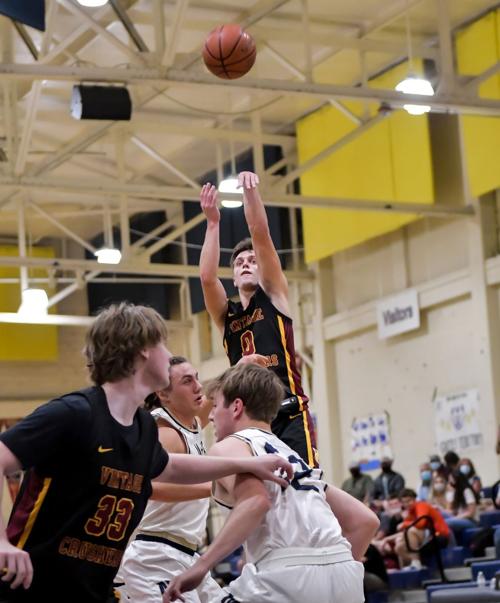 Scoring like NBA teams, two Vine Valley Athletic League boys basketball squads guided by head coaches long familiar to Napa Valley fans battled into a second overtime before Vintage went home with a 96-93 victory over Sonoma Valley on Tuesday night.
It was Senior Night for the Dragons, and head coach Mike Boles — who coached the Justin-Siena girls from 2002 to 2014 and won 259 games and a North Coast Section title — not only honored his three 12th-graders but also acknowledged Vintage seniors Logan Nothmann, Owen Schnaible, Josh McCormick and Everett Mitchell.
Support local news coverage and the people who report it by subscribing to the Napa Valley Register. Special offer: $1 for your first 6 months!
"Sonoma is a class act with a respectful coach in Mike Boles," Vintage head coach Ben Gongora said of a man now in his fifth season as boys basketball head coach and third year as athletic director at Sonoma Valley. "Sonoma was inspired as a result of Senior Night and a small but vocal crowd, and we came out tight. I don't know why, but I was tight and I think they feed off of me. But we we were able to relax and refocus at halftime. Little did I know, we would flirt with scoring 100."
With Cole Capitani scoring 10 of his season-high 26 points and Jackson Corley scoring 10 of his 11, the Crushers led 22-19 after one quarter. The Dragons dominated the second frame to grab a 43-34 halftime lead.
The Dragons, led by juniors Dom Girish and Anders Mathison with season highs of 37 and 21 points, respectively, upped their lead to 11 in the third quarter. But Vintage slowly chipped away and trailed just 58-52 after three quarters, before sending the game into the first four-minute overtime tied at 73-73. Nothmann had a chance to win it when he earned two free throws with two seconds left and Vintage down 73-72. He missed the first but swished the second.
"The first extra period was simply guts and grit," Gongora said. "We had our chances to win in regulation and the first OT, as did they, but neither team could close it out."
The Crushers were exhausted and without Capitani, who fouled out in the first OT, but the Dragons came up short after Girish and Mathison fouled out in the second OT.
"The mental shift (by) the second overtime was paramount," Gongora said. "We are learning how to be mentally tough and grind it out. Wow, what a game. I feel bad for Stacey Capitani, Cole's mom and our scorekeeper, as she was running out of space in the book to log buckets."
Nothmann finished with a career-high 31 points, 11 assists, 4 rebounds and 3 steals. Capitani, a 6-foot-7 junior, had 10 rebounds to go with his 26 points.
"Logan showed why he's the VVAL player of the year and Cole showed how dominant he can be," said Gongora.
Corley had 8 rebounds and 6 steals to go with his 11 points. Fellow junior Bryce Powers hit two clutch 3-pointers in the second half and finished with 10 points, 5 assists and 3 steals. Mitchell dropped in 7 points, McCormick scored 5, and Schnaible was relentless on defense.
"Owen didn't light up the stat sheet, but drew the assignment of guarding Sonoma's best player and made Dom work for everything he got," the coach said.
The Crushers (9-1 VVAL) went on to beat Windsor in a nonleague road game Thursday night, 63-51, improving to 11-2 overall. They will visit Vallejo for another nonleague game at 1 p.m. Saturday before closing the season with a Big Game against visiting Napa High at 7 p.m. Tuesday.
Varsity Girls Basketball
American Canyon 58, Napa 44
The Wolves picked up their first win in 19 days Wednesday night, after having VVAL rematches with Vintage and Justin-Siena canceled, a bye, and a loss to Casa Grande.
Destiny Evans had season highs of 24 points and 18 rebounds and added 2 steals and 2 blocks for the Wolves (7-3, 6-2 VVAL), who are still tied with Petaluma (8-2 VVAL) for first place.
Trinity Billingsley added 12 points, 5 rebounds, 5 steals and an assist. Jasmine Fontilla added 7 points, 5 rebounds, 10 assists and 2 steals, Amaree Bennett 6 points, 2 assists and a rebound, Jullianna Cornelio 6 points and a rebound, and Eliza Garcia 3 points.
Varsity Girls Water Polo
Justin-Siena 24, American Canyon 6
Angelina Phinney had 6 goals, 2 assists and a steal and played goalkeeper in the fourth quarter, recording 4 saves, in her last game for the Braves (8-0, 7-0 VVAL) Wednesday at American Canyon.
Twyla Borck manned the cage the first three quarters and tallied 10 blocks, an assist and a goal.
Leading Justin-Siena's scoring were Sarah Reynolds (4 goals, 2 assists, 2 steals), Lexi Hollister (3 goals, 2 assists, 5 steals), Elle Baskerville (3 goals, 2 assists, 2 steals), Maddie Vanoni (3 goals, 5 assists), Taylor Blakely (2 goals 2 assists, 2 steals) and Carlie Fiorito (2 goals, 3 assists, 1 steal).
Varsity Softball
Caity Newburn (1 for 2, 2 RBIs, 3 walks, 2 runs) slashed the Grizzlies' deficit to 3-2 Thursday with a two-run homer in the third inning, and Berkley Kramer (1 for 2) belted an RBI double, Reilly Parga (1 for 3) smacked an RBI single, and Alana Valentine (3 for 5, RBI, 3 stolen bases) scored on a passed ball in the fourth to put Napa ahead to stay.
The Grizzlies (4-9, 4-7 VVAL) also saw Dalila Tapia go 2 or 3 with an RBI, hit by pitch and a run, Jordan Blackmon 2 for 4 with a run, Olivia Horn 1 for 2 with an RBI, Olivia Vavricka 1 for 2 with a double and RBI, and Molly Travis 1 for 4. Alyssa Michie walked and scored and Karen Sepulveda added an RBI.
Sepulveda pitched the last four innings to get the win, allowing 2 earned runs on 4 hits. Kramer threw the first three frames, yielding 3 earned runs on 7 hits, 3 walks and 1 strikeout.
Napa wraps up its season by visiting Casa Grande at 4 p.m. Tuesday.
Petaluma 15, Justin-Siena 0 (5 innings)
The Braves hosted third-place Petaluma on Wednesday and managed only three hits — by Eleanor Meyers (1 for 2), Reagan Hinkle (1 for 2) and Camille Thomason (1 for 1) — in the VVAL loss.
Shelby Padgett drew 2 walks for Justin-Siena (0-12, 0-11 VVAL).
Varsity Baseball
Casa Grande 14, Justin-Siena 2 (5 innings)
The fourth-place Braves (7-7, 4-5 VVAL) managed only five hits while committing four errors against first-place Casa Grande's flawless defense in Wednesday's VVAL loss at home.
Providing offense for Justin-Siena were Everet Johnson (2 for 2, double, run), Gianni Natuzzi (1 for 3, double), Max Zuntz (1 for 2, RBI), Madden Edwards (1 for 2, double, run), Braden Snoke (sacrifice fly, RBI) and Nick Andrews (hit by pitch, stolen base).
JV Baseball
Casa Grande 9, Justin-Siena 5
The Braves led 2-0 after their first at-bats in Wednesday's road game and tied it 4-4 in the second inning. But they didn't score again until the sixth, when they got one run but left the bases loaded.
Their eight hits came from Trevor L'Esperance (2 for 4, run), Aidan Phinney (1 for 2, 2 RBIs, 2 walks), Denzel Dilley (1 for 2, RBI, run, 2 walks), Matt Chadsey (1 for 3, RBI), Luke Giusto (1 for 3), Kevin Montes (1 for 4, hit by pitch, run) and Eddie Padilla (1 for 2, 2 walks, 2 runs). Other offense came from Emrys Davies (walk, RBI) and Aidan Hermann (walk).
Montes pitched the first four innings and took the loss, allowing 5 runs (4 earned) on 7 hits and 2 walks.
"We didn't make a couple of plays in the outfield and they did, which could have been a four-run swing." said Justin-Siena head coach Steve Meyer. "I thought Kevin did an outstanding job on the mound. he competed and that is what we always ask of our players."
The Braves (7-6, 4-5 VVAL) were to host American Canyon (7-5, 6-4 VVAL) at 4 p.m. Friday.
Catch up on Napa County's top sports stories