Baseball and softball games have been known to end the day after they started, but swim meets don't usually last multiple days unless they involve several teams at the championship level.
Or if they have to be held virtually because of a pandemic and squeezed into a pool's tight schedule.
We're offering our best deal ever with this Editor's Special. Support local news coverage by subscribing to the Napa Valley Register.
The latter was how Justin-Siena and Vintage began their Vine Valley Athletic League-only, 2020-21 season. By the virtual meet format, a team swims the events at its own pool and share the times with its opponent after both have finished all events.
All VVAL meets are scheduled on Wednesdays, but Justin-Siena head coach Monica Linn said her program's home pool at Napa Valley College isn't available that day. So the Braves swam their half of the meet on Tuesday morning and shared their times with Vintage head coach Sarah Tinloy after the Crushers finished up Wednesday afternoon.
When the placings were determined and team scores tallied, Vintage's experienced boys team had dominated the Braves, 102-67. The girls teams, meanwhile, managed to finish in a rare 85-85 tie. Because fans aren't allowed back into sports events yet, the reaction to the deadlock was probably something like "Hmm, that's interesting" from Tinloy and Linn.
"We don't have adequate pool space on Wednesdays to run a meet at the college," Linn explained. "The league agreed that we can race on Tuesday and just plan to reconcile scorebooks after the opposing team races on Wednesday."
In the first event of the meet, the Justin-Siena girls' 200 medley relay team of Carlie Fiorito (backstroke), Liliana Wigington (breaststroke), Mackenzie Kawashiri (butterfly) and Lila Heffernan (freestyle) swam a time of 2:02.47 to beat Vintage by more than 13 seconds.
With the California Interscholastic Federation and North Coast Section canceling all postseason events for this school year because of the COVID-19 pandemic, underclassmen can use such blistering times only as motivation for what they hope will be the return of postseason competition next spring. Sophomores Fiorito and Kawashiri and freshmen Wigington and Heffernan have two more springs.
"In a non-COVID year, that would have been an NCS consideration time," Linn said, referring to how swimmers qualify for section championship meets. "It was the first race of our first meet, and the high school debuts for Lila and Liliana. Despite no NCS or CIF postseason competition, the 2020-21 NCS time references are helping set the bar for our next season."
Winning individually for the Braves were Heffernan with two more NCS consideration times — in the 200 IM in 2:12.37 and the 100 free in 54.50 seconds — along with Kawashiri in the 100 fly (1:04.69) and 500 free (5:38.97), and Fiorito in the 100 back (1:10.91).
"Mackenzie picked up right where she left off in the 2020 season in the 100 butterfly and 500 free," Linn said, "and Carlie came back stronger in the 100 back with a 5-second drop from last season's start."
The Vintage girls' winners were Emily Hayashi in the 200 individual medley (2:32.91), Rachel Galvin in the 200 free (2:21.40), Ava Anderson in the 50 free (27.72), Alexa Mozqueda in the 100 breaststroke (1:33.61), their 200 free relay team (1:55.36) and their 400 free relay squad (4:32.53). Hayashi was the 100 back runner-up by just three hundredths of a second behind Fiorito.
On the boys side, Justin-Siena's "A" 200 medley relay team of Anthony Krieter (back), Max Gilsenan (breaststroke), Eric Tapia (fly) and Daniel Roberts (free) won by more than four seconds in 1:45.84 — also a NCS consideration time by pre-COVID standards.
Gilsenan also hit a NCS consideration time in the 100 breaststroke with a winning time of 1:01.27. Krieter turned in a Justin-Siena career-best time in the 100 back of 1:00.62, placing second to Vintage freshman Yuki Hayashi (57.69).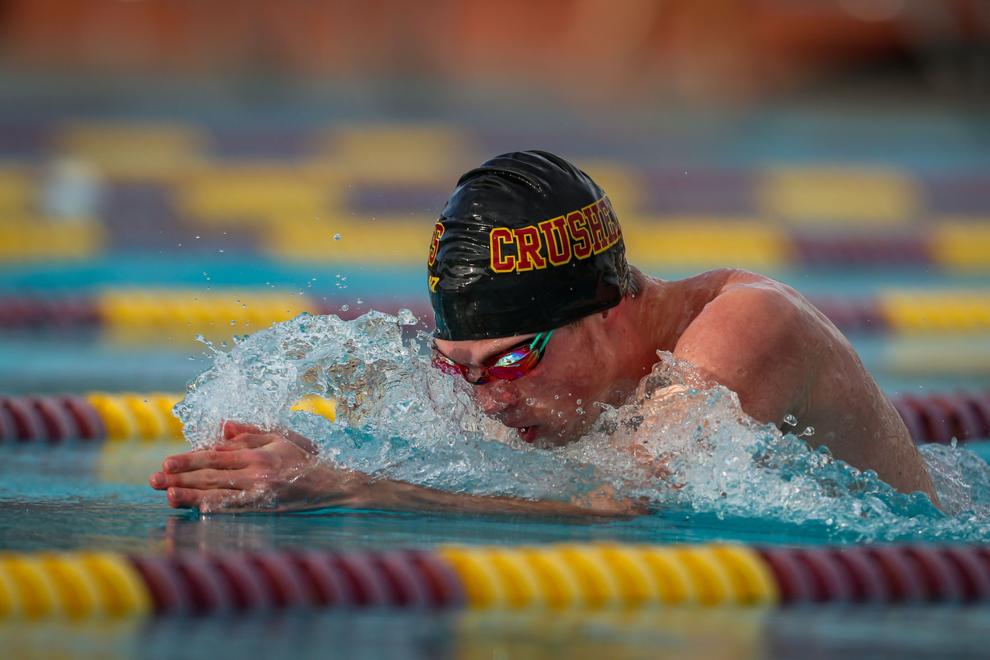 The Crushers got wins from Nico D'Angelo in the 200 free (1:56.52) and 100 free (52.17), Matthew Lloyd in the 200 individual medley (2:15.96), Dominic Dandini in the 50 free (24.42), Tyler Kortie in the 500 free (5:47.11), Hayashi in the 100 fly (56.16), and their teams in the 200 free relay (1:39.25) and 400 free relay (3:35.77).
Justin-Siena does not have JV teams this year, so Vintage had an intrasquad meet at that level.
The girls had first-place finishes from Davis in the 200 free (2:38.69), Lopez in the 100 IM (1:19.54) and 50 breaststroke (43.31), Lawrence in the 50 free (30.53) and 100 free (1:09.16), Aguayo in the 50 back (39.67) and G Arcos in the 50 fly (40.01). Their faster 200 medley relay team clocked a 2:31.23 and their 200 relay and 400 free relay wins were in 2:17.14 and 4:55.28.
For the Vintage JV boys, first-place finishes came from Ewig in the 200 free (2:30.84), Tokar in the 100 IM (1:12.02) and 100 free (1:15.59), Mills in the 50 free (29.26), Link in the 50 fly (32.59), L Avina in the 50 back (35.36) and Binder in the 50 breaststroke (41.86). Their winning relay times were 2:15.06 in the 200 medley and 2:00.46 and 4:25.56 in the frees.
American Canyon sweeps Napa
The Wolves won all four divisions against Napa High on Wednesday in another season opener.
In the varsity girls' 118-49 win, they had the winner in 10 of the 11 events.
Holly Zipay won the 200 free (2:12.44), Holly Schofield claimed the 500 free (6:07.60), Alyssa Sapida took the 100 back (1:14.19), Brynn Hughes won the 50 free (27.30), Alejandra Valladares claimed the 100 back (1:00.42) and Abigayle Sapida captured the 100 fly (1:07.57).
The Wolves won the 200 medley relay (2:07.95), the 200 free relay (1:55.50) and the 400 free relay (4:12.99).
For the Napa varsity girls, Quincy Frommelt picked up a win in the 200 individual medley (2:33.13). Notching seconds were Jolie Davis in the 50 free (29.15), Rachel Arndt in the 100 fly (1:12.31) and its teams in the 200 free relay (1:58.61) and 400 free relay (4:57).
American Canyon's varsity boys won 121-45, placing first in nine of the 11 events.
Winning for the Wolves were their relay teams — 200 medley (1:51.98), 200 free (1:43.01) and 400 free (3:45.05) — along with Joseph Patocchi in the 50 free (24.88) and 100 breaststroke (1:11.71), Gabe Cueva in the 100 fly (58.85) and 500 free (5:13.68), Ethan Rosario in the 200 IM (2:33.97) and Rowen Valladres in the 100 free (53.55).
Freshman Andrew Dillon had both of Napa's first-place finishes, in the 200 free (2:02.08) and 100 back (1:00.91).
American Canyon's JV girls won 60-47, getting victories from Gabriella Trinidad in the 100 IM (1:32.45) and 50 breaststroke (43.99), Katie Marsden in the 50 fly (43.61), Elsa Arison Lara in the 100 free (1:33.24), their 200 medley relay team (2:55.40) and 200 free relay team (2:19.16).
The Wolves' JV boys won 42-0, with wins from Josiah Kim in the 100 IM (1:31.39), Benjamin Martinez in the 50 back (41.66) and Micah Kim in the 50 breaststroke (54.61).
Girls Tennis
The Braves (3-0 VVAL) extended their regular-season win streak to 31 with Thursday's win over the visiting Grizzlies (1-3 VVAL).
The teams split the singles. From the top, it was Justin-Siena's Priyanka Shanker over Sophia Mostow, 6-0, 6-0, the Braves' Bella Rampa over Sophia Kroll, 6-2, 6-1, Napa's Cameron Wickersham over Ashlyn Mills, 3-6, 6-2, 1-0 (10-6), and the Grizzlies' Julie Solomon over Tatum Newell, 6-2, 6-2.
Justin-Siena swept the doubles matches. The No. 1 team of Roses Newell and Lucia Lanzafame put away Kalaya Jones and Josie Morris, 6-3, 6-2. At No. 2, Gaya Hauck and Julie Best were victorious over Natalie Maass and Isabella Christman, 6-3, 6-1. At third doubles, Kendall Manasse and Ines Keller beat Zariel Robles and Julie Bui, 6-2, 6-0.
The Braves have a first-place showdown Tuesday at American Canyon (4-0 VVAL), which beat Petaluma 5-2 on Thursday.
Vintage 6, Sonoma Valley 1
The Crushers improved to 3-0 in VVAL play Thursday, losing only at No. 3 doubles to the Dragons (0-4 VVAL).
In singles, starting at No. 1, it was Jamie Pope over Meg Jernigan, 6-0, 6-0, Erin Meader over Kayla Schmick, 6-3, 6-4, Casey LeTourneau over Jovana Saldana, 6-1, 6-1, and Morgan Wright over Morgan Salars, 6-2, 6-0.
At No. 1 doubles, Ashley Hall and Rose Mooney downed Bella Growth and Cam Berger, 6-2, 6-2. At No. 2, Hannah Jonas and Lauren Barrett held off Sophia Vogt and Grace Utnehmer, 6-2, 6-4.
At No. 3, it was the Dragons' Rosie Houghton and Natalie Wetzel defeating Caroline Simpkins and Gwen Stewart, 6-3, 6-2.
Boys Tennis
The Braves (2-0 VVAL) pulled out a narrow win at Napa (1-2 VVAL) on Thursday, sweeping the singles.
From the top, it was Nick Reyna beating Luke-Simon Fotouhi, 6-1, 6-1, Luc DeMartini defeating Isaiah Orozco, 6-2, 6-2, Sam Boeschen downing Ethan Transon, 6-1, 6-3, and Dom Pucci squeaking out a 6-4, 7-6 (7-3) win over Petar Zivkovic.
Napa swept the doubles. In the No. 1 match, Khaliq Khan and Marco Cassiani pulled out a 7-6 (7-3), 6-4 sweep over Yuta Suzuki and Lucca Sebastiani. At No. 2, Luis Hernandez and Gabriel Orozco were victorious over Thomas Booska and Anthony Fanin, 6-3, 6-4. At third doubles, Jacob Butler and Daniel Theunissen beat Rylie Dombrowski and Jarell Cervantes, 0-6, 6-4, 1-0 (11-9).
WATCH NOW: KATIE LEDECKY WINS BY 21 SECONDS IN HER FIRST RACE THIS YEAR
Catch up on Napa County's top sports stories