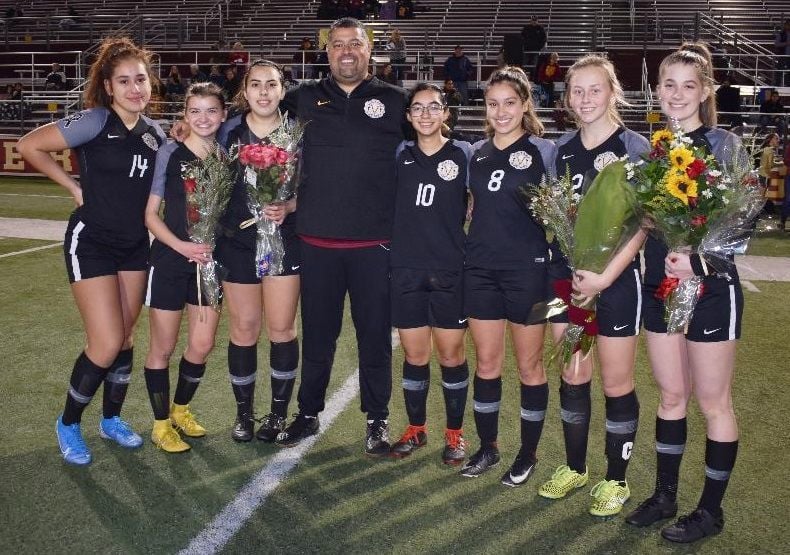 The Vintage High girls soccer team found itself alone in third place in the Vine Valley Athletic League after edging Sonoma Valley, 2-1, at Memorial Stadium on Wednesday night and leapfrogging the Dragons in the standings.
Casa Grande (9-0-1 VAL) leads with 19 points, followed by Petaluma (7-1-1, 18 points), Vintage (10 points) and Sonoma Valley (9 points).
Irais Hernandez scored on an assist from Maile Sittler to give the Crushers a 1-0 halftime lead, and Neilani Newberry scored in the second half on an assist from Tamera Hernandez.
Vintage (8-9-2, 4-4-2 VVAL) takes on sixth-place Napa (5-9-4, 2-6-2 VVAL) at 6 p.m. Friday night.
Varsity Boys Basketball
Vintage 70, Sonoma Valley 63
The Crushers improved to 11-1 on their home floor with Wednesday night's Senior Night win, which dropped Sonoma Valley (6-3 VVAL) out of a first-place tie with Vintage (15-9, 8-2 VVAL) and Petaluma (7-2 VVAL).
After the Crushers jumped out to a 5-1 lead in the first 90 seconds, the Dragons closed the quarter on an 18-7 surge – sparked by sophomore Dom Girish's 3-pointer and 2-pointers by seniors Luke Sendaydiego and Riley Phelan – for a 19-12 lead. The Dragons hit eight 3-pointers in the first half, going up 34-21 before Vintage closed it to 37-27 by halftime.
"Sonoma came in so loose, not intimidated, and didn't flinch at all," Vintage head coach Ben Gongora said. "We changed up our defense three times before finding something that was working. We have over a half-dozen different defenses and needed a few of them to battle this well-coached, well-prepared team."
With senior captain Blake Murray sidelined for the game with an injury, junior Josh McCormick started in his place and had 11 points in the third quarter – including three 3-pointers – to spark Vintage's comeback. With senior Luke Williams chipping in 6 points, the Crushers outscored Sonoma Valley 24-11 in the quarter to go up 51-48.
"We regrouped at halftime and showed our heart and grit," Gongora said.
Imani Lopez, the only player who scored in all four quarters for either team, helped the Crushers seal the outcome with the last of his game-high 24 points.
"It was fitting that Imani carried the scoring load in this last game at Crusher Gym with his best friend, Blake, unable to go," Gongora said. "Imani is such a talent. I'm beyond appreciative to have been able to coach him this season."
You have free articles remaining.
Logan Nothmann had 14 points for Vintage, the junior going 6 for 6 from the free-throw in the final last minutes while the Dragons were intentionally fouling. Also scoring were seniors Ethan Hemmerlin (10 points), Josh Kho (3) and Loren Castro (2).
Girish led former Justin-Siena coach Mike Boles' Sonoma Valley squad with 18 points, while Anders Mathison had 17.
"I have so much respect for Coach Boles. I've been a fan of his for years," said Gongora. "This was such a battle. So proud of my guys. They got heart.
"Up next is Napa. We know it will be rocking at Messner Gym. We are simply focused on our goal of going 1-0 on Friday night."
American Canyon 66, Napa 51
The Wolves capped a VVAL sweep of the visiting Grizzlies on Thursday night, improving to 10-10 overall and 5-4 in VVAL play after a 1-5 start.
Oliver Aandahl led American Canyon with a game-high 18 points, while Matthew Clinton added 10 in only his second appearance of the season.
The Wolves outscored Napa 33-14 during the middle quarters to build a double digit lead they never relinquished. The momentum and energy began to swing their way when, just before halftime, Aandahl stole the ball near mid-court and passed it up to Gabriel Patrick for a buzzer-beating slam dunk.
Napa scored 5 points in the third quarter as American Canyon tightened up its defense.
"Playing great defense leads to easy offense," said Wolves head coach Scott Hayburn. "We didn't have to call many plays, just get out in transition and play to our strengths. Whenever we slow down and get into a half-court game, we find ourselves in a little bit of trouble. Everybody was unselfish tonight and we finished at the rim."
Freshman Boys Basketball
Vintage 49, Sonoma Valley 25
The Crushers cruised to a home victory Wednesday night, improving to 14-7 overall and 6-4 in the VVAL.
Both teams came out sluggish, but the Crushers outscored the Dragons 44-22 over the last three quarters. They had 10 players get on the scoreboard, led by Ben Jackson with 16 points and 4 steals. Sam Gomez had 6 points and 8 rebounds, Zach Rector and Sam Loomis each scored 5, and Matthew Lloyd and Elias Alvarez had 4 points apiece.
The Crushers wrap up their season Friday night by visiting rival Napa High.