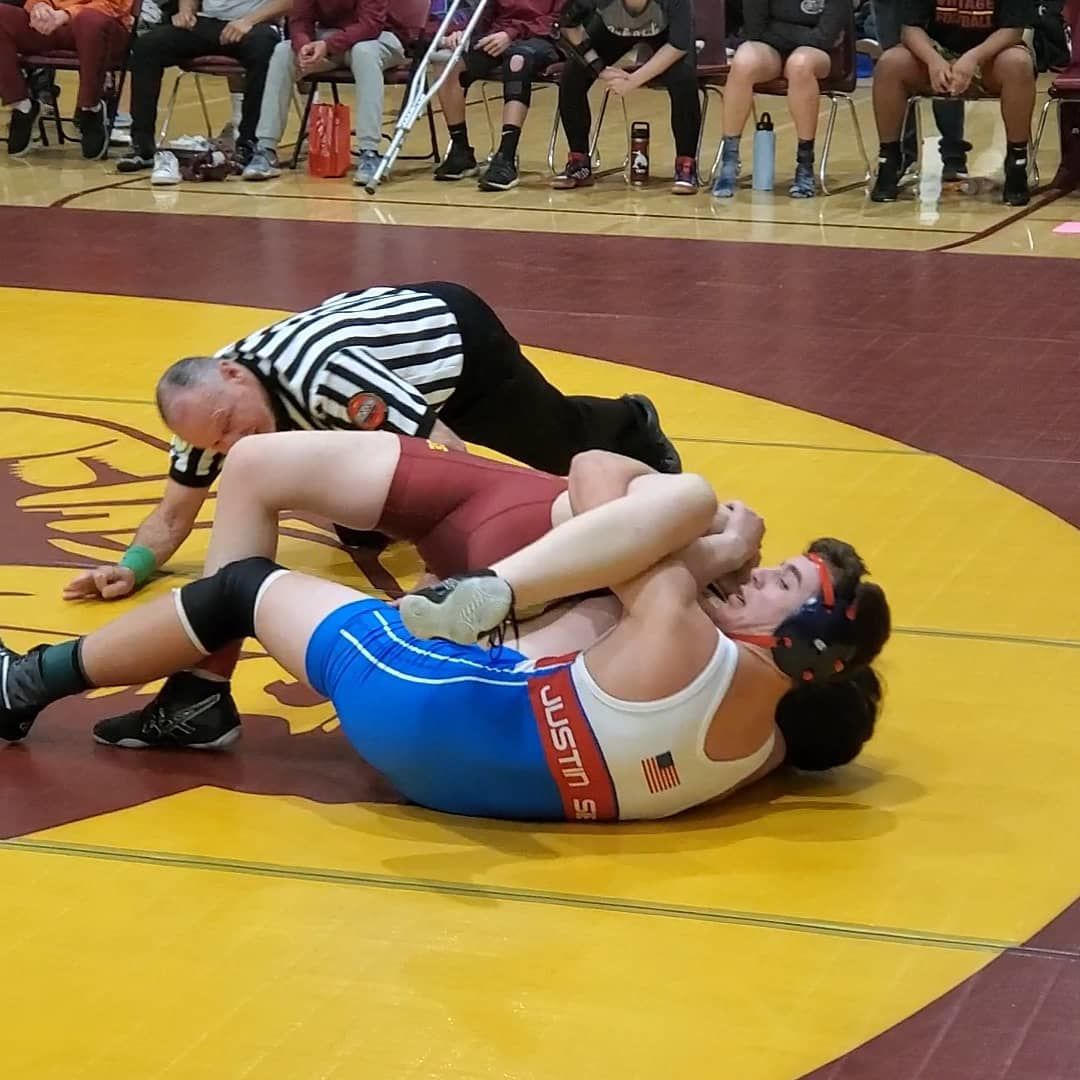 Vintage used strength in numbers to rout visiting Justin-Siena in the wrestling Battle of Trower Avenue on Thursday night, 50-28.
Only seven of the 14 weight classes were contested, and the visiting Braves won four of them, but Vintage won six classes by forfeit while forfeiting only one.
The Crushers improved to 3-2 in Vine Valley Athletic League action, getting – in addition to 36 points in forfeits – a 15-0 win from Parker Hurst (147 pounds), a first-period pin from Niko Smith (162) and a 13-6 decision by Dylan Smith (194).
For Justin-Siena, Sebastian Medina (128), Brandon Guiducci (134) and Jacob Guiducci (140) picked up first-round pins, Cole Chatagnier (154) picked up an 18-5 major decision, and Kai Hoffman (108) won by forfeit.
"The deck was stacked against us, forfeiting six weight classes, but I'm proud of a pretty complete effort," said Justin-Siena head coach Jason Guiducci. "The kids who got the W's were stalwart. We were also proud of the efforts of Brian Cervantes-Robledo, who went the distance in a loss, and of JP Negueloua, who … soldiered on and went all three rounds."
The Crushers' girls will compete in the Goddess of the Vine tournament at Windsor High on Saturday, and Vintage will visit Napa for a Big Game meet on Wednesday night.
Justin-Siena will compete in the Redwood Empire Classic at Ukiah High on Saturday before hosting American Canyon in its final VVAL dual meet on Wednesday night.
Casa Grande 51, American Canyon 21
The Wolves' Jonathan Su (152 pounds) lost an 8-6 nailbiter and James Aken (220) dropped a 2-1 heartbreaker in Thursday night's VVAL loss at home. But Justin Del Rosario (160) and Devin Garingarao (134) won by pin, Jesse Lopez (170) prevailed by decision, and Josiah Salazar (106) picked up a forfeit for American Canyon.
Varsity Boys Soccer
The Grizzlies (10-6-1, 6-2 VVAL) bounced back from Tuesday's 2-1 loss at Sonoma Valley with their third VVAL shutout Thursday night at Memorial Stadium.
You have free articles remaining.
Ian Clark scored both goals, one on an Irving Flores assist. The Grizzlies will host Justin-Siena at 10 a.m. Saturday at the stadium.
Varsity Boys Basketball
Sonoma Valley 66, Napa 52
Logan Van Zandt (12 points, 5 rebounds), Brayden Greenlee (12 points, 7 rebounds, 7 steals) and Spencer Gorman (11 points, 5 rebounds) led the Grizzlies in Wednesday night's VVAL road loss.
Also scoring for Napa (5-16, 1-6 VVAL) were Tyler Oda (7 points, 5 rebounds, 5 steals) and Danny Ruiz (8 points).
Justin-Siena 47, American Canyon 35
Scoring for the Braves in Wednesday night's home win were Liam McDevitt (16 points), Wyatt Humphries (12), Keith Binz (8), Vincent Jackson (8) and Robby Sangiacomo (3).
JV Girls Basketball
Vintage 21, Justin-Siena 12
The Crushers went down the street to Justin-Siena on Thursday night and prevailed behind Kayla Cleveland's 8 points, 5 rebounds, 3 assists, 1 steal and 1 block. Also playing well were Sophia Notaro (4 points, 6 rebounds, 6 steals), Gianna McDaniel (3 points, 3 assists, 3 steals, 1 rebound, 1 blocked shot), Ella Pridmore (2 points, 6 rebounds, 7 steals, 1 assist, 1 blocked shot), Katy Gibbs (2 points, 5 rebounds, 2 steals), Vanessa Macias (2 points), Paige Simpkins (1 rebound) and Alex Whipple (1 steal).
JV Wrestling
Vintage 41, Justin-Siena 12
Jaycob Gualberto (184) won by major decision, 20-3, and Kim Navarrete (235) won by pin in 1:57 to highlight the Crushers' home win Thursday night.