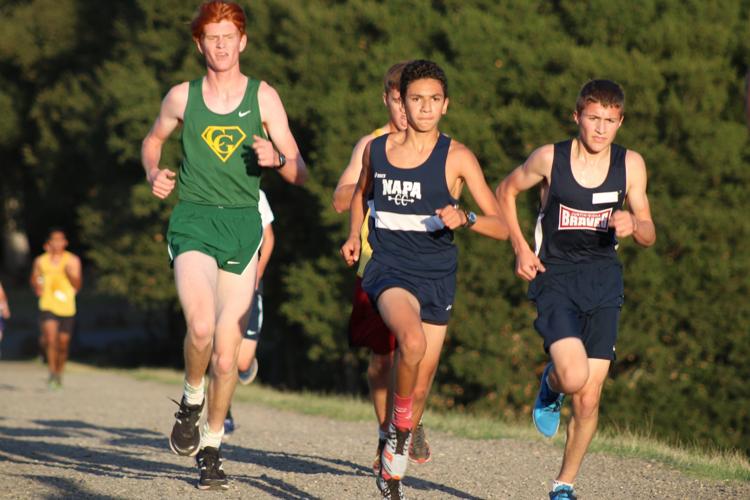 The Vintage High cross country teams each had the individual winner and placed second overall in Vine Valley Athletic League Center Meet No. 2 on Wednesday at Spring Lake Park's 3.05-mile course in Santa Rosa.
Vintage's Manny Guzman won his second straight VVAL meet with a time of 15:28.4, with teammate Dylan Frye coming in a close second at 15:39.3 in the 64-runner race. Also scoring for the Crushers were Liam Alexander (10th, 16:33.6), Ryan Olson (17th, 17:09.9) and Jonathan Wachowski (12th, 16:44.6). Rounding out Vintage's runners were Fernando Cisneros (20th, 17:35.6), Anthony Berghout (24th, 17:43.6), Drew Holloran (37th, 18:43.0), Tucker Lanoue (41st, 18:48.9) and Logan Lines (48th, 19:17.7).
Justin-Siena was led by Casey Potrebic (ninth, 16:28.3), followed by Deven Bose (18 th, 17:14.2), Jacob Guiducci (22 nd, 17:42.3), Paul Giusto (26 th, 17:45.5) and Vishnu Vijayaku (42 nd, 18:49.2). Other Braves in the race were Brett Carey (19:00.8), Nicholas Reyna (19:42.8), Devon De Los Santos (19:51.3), Samuel Trainor (20:54.6 ) and Peter Bowman-Davis (21:15.1).
David Acuna led Napa High with a 19th-place time of 17:23.0, and was followed in the scoring quintet by Erik Cosca (21st, 17:41.2), Matt Helms (23rd, 17:42.6), Johnathan Gadasy (29th, 17:51.8) and Marco Rosales (33rd, 18:19.0). The Grizzlies also had Daniel Rios (38th, 18:43.9) and Elliot Surh (45th, 19:06.0).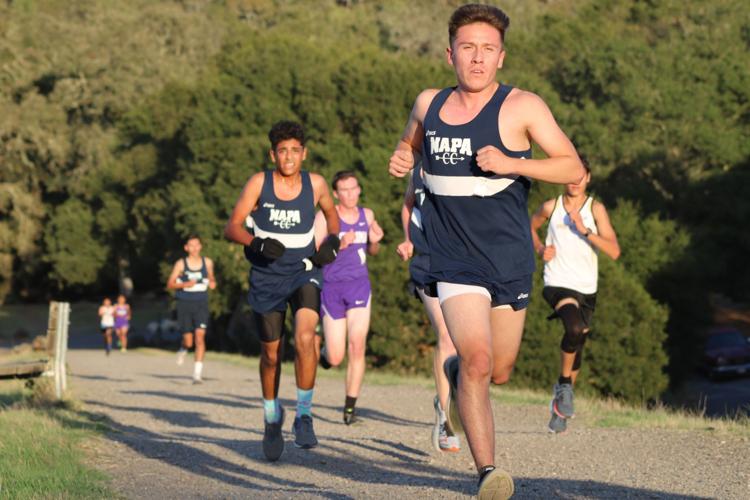 "Conditions for today's meet were nearly ideal for running: cool temperatures, a light breeze and a challenging course in a beautiful setting," Napa head coach Derek Moore said. "We are pleased with our team's progress, realizing it's still early in the season and we've got a lot of racing still ahead of us."
Justin Chang placed sixth in 16:06.0 to lead American Canyon, while Yahir Madrigal (27th, 17:47.2), John De Leon (32nd, 18:05.8), Jose Naranjo (35th, 18:39.1) and Wilder Mazariegos (36th, 18:40.2) rounded out the scorers. Also running for the Wolves were Dakota Lim (18:48.0), Jaime Santos (19:37.1), Alfons McCoy (19:43.3) and Heriberto Zavala (21:15.1).
Casa Grande won the varsity boys meet with 27 points, followed by Vintage (42), Justin-Siena (117), Napa (125), American Canyon (136), Petaluma (176) and Sonoma Valley (178).
The Gauchos also won the varsity girls race with a 34, followed by Vintage (36), Justin-Siena (119), Petaluma (124), Sonoma Valley (134) and American Canyon (181).
Mary Deeik also encored her first Center Meet victory with a winning time of 17:55.3, while teammate Michaela Kreps was second out of 45 runners in 19:07.5. Also among the scoring Crushers were Josephine Borsetto (ninth, 20:39.5), Tamara Hernandez (11th, 21:08.6) and Anastasia Busby (16th, 21:32.4). Other Crushers in the race were Yadira Garcia (13th, 21:18.2), Hana Duhig (19th, 21:49.5), Ainsley Adams (20th, 21:50.3) and Maggie Chapin (21st, 21:51.5).
Justin-Siena's scorers were Mia Vlaming (14th, 21:24.4), Sophia Smith (23rd, 22:29.8), Lauren Aubert (25th, 22:37.5) Audrey Halloran (27th, 22:46.5) and Emily Breneisen (30th, 23:02.4). Other Braves in the race were Genesis Celaya (23:25.3) and Gianna Say (29:16.0).
American Canyon's scorers were Isabella Richards (31st, 23:15.5), Libby Herbert (34th, 24:10.9), Daniela Solis (36th, 24:45.0), Samreet Khaira (37th, 24:46.3) and Yesenia Cardenas (43rd, 29:17.0), with Ashmeet Bedi (29:17.7) and Qwencee Stewart (29:17.9) also competing.
Napa's incomplete team featured Ava Dominguez (10th, 20:54.2), Molly McGrath (18th, 21:46.9), Jada Dunn (26th, 22:44.4) and Annette Sanchez (28th, 22:51.4).
The next VVAL Center Meet is Oct. 24 at Alston Park.
Varsity Volleyball
The Dragons avenged last month's home loss with a 25-16, 25-21, 23-25, 25-23 VVAL win at Napa High on Thursday night.
For the Grizzlies (5-11, 4-6 VVAL), McCauley Smith tallied 13 kills, Makenna Walls 10 kills, Mia Larson 28 assists, Maddie Larson 14 digs and Aidan Tomlinson 11 digs.
"It was a revenge match for Sonoma and they played well," Napa High head coach Kelly Van Winden said. "We gave it a go, but we came up short."
College Men's Soccer
Greg Soria scored the equalizer as the Storm secured a Bay Valley Conference tie at home Tuesday.
Soria scored his first goal of the season on a David Jimenez assist in the 35th minute for Napa Valley (3-6-3, 1-0-2 BVC), which hosts Mendocino (1-1-1 BVC) at 4 p.m. Friday.
Varsity Girls Tennis
The Braves improved to 9-0 in the VVAL with Thursday's home win, while the Grizzlies dropped to 3-6 in league play.
At No. 1 through No. 4 singles, respectively, it was Parvathi Shanker shutting out Sophia Mostow 6-0, 6-0, Jenna Curtola blanking Whitney Swafford 6-0, 6-0, Priyanka Shanker shutting out Cameron Wickersham 6-0, 6-0, and Bella Rampa downing Sophia Kroll 6-4, 6-1.
In doubles, the No. 1 pair of Presley Schultz and Roses Newell beat Nikki Hill and Bella Banuelos 6-2, 6-4, No. 2 players Lucia Lanzafame and Ashlyn Mills prevailed over Lizbeth Barreda and Ava Moreci 6-0, 6-1, and No. 3 players Patrizia Tandinco and Tiffany Wang beat Allyson Qui and Stella Wilson 6-3, 6-3.
Sonoma Valley 4, Vintage 3
The Dragons (1-8 VVAL) honored their eight seniors and notched their first VVAL win Wednesday over the visiting Crushers.
Winning in singles for fourth-place Vintage (4-4 VVAL) were No. 1 Jamie Pope, 6-1, 6-0 over Olivia Weisiger, No. 2 Cooper Lohman, 6-0, 6-0 over Audrey Castillo, No. 3 Grace Christman, 6-0, 6-1 over Lilly Raaka.
The Dragons' No. 4 player, Siobhan Hernandez, got past Erin Meader, 6-2, 3-6, 6-2. They also swept the doubles, as No. 1 players Erin Gylfe and Hannah Walton downed Kate Ilsley and Serena Kastella 6-1, 6-0, No. 2 players Mary Gallo and Reese Dobson topped Morgan Wright and Rose Mooney 6-3, 6-2, and No. 3 players Eden Scheiblich and Lizza Moore beat Melissa Cortez and Casey LeTourneau 6-2, 6-3.
JV Volleyball
Sonoma Valley 2, Napa 0
The visiting Dragons won 25-16, 25-13 on Thursday.
Justin-Siena 2, American Canyon 0
The Wolves fell at home Tuesday night in two close sets, 26-24, 25-20.
"It was a competitive match with a lot of momentum changes," American Canyon coach Rick Manibusan said. "The team played well, was aggressive and displayed good defense, but in the end our small errors contributed to the downfall."
Directing the offense were Carissa Lee (four aces, seven assists) and Kayla Perry (five digs, six assists, two kills). Strong frontcourt play came from Rachel Ritter (four blocks) and Ava Boloyan (three blocks, six kills). Shining from the attacking position were Lydia Espiritu (six digs, two kills), Amaya Maulino (one ace, one kill), Gabriella Trinidad (two digs, two kills), Madison Iwatsu (one ace, four digs, one kill) and Maui Cabrera (five digs, five kills). Controlling the defense were Patricia Jocson (16 digs), Jackie Mendoza (nine digs), Monica Descallor (seven digs) and Leila Adel (18 digs).
JV Boys Cross Country
Napa, Vintage 1-2 in VVAL meet No. 2
Behind Casa Grande, which took the top five places for a perfect score of 15 at Wednesday's second VVAL Center Meet in Santa Rosa, Napa was second (48), Vintage third (77), Sonoma Valley fourth (118), American Canyon fifth (127) and Petaluma sixth (157).
Napa's scoring quintet was comprised of Tristan Hug, who led all locals in the 74-runner field with a sixth-place time of 19:26.5, along with Logan Walsh (seventh, 19:43.5), Will McLoughlin (eighth, 19:49.3), Daniel Healy (11th, 20:07.4) and Andrew Remboldt (16th, 20:15.8).
Rounding out the Grizzlies were Ayden Cassano (20:43.1), Miguel Bustos (21:14.0), Andre Fannin (21:40.0), Jeremy Tsujihara (22:00.7), Ethan Transon (22:03.2), Mark Alvarado (22:03.8), Graham Gongora (22:19.3), Kai Matthiasson (22:34.2), Sam Williamson (22:58.7), Adrian Navarro (22:59.2), Bryce Ogden ( 23:15.1) and Calvin Chapman (24:17.8).
Scoring for Vintage were Ian Reis (13th, 20:10.6), Dylan Scott (10th, 19:57.7), Luis Leon Avalos (15th, 20:15.6), Nicholas Dominici (18th, 20:18.4) and Nicholas Malito (21st, 20:39.3). Rounding out the Crushers were Sebastian Vance (22:19.7) and Christian Wilson (29:59.9).
American Canyon's scorers were Zak Raymond (14th, 20:15.3), Matt Schmid (22nd, 20:23.5), Matt Aguirre (23rd, 20:29.6), Mateo Palacios (32nd, 21:29.4) and John Kogani (42nd, 22:17.0). The Wolves also had Lazaro Paul Tregoning (22:20.0), Sebastian Hernandez-Lopez (22:23.7), Elvin Fuerte (22:26.8), Koby Somozo (24:07.5), Xavier Navarro (24:08.9), Alexander Canchola Reyes (24:15.0) and Brandon Canchola Reyes (24:16.3).
Justin-Siena's incomplete team had Michael Prater (25th, 21:05.1), Alexander Cox (37th, 21:50.8), Diego Kalten (23:04.5) and John Morales (25:06.0).
JV Girls Cross Country
Vintage, Napa, 2-4 in VVAL meet No. 2
Casa Grande won Wednesday in Santa Rosa with 23 points, followed by Vintage (55), Petaluma (74) and Napa (91).
Vintage's Kayla Tavakoli (21:56.3) finished second, 38 seconds behind the Casa Grande winner, and was following in the scoring quintet by Bailey Stone (fourth, 23:28.0), Victoria Solorio (14th, 26:08.8), Clarise Rivera (17th, 27:04.6) and Milani Harris (18th, 27:07.3). Also running for the Crushers were Carla Magana (27:30.9), Natasha Bietz (27:31.2), Jordan Simi (27:33.2) and Ellie Vandenberg (28:36.1).
Competing for Napa were Maija Turjanis (12th, 25:53.2), Alicia Caldera (15th, 26:19.6), Mia Oggenfuss (16th, 26:30.9), Emily Chapman 23rd, 28:10.3), Celeste O'Brien (25th, 29:05.7), Arcie Alvarado (30:04.1) and Lena Demsky (34:16.8).
Freshman Volleyball
The Grizzlies fell at home Thursday, 25-12, 25-17.