The Justin-Siena girls tennis team opened its own long-awaited 2020-21 season Thursday by notching its 29th consecutive regular-season win, a 5-2 Vine Valley Athletic League Stepping win over visiting Sonoma Valley.
Even without No. 1 player Priyanka Shanker, the Braves swept the singles in their first match in 15 months.
We're offering our best deal ever with this Editor's Special. Support local news coverage by subscribing to the Napa Valley Register.
Stepping into the No. 1 singles role, Bella Rampa beat Kayla Schmick 6-3, 6-2, while No. 2 Ashlyn Mills defeated Morgan Salars, 6-0, 6-1.
In the best match of the afternoon, No. 3 Gaya Hauck scratched out a 7-5, 6-7 (9-11), 1-0 (11-9) victory over Jovana Saldana. At No. 4 singles, it was Tatum Newell over Cameron Burger, 6-1, 6-1.
In doubles play, Justin-Siena's returning No. 1 team of Lucia Lanzafame and Roses Newell defeated Grace Utnehmer and Sophia Vogt, 7-5, 6-1.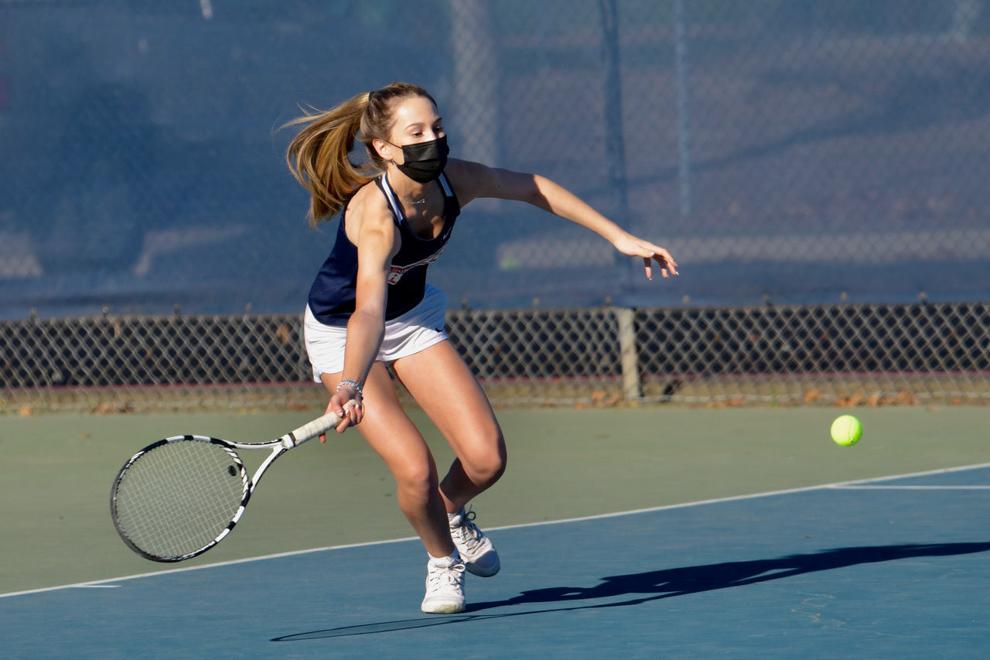 Sonoma Valley (0-2) got its wins at No. 2 doubles, where Rosie Houghton and Natalie Wetzel outlasted Julia Best and Ines Keller in a super tie breaker, 5-7, 6-1, 1-0 (10-5), and No. 3 doubles, where Meg Jernigan and Jaden Johnson held off Kendall Manasse and Kate Bishop, 6-2, 7-5.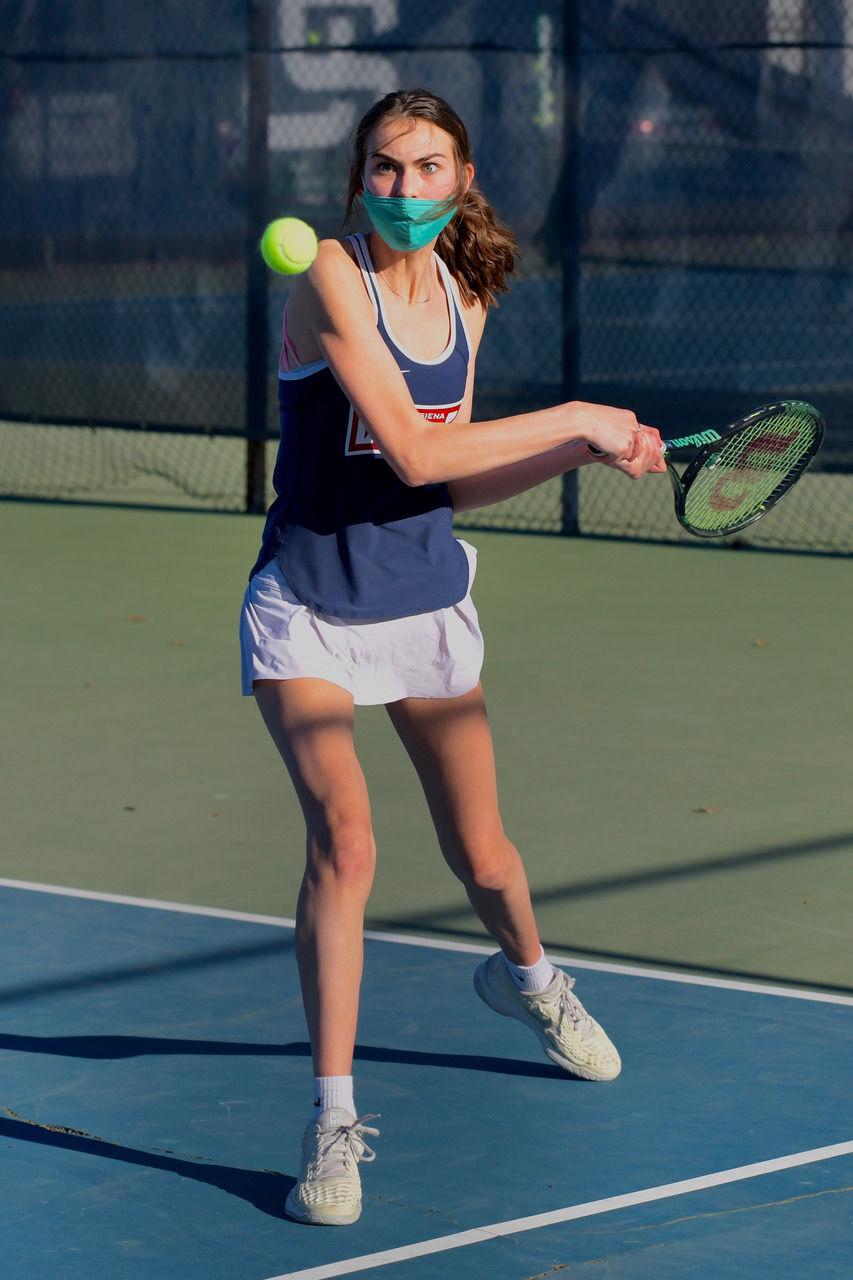 Dragons head coach Mary Kate Dreyer was pleased with her team's performance against the two-time defending VVAL champions.
"The girls are getting better every day, and it was a great match," she said.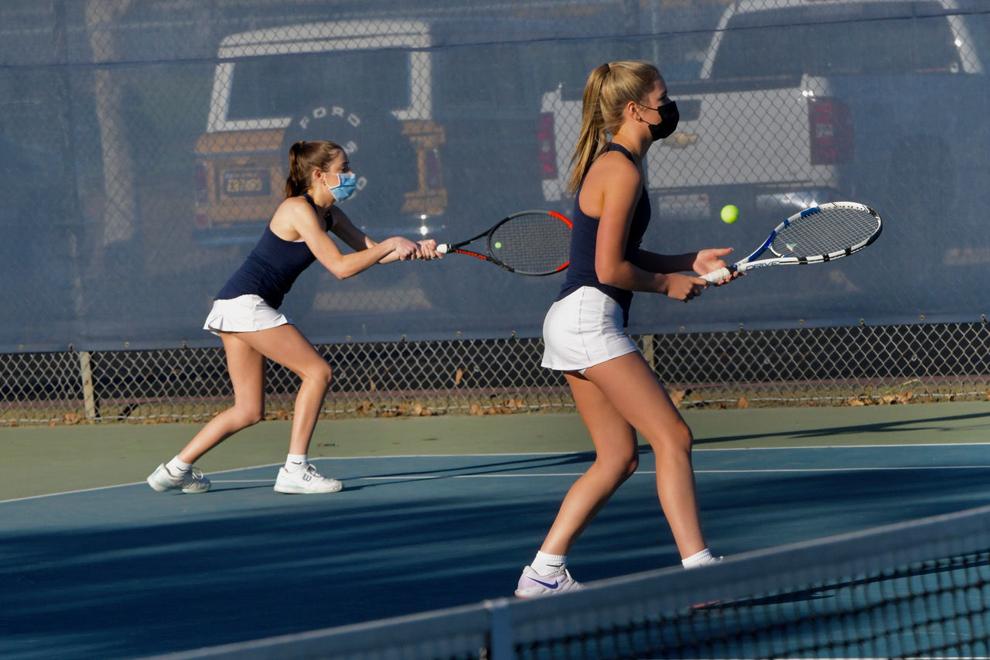 Justin-Siena visits Casa Grande (0-2) on Tuesday, while Sonoma Valley (0-2) hosts American Canyon (2-0).
American Canyon 4, Napa 3
In a quick match at American Canyon, every match was a two-set sweep and no winners lost more than five games. The Wolves (2-0) prevailed by sweeping the doubles and getting a 6-4, 6-1 win by Ezrielle Llave over Ava Moreci at No. 4 singles.
At No. 1 through No. 3 doubles, in order, it was Katie Ayers and Morgan Crowell over Kalaya Jones and Josie Morris, 6, 1-6-0, Emily Satake and Ariel Legler over Natalie Maass and Isabella Christman, 6-1, 6-1, and Lauren Wheelhouse and Charlene Maglalang over Zariel Robles and Julia Bui, 6-2, 6-2.
Napa High (0-2) got its wins in the top three singles spots from three players in their fourth seasons on the ladder. At No. 1, Sophia Mostow downed Lila Hawes, 6-1, 6-2, No. 2 Sophia Kroll cruised past Berke Nauright, 6-3, 6-2, and No. 3 Cameron Wickersham rolled 6-1, 6-0 over Dorothy Madrio.
"It was a real nail-biter," Napa head coach Marie Dolcini said. "American Canyon has a good pool of young talent, but our experienced seniors ruled the day in singles with consistency and determination. I've been extremely impressed by their mental toughness and ability to outlast opponents under match pressure.
"It came down to our least experienced No. 3 doubles team and it really could have gone either way. Since we were short a starter in doubles, I had to reshuffle our three teams and am still in the process of identifying our strongest pairings. Successful doubles teams are good at tactics and communication and as our new girls play more together, their confidence is sure to grow. I look forward to a rematch at home later this season when our freshmen have a few more sets under their belt."
The Crushers improved to 2-0 in the VVAL with Thursday's home win, losing only at No. 3 singles.
In singles, No. 1 Jamie Pope downed Zoe Vestel, 6-0, 6-0, it was No. 2 Erin Meader over Supurna Kompalli, 6-2, 6-3, and Morgan Wright put away Maggie Beal 6-2, 6-3 at No. 4s.
Casa Grande's Ashika Balakumaran got past Casey LeTourneau at No. 3 singles, 6-4, 6-2.
But Vintage's doubles swept. Ashley Hall and Rose Mooney downed Lily Moser and Halle Boulter, 6-4, 7-5 at No. 1, Hannah Jonas and Lauren Barrett routed Natalia Maldonado and Isabella Ramirez, 6-0, 6-1 at No. 2, and Caroline Simpkins and Eva Heiken cruised past Liz Cayo and Grace Dosenberg, 6-3, 6-3.
Boys
The Crushers (2-0) improved to 16-0 in the VVAL all-time with Thursday's shutout of the Gauchos (0-2) in Petaluma.
Their "Fab Four," singles players Lucas Bollinger, Paul Saleh, Jackson Cole and Ethan Kincaid gave up only one game between them. Each won 6-0, 6-0 except No. 4 Kincaid, who cruised 6-0, 6-1.
At No. 1 through No. 3 singles, respectively, it was Andrew Diana and Nick Ball breezing through with a 6-1, 6-3 victory, Kelton Jensen and Owen Chappellet rolling 6-0, 6-1, and brothers Armand Shakeri and Stefan Shakeri needing a third-set tie break to pull out a 5-7, 6-2, 10-8 triumph.
WATCH NOW: FEB. 25 IN SPORTS HISTORY
Catch up on Napa County's top sports stories