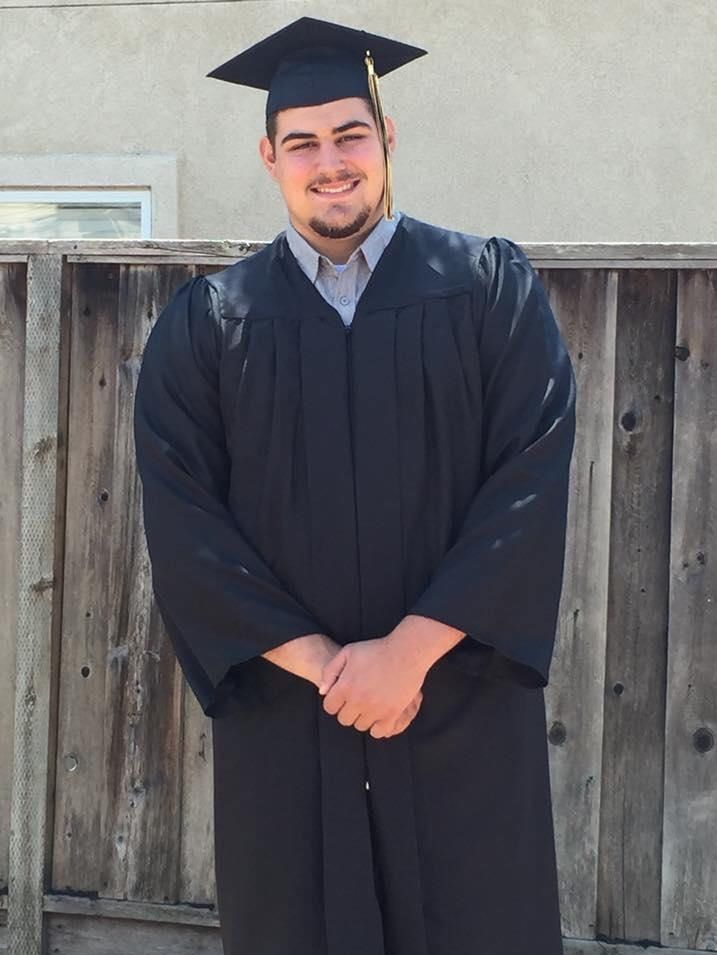 Rick Manibusan is a pretty positive coach, but he's also a referee. So he and doesn't get too mushy when talking about his American Canyon High School wrestlers before each season.
However, the progress he saw in then-sophomore 285-pounder Lucas Gramlick in early 2016 made him gush, "He is greatness about to happen."
Gramlick didn't disappoint, reaching his first CIF Sac-Joaquin Section Masters Meet that year. Two Masters Meets later, he qualified for his first-ever state meet and reached the semifinals, finishing 4-2 with four pins.
Gramlick won the Vista Del Lago, American Canyon and Liberty tournaments during the regular season, and at the Solano County Athletic Conference and Division II section meets in the postseason, before qualifying for state with a fourth-place finish at Masters.
But placing seventh at the Don Buchanan Invitational in Clovis in early January, unseeded in one of the toughest tournaments in the country after going 0-2 there the previous two years, gave him the confidence he could get to state.
Gramlick said wrestling's focus on footwork and reaction time also helped him become a dominant two-way lineman in football, and a NCAA Division I prospect. After first committing to play football for UC Davis, he was courted by UCLA, and is now getting ready for the Bruins' Sept. 1 season opener against visiting Cincinnati.
"I also gained a lot of flexibility," he said about wrestling in an email from UCLA, where he just finished summer finals. "But the footwork and the ability to react to someone's motions are what stood out the most in football."
As if three wrestling Masters Meets weren't enough, Gramlick set his sights on one in another sport. Hanging up his cleats after 13 years of baseball, he went out for track and field for the first time this spring. Competing in the throws, he placed first in the shot put at the SCAC Championships, and then qualified for Masters with a third at the Division II-III section meet in Fair Oaks. He posted his PR in the discus at the Division II-III meet, a sixth-place mark of 116-2.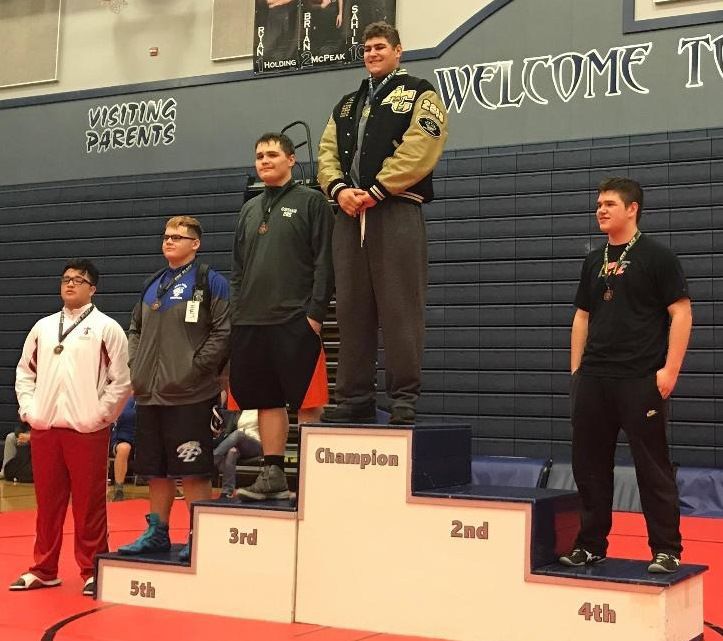 At Masters, he came within five places of getting to the state meet with an eighth-place, personal-record shot put heave of 48 feet, 9 inches – within three feet of the last state qualifier.
That made Gramlick a shoo-in for the Napa Valley Register's 2017-18 Male Athlete of the Year.
Despite his God-given gifts and athleticism, the award didn't fall into his lap.
"What I did wasn't anything that was unbelievably hard or over the top," he said, but added, "I never took breaks between seasons and stayed active through the year. And I made sure the sports I did balanced out the different muscles I used, which didn't just constantly strain the same muscles over the four years.
"I also never missed practice for not feeling like going. Aside from some family things or me being sick, I always showed up. Lastly, I did everything my coaches told me. I tried to be as coachable as possible and tried to give them my best effort every time and every drill."
A finalist for All-County Football Player of the Year, the team captain and left tackle was named to the Sacramento Valley Chapter of the National Football Foundation and College Hall of Fame's 2017 All-Sac-Joaquin Section team, receiving Honorable Mention on the offensive line.
Gramlick was also named Lineman of the Year on the All-Solano County Athletic Conference team. He also played defensive end and had 21 tackles, and blocked two field-goal attempts.
Surprisingly, with his basketball experience and height, Gramlick said he never got to line up at tight end and go out for a pass in a football game.
"No, I was never given the chance to run or catch the ball," he said. "I wish I did, because I know I won't get that chance in college. I did punt, but that wasn't quite the same as trying to gain yards."
Gramlick, who started playing baseball at age 3 and football at 12, said he had to grow into his body.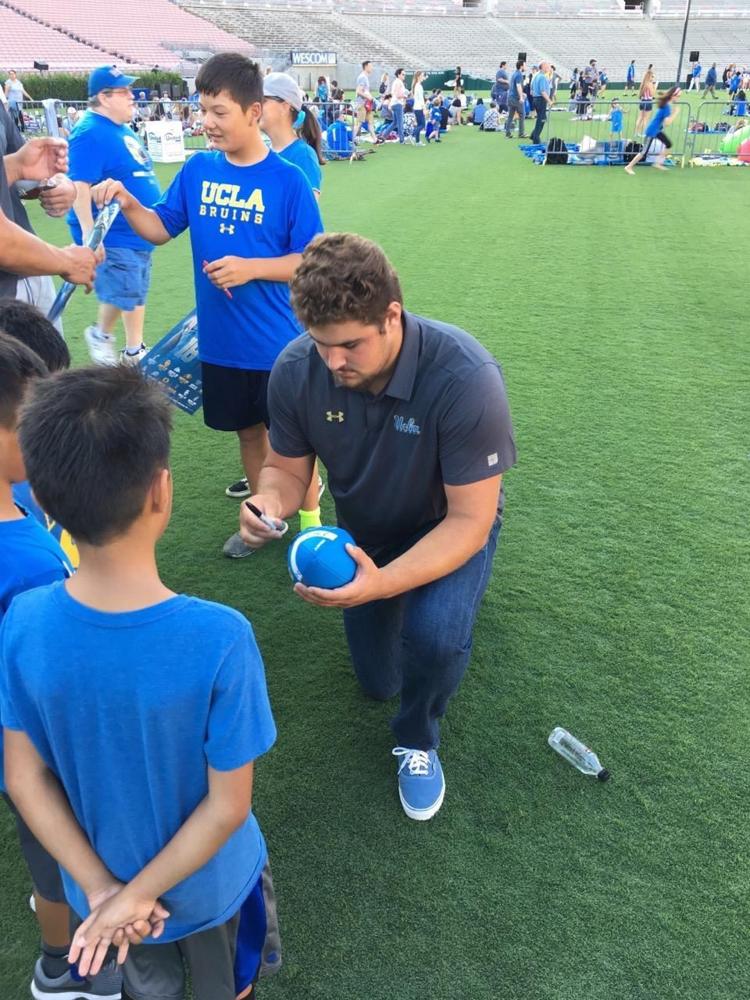 "I started to feel more athletic after my freshman year," he said.
The 6-foot-7 Gramlick was only a few inches shorter when he played basketball in the sixth and seventh grades. He said he was asked all the time why opted for wrestling over basketball in high school.
"I just really enjoyed wrestling more and the coaches that I met my freshman year," he said. "I liked basketball, but I didn't play in eighth grade because I (was getting ready for high school football). I wrestled because my dad and cousins all wrestled so, growing up around the sport, I wanted to try it out. Plus, my football coaches said it'd be good for footwork."
Still, wrestling isn't for the faint of heart. Neither is football, but Gramlick enjoyed having a sport after football that wasn't as team-oriented.
"Whether I won or lost, you can only point to yourself," he said of wrestling. "The ability to lose and know that you tried your best, or won and know that you worked hard enough, is a good feeling. In a sport like football, you could give your heart and play nearly perfect and your team can still lose and there is a feeling of helplessness. But with wrestling, if you win it's on you and if you lose it's on you. That's why I like it, because that individualism is different from most other high school sports."
It might have been tougher for him to wrestle four years of varsity had he moved up to the varsity in football as a sophomore. But he bloomed later in football.
"In football, I loved getting a tackle and making a block and seeing my guy run down the sideline. To be an O-lineman, in particular, you need to feel that kind of pride," he said. "You don't get the ball, but anyone who knows football knows that the line is where everything starts. So when someone scores, I also get that sense of satisfaction and pride – just seeing my guy run down the sideline, especially when it was run to my side and I did my job. Down blocks are my favorite. It is a prime opportunity to get an easy pancake."
But Gramlick also enjoyed being on his close-knit wrestling teams.
"It was the individualism, and the fact that everyone around me supported me and trained me to do my best," he said. "I really enjoyed the environment that I was in. It allowed me to achieve as much as I did."
He played JV baseball for two years and was on the varsity baseball team as a junior.
"Coming off wrestling so late, I missed quite a few baseball games and didn't play much that (varsity) year," he said.
Gramlick had hit .180 (9 for 50) with two doubles, a triple and seven RBIs as a freshman on the JV baseball team. As a sophomore, he hit just .138 (4 for 29) with four RBIs. He was a combined 2-5 as a JV pitcher, with 30 strikeouts in 34 innings.
"Baseball is a very technical sport," he said. "Your size and athleticism help – but not nearly as much as in football and wrestling, which are just as technical but there is more than just technique that goes into football and wrestling. All of the best players on our baseball team do baseball year-round and just work on their technique. I was just too busy to put in the time into baseball to really excel in it.
"My senior year, I really wanted to try something new and I thought track would be a good way to have fun and stay active before football in the summer."
Still, he had played baseball since he was 3, all but five years of his life, so it wasn't easy to give it up.
"I mostly missed playing with my friends, more so than playing the sport," he said. "I still like baseball and I'm not sure whether or not I'll play again, but those springs with my friends I grew up with are what I'll miss most about it."