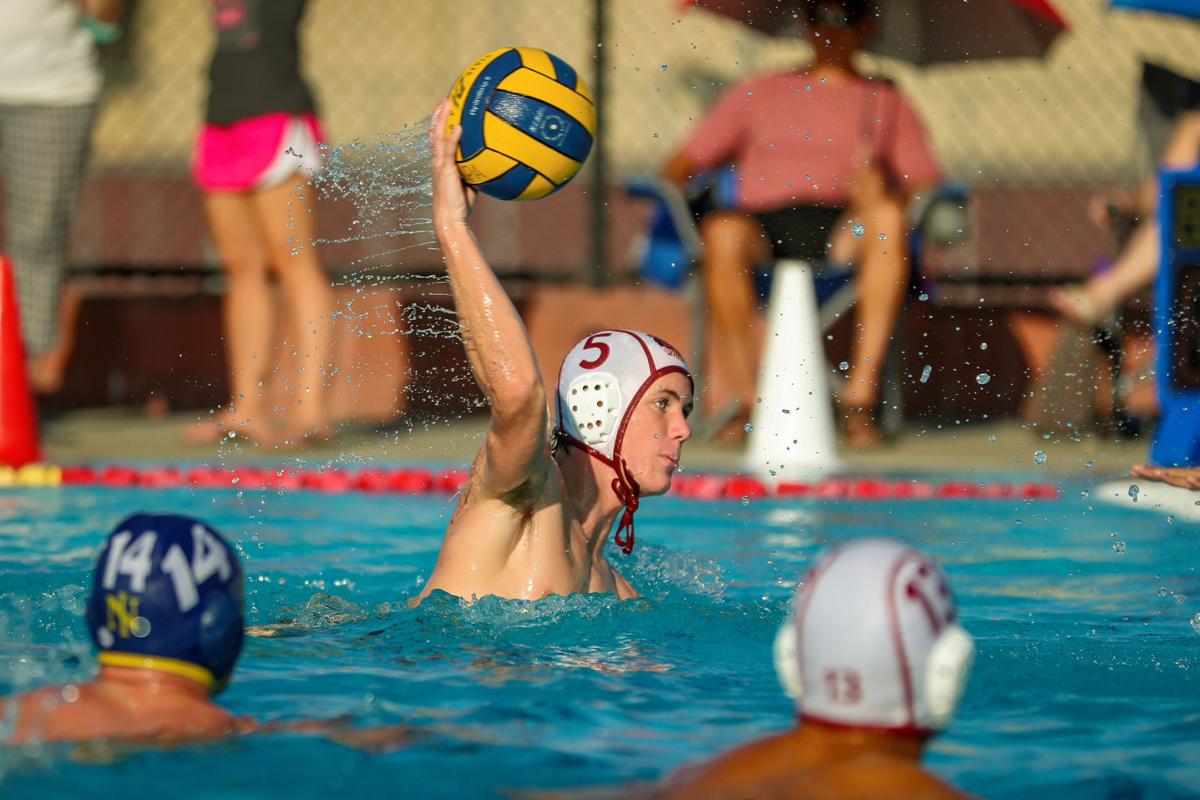 The Vintage High boys water polo team will host American Canyon on Wednesday in its first match since routing crosstown rival Napa High a week before, 30-5, in each team's Vine Valley Athletic League opener.
Team captain Mason Davis led Vintage with 9 goals and two drawn ejections. Kaliq Khan scored 6 goals and had 5 assists. Per Oskar Casey had 5 goals, Sawyer Bristow 4 goals, team captain Carson McClintick 2 goals and 2 assists, and team captain Will Flint 1 goal and 2 assists. Brandon Tennant, Jared Avina and Matthew Lloyd also scored a goal apiece.
Support local news coverage and the people who report it by subscribing to the Napa Valley Register. Special offer: $1 for your first 6 months!
Lloyd, who scored from his goalkeeper position, also tallied 11 saves. Khan led the team with 7 steals, Davis had 6, Flint added 4, Tanner Low had 3, Cody Fridolfs and Casey each had 2, and Gavin Mills, Kyle Link, Avina and Bristow had 1 apiece.
The Crushers are 3-0 overall under their new head coach, Addie Clem, a 2015 Vintage graduate and Crusher water polo alumnus who coached the Vintage JV girls the last five seasons.
"The strength of this team was surprising when I first came in as head coach," she said. "These athletes definitely know water polo, and it will be fun to watch them play together as a cohesive team as the season continues."
Varsity Girls Golf
Casa Grande 285, Vintage 330
Ashley Ellis shot a 51 to lead the Crushers in Monday's VVAL loss at Rooster Run Golf Course in Petaluma. Capri Russell added a 59, Sophie Stone a 69, Sofia Richart a 72, and Addie Rode a 79 for the Crushers, who fell to 1-2 in VVAL action.
Youth Football
Junior Wolves win 3 of 4 over Monterey Trail
The American Canyon Junior Wolves hosted the Monterey Trail Junior Mustangs at American Middle School on Saturday. They were the first regular-season games in two years for the Junior Wolves, who had to sit out last year due to county COVID-19 restrictions. They were hungry, and it showed as they won three of the four contests.
The Junior Wolves won 20-0 in the 8-and-under age division. They set the tone on their first snap of the game when running back-linebacker Steven Batten cut back all the way to the left for a 65-yard touchdown run when the blocking broke down on a sweep to the right.
American Canyon kept the momentum going with a long drive fueled by Batten's 47-yard scoring scamper to the Monterey Trail 5-yard line. Running back-linebacker Xavier Rivers II took it in from there, bouncing off a big hit to plunge into the end zone.
Batten put the game away late in the fourth quarter with another long TD run, a 77-yarder. On defense, lineman Cody Wildes led the team with 7 tackles, including 5 sacks and 2 tackles for losses. Linebackers Ricky Mitchell and Rivers added with 5 tackles each.
Monterey Trail picked up its win in the 10-and-under division despite Darrian "Barry" Johnson leading the American Canyon offense with three touchdowns and more than 150 rushing yards. Junior Wolves quarterback Ace Eschenburg added 100 rushing yards and both extra points. The hosts showed a lot of fight, battling on both sides of the ball, and look to bounce back next week against River City.
The 12-and-under division saw American Canyon roll 34-0. The Junior Wolves received the opening kickoff and took only four plays to score, on a 46-yard touchdown run by Keon Cormier. Cormier would also score from 10 yards out and add a PAT.
Nicholas Aken score on a 5-yard run, Justin Ojascastro on an 11-yard run, and Kameron Hunter on quarterback Isaac Anderson's 21-yard pass. Anderson was 7 for 8 passing for 78 yards and a touchdown on the day.
American Canyon's defense was stellar, allowing no first downs all game. Ole Rameriez lead the unit with 4 tackles and 1 assist, Aken had 3 tackles and a tackle for a loss, and Nathan Gamboa had 3 tackles. Hunter and Anderson registered 1 sack each, Jaylen Washington had a fumble recovery, and Ojascastro snagged an interception.
In the 14-and-under division, American Canyon won 27-7 with a running game and aggressive defense that wore down the Junior Mustangs.
The Junior Wolves possessed the ball the entire first quarter, scoring in the as time expired on a 5-yard run by Andre Lopez. After exchanging touchdowns with Monterey Trail, they outworked the Mustangs and added another Lopez touchdown. Barron Laxa and Tyler Tran also scored touchdowns.
American Canyon held the visitors to less than 100 total yards. The defense was led by the dominant play of bookends Lorenzo Webb and Caden James.
The Junior Wolves will host the River City Junior Raiders at American Canyon High School's Wolf Den Stadium this Saturday. Games will be at 1 p.m., 3 p.m., 5 p.m. and 7 p.m. for the 8U, 10U, 12U and 14U division, respectively.
Catch up on Napa County's top sports stories