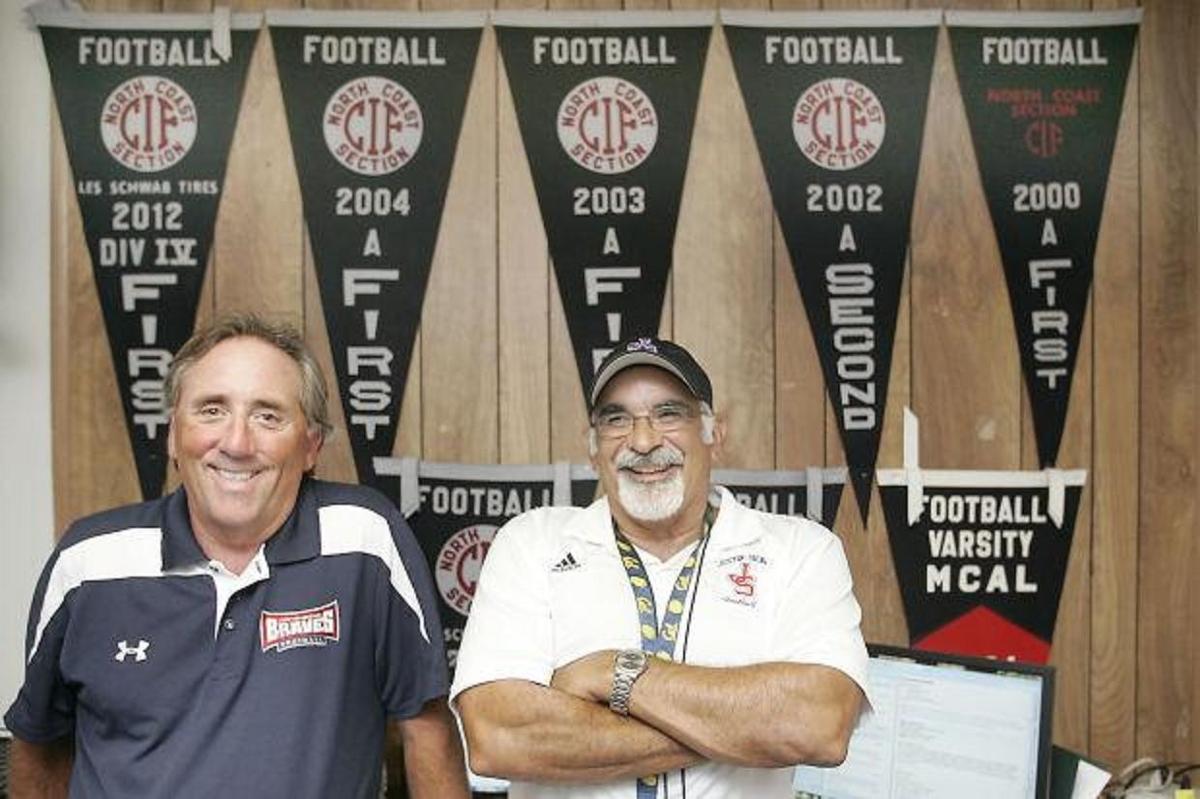 While the COVID-19 outbreak has stopped the world in the form of people losing their lives, having them compromised or losing their jobs, it has also meant no sporting events. I hope you are staying safe during these exceedingly difficult times.
As a former Napa Valley sports reporter, I have thought about events and people I covered to this day. Although I spent most of my career on the Upvalley beat, I had a chance to get a taste of the city of Napa on the high school sports front — including the 2000 Justin-Siena football team.
It's amazing how certain things happen regularly in the present that one takes for granted, but you remember when the trend started just how big the achievement was.
In the 13 seasons from 1987-1999, Justin-Siena football had just one homecoming win. Keep in mind, the program struggled mightily from 1987-1996, going 27-69-1 in an era that saw four head coaching changes before Rich Cotruvo arrived in 1997. Yours truly played on some of those bad teams. Believe me, we were bad.
Cotruvo had had an accomplished head coaching career at Monte Vista High in Danville before coming to Justin to become its head coach shortly before the 1997 season. From 1997-1999, the Braves went 14-17 with one postseason appearance. Through the program was not what most people grew to know it as, one could tell that a new era had dawned at Justin. Before 2000, Cotruvo strengthened his coaching staff with Steve "Varg" Vargus, Steve Hatton and Jim Costan. All three joined the Braves staff after resigning from Vintage High.
That 2000 season would also be the dawning of a new era because the Braves would be going from the CIF Sac-Joaquin Section to the North Coast Section, the Superior California Athletic League would be disbanded, and Justin would join the Marin County Athletic League and start facing schools at least twice its enrollment.
A curveball was dealt to the Braves when starting quarterback Steve Andres broke the femur bone in his leg in the season opener against St. Helena. But Mike McNamara ably took over as signal-caller.
On a mid-October night in 2000, Justin entered its homecoming game with a 4-1 record and seeking a rare homecoming win — at least in recent memory. Thanks to John DiMichele's 32 carries for 196 yards and two touchdowns along with timely defense, the Braves escaped with a 21-19 win over the Sir Francis Drake Pirates.
Drake struck first and took a 7-0 lead before Justin scored 21 unanswered points, with McNamara rushing for one touchdown and DiMichele adding two more. But the Pirates did not go quietly as quarterback Todd Hauserman threw for one touchdown and ran for another. One of the extra points was blocked, however.
That meant that after Drake cut the lead to 21-19 with 1:53 left in the game, the best the Pirates could do was tie the game with a two-point conversion. On the play, however, Hauserman rolled right but was under heavy duress. Justin outside linebacker Zac Dollar, playing what is known as the "strike backer" in Vargus' system, sacked Hauserman.
The Braves were still not out of the woods. Matt Hamilton recovered the onside kick. Four plays later, faced with fourth and 3 from the Drake 40, Cotruvo could have either punted and forced the Pirates to drive the length of the field, or gone for the first down. He chose the latter and DiMichele iced the game with a six-yard run.
As far as the short-term, the game did not mean much because Justin went on to lose three in a row to drop to 5-4 heading into the season finale at Tamalpais. The Braves needed to win that game to secure a playoff spot.
Justin destroyed Tamalpais 38-0 to improve to 6-4 and earn the No. 5 seed in the NCS Class A playoffs. The Braves went on to defeat John Swett of Crockett, 28-7, top-seeded Kelseyville, 34-21, and Ferndale, 16-14, to win what would become the first of six NCS titles in a 14-year span under Cotruvo.
Two years later, Costan rejoined Vintage's coaching staff as an assistant under Les Franco, while Hatton joined Napa High's staff as an assistant for Jerry Dunlap and later Troy Mott. Vargus remained a mainstay on the staff until Cotruvo resigned in April 2016 after 19 seasons at the Braves' helm. Vargus joined Brandon Farrell's staff in St. Helena in May 2017 as a defensive coordinator.
WATCH NOW: JIM HARBAUGH STAYING AT MICHIGAN